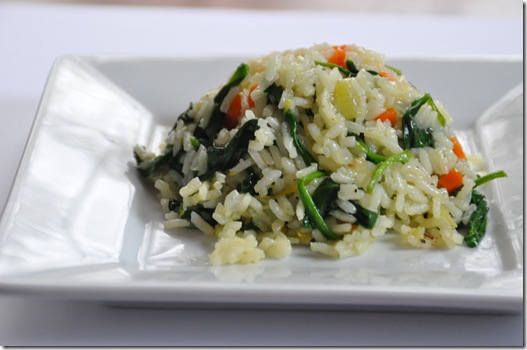 Part 2 of my 3 part post: I tweeted and facebooked asking for suggestions to go with my Crispy Roasted Lemon Chicken, I got some great suggestions. My mom suggested rice pilaf, the suggestion reminded me that I have not made rice pilaf an eons, so I was excited to make it again. I also knew that I would be working the late shift the rest of the week and that my boys would be feeding themselves. I try to cook a couple of big meals so that they will have leftovers.
When boys in my house feed themselves (although both know how and like to cook), when I'm gone it seems like all their skills disappear and they convert to caveman ways. Meat, meat, meat and maybe a potato or two (in the form of chips no doubt). I leave bags of salad and pre-cooked vegetables for them, but somehow they don't get eaten. "We forgot" is shouted out with their best innocent voice and the batting of the eyelashes. I don't believe that for one minute *sigh*, what's a poor mother/wife to do?
Just like any mom does, sneak it in to something else. Adding some celery, carrots and spinach boosted the nutritional value of the rice, added flavor and texture and really made it look so appetizing that even a caveman wouldn't resist.
Ingredients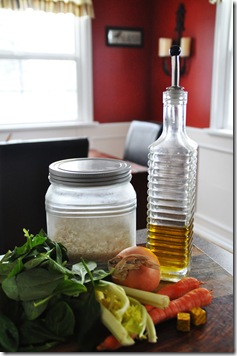 Start by heating the oil, chop the onion, celery and carrots. Sauté until the onion becomes translucent.
Add the crumbled bouillon cubes.
Next add the rice and water. alternatively you could have added chicken broth in place of the bouillon/water. I bought an econo size of bouillon cubes about 20 years ago and I'm still trying to use them up. Ok, not 20 years ago, more like 5? Seriously, I'll never do that again! Bring the rice to a boil then turn to down the heat to low and cover.
Cook for 15 minutes. Throw the spinach right on top and pop that lid back on. Cook for 5 more minutes. After 5 minutes, stir the spinach into the rice.
Finish with butter if desired and serve with lemon wedges.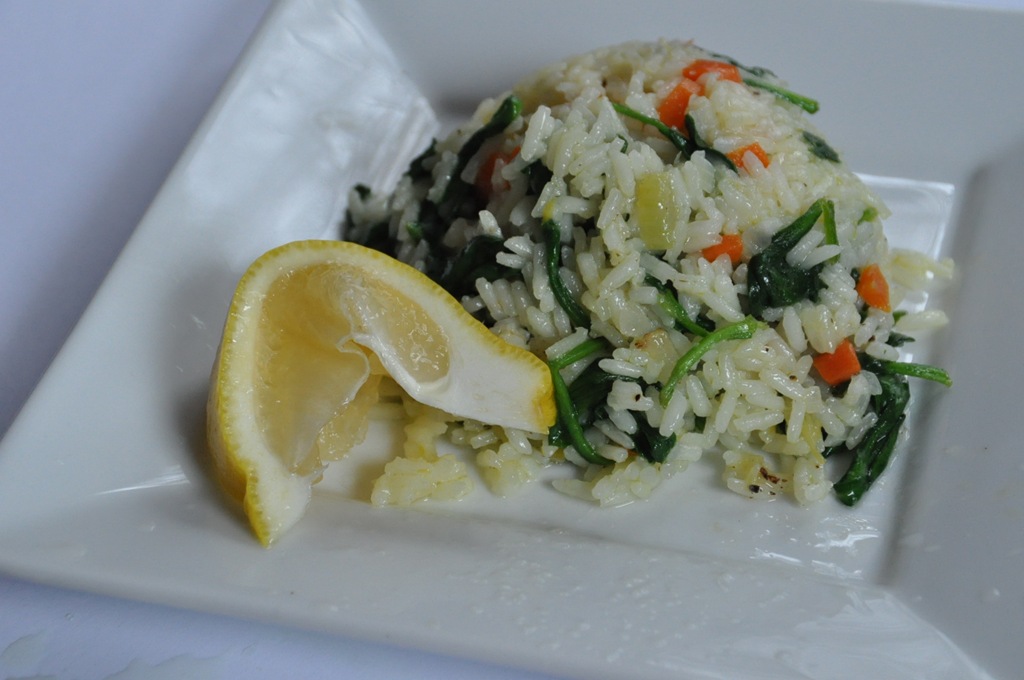 Rice Pilaf with Vegetables
2016-06-13 21:43:46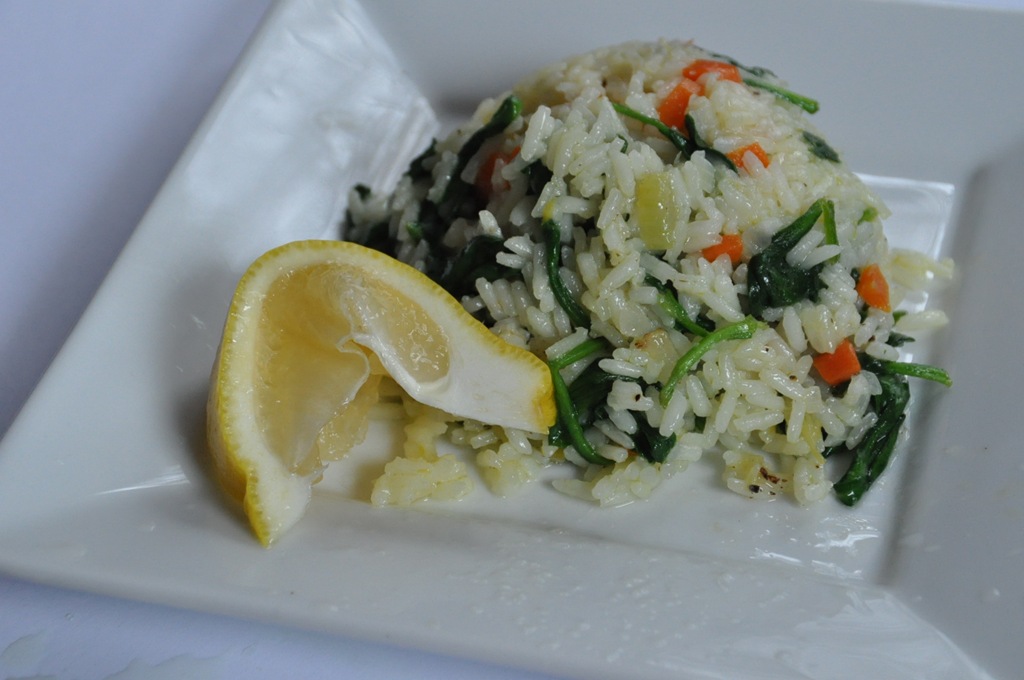 Ingredients
1 tbsp. olive oil
1/2 cup diced onion
1/2 cup diced celery
1/2 cup diced carrots
1 cup long grain rice
2 chicken bouillon cubes
1 3/4 cups water
3 oz. baby spinach
salt and pepper to taste
If desired: butter and lemon wedges
Instructions
Over medium heat ,in a medium sized saucepan heat olive oil.  Add the onion, carrots and celery.  Cook until the onion becomes translucent.  Crumble the bouillon cubes and add to the pan, add rice and water.  Bring to a boil.  Once the pilaf begins to boil, turn the heat down to low and cover.
Cook rice for 15 minutes.  Add spinach to the rice mixture, just on top, no need to stir.  Cover spinach and rice and cook for 5 more minutes.  The spinach will steam cook while the rice finishes cooking.  After the 5 minutes, stir the rice and spinach until the spinach has finished wilting and is incorporated into the rice.  Add salt and pepper to taste.  Be careful with the salt if you used bouillon cubes.
Finish by stirring in 1 or 2 tbsp. of butter, serve with a lemon wedge.
The Kitchen Witch http://www.thekitchenwitchblog.com/

Click to Print a Recipe Card