Would you believe it if I told you that I'm the only member of my family that likes football? It's true; if I watch a game I watch it alone while everyone else goes about their business. Except for one time a year, Super Bowl time.
Suddenly on Super Bowl day I have a crowd in my living room with all eyes peeled on the TV. I suspect that the crowd has nothing to do with the Super Bowl, it has more to do with the Super Bowl food. Next to Thanksgiving, I believe that the Super Bowl is the second largest food consumption day in the United States.
The food served for Super Bowl day is quite different than Thanksgiving. Thanksgiving consists mostly of traditional comfort food where as the Super Bowl is filled with a veritable feast of snack/junk foods. Like Thanksgiving, there are many things that I only make on Super Bowl day. Ever notice how some foods just go better with beer and football. By that I mean: fat laden, fried, cheesy, salty, spicy and pretty much anything that's not good for you is served during the Super Bowl.
One of the easiest foods in the world to make has to be quesadillas, plus the variety of possibilities is endless. This year for the Super Bowl I am making His, Mine and Ours Quesadillas. His: cheddar and jalapeno (cheesy and spicy), Mine: Apple and Brie (sweet and creamy) and Ours: Bacon and Colby Jack (mixed cheese and everyone's favorite-bacon
---
---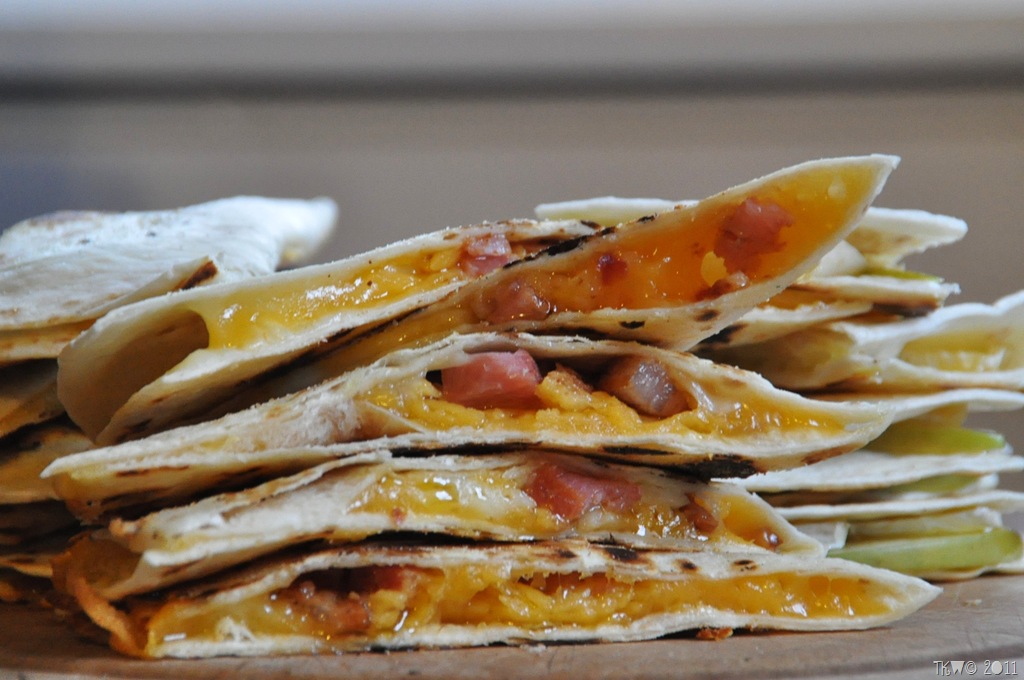 His, Mine and Ours Quesadillas
2016-06-13 21:36:27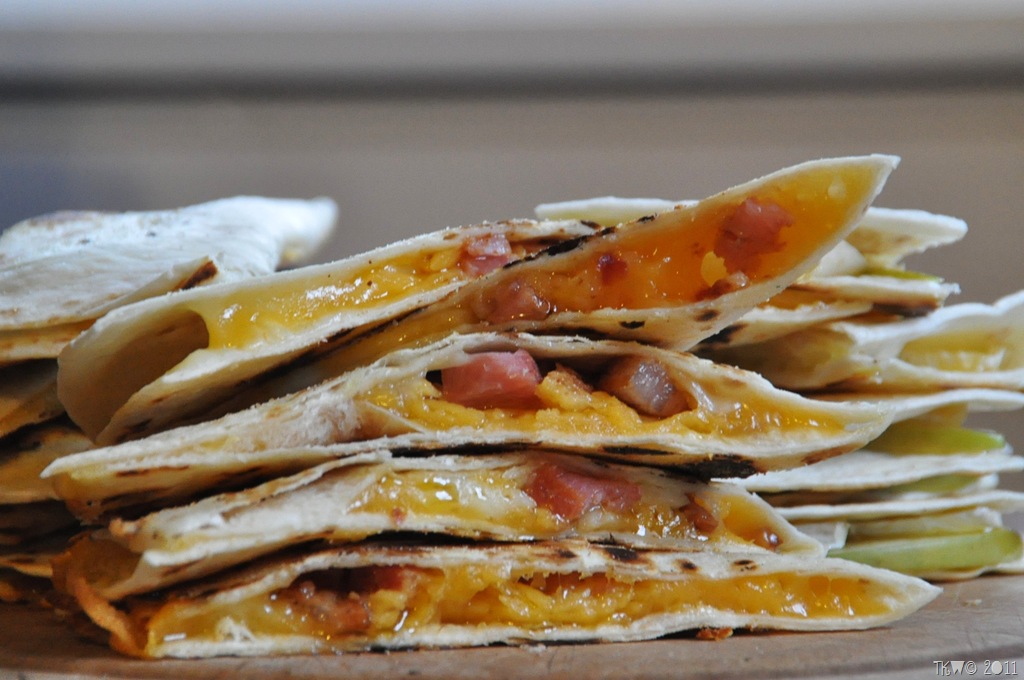 Ingredients
3 Large (Burrito size) flour tortillas
2 oz. shredded sharp cheddar
Pickled jalapeno slices
2 oz. Colby jack cheese, shredded
2 slices bacon, cooked and crumbled
2 oz. brie cheese, sliced
1/4 granny smith apple very thinly sliced
garlic salt
No stick spray
Instructions
Heat a griddle (preferably cast iron) over medium heat.  Spray griddle with some no stick spray.  Lay the tortilla on top.  Sprinkle cheddar cheese on one half and lay jalapeno slices on top of the cheese.  Fold the other half of the tortilla over the top of the cheese and jalapenos.  Griddle until cheese starts to melt and the tortilla turns golden brown in spots.  Flip quesadilla over and brown other side.
My secret tip: spray top of quesadilla with some no stick spray, lightly sprinkle with garlic salt then flip over and griddle 10-15 seconds more.  Lightly spray the other side and sprinkle with garlic salt, flip and griddle for another 10-15 seconds more.  The addition of the garlic salt on the outside gives it almost a roasted garlic flavor and the salt on the outside immediately tantalizes your taste buds.
Repeat the same method for the Cheese and Bacon Quesadilla and the Brie and Apple Quesadilla, except omit the garlic salt on the Brie and Green Apple Quesadillas.  Cut into wedges and serve with salsa, sour cream and guacamole if desired.
The Kitchen Witch http://www.thekitchenwitchblog.com/

Click to Print a Recipe Card