I have to admit that I actually made this dish more than 6 months ago, I didn't post it for what ever reason. I guess it just wasn't it's time. When the Baby boy suggested that I make pulled pork sandwiches for the upcoming Super Bowl, I remembered this fabulous recipe for pulled pork and I knew now was the perfect time.
I've been very fortunate in my life to have lived in many different places. My first duty assignment was at Langley AFB, Virginia. While stationed in Virginia I went to my first Pig Pickin. At the picnic they roasted a whole pig with a North Carolina style sauce. I'm originally form Washington State, in Washington anything barbequed had a red sauce on it, so I was quite surprised when the pig was roasted with a vinegar based sauce. Then I tasted it, my oh my, was it sumptuous. It was smoky, tender, vinegary and spicy.
Way back in August my team at work had volunteered to clean-up a large portion of a riverside park here in town. I thought it would be nice to serve them up some pulled pork sandwiches. I was pretty sure that my local Montanans have never had anything like North Carolina pulled pork, so I volunteered to cook some up.
My conundrum was, I needed to be helping with the clean-up and have lunch ready. Plus I didn't have a huge smoker. I needed to figure out a way to serve 40 people pulled pork. I found this fabulous recipe through Epicurious from The Barbecue! Bible 10th Anniversary Edition by Steven Raichlen. I adapted the recipe to work in the oven, by adding liquid smoke to the rub I was able to give it that essential smoky flavor. I was able to cook the pork in the oven the day before, I then transferred the pulled pork into a crock pot, poured the sauce over it and the next day I rewarmed and served it with buns and coleslaw.
To make it easier on yourself Super Bowl Sunday, take a cue from me and cook the pork the day before in the oven (perfect for this cold time of year) and rewarm it on game day in a crock pot with the sauce and you'll have an easy winner!
Here are the rub ingredients: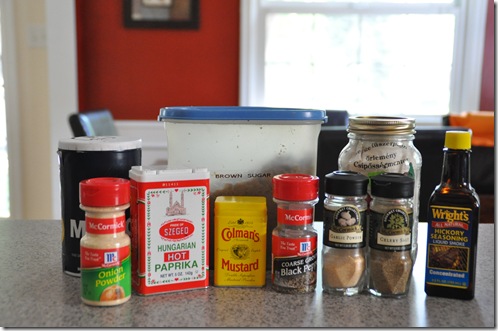 Mix up the dry rub. Add the liquid smoke to create a moist rub.
Rub it all over the pork roast. Cover the roast with the rub and let it marinate at least 3 hours, preferably over night.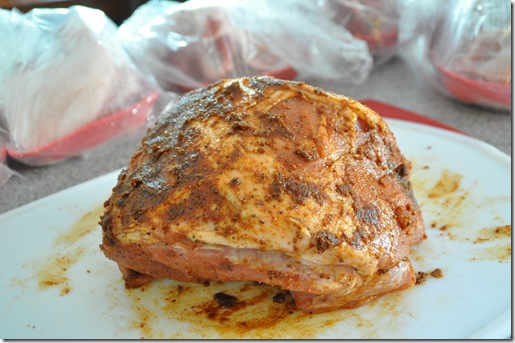 Roast the pork at 250°F for 4-6 hours (until internal temperature reaches 195°F). The meat will naturally pull away from the bone.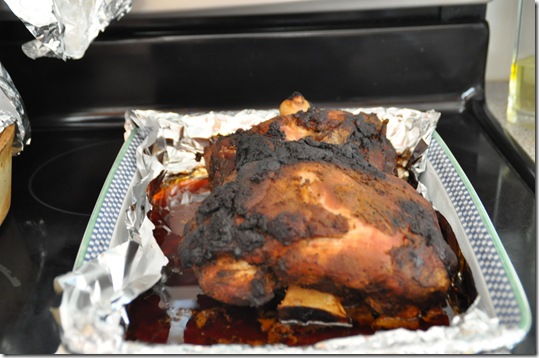 Move the roast to a cutting board and tent with foil, let rest 15 minutes. Using two forks, pull the pork off into shreds. Place the shredded pork in a crock pot or another non reactive pan. Mix the vinegar sauce and pour over the pork enough to make the meat moist. Keep warm, or gently reheat if needed.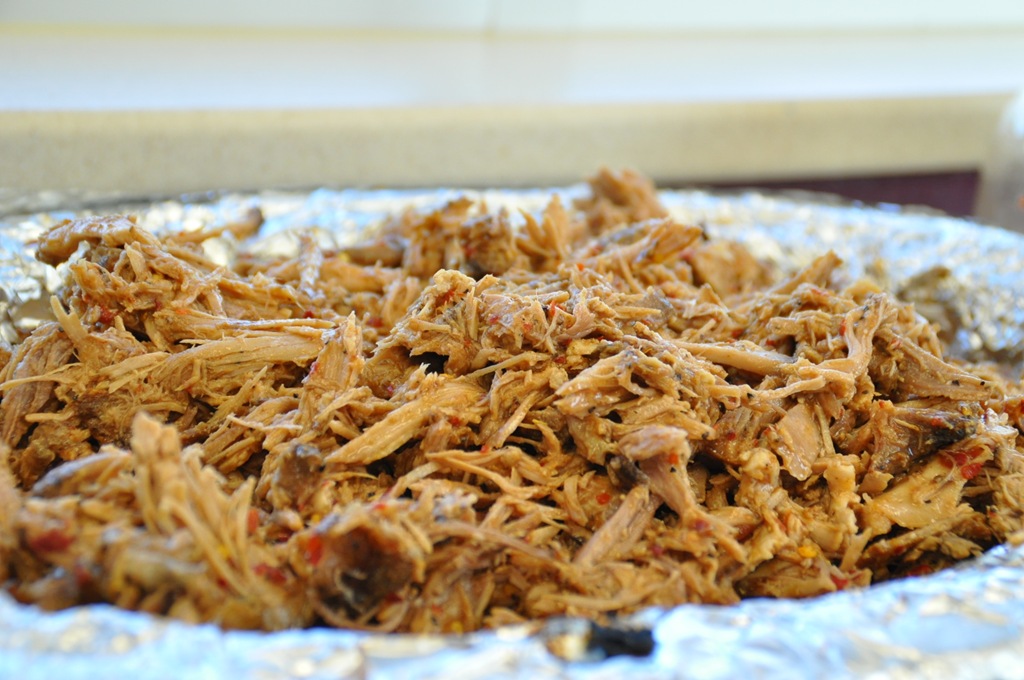 North Carolina Pulled Pork
2016-06-13 21:29:30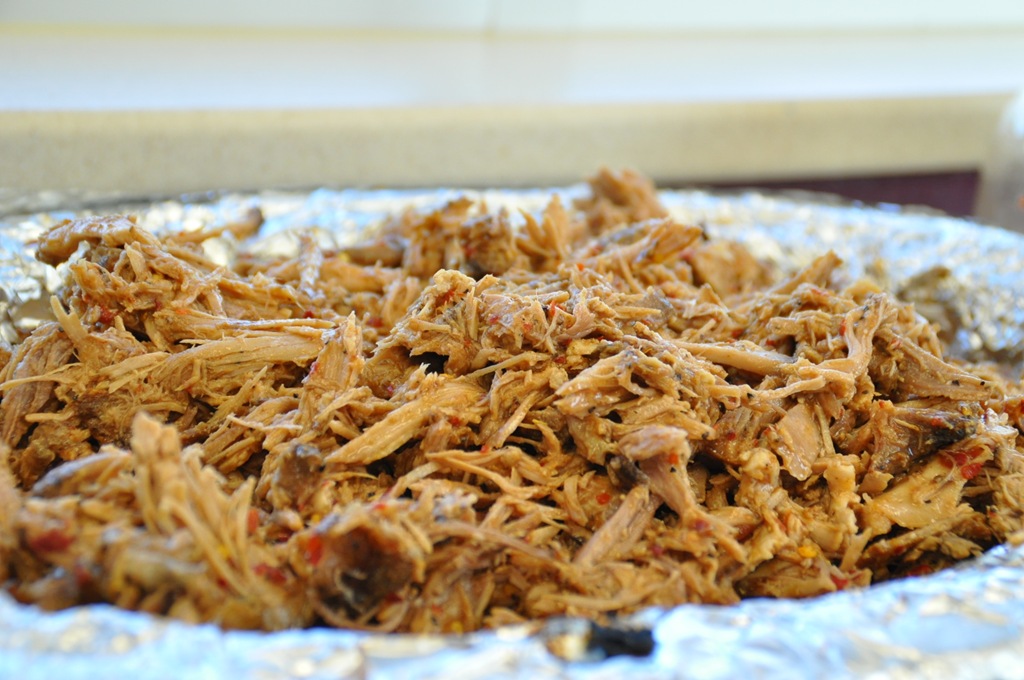 Ingredients
1 (5 to 6 lbs.) Boston butt pork roast
Rub
1 tbsp. mild paprika
2 tsp. light brown sugar
1 1/2 tsp. hot paprika
1/2 tsp. celery salt
1/2 tsp. garlic salt
1/2 tsp. dry mustard
1/2 tsp. freshly ground black pepper
1/2 tsp. onion powder
1/4 tsp. salt
1/2 tsp. liquid smoke
Vinegar Sauce
2 cups cider vinegar
1/2 cup plus 2 tbsp. ketchup
1/4 cup firmly packed brown sugar, or more to taste
5 tsp. salt, or more to taste
4 tsp. hot red pepper flakes, or less to taste
1 tsp. freshly ground black pepper
1 tsp. freshly ground white pepper
Instructions
Mix the rub ingredients and coat pork entirely, wrap in plastic wrap and refrigerate for at least 3 hours, preferably over night.
In a foil lined pan at 250°F, roast pork for 4 – 6 hours, until internal temperature reaches 195°F.  Transfer pork to a cutting board, loosely tent with aluminum foil, and let rest for 15 minutes.   Using a fork pull each piece of pork into shreds 1 to 2 inches long (discard fat and bones).
Transfer pork to a crockpot or other nonreactive roasting pan.  Mix vinegar sauce ingredients.  Stir in 1 to 1 1/2 cups of the vinegar sauce, enough to keep the pork moist, then cover and reheat the  pork, or keep warm.
To serve, mound the pulled pork on the hamburger buns and top with coleslaw.  Serve extra vinegar sauce on the side.
Adapted from The Barbeque! bible 10th Anniversary Edition
Adapted from The Barbeque! bible 10th Anniversary Edition
The Kitchen Witch http://www.thekitchenwitchblog.com/

Click to Print a Recipe Card