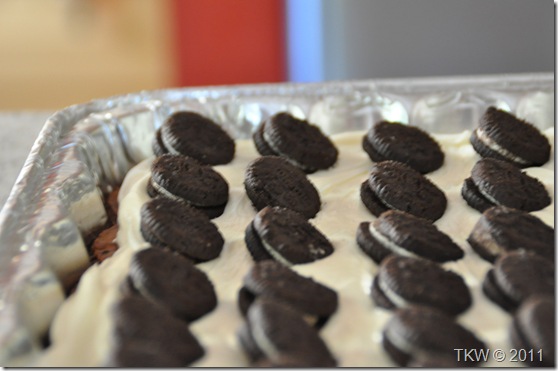 Sometimes you need to make something to go, a special delivery for someone? Do you know what the best thing about making a dish for someone else is? It doesn't matter how many fat and calories it has (bwahaha), I mean it's the thought that counts. If you plan it right you also make sure that no dishes come back home to you.
Whenever I get the chance to prepare a dish for someone else or for an event such as a bake sale or pot luck, I try to consider who it's going to or the sell-ability or if a theme is involved and then go from there. On this particular instance there were kids involved.
I decided on a kiddie favorite, brownies, and boosted it's super powers by adding an iconic cookie…Oreos. How could you go wrong with chocolate and chocolate sandwich cookies? The inspiration didn't come on it's own, I saw a similar idea on the back of a brownie box. I can't remember which brand or when but the idea stuck in my head.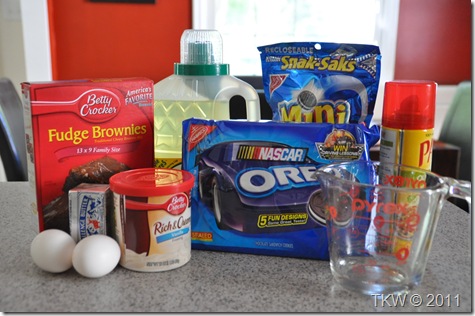 I began by assigning the Baby boy the task of removing the filling from the cookies so I could make the base. It meant that he had to eat all the stuffins, but I didn't hear any complaining. Break up the cookies into crumbs using a rolling pin or as I did, using a food processor. I mixed those chocolaty crumbs with some butter and pressed it into a disposable 9×13 pan and baked it for 10 minutes to crisp it up.
Then I did what I don't usually do well, I followed the directions on the brownie mix package and prepared the batter. You can make your own brownie batter, if you are that kind of person, no secrets here, I am not that person.
Pour the batter over the cookie crumb base and bake according to…you guessed it…package directions. Let it cool completely.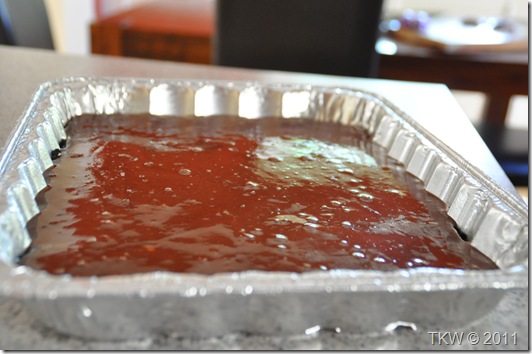 Next using all your kitchen skills, pop open a can of vanilla frosting and spread it evenly over the cooled brownies. You can also make your own frosting too, go ahead and show off, I won't be offended. Decorate with crumbled Oreo cookies or with mini Oreos (the kids really like the mini Oreos).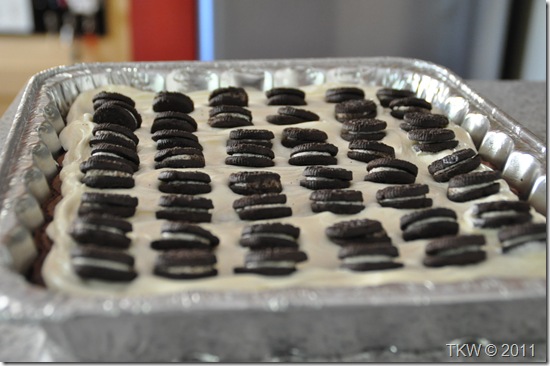 Cover and take away to wherever you need to go.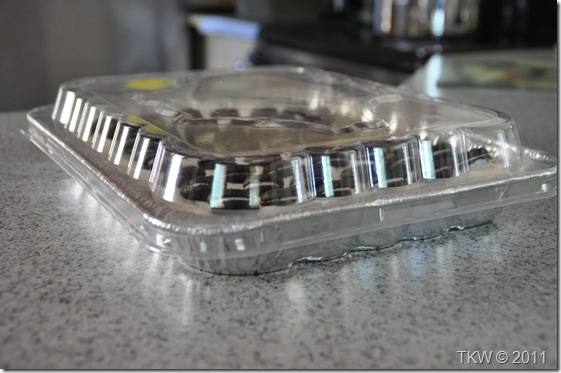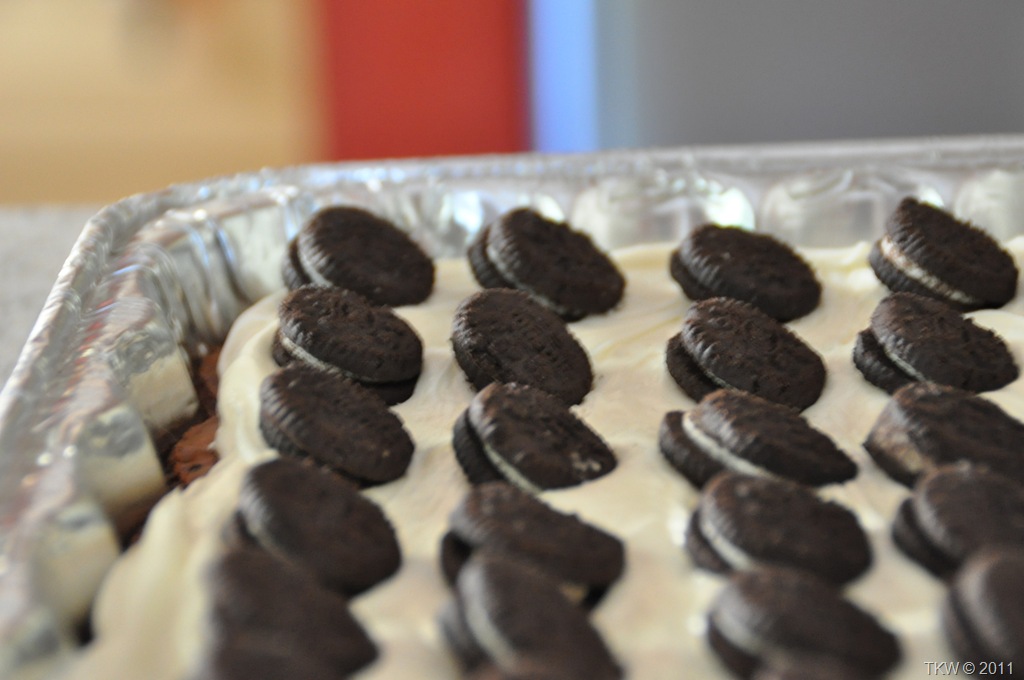 Oreo Cookie Brownies
2016-06-13 21:10:09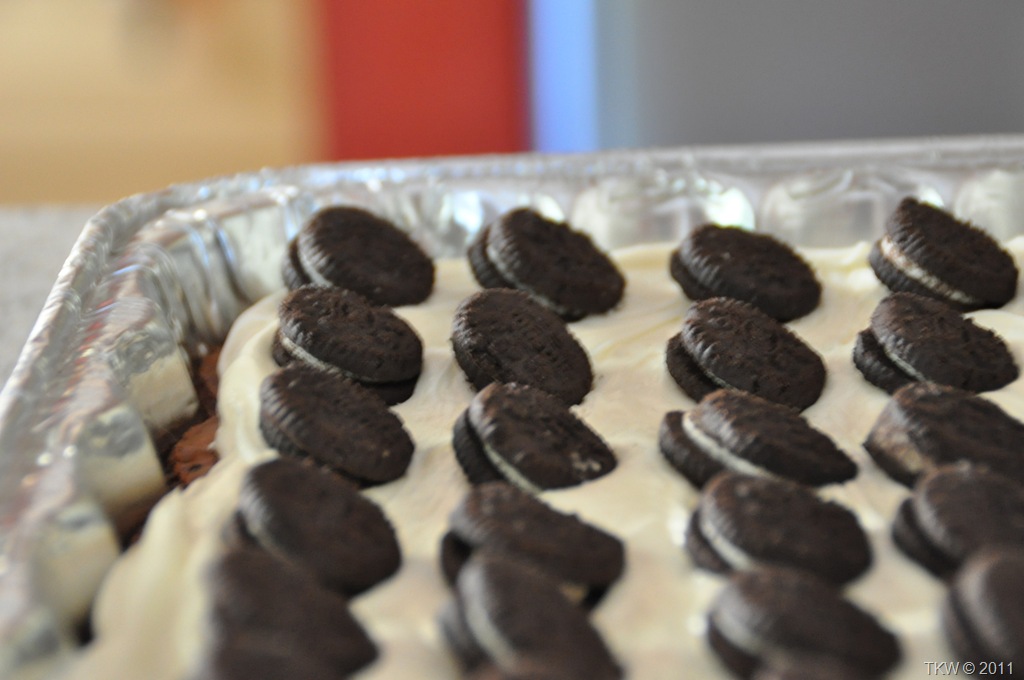 Ingredients
2 cups Cookie Crumbs (about 1 package of Oreo cookies)
1/2 cup butter, melted
1 box brownie mix (plus ingredients listed on the box to prepare the mix i.e. eggs, oil and water)
1 container vanilla frosting
Mini Oreo cookies or cookie crumbles
Instructions
Preheat the oven to 350°F.  Mix the cookie crumbs and the melted butter.  Press into a 9x13 pan.  Bake for 10 minutes and remove from the oven and allow to cool.  Meanwhile, prepare the brownies according to the package directions.  Pour the batter over the prepared cookie crust, spread evenly.  Bake according to the package directions.
Let the brownies cool completely, top with vanilla icing and decorate with mini Oreo cookies or cookie crumbles.
The Kitchen Witch http://www.thekitchenwitchblog.com/

Addendum to my post: This recipe was selected by members of the Secret Recipe Club to recreate, not once, but twice! If you'd like to see other versions please click on the buttons.

By Mommy's Menu
and by Life's Simple Measure's

Click to Print a Recipe Card