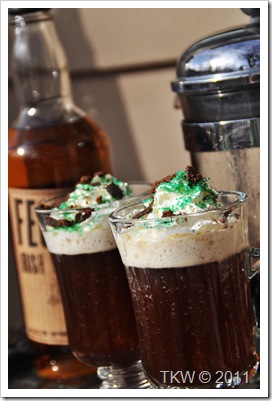 It came to me, out of nowhere, a drink for St. Patrick's Day. I tried to ignore it; it would be empty calories that I don't need. Then I was at Bed, Bath and Beyond and they had Irish Coffee Mugs…cheap. I bought two. Just in case. But I won't use them.
I searched the internet, has anyone created a drink like this? Irish coffee, check. Grasshopper coffee, check. Thin Mint Irish Coffee…no where to be found. It doesn't matter, I'm not going to make it anyways.
At work I throw the idea around; does it sound good? "Oh yes, and are you going to post it?" I probably shouldn't. Well, maybe. After all, it can't just be a coincidence that Girl Scout cookies come out so close to St. Patrick's Day, right? I mean, it's like, destiny or something, isn't it?
There is probably something just a little wrong with mixing Girl Scout cookies and alcohol. I can't help it, they were my inspiration. It could have been Andes mints or a York Peppermint Patty, but it wasn't. I haven't been known as an politically correct person, so I'm going with my original inspiration: The Thin Mint.
Humor me for a moment as I share my tribulations. I rushed home after buying the booze and picking up the Baby boy from school. I needed to hurry while I had some natural light. I ground fresh coffee, made a half pot, made my drinks sans whipped cream and started practice shooting. (I wanted to practice before the I put on the whipped cream…for melty reasons.)
Just as I was ready…major cloud cover. I tried all my viable spots in the house, but I only got dark, bad pictures. So I took it outside, the light was better but the 15 mile an hour Chinook winds did not make it easy. It's a good thing I made two of them for the photo…they were quickly consumed after I was done…and all was well again.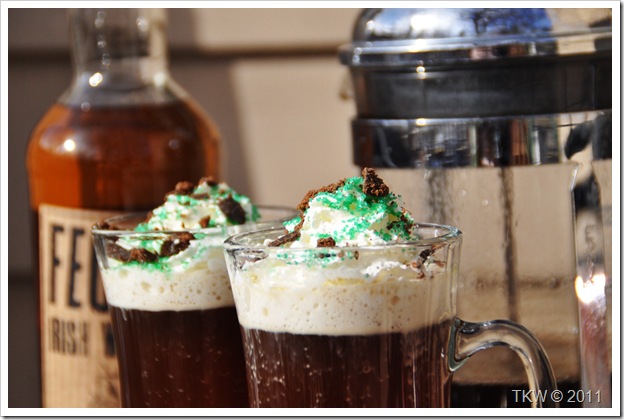 I have to say this drink was Feckin good! If you're Irish you know what I mean, if you aren't, it's the ummm brand of Irish Whiskey I used. You don't have to save this drink for just St. Paddy's day, I think that you would enjoy it anytime!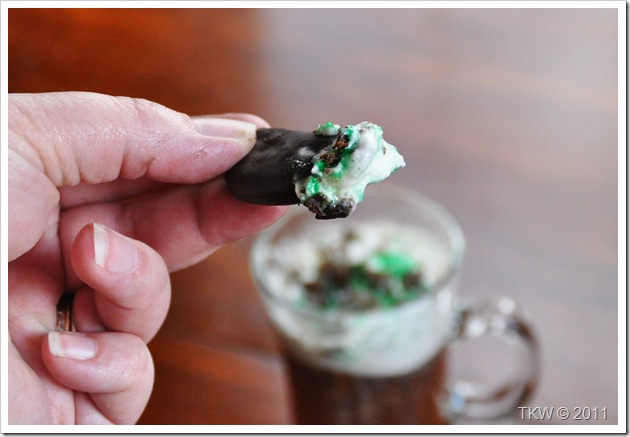 Note: I used some green sprinkles to give it a festive flare, or you could dye the whipped cream green for an even bolder affect. Or just skip it altogether.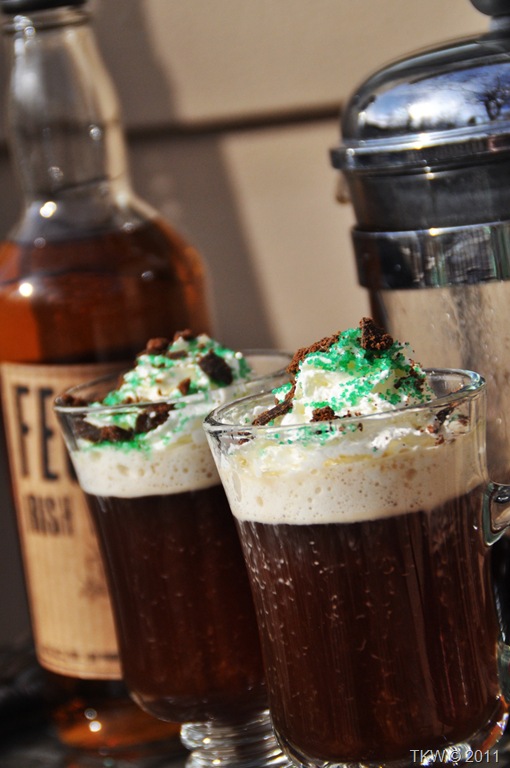 Thin Mint Irish Coffee
2016-06-13 21:01:28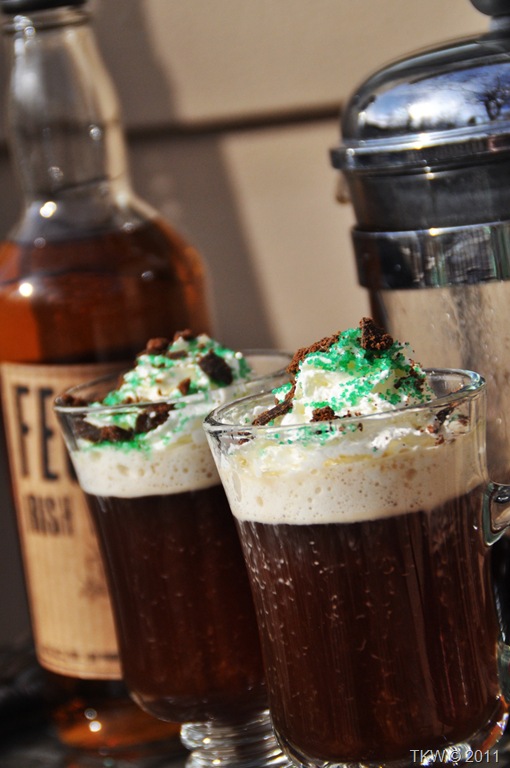 Ingredients
1/2 oz. Kahlua Mocha or Crème de Cacao
1/2 oz. Crème de Menthe
1 oz. Irish Whiskey
1/2 cup strong coffee
Whipped Cream
1 Thin Mint, chopped for Garnish
Green sprinkles or green dye if desired
Instructions
Mix Kahlua Mocha, Crème de Menthe, Irish Whiskey and coffee in an 8 oz. mug.  top with whipped cream (colored green if desired) and garnish with Thin Mint cookie crumbs and green sprinkles.
Notes
(for one drink)
The Kitchen Witch http://www.thekitchenwitchblog.com/

Click to Print a Recipe Card