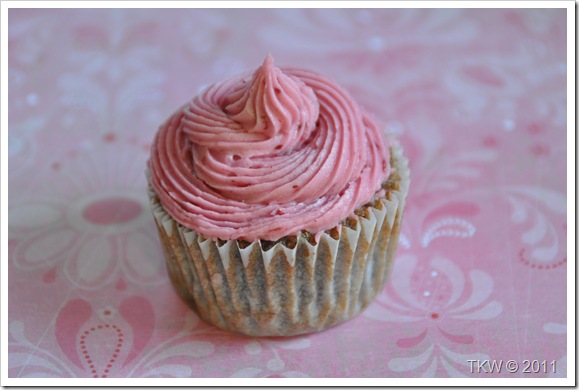 Happy Earth Day!

Have you ever got an urge or a craving that you just couldn't let go? The only way to shake it is to go ahead and make/eat it? I don't know why I got this urge to make cupcakes. I normally don't enjoy baking. Perhaps it was the Food Network challenge I recently watched? Not sure if that's here the idea came from but there it was, implanted in my mind and it wasn't going anywhere until I did something about it. I very specifically wanted to make blackberry cupcakes. Again, I have no idea why, I can't even fathom where that thought came from, but there it was, and it wasn't going away.
My original thought was to make a plain white cake mix and stick a whole blackberry in the middle and top it with blackberry frosting. But I wasn't sure if a whole berry surprise would work. I searched Google for a Blackberry Cupcake Recipes and I found an enticing one at Confections of a Foodie Bride, you can find the original recipe here. Her recipe seemed better then my idea so I rushed out and got the necessary supplies. Cake flour, check. Powdered sugar, check. Fresh Blackberries…no where, nada, wasn't going to happen. Not to be deterred, (I mean I had to make these cupcakes) I bought fresh frozen blackberries hoping they would suffice.
When it comes to baking, I follow the recipe, I really am not comfortable enough to deter to far from the original. I set out my milk, eggs and butter early in the morning so they would be room temperature and the butter softened as recommended. Once the blackberries were defrosted, I pureed them and stained the seeds out. This was labor intensive and made quite the mess. I was thinking about purchasing a food mill some where during that time…I was also starting to wonder why I wanted to do this so bad.
I carefully measured ingredients, mixing in separate bowls, adding the dry to the wet in increments. Preheated my oven, lined my cupcake pans (a did a mixture of mini and regular). Filled the liners 3/4 full and baked with an occasional peek. The timer was set to the minimum time and the cupcakes were tested for doneness before removing from the oven.
Here's where disappointment set in. I must have done something wrong. My cupcakes did not rise up nicely. Oh they rose enough to spread over the top of the pan and turn golden brown and crunchy. Crunchy, is not a word one should use to describe their cupcakes. Did I over mix them? Did I fill them to full? Was my butter not soft enough? Was it *gasp* the frozen blackberries? Maybe I should have sifted the dry ingredients together instead of being lazy and just whisking them together?
With a heavy heart I removed the cakes, I broke off the crunchy bits and fed them to the baby boy who deemed them delicious tasting even if they were crunchy. After hearing his report that they were edible although not beautiful, I decided to press on and make the frosting.
The frosting was a snap to make and came out perfect! I'm no stranger to making a good frosting (it's usually atop boxed cake mixes). I had some decorators tips, and thought that with a nice fancy bit of frosting on top, no one will care if my cakes weren't perfect. I didn't have any frosting bags so I used a zipper top plastic bag. Time for another disappointment. I managed to frost 1 cupcake and then I busted my bag, I tried a second bag and the same thing happened. Time to throw in the towel; I got out my frosting knife and just smothered them in a not so pretty way.
I managed to get one nice cupcake, of which I took my photo. Actually, I wasn't going to post this recipe at all, but…I brought them to work and everyone adored them. So much so, that I have a request to make them for an upcoming baby shower (the colors are perfect for a shower). Plus I'm sure Confections of a Foodie Bride didn't have issues and I decided that I'd love some feedback.
Can someone please tell me where I went wrong?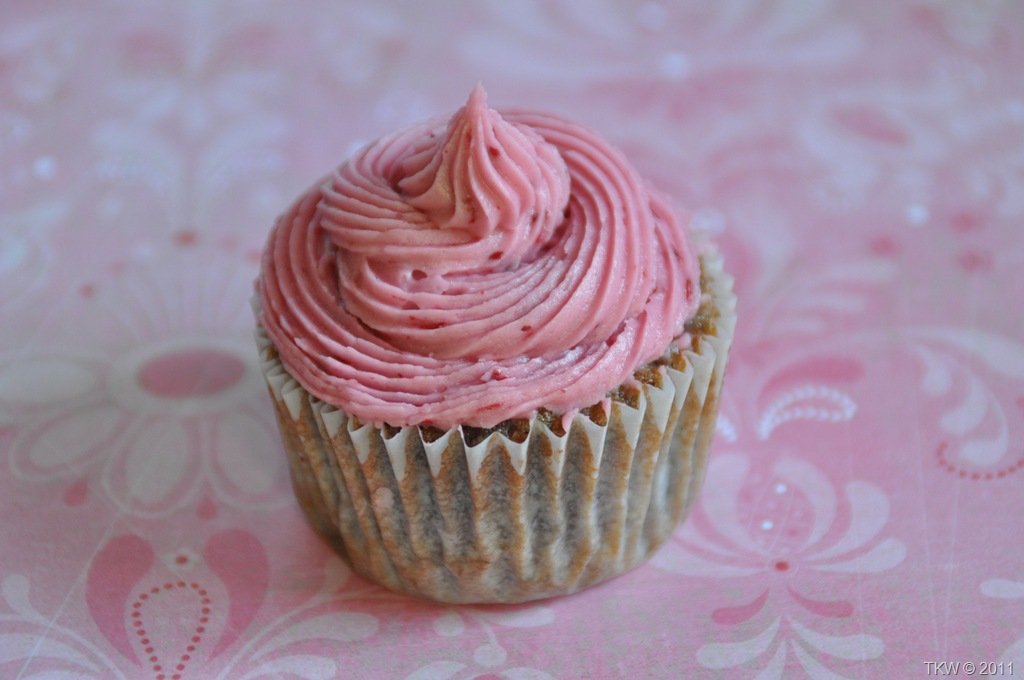 Blackberry Cupcakes
2016-06-13 20:31:21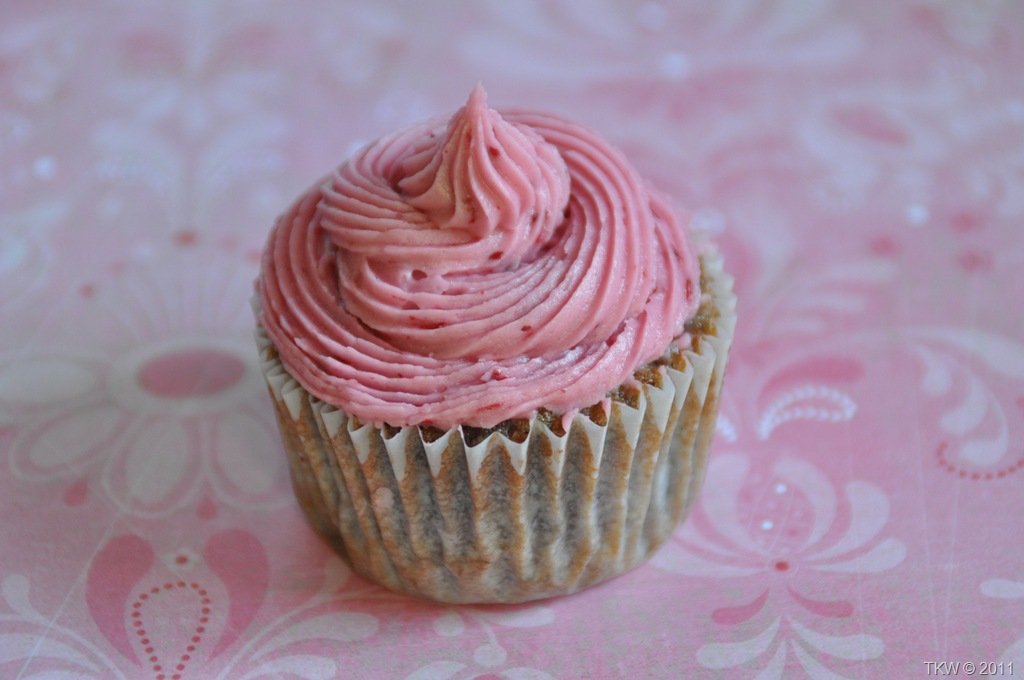 Ingredients
3 6oz packs blackberries
1/3 cup milk, at room temperature
6 large egg whites, room temperature
2 tsp lemon juice
2 1/4 cup cake flour, sifted
1 3/4 cup sugar
4 tsp baking powder
1 tsp salt
12 Tbsp unsalted butter (1 1/2 sticks), softened
1 recipe Blackberry Buttercream Frosting, recipe follows
Instructions
Preheat oven to 350 degrees and prepare two muffin pans with liners.
Puree blackberries in a food processor or blender. Scrape into a fine mesh sieve set over a bowl. With a rubber spatula, work the blackberries through the sieve, leaving seeds behind. Remove 1/4 cup of puree for the frosting. Your mileage may vary but you should have ~2/3 cup of blackberry puree leftover.
In small bowl, combine puree, milk, egg, lemon juice, and mix with fork until well blended. In bowl of stand mixer, add sifted flour, sugar, baking powder and salt and mix to combine. Continue beating at slow speed and add butter. Mix until combined and resembling moist crumbs.
Add liquids and beat at medium speed for about 1 minute or until full and evenly combined. Stop mixer to scrape down the sides of the bowl and beat for 30 more seconds. Fill cupcake liners ~3/4 full.
Bake for about 20 minutes or until a toothpick inserted in the center cupcake in each pan comes out clean. Let cupcakes cool in pans and then transfer to a covered plate.
Adapted from Cook's Illustrated Classic White Layer Cake
Adapted from Cook's Illustrated Classic White Layer Cake
The Kitchen Witch http://www.thekitchenwitchblog.com/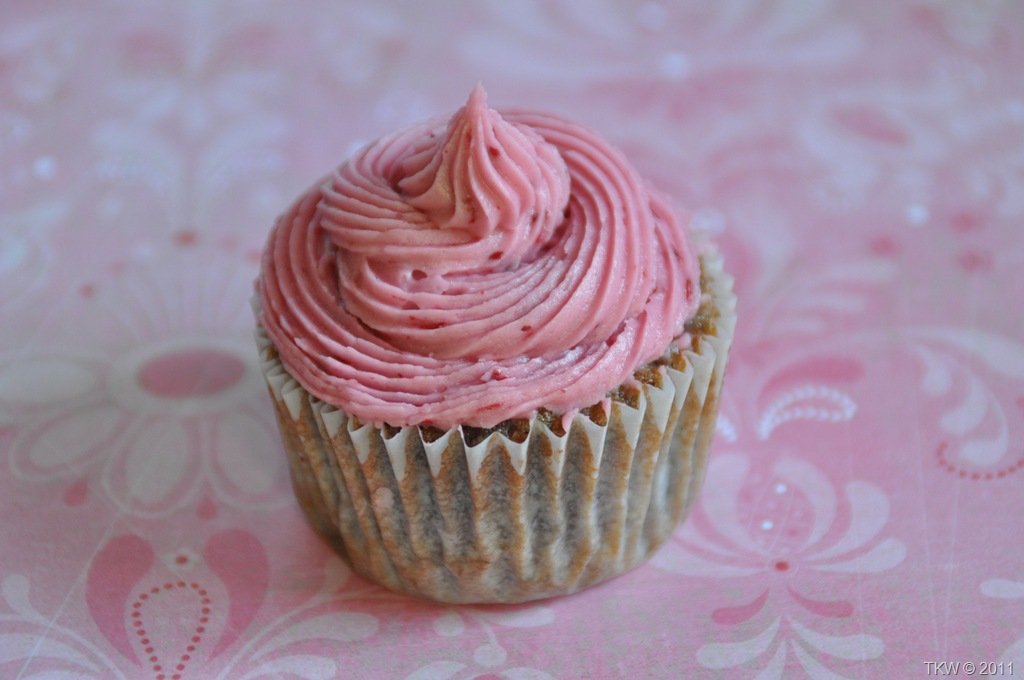 Blackberry Buttercream Frosting
2016-06-13 20:32:29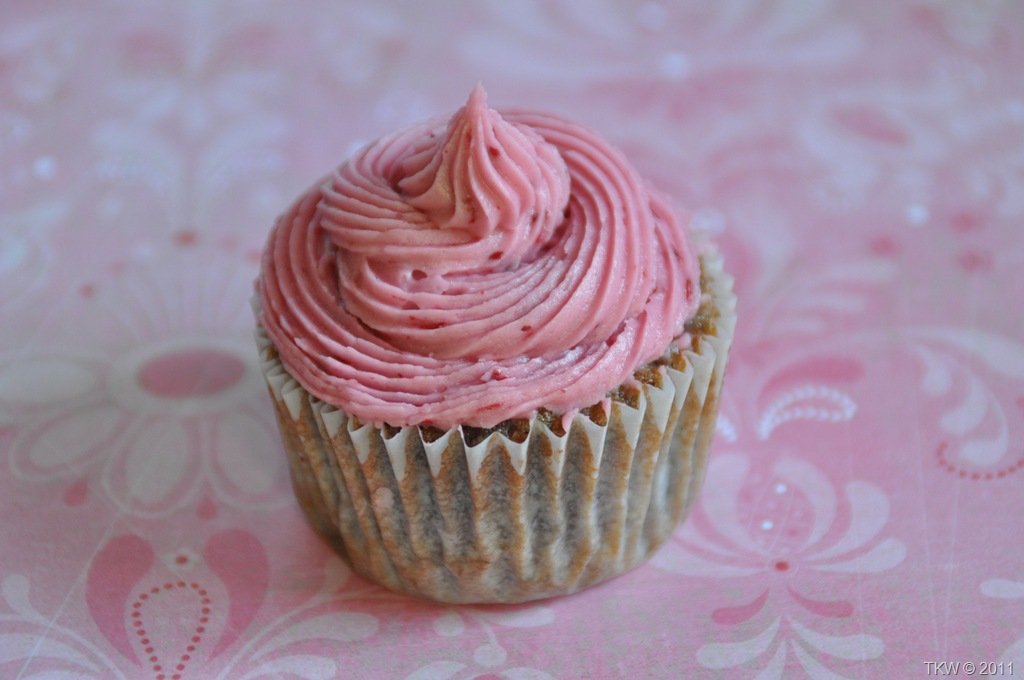 Ingredients
2 sticks butter unsalted butter, softened
1/2 tsp vanilla
1/4 tsp almond extract
5 cups confectioner's sugar
1 Tbsp meringue powder
pinch of salt
1/4 cup blackberry puree
Instructions
Cream butter and extracts until smooth. Mix in confectioner's sugar, meringue powder, and salt and beat 2-3 minutes on high. Add blackberry puree and beat for an additional minute. Adjust consistency, if desired, with additional confectioner's sugar or water.
Adapted from Confections of a Foodie Bride
Adapted from Confections of a Foodie Bride
The Kitchen Witch http://www.thekitchenwitchblog.com/

Click to Print a Recipe Card