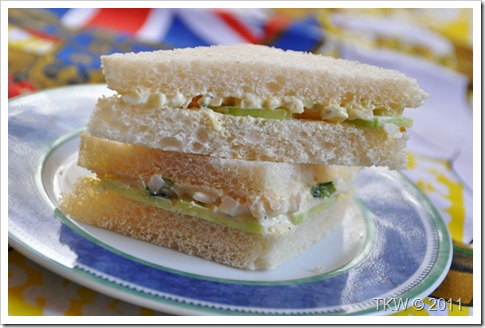 In honor of William and Kate's wedding, my post today is British themed. Some of you already know this, but for those of you who don't, I spent 4 years living in England. Receiving an overseas assignments was one of the best perks of being in the military. It was so incredibly exciting, I had never lived abroad before and I couldn't wait to immerse myself into the English culture.
My family and I moved into a thatched cottage in a little village called Wretham (also known as East Wretham). So small in fact, that it did not have a school. We lived too far away for my daughter, Leah (from Leftovers at Lunch), to attend the American school on base. I enrolled Leah in the school in the nearby village of Great Hockham. The school was tiny, they had multiple grades in each class. Leah loved it, soon she made friends. The other students were thrilled to have an American student in their school.
(Images scanned from a card made by Carol Slattery)
One of Leah's friends invited her to their house for tea. I couldn't believe it, I was besides myself, a real live English family inviting Leah over for tea. I immediately began coaching Leah on how to drink tea, the proper etiquette, etc. (I did my research before moving to the UK). Leah was excited to go to her friends house but was dismayed "Mom, I don't even like tea". I assured her with enough cream and sugar she would be able to tolerate it. I instructed her not to be rude and to drink/eat what was put in front of her. I mean really, they are British and are quite proud of their tea.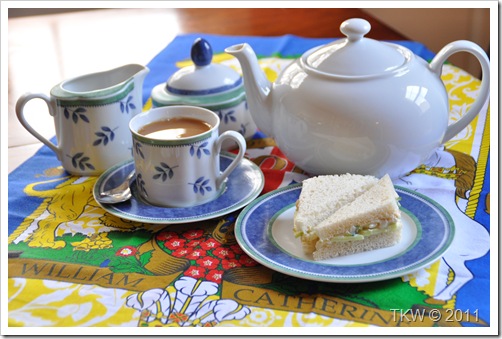 After school the next day she went to tea, and in a few hours she was dropped back home. As soon as she arrived I informer her that dinner was ready and that I wanted all the details about having a proper tea, you know with the British family. That's when Leah shocked me, "Mom, we didn't have tea at all, we had dinner". What? How could that be? How do you invite a child over for tea and give them dinner!
Leah was pleased, after all she didn't have to fake liking tea. Me? I was confused. After asking around a bit, I discovered that the phrase "Tea Time" has evolved to another way of saying dinner time. Tea time is still tea time, unless it's around dinner time that it's dinner that may involve a cup of tea, but not necessarily.
While living there, I also discovered why the Brits love their tea, it's because their coffee is so awful. It's not that I didn't ever get a good cup of coffee, I did when it was served privately at someone's home or at a high end restaurant. Mainly, it was just awful, so I started drinking tea. Good tea, like really, really good tea. I started drinking it every day, a fresh pot as soon as I got home. I was brand conscious and only used PG Tips or Typhoo. Personally I prefer PG Tips, I think it may have to do more with the cute shape of the bag than anything else.
To make a perfect cuppa tea you should:
Use a teakettle with a whistle. Why? Because you only want to heat the water until just before boiling. How it works: as the water heats up and evaporates into steam, the steam builds up, when the pressure is high enough the whistle blows warning you that your water is ready. Without that whistle, you will likely forget the water is on and boil your water (which compromises the taste and is way too hot to drink).

Use fresh cold water in your teapot, not the half pot of water you left in there the day before (although I have been known to do that…what a risk taker!). Pour some hot water into the pot and swirl it around to warm the pot. Place one or two teabags in the pot and pour the water over it, stir it a couple of times then cover it. Use a tea cozy to keep it warm and let it brew 3-5 minutes depending on how strong you like yours.

Serve in teacups with demerara or raw cane sugar and cream. I recommend the demerara because of the rich brown sugar flavor it adds.
If you are having an afternoon tea, it's nice to accompany it with biscuits (oh how I miss McVitie's Digestives), or a small sandwich to tidy you over till dinner. When I picture light sandwiches with tea, naturally the traditional cucumber sandwich comes to mind.
I used to love ordering the Prawn Sandwich at the Dog and Partridge in East Wretham, it was one of my favorite so I definitely wanted to do a prawn type sandwich and I wanted to include cucumber.
(photo from the internet)
To honor the tradition of the English and to represent the newest generation; for Prince William and Catherine's wedding, I created a Prawn and Egg Salad Sandwich with cucumber. Okay, I confess, it was partly to use up my Easter Eggs.
I made a manly 'Prince William' version with toasted sourdough and tomato slices.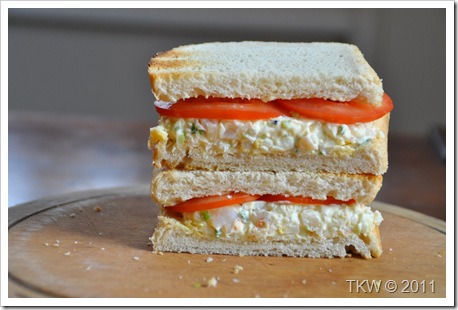 And a dainty 'Catherine' version with no crusts and cucumbers.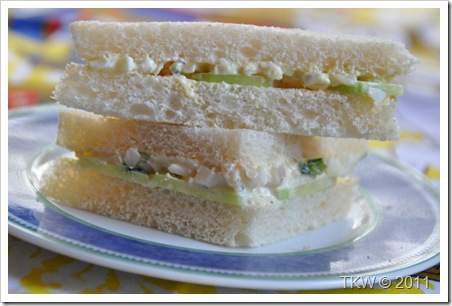 Note: another thing I had to get used to, all shrimp are called prawns in the UK.
Did you notice the fabulous tea towel I was using? My dear friend Linda from England sent it to me, and just in time for the wedding! I had to put the towel on the floor to get a full picture, naturally the dogs got curious.
She is so wonderful, and Linda, I promise I'll send you these Made in Montana soaps….(I provided a picture as proof that I really do have them).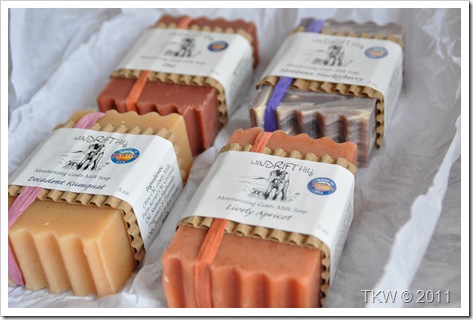 Please excuse me now, while I watch all the wedding hoopla while enjoying a perfect cuppa tea and my dainty sandwich.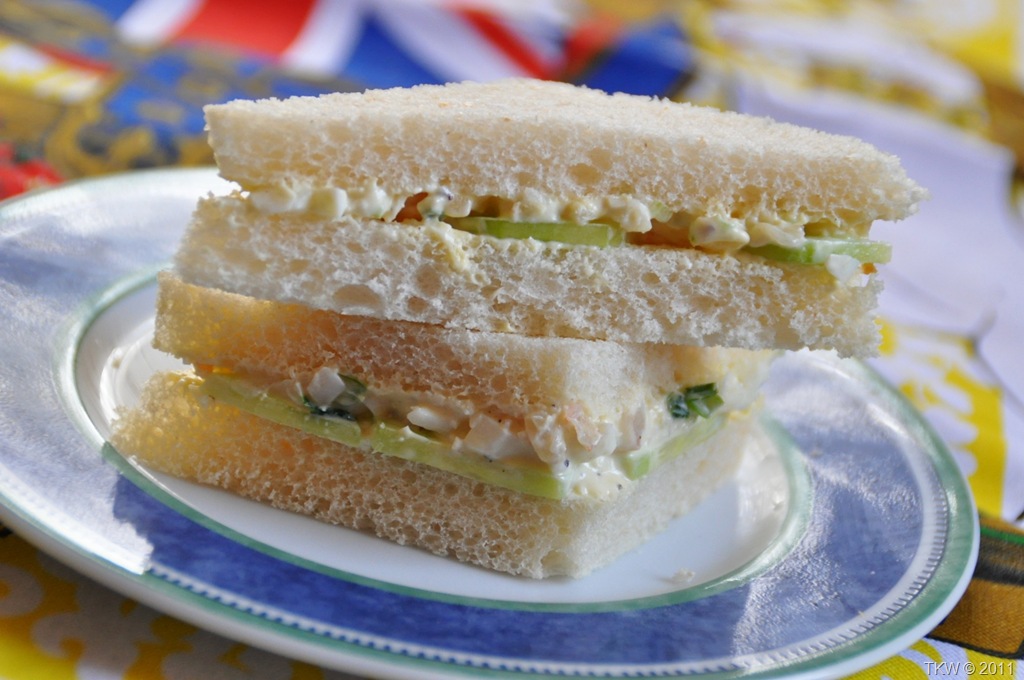 Prawn and Shrimp Salad Sandwiches
2016-06-13 20:25:16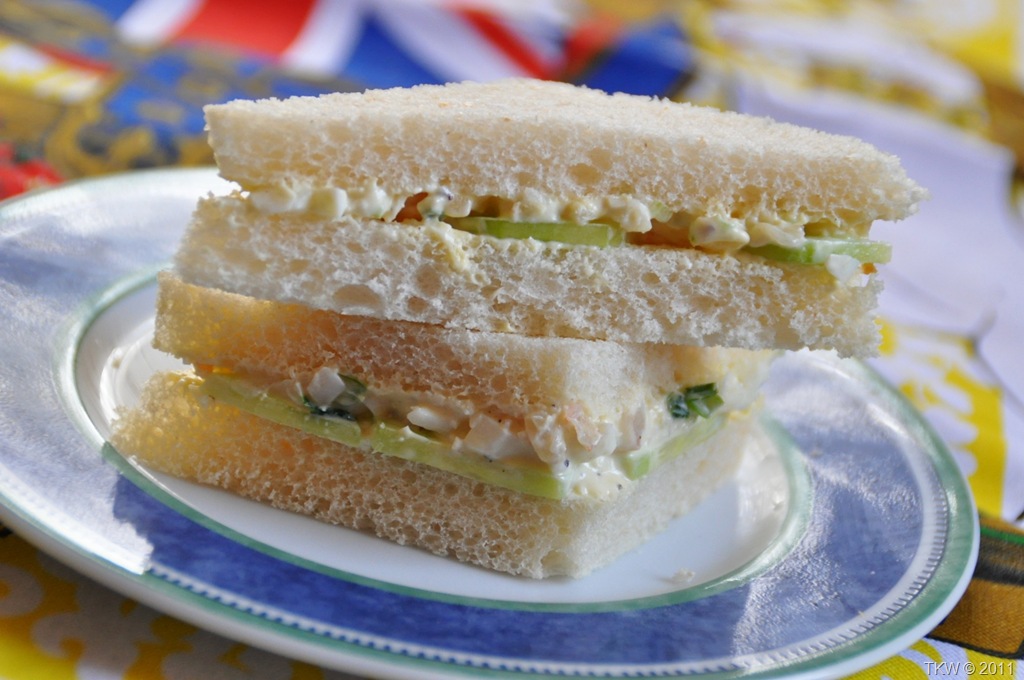 Ingredients
3 oz. cream cheese, softened
1/3 cup mayonnaise
1 cup finely chopped hard boiled eggs (about 3)
1 cup finely chopped cooked shrimp (apprx. 1/2 lb.)
2 to 3 green onions, finely diced
1/3 cup finely chopped water chestnuts (optional)
1/4 tsp. kosher salt
1/8 tsp. fresh ground black pepper or more to taste
8 slices sourdough bread (crusts removed or toasted)
Sliced cucumber or sliced tomato
Instructions
Mix cream cheese and mayonnaise until homogeneous.  Stir in eggs, shrimp, green onions, water chestnuts (optional), salt and pepper.  Blend well but don't over mix.  Serve on toasted sourdough with tomatoes, or crust-less sourdough with cucumber.
The Kitchen Witch http://www.thekitchenwitchblog.com/

Click to Print a Recipe Card