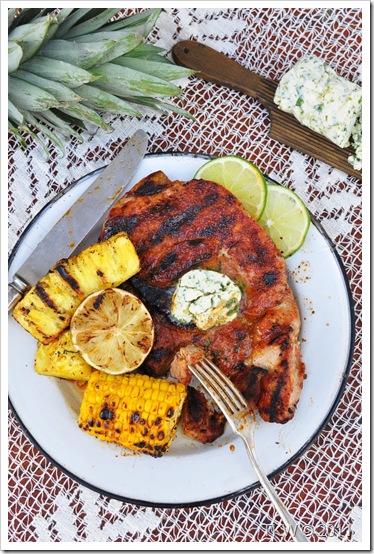 Sometimes life gets in the way of riding, cooking, photographing and blogging like I want to. There just isn't enough time, often times I've thought "I should have waited till I retired to do a blog". I've even thought about putting it on hold for awhile, you know, while I try to catch up on life. But. I. Can't. I love it, I really do.
Especially when I have one of those days. The day when the weather is great, I don't have a million chores and errands to do. A day where I can take a recipe idea in my head and make it real, cook it early enough while it's still light out and have plenty of time to stop and photograph along the way.
The day came when McGyver was out of town, the Baby boy had plenty of things (other than bugging me) to do. A day where I said, forget the chores, forget the errands, cook and take pictures at your leisure. It was a spectacular day, a day I wish I could repeat everyday!
My wonderful cooking day started with compound butter. I took it out of the fridge and let it set at room temperature to soften up, so nice to have the time to do that with out much prior planning. I puttered around the house, caught up my Google Reader and basically killed time while the butter softened…I might have even made a quick trip to a nearby antique/second hand store (see juicer).
After all that puttering around, I realized that a wee bit more time had slipped by than I planned, so I hurriedly mixed up my butter compound, rolled it up and stuck it in the freezer to firm up quickly. Back on track, I felt I had all the time in the world…
I prepped my pineapple for grilling, I even shot a tutorial on how to prepare a pineapple wedge.
The chili rub was sprinkled on approximately 30 minutes before I grilled, I let the pork sirloin steaks sit out at room temperature for 30 minutes. I knew my pork would have to cook quick or I'd have blackened pork instead of a nice grilled steak.
Allowing meat to warm up before grilling shortens the time on grill and ensures you don't have a well done outside and a cold inside.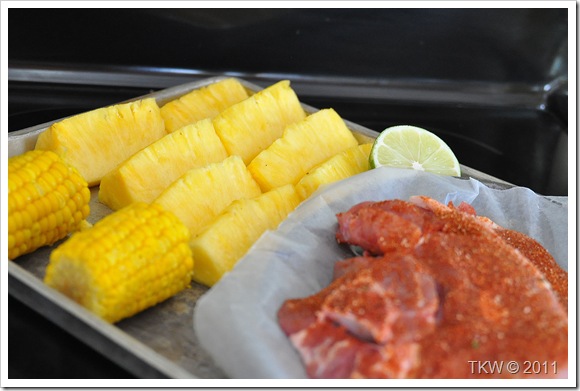 I'm a grill queen, poor McGyver has lost the man throne of grilling, it was usurped by his loving wife. One of my resolutions this year was to let go of some of the cooking…like the grilling, but McGyver wasn't here so it was all mine!
When I grill meat I like to put wax paper or another kind of liner on a platter, when I put the meat on the grill I throw the liner away and now I have a clean platter for the cooked meat. I also pile items up on a large sheet pan to transport out to the grill, it saves time and steps, plus I have a place to put cooked items.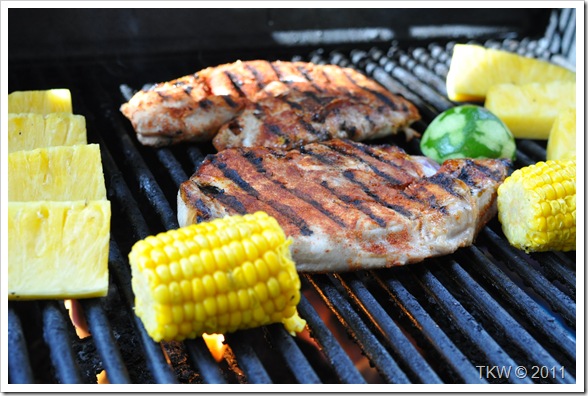 The pineapple was absolute perfection with the spicy pork, and the melty cilantro and lime compound butter gave a richness and a crisp contrast to the chili rub. In my book a meal couldn't have been better: smoky, sweet and spicy, with a teeny bit of tartness. I did my best to eat it all, I really did.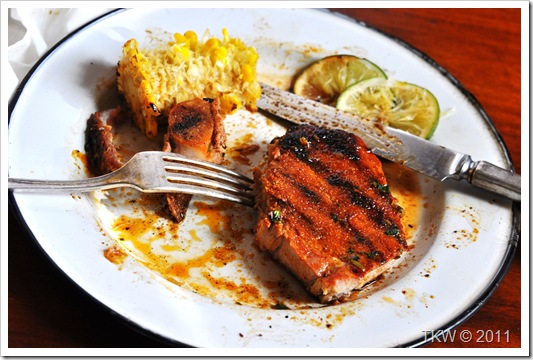 I had the luxury of setting a table up outside, taking the time to set up "a scene" instead of just a quick food shot, I even got out a stool and took pictures from different views. Even now as I type up this post after a 12 hour work day, I'm feeling the euphoria of something so perfect and so right. And coincidently home alone, unbothered to draft my post.
The glass of wine next to me, might be helping the euphoric feeling?!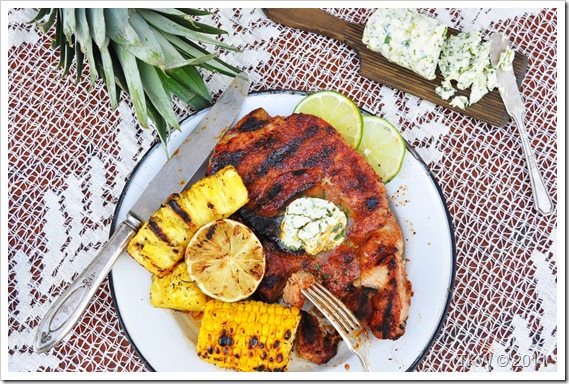 I loved this day, I loved this meal..now about that retirement plan…
Chili Rubbed Pork Steak with Cilantro Lime Butter and Grilled Pineapple

2016-06-13 19:31:19

Ingredients

1 Pineapple, peeled, cored and cut into wedges
1 lime grilled (optional)

Compound Butter

1/2 cup (1 stick) unsalted butter, softened
1/4 cup finely chopped cilantro
Zest of 1 lime Juice of 1/2 lime (about 1 tsp.)
1/4 tsp. salt

Pork Steaks

2 pork sirloin steaks, bone in
1 tsp. chipotle chili powder
1/2 tsp. ground cumin
1/2 tsp. smoked paprika
1/4 tsp. garlic powder
1/4 tsp. onion powder
1 1/2 tsp. Kosher salt

Instructions

Mix butter, cilantro, lime zest, salt and lime juice, until well blended.  Using your hands, form into a small log, about 1 to 1 1/2 inches in diameter.  Wrap the butter in wax paper or plastic wrap.  Refrigerate for several hours or place in the freezer for 1 hour to firm up.  Remove from wrap and let set at room temperature about 5 minutes before slicing.
For the rub, mix all the dry ingredients and sprinkle evenly over the pork steaks, covering all areas.  Let it sit at room temperature for 30 minutes.  For a gas grill, cook over high heat approximately 7 minutes, then turn, cook for an additional 7 minutes.  Midway through cooking the pork steaks, add the pineapple wedges to the grill, cook 3 to 4 minutes on each side.
Serve the pork steaks immediately with a pat of compound butter and a couple of wedges of pineapple.
If desired, you can grill some lime (cut in half and place on the grill the same time as the pineapple) and serve on the side.

The Kitchen Witch http://www.thekitchenwitchblog.com/

Click to Print a Recipe Card