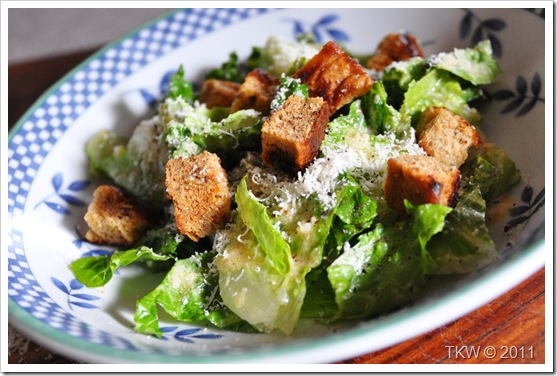 I'm never buying Caesar dressing again, never ever. Hands down, without a doubt I just made the best ever Caesar dressing.
Do you get what I'm saying?
Do you know what I mean?
Do not buy Caesar dressing ever again.
And make this right now!
Here's the tricky part, making garlic paste. It's not tricky really, but it takes a little effort. Start by mincing the garlic super fine, then sprinkle some kosher salt on the minced garlic. Using the edge of your knife, press the garlic and salt into cutting board using a smearing action, until the garlic turns into a paste.
I've posted about my little dressing mixer before by Chef' n Salad , I still love it! If you don't have one of these little wonders, you can mix the all the ingredients except the oil in a bowl and then slowly whisk in the oil.
See my pad of paper and pen in the background? It stays with me in the kitchen as I develop and modify recipes, what about the rest of you? Do you keep recipes in your head, write it down or keep track via computer? Are you all as old fashion as I am?
Other than the dressing, Caesar Salad is wonderfully simple; romaine lettuce, grated parmesan cheese, croutons and Caesar dressing, that's it!
I'm not trying to run a promotional, trust me, Tupperware is no way interested in my blog, but when you love something you have to share it. How do I love my Tupperware salad spinner? Let me show and tell you the way.
I love the size of my salad spinner, a whole head of lettuce easily fits into it, sometimes two. After chopping the lettuce (and other vegetables if you like), it is placed in the colander and rinsed, then place the colander into the outer bowl and put the spinner top on. The top is notched so that it fits into the colander only one way, no brainer, love it. Using the knob you spin your salad, "round and round she goes, where she stops nobody knows". Remove the spinner and colander and you can see what is collected at the bottom. I rinse mine at least twice and sometimes three times depending on the amount of dirt water collected.
After all the rinsing and spinning is done…are you ready for this? I love this feature! Just pop the lid on it and put it in the fridge. The excess moisture continues to drain off and creates the ultimate crisper. Get this, I've had lettuce last up to two weeks!!!! I wouldn't lie to you. Just make sure not to add items like cucumber, tomatoes and mushrooms, or other items that get slimy fast. I typically have grated carrot, cabbage, or radicchio in my basic salad, then I add the moist ingredients just before serving…ahh but I digress. There is one more thing I love about this spinner, when it's not in use, the spinner part fits upside down into the colander, put the lid on it and it's ready for storage. Hey I forgot to mention that it has little rubber feet that keep it from slipping no matter how hard your Baby boy spins it.
Did I mention that I love this salad spinner by Tupperware?
I think I mentioned that I loved it about 15 and half times.
At the risk of sounding like a hostess from the Home Shopping Network doing a kitchen special, there is one more item that I use over and over and over. My Zyliss cheese grater, it goes on my table when ever I serve a dish that would benefit from some freshly grated hard cheese. If you don't have one of these, stop depriving yourself, you'll be glad when you get one.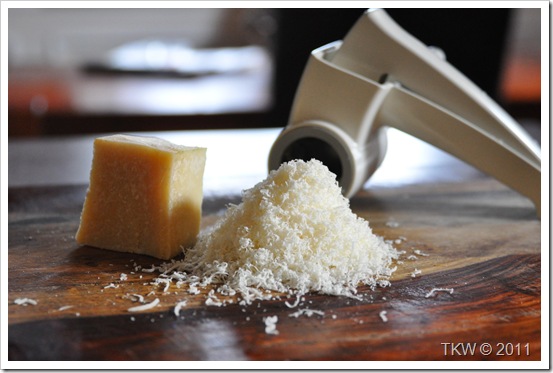 No photo, and not a plug for another product, but I recently discovered Anchovy paste, it comes in a handy tube so it's a snap to mix up in some dressing or put in a sauce without worrying what to do with those left over little fishies?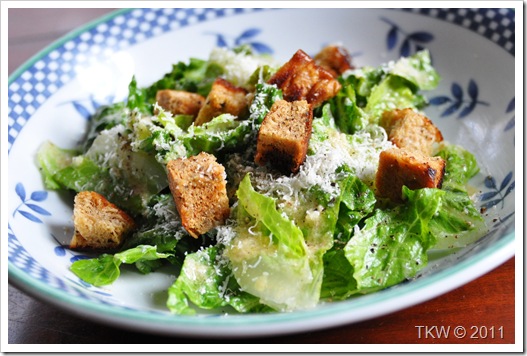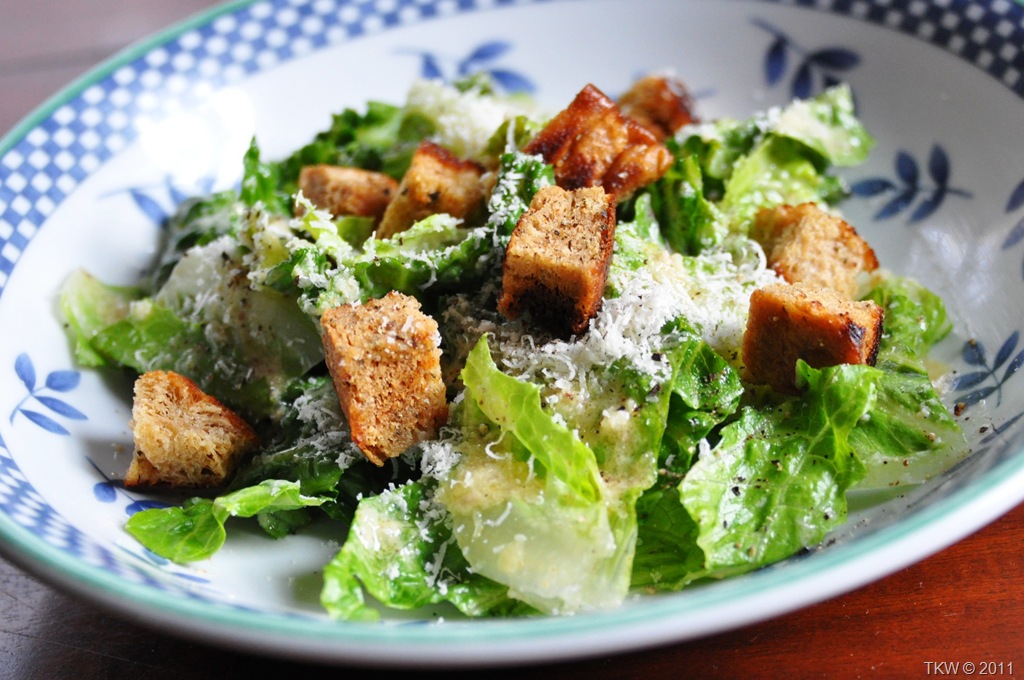 Caesar Salad
2016-06-13 14:54:55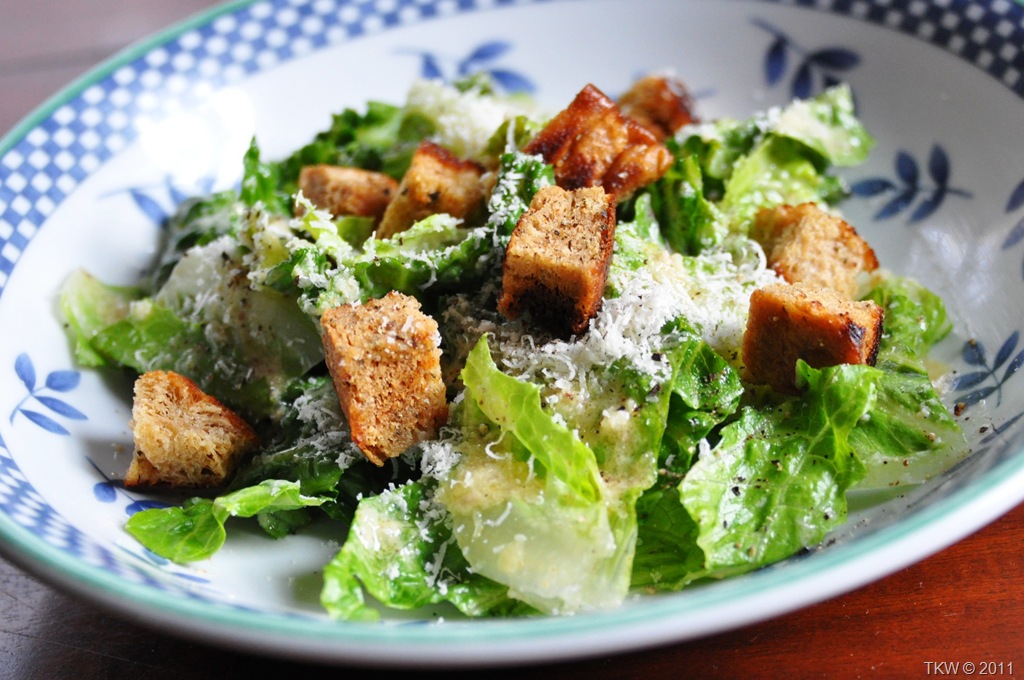 Ingredients
1 head romaine lettuce
Croutons
Grated Parmesan Reggiano
Fresh ground black pepper
Caesar dressing
The dressing
4 cloves garlic, minced, mixed with 1/4 tsp. kosher salt and made into a paste
1 tbsp. Dijon mustard
1 tbsp. champagne vinegar
2 tbsp. mayonnaise
1 tbsp. lemon juice
1 tsp. Worcestershire sauce
1 tsp. Anchovy paste
1/2 cup extra virgin olive oil
Salt and pepper to taste
Instructions
Begin with the dressing.  Mix the garlic paste, Dijon mustard, vinegar, mayonnaise, lemon juice, Worcestershire sauce and anchovy paste.  Slowly whisk in olive oil, or pour slowly into a blender or food processor if using one.  If you are using a dressing mixer like I did you can add the oil all at once and blend.  Add salt and pepper if necessary.  Refrigerate at least 30 minutes prior to serving.
Meanwhile, cut and wash you lettuce, use a spinner if you have one.   If you don't have a spinner, pat your lettuce dry it helps the dressing adhere to the lettuce.  Place the romaine in a very large bowl, drizzle with Caesar dressing and toss to coat.  Serve with homemade croutons, fresh grated cheese and fresh cracked pepper.  I like to put extra dressing on the table for my family members who like their salad sloppy.
The Kitchen Witch http://www.thekitchenwitchblog.com/

Click to Print a Recipe Card