Remember my first post of our African adventure, and then part deux? Time for my last post on our adventure, the third part of our adventure takes us to a big hole and a coffee fountain.
When I had won the bid for the safari, I found out that my friend, TMP was from the area that we were going to. I immediately invited McGyver and myself to her parents farm, just for the last couple of days. It seemed a shame not to visit them when we were going to be so close.
Daan and Verity picked us up from camp Wag 'n Bietje after Frikkie returned us there to settle our bill and eat lunch. When Daan and Verity walked in, I knew who they were immediately. TMP gets her height and long longs from her father, and her beautiful face and eyes from her mother, a perfect amalgamation of her parents.
Daan and Verity suggested that we go the The Big Hole. What's so interesting about a big hole? In this case, The Big Hole, is old diamond mine in Kimberly (the town where we flew into…twice).
From Wiki:

"In 1872, one year after digging started, the population of the camp of diggers grew to around 50,000. As digging progressed, many men met their deaths in mining accidents. The unsanitary conditions, scarcity of water and fresh vegetables as well as the intense heat in the summer, also took their toll. On the 13 March 1888 the leaders of the various mines decided to amalgamate the separate diggings into one big mine and one big company known as De Beers Consolidated Mines Limited, with life governors such as Cecil John Rhodes, Alfred Beit and John Rhodes. This massive company further worked on the Big Hole until it came to the depth of 215 metres, with a surface area of about 17 hectares and perimeter of 1.6 kilometres. By 14 August 1914, when over 22 million tons of earth had been excavated, yielding 2,722 kilograms (14,504,566 carats) of diamonds, work on the mine eased after it was considered the largest hand-dug excavation on earth."
No surprise why it's called The Big Hole. De Beers converted the The Big Hole into a major tourist attraction in 2002; rebuilding the original town, setting up tours, a movie, a trip down to the "mines" with simulated blasting and of course an amazing view of The Big Hole.
It was really incredible to see The Big Hole and imagine how difficult life was, I can't imagine hand picking away everyday in search of diamonds. Shoot, I complain when I hit a rock or tree root when digging in my garden.
It was getting late, so we went out to dinner. We had dinner at the Kalahari Tea Garden restaurant. It was a beautifully decorated place with the thatched roofs that I adore, beautiful beams and woodworking, plus it had an amazing mural on the wall. The menu offered items like springbok and kudu.
We went spent the next couple of days hanging out at the farm, going into town; McGyver went out hunting with TMP's brother.
Verity took me into Koffiefontein, it was interesting to find out that there was still an active diamond mine and the town once was the site of a POW camp. The POW camp happened during the second world war and held over 2000 Italians and 900 South Africans that were suspected of being pro-Nazi. Koffiefontein is mainly a farming town, with a high level of poverty (57%). The town was named coffee fountain, because it was a coffee stop for transport riders during the 1900s.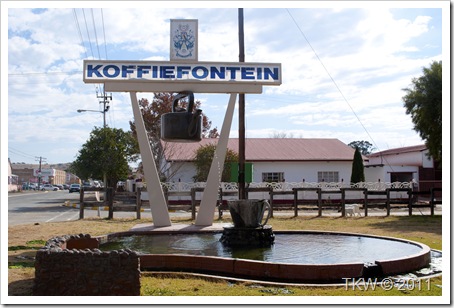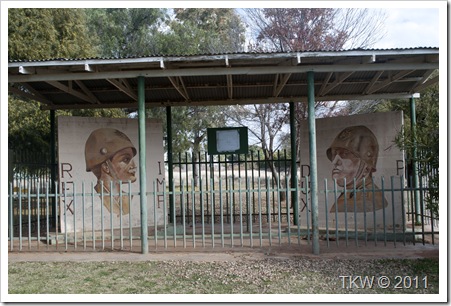 Mostly, I was really excited to go into town and shop at the local grocery store.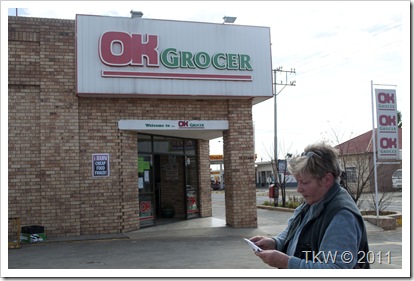 McGyver and I had been staying in luxurious hunting accommodations and felt that we hadn't seen the real South Africa. Our time in Jo'berg was no different than anytime in a big city, it's the rural life that we wanted to see.
I can't say I was shocked, exactly, but there is still a huge dichotomy between the quality of life for the blacks versus the whites in the more rural areas. On the outskirts of town, there were tin shanty's and run down homes, obvious poverty and I mean real poverty (not like Americans who get assistance and have help if they seek it). I wanted to take photos but Verity informed me that it would not be safe for me to go out with my expensive camera. I suppose, that is no different than any other part of the world that has a "ghetto" area, some places just aren't safe.
Not to get too political, but I can't believe the beliefs regarding the blacks "they like living that way", "they don't want to work", "they are thieves and can't be trusted". I did not contribute any of my opinions, and I am sure there is some truth to that. After all, who hasn't run into people who have no desire to better themselves? I just can't believe it as a blanket statement. I am sure many people would like to do better but the opportunity is not there, and after so many generations of poverty, what motivation is there?
Staying with TMP's parents was like visiting my own parents, McGyver and I couldn't have been more comfortable or made to feel more at home. By the end of our visit, I was regretting the short time I had planned on staying with them. I took Benjamin Franklin's words seriously "Fish and visitors start to stink after 3 days".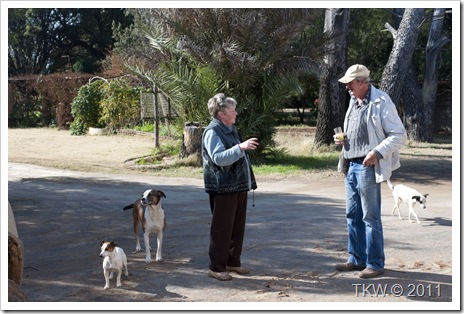 Naturally while we were there, we had a Braai, drinks and a good time. I loved their braai area, which Verity had designed herself.
Our last night there, can you believe there was a partial eclipse of the moon? It was a bigger eclipse than what is photographed. Unfortunately the clouds moved in and my eyelids were heavy, I went to bed satisfied with what I had.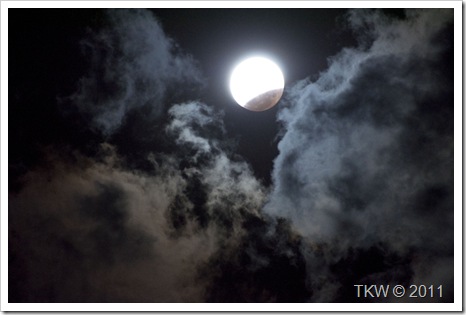 For one of our meals, I jumped in the kitchen with Verity and we made oepsies (pronounced oopsie). An "oepsie" is any meat in a cherry sauce, served on a stick at a braai. It is not a mistake, even though it sounds like it. Verity used some bacon, candied cherries and a packaged Honey Soy glaze.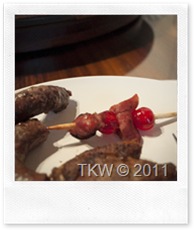 I wanted to recreate my own oepsies. Our bacon is different here, plus I wanted to make my oepsie a little more substantial, so I substituted cubed ham. The candied cherries were such a sweet and toothsome contrast to the salty bacon that I wanted to keep them in my version but I couldn't find them in a single grocery store in the area. Evidently, candied cherries only make an appearance around fruit cake making time. Maraschino cherries seemed like the next best candidate.
The honey soy glaze, was something else. I jotted down the ingredients from the package and set out to make my own version. Honestly the glaze is what makes the oepsie. The sweet and salty glaze ties the bacon ham and candied cherries maraschino cherries together. The recipe makes more than enough glaze, I recommend trying it on grilled chicken.
Oepsies are a perfect starter for any meal or a nice hors d' oeuvres for a get together.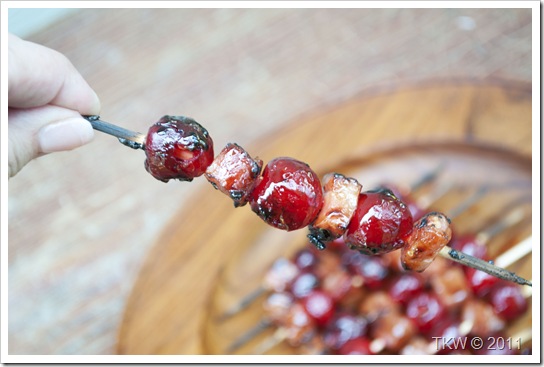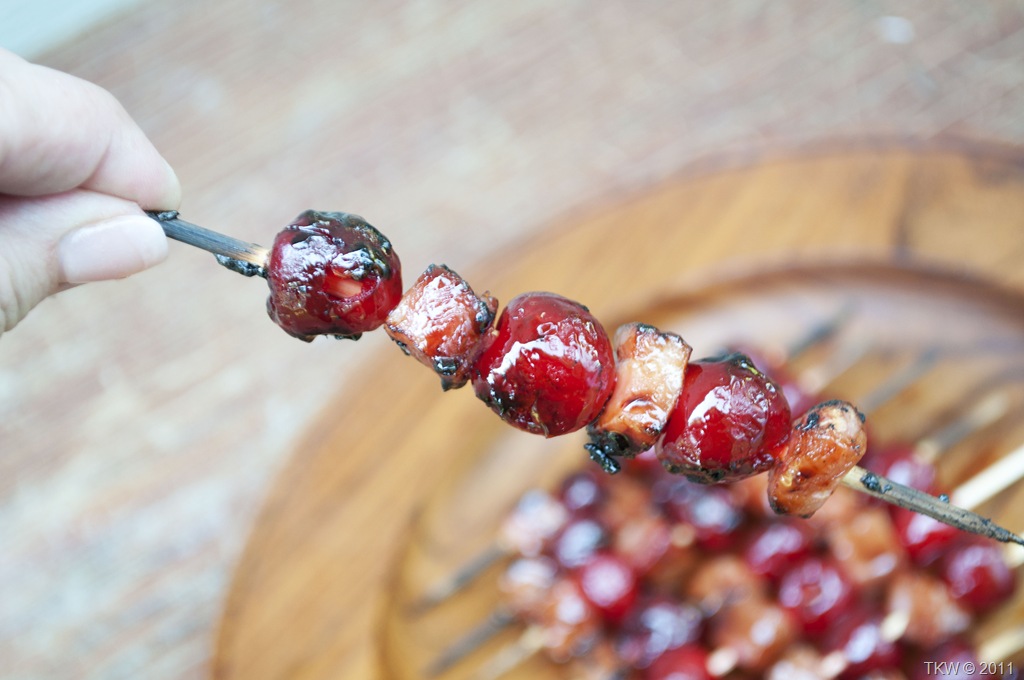 American Oepsies
2016-06-13 14:38:09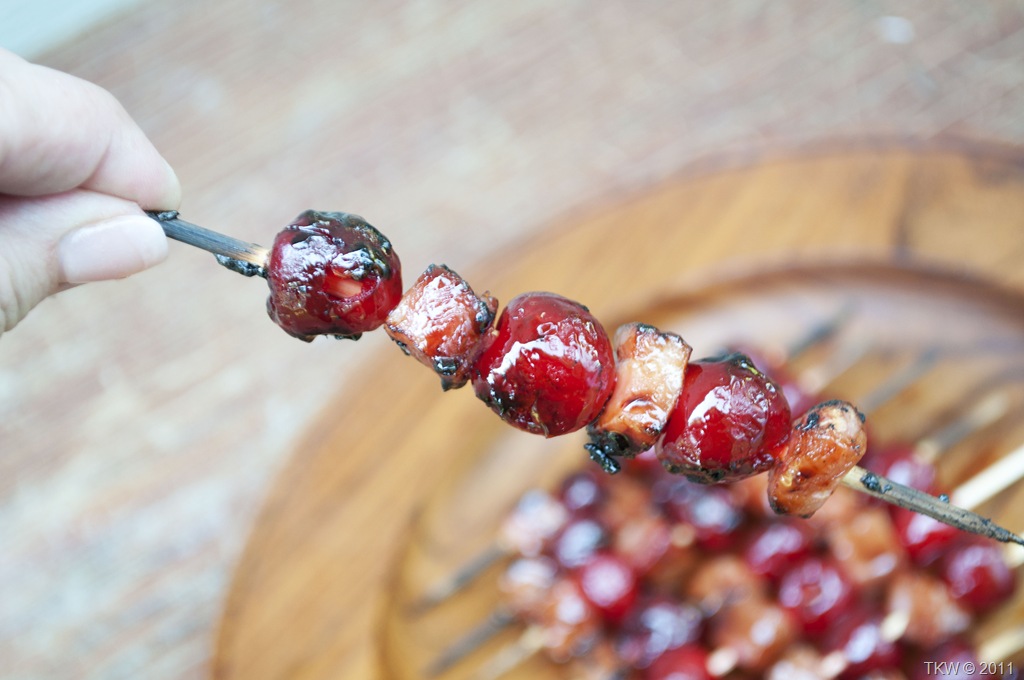 Glaze
1/2 c. Soy Sauce
3 tbsp. honey
3 tbsp. currant or plum jelly
2 tbsp. brown sugar
1 tbsp. rice vinegar
1 tbsp. balsamic vinegar
1 tbsp. cornstarch
1/4 tsp. toasted sesame oil
1/4 tsp. ground ginger
Oepsies
6" bamboo skewers, soaked in water for 30 minutes
1/2 lb. ham cubes
24 maraschino cherries
Instructions
For the glaze, mix all the glaze ingredients and place in a small sauce pan.  bring to a boil and boil for 1 minute, or until the glaze thickens.  Let cool.
On each skewer, alternate ham cubes and cherries.  Grill over medium heat, until heated through about 2 minutes on each side.  Lightly brush oepsies with the glaze, turning frequently and brushing with the glaze until it caramelizes and begins blackening on the edges.  Serve hot or at room temperature.
The Kitchen Witch http://www.thekitchenwitchblog.com/
Random photo share. While I was in South Africa, we came across an abandoned farmhouse, I found it interesting so I took a couple of photos, it's the amateur photography thing.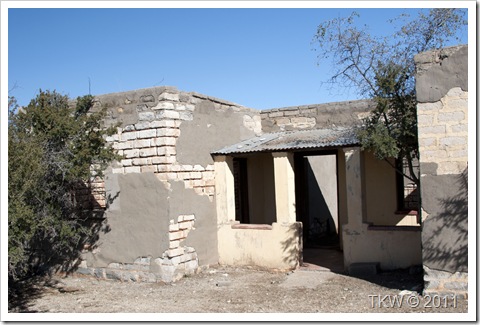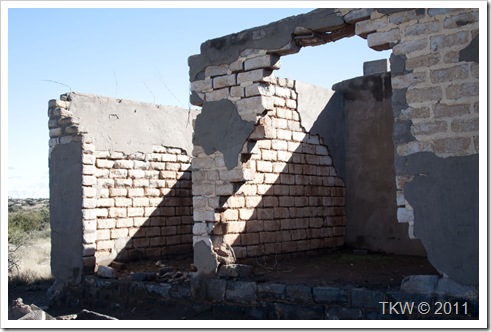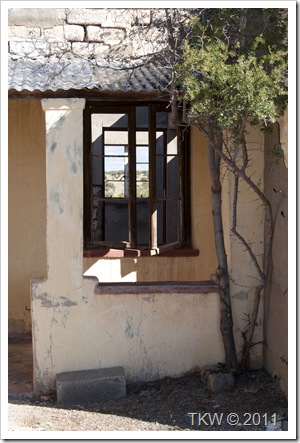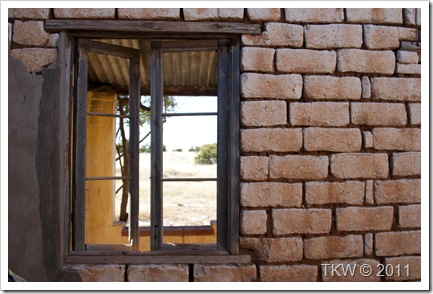 Lastly, my favorite picture of the entire trip. I waited days to sneakily snap this photo. I love her shoes!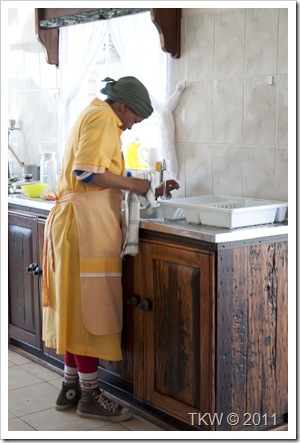 What a wonderful adventure, I can't wait for our next one, where ever that might be.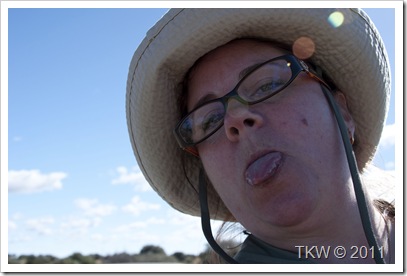 (photo by Ananadia)

Click to Print a Recipe Card