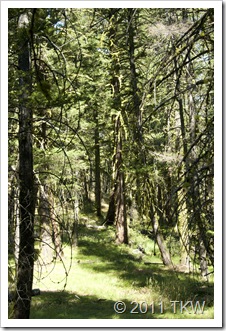 This weekend we went up to the cabin, like we do most of the Summer time. This time McGyver suggested we go for a stroll through the woods. A stroll through the nice shady woods on a hot summer day, who could resist. We loaded up in the Rhino and Becca was coming along (Summer dog is deathly afraid of our 4 wheeler) and we headed to where the state land begins.
We snaked through some barbed wire fence and went on a freaking 500 mile hike, okay maybe 50 miles, would you believe 5 miles? Right, it was only about two miles round trip. And let me tell you this, when you are going up a mountain, it no longer becomes a stroll it becomes a, gulp, hike. For all my huffing, puffing, wheezing and complaining, it probably felt like 555 miles to McGyver!
My calves were screaming and my lungs were crying…suddenly I became weirdly fascinated with moss. "Hey honey, look how the sun is making the moss look. It's such a vibrant green, I really should take some photos of it!" I'm so sneaky, a person can't take pictures and stroll hike at the same time, can they?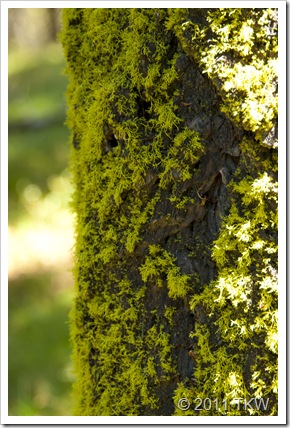 Turns out there was an ulterior motive to our little stroll, deer hunting starts in less than a week and McGyver was merely stalking out a place to put his tree stand. I made it to our destination without dying, but I was in no mood to go inspect every tree in the area.
That is when I decided to become the world's foremost leader in thistle photography. Count yourself lucky that I am only showing a miniscule amount of what I shot. (I've been reading books on digital photography and I think I'm becoming obsessed, shhh, don't tell McGyver, he knows that means $$$$ and time….)
Then I began channeling Georgia O'Keefe and that's when McGyver noticed the crazy budding photographer look in my eyes and insisted we head back.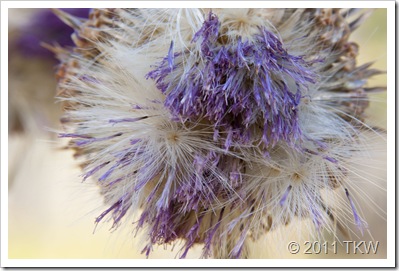 By now it was after noon and blazing hot (here in Montana that is anything over 80°F). I wasn't the only fat ol' gal who was panting and heaving. Poor old Becca dog was so thirsty (we are bad parents and did NOT bring water for our…well, we were just going for a stroll…). That poor dog drank out of the nastiest water I could imagine…so I had to take a picture…someone help me….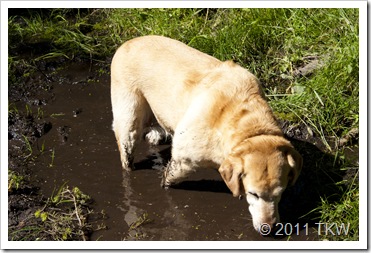 My old Becca dog was so tired, I don't think we had walked 20 yards past her 'drinking hole' before she just decided to flop down and take 5. If I wasn't so prissy, I might have done the same thing!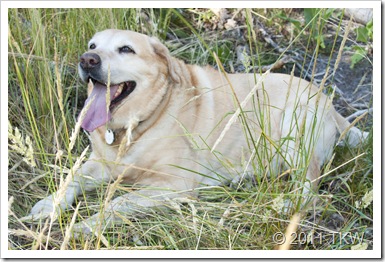 I am not used to exercise, so let me tell you, I was hungry when we got back. I needed protein and Gatorade quick! It's tough to maintain this athletic body of mine…riiiiight. Fortunately I had done a little planning and had made up some Greek Style Chicken Salad ahead of time.
I need to share with you that this did not start out as a chicken salad sandwich. I originally shredded some cold rotisserie chicken, put in a pita half, slapped some spinach leaves in it, added tzatziki sauce, feta cheese and olives on it. Problem was, I was getting dry bites of just chicken in places and not enough feta cheese in every bite. My solution was to turn it into a chicken salad, Greek style, sandwich. It was brilliant, I choose not to mix in the kalamata olives because I enjoyed the occasional surprise of a nice briny kalamata olive.
Some recipes call for the yogurt to be drained for a couple of hours so that it becomes super thick and isn't affected by the cucumbers breaking down. I prefer to leave my Greek yogurt as is, and salt the cucumbers and let them drain on a rack for 30 minutes to rid them of the excess moisture. This ensures a super creamy tzatziki! I also used mint instead of dill, it gave it a real pop! I heart tzatziki so much that I even piled extra sauce onto my sandwich…slap my hand…bad girl!
Budget hint: Did you know that a lot of grocery stores have cold rotisserie chicken in their deli section for up to 50% off? When the hot birds go over their time limit, they get put into cold storage and get reduced by 50%. The draw back? The breasts tend to be a little dry, reserve them for things like soup or creamy chicken salad!
Recipe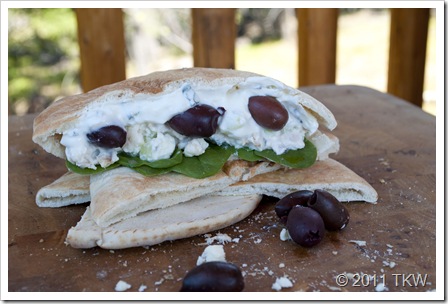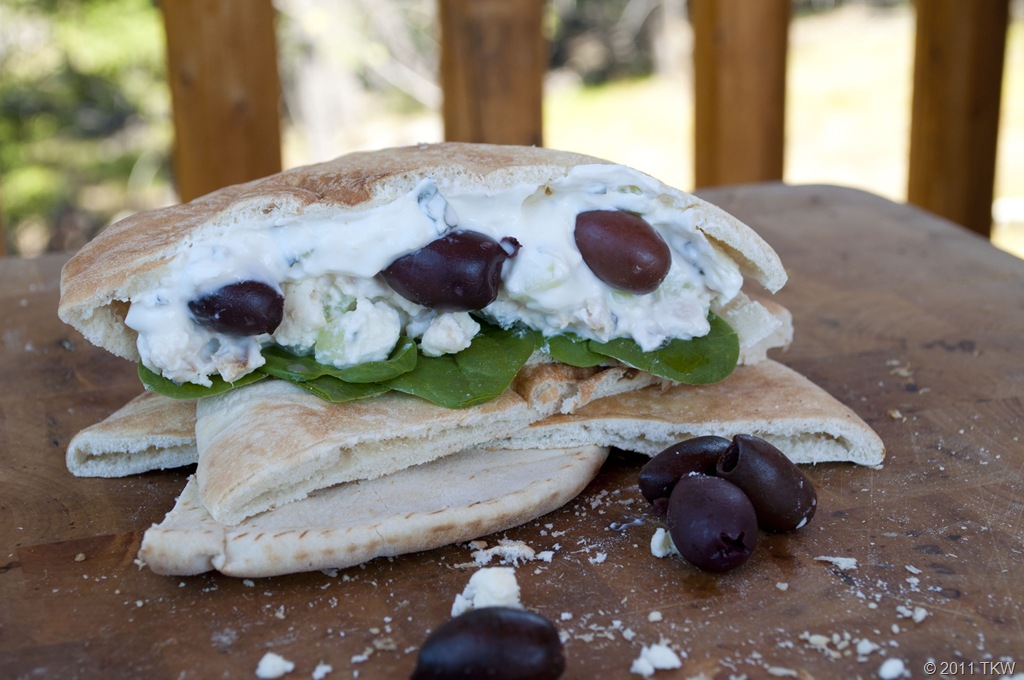 Greek Style Chicken Salad Sandwiches
2016-06-13 13:59:20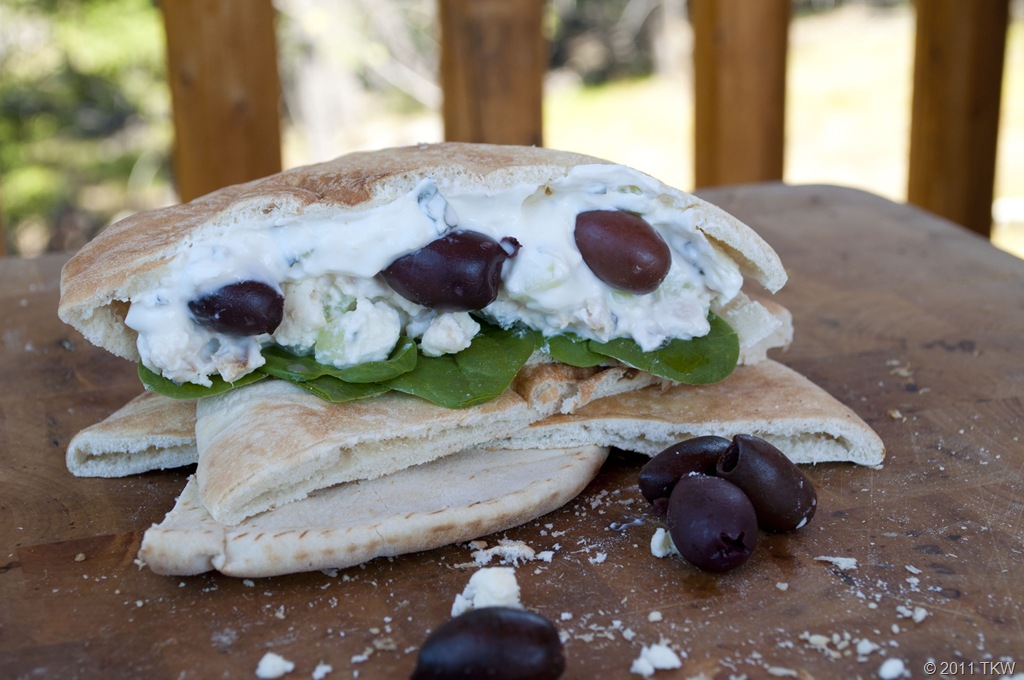 Sauce
2 cups Greek Yogurt (I used Fage 2%)
1 medium cucumber
Kosher salt
3 – 4 cloves garlic, minced
1 – 2 tbsp. chopped mint (or dill)
Juice of 1/2 lemon
Sandwich
Pita bread, halved
1 1/2 cups diced cook chicken
1/2 cup feta cheese crumbles
baby spinach (if desired)
kalamata olives (if desired)
diced red onion (if desired)
Instructions
Tzatziki sauce: Peel cucumber, slice cucumber in half length wise.  using a small spoon, scoop out seeds so that the cucumber looks like a canoe.  Lightly sprinkle the cucumber with the salt and invert on a rack for approximately 30 minutes to remove excess moisture.  Dice cucumbers into small pieces.  In a medium bowl mix in the diced cucumbers, yogurt, minced garlic, mint and the juice of 1/2 lemon.  Mix well.
In a medium bowl add the chicken and the feta cheese.  Add approximately 1 cup of the sauce to the chicken and mix, if it isn't creamy enough add more sauce in a small portions and add until you get the desired consistency.  (I like mine super creamy, if you have left over tzatziki, it's perfect for pita chips.)
Place the Greek styled chicken salad in a spinach lined, split pita.  Top with Kalamata olives and diced red onion if desired.
The Kitchen Witch http://www.thekitchenwitchblog.com/
The stroll hike wasn't the only thing we did this weekend. McGyver made us a compost bin. I rocked the idea from Young House Love. Of course McGyver did the work.
McGyver decided to teach himself bow hunting so he got this cool bow.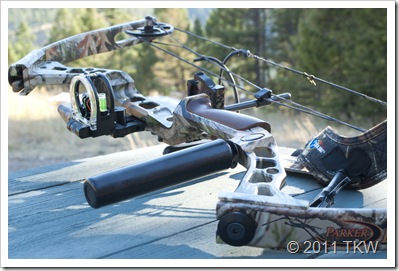 He also spent a good amount of time 'arrow hunting'.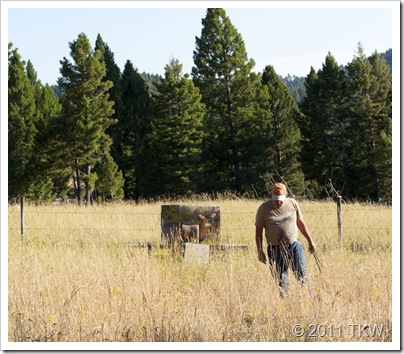 We're heading back up there for Labor Day weekend…I'm going to challenge myself with some outdoor cooking…stay tuned.

Click to Print a Recipe Card