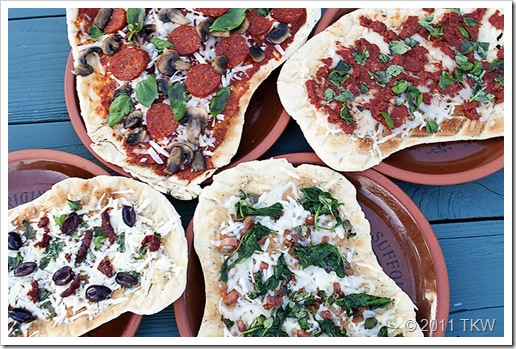 This post is dedicated to my not daughter. Unbeliever of grilled pizzas. Recently on Facebook, she announced that she was going to make homemade pizza…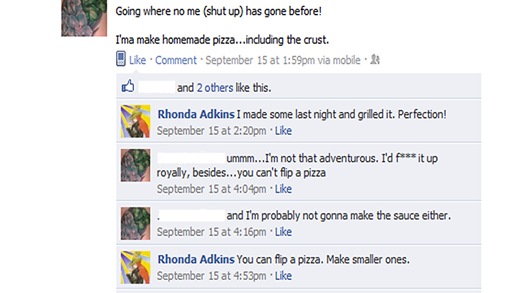 Naturally I had to post a grilled pizza recipe. I took photo's of all the steps, it's good for the kids. We were at the cabin so I made the dough the old fashioned way, but it can be done in a food processor, mixer with a hook, or use a bread machine on the dough setting.
After the dough rises, it gets punched down, has a second rise and then it is rolled out into personal pizzas. Paint each side with olive oil and salt and pepper one side if desired.
During that second rise, get all the desired toppings together. I used this opportunity to experiment with different toppings. If you are grilling a pizza, any toppings that you don't want raw, pre-cook them (for example my pancetta, spinach and mushrooms). Make sure you prep all your toppings prior to grilling.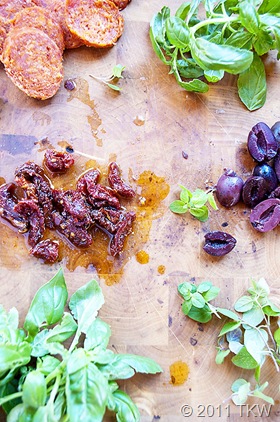 You can grill pizza over coals or a gas grill. If you use coals, make sure that they are totally ashen, it's the radiant heat that will cook the dough. If you use a gas grill, fire it up all the way to 500F or or as high as your grill will go if it doesn't go up to 500F.
When grilling a pizza, always start with the top side down first (the salt and pepper side), flip it over with tongs or a spatula. Immediately place your toppings on while the other side is grilling, this way is so the cheese has time to melt. If you have a lid, you can cover the pizza for a couple of minutes to help the melting along.
I grilled four types: a regular Margherita, pepperoni and sauteed mushrooms with a red sauce, pancetta and sauteed spinach with a roasted garlic puree, and what ended up being our favorite, sun-dried tomatoes, kalamata olives and a roasted garlic puree. For all pizza's I used a mozzarella/asiago cheese combo and some fresh basil and oregano.
If you are a thin crust lover, this is the absolute best way to cook pizza at home. If you like big puffy and doughy pizzas…order out.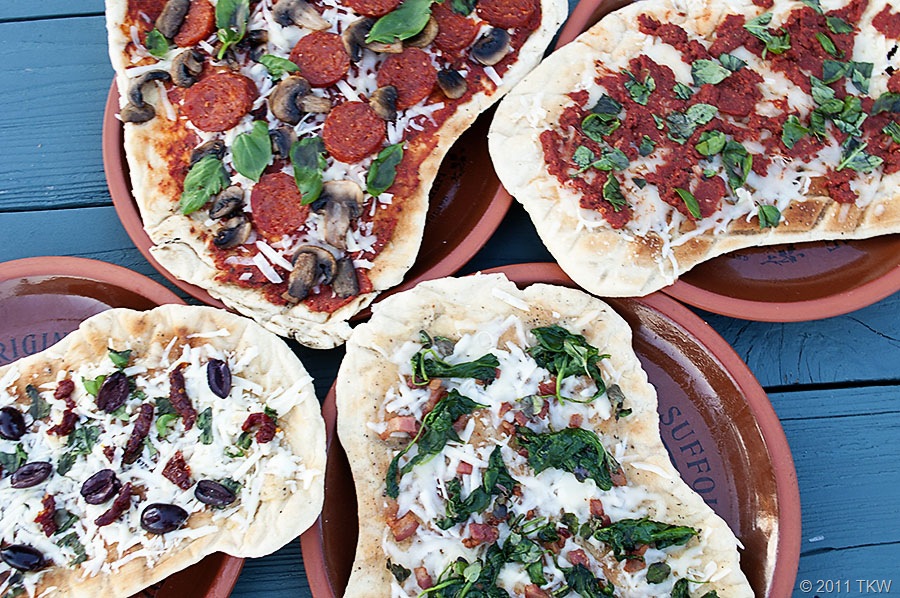 Grilled Pizza
2016-06-13 13:39:33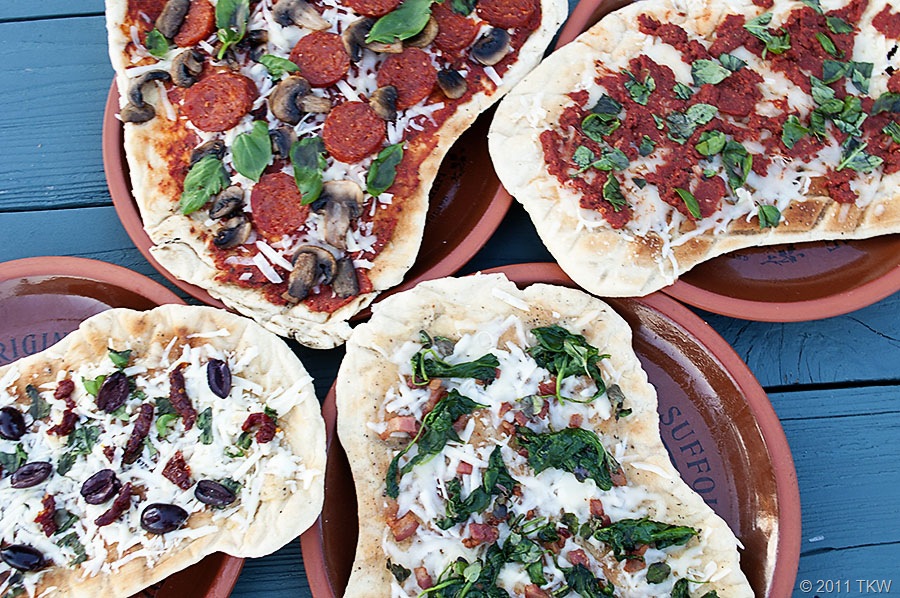 Dough
1 cup warm water (100F to 110F)
1 tsp. sugar
1 pkg. active dry yeast
2 tsps. extra virgin olive oil plus extra for coating dough
2 1/4 cup flour, plus extra for dusting
Salt and pepper
Pizza Sauce
1 6 oz. can tomato paste
6 oz. warm water
2 tbsp. red wine (optional)
3 tbsp. grated parmesan
1/2 tsp. garlic powder
1 tsp. sugar
1/2 tsp. onion powder
1/4 tsp. dried oregano
1/4 tsp. dried marjoram
1/4 tsp. dried basil
1/4 tsp. black pepper
1 tsp. anchovy paste
1/8 tsp. crushed red pepper flakes
pinch of salt
Topping suggestions
Cheese
Roasted Garlic Puree
Pancetta
Spinach
Mushrooms
Onions
Pepperoni
Sausage
Olives
Peppers
Anchovies
What ever else your little heart desires
Instructions
Dough:  Pour 1 cup water into a medium bowl, sprinkle on sugar and yeast. Let stand until foamy , about 10 minutes.  Whisk oil and 1 tsp. salt into yeast mixture.  Add flour and stir until blended.  Knead dough in a floured work surface until it forms an elastic ball, about 2 minutes.
Transfer the dough to an oiled bowl and cover.  Let rise in a warm dry area for 45 minutes or until it has doubled.  Punch down, recover and let rise another 30 minutes.  When the sough is finished with it's second rise, divide the dough into fourths.  On a lightly floured surface, roll out the dough and form with fingers.  Let rest 15 minutes.
Lightly bush each side of the dough with some olive oil, salt and pepper one side if desired.  Carefully transfer dough to a hot grill.  Grill top side (salt and pepper) down first.  Place over direct heat and grill for a couple of minutes, flip the dough and add the toppings.  Cover the pizza and finish grilling for another 2 to 3  minutes.
Pizza Sauce:  Mix dry ingredient.  Add tomato paste, water and wine, whisk together and let sit for 30 minutes before using.  Do ahead tip, you can make this the day before, just omit the Parmesan cheese and stir in at the last minute.  You may need to add water if it thickens too much.  If using it on grilled pizza let it come to room temperature first.
Notes
Cooks Notes:  Make sure you prep all your ingredients first, the grilling time goes very quickly.  Use minimal ingredients, too many and they won't get cooked and the thin crust won't be able to handle it.  Pre-cook any toppings that need to be cooked thoroughly or you like cooked, such as sausage and bacon, onions, spinach and mushrooms.
The Kitchen Witch http://www.thekitchenwitchblog.com/

Click to Print a Recipe Card