Wow, has it been a month already? It seems like just last week I was doing my first Secret Recipe Club post. It was so much fun that I came back for more. Not only did I have fun, so did the Baby boy. In fact he had so much fun making Southwestern Egg Rolls from The Freshman Cook, he wanted to cook for the next round.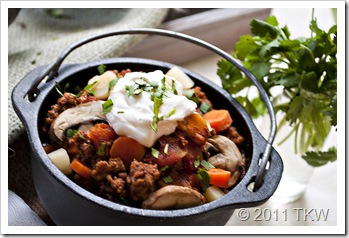 Hey, if you can get a teenage boy interested in cooking through SRC, you are one lucky mom! I got my assignment and informed the Baby boy. He's on the iPad and asks, "who is it", I said Family Fresh Cooking. He starts to type in Family, then he goes, "Wow, she's popular, it's the first thing that came up". Then he went rooting around the site, and stated "I don't think I should cook one of her recipes, I mean, she has a lot of followers". Kind of intimidating for a teenager, I mean what if they thought he did a bad job?
I assured him that this was about trying recipes from different sites and anybody with "family" in their title would be happy to see one of the kids cooking! He was convinced and set about immediately to find a recipe. He was sold on the Chinese 5 Spice Harvest Chili with Bison. He loves Chinese and he loves chili. The fact that we had temps in the high 80's was no matter to him.
A little about Family Fresh Cooking, Marla is an amazing person! Not only is she a mom, she is also a food photographer, stylist and writer, she also does recipe development and somehow manages to travel. Oh, and guess who designed the badge at the top of this post? Yep, she's one talented lady. What amazed me most about Marla is that she gets up at 4 am! Hello, I'm not such a morning person (you won't see me until after 7 am). She seems to have boundless energy, maybe it's all that healthy living. Looks like I have a few things I could learn from Marla.
Trying to get the Baby boys schedule and mine to mash (read he's never home), took some finagling. I finally pinned him down on a cold rainy day…perfect for a bowl of chili! What luck. Only he started feeling sick, and pooped out on me after just a little prep time…
I pressed on. I made very few changes to the recipe (which you can see with the modified original below). I used one of Marla's substitute ideas, and used ground turkey instead of bison. Bison was $8 a pound and the ground turkey was buy one get one free…what a deal (as long as we don't get salmonella from it)!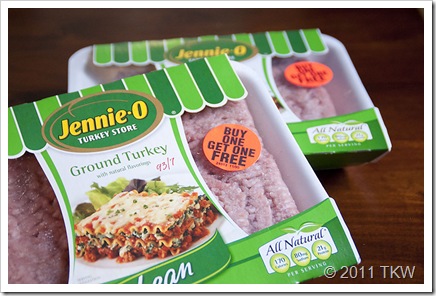 This is also the first time that the Baby boy had parsnips, I mean "white carrots". Really, I don't know why I don't use them more. I enjoy their flavor and they are popular in Montana due to our short growing season.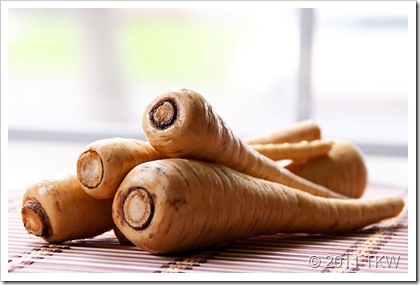 I also pulled out my three wimpy leeks that I planted year before last (they were a Farmer's Market impulse buy at 10 cents each). I've never grown leeks and had no clue what to do. My leeks had kind of a bulbous end and upon peeling they broke off and there was my leek…which was more like a scallion. I tasted the bulb part and it was not good…can it be used to replant? Is that how it reproduces? Any gardeners out there know? Fortunately I had purchased some big girl leeks to supplement the meager 1/8 cup I ended with from my garden.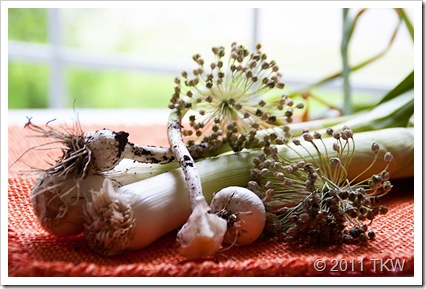 As far as the recipe goes…it was delicious. A unique and enjoyable flavor. The 5 spice hits you first and then it's rounded out by the nice tomato and chili flavor. McGyver refused to call it chili and instead referred to it as stew, guess he's too much of a traditionalist (he still loved it). Whether you call it a stew or a chili, call it wonderful and make it!
Thanks Marla for a great healthy recipe, I'll be making more for sure!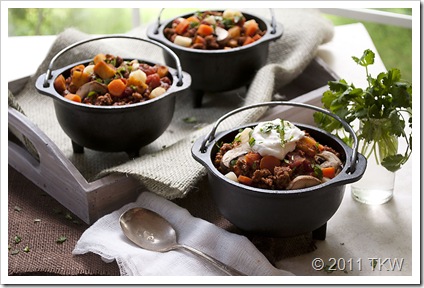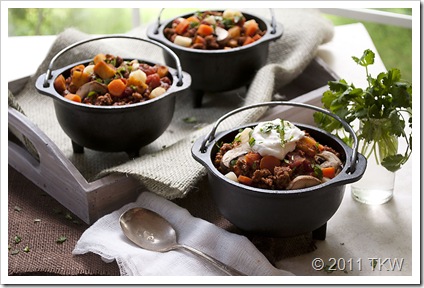 Chinese 5 Spice Chili with Turkey
2016-06-13 13:35:57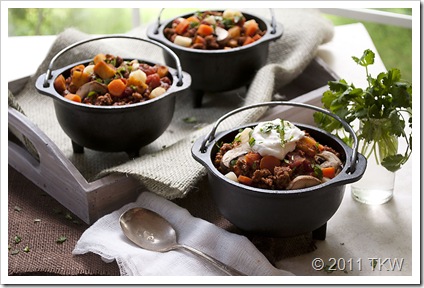 Ingredients
1 cup Chopped Leeks
A few cloves chopped Garlic or 1 tablespoon Garlic purée
1 cup chopped Mushrooms
5 large Carrots, chopped
5 Parsnips, chopped
28 2 14.5 ounce cans chopped diced Tomatoes
6 ounce can Tomato Paste
splash of Lemon Juice
1  2 cup Vegetable or Beef Broth or a few cubes of Bouillon with 1 cup water
1 tablespoon Chili Powder
2 teaspoons Cumin
1 tablespoon Chinese 5 Spice Blend
2 teaspoons Smoked Paprika
Garlic Salt and Pepper to taste
splash of Olive Oil
2 pounds ground turkey
*Add an additional pinch of the above spices to season the meat, use the above measurements to add to the pot of chili
Instructions
In a large pot add a splash of olive oil, garlic and leeks. Over medium heat cook for a few minutes and add the measured spices. Cook until softened, fragrant and lightly browned. Stir occasionally. Add veggies. Cook to soften veggies for about 10 minutes while the meat browns. Stir occasionally.
In a separate pan, add splash of olive oil, cook and brown ground meat. Add pinches of the above spices, stir to combine. Add cooked meat, chopped tomatoes tomato paste, broth and lemon juice to veggie pot. Stir to combine. Bring to boil. Turn down heat to low and simmer for about 1/2 hour or until veggies are cooked thorough. Add additional broth or water if necessary to thin out. Adjust seasonings to taste.
The Kitchen Witch http://www.thekitchenwitchblog.com/
Hop on over and check out all the other SRC recipes.

Click to Print a Recipe Card