"I heard it from a friend who, heard from a friend, who heard that you've been messing around"
Can you name that band?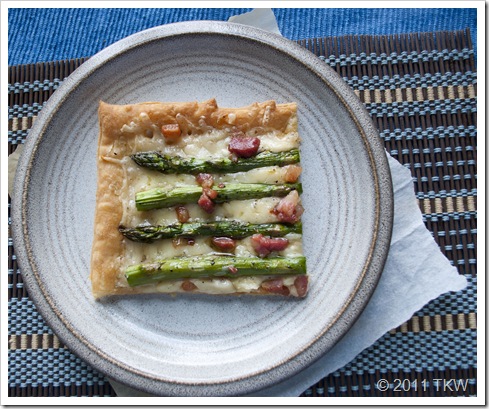 Folks, I've been messing around. That is on other food blogs. Some of you know that I belong to the Secret Recipe Club, it's a place where you get assigned another blog, you cook one of their recipes and then post it. There is blog hop on each of the posts so everyone can check out the big reveals. In August, while I was hopping around, there was one recipe I just could not get out of my mind. Plus I had one sheet of puff pastry that was in my freezer for an undetermined amount of time (Christmas, I think?).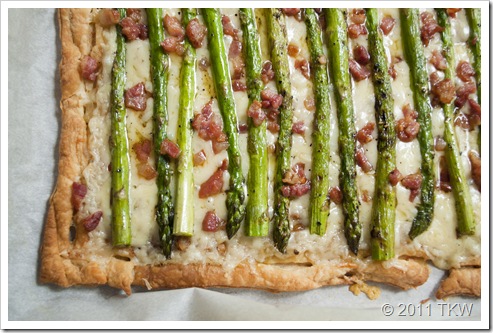 Jam Hands had posted a recipe for an Asparagus Gruyere Tart that she got from The Chefanies who got it from Martha Stewart, who's been heard to be messing around….no wait, that's me, I'm the one messing around (Sorry Martha). This tart was so beautiful, seemed relatively easy (bonus) and had gruyere cheese. I was done for and I had to try it.
True to most cooks form, I couldn't leave a good enough recipe alone. To make it my own I added a roasted garlic puree under the cheese, grilled the asparagus (you know I'm a grilling queen), and added crispy pancetta bits. I think lately it's become my goal to take things to an unhealthier level if possible.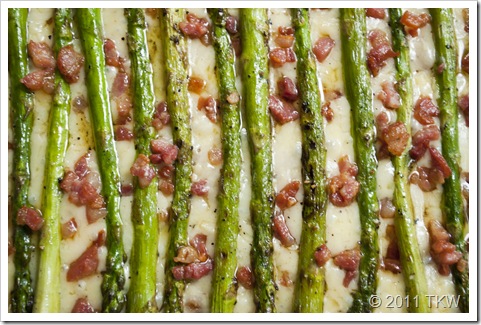 Truthfully, the layers and levels of flavor were so. freaking. good. Now my Baby boy kept calling it asparagus pizza, but who cares, he ate asparagus so call it what ever you like honey. I imagine this as a perfect brunch dish, or cut into smaller squares as a great appetizer.
I'm thinking of making another one tomorrow and the next day and the next….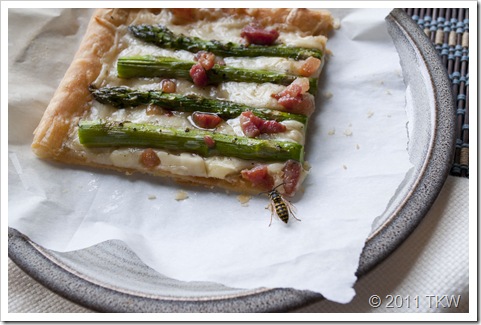 Can I just tell you that the bees have been horrible here, this is the second bee that has invaded my photos. Not only that, I've been stung TWICE this summer. Hold on, I have to make a public announcement.
This is actually not a bee, it is a yellow jacket from the Wasp family. It's true, I wouldn't lie to you. Actually, I had to clarify that or McGyver would surly leave me a comment (we had a little debate over whether yellow jackets are bees or not—guess who was right…again). Because I'm a rebel, I'm still calling them bees. After all, if McGyver can call a harvest chili a stew and the Baby boy can call a tart a pizza, I think I can call a wasp a bee.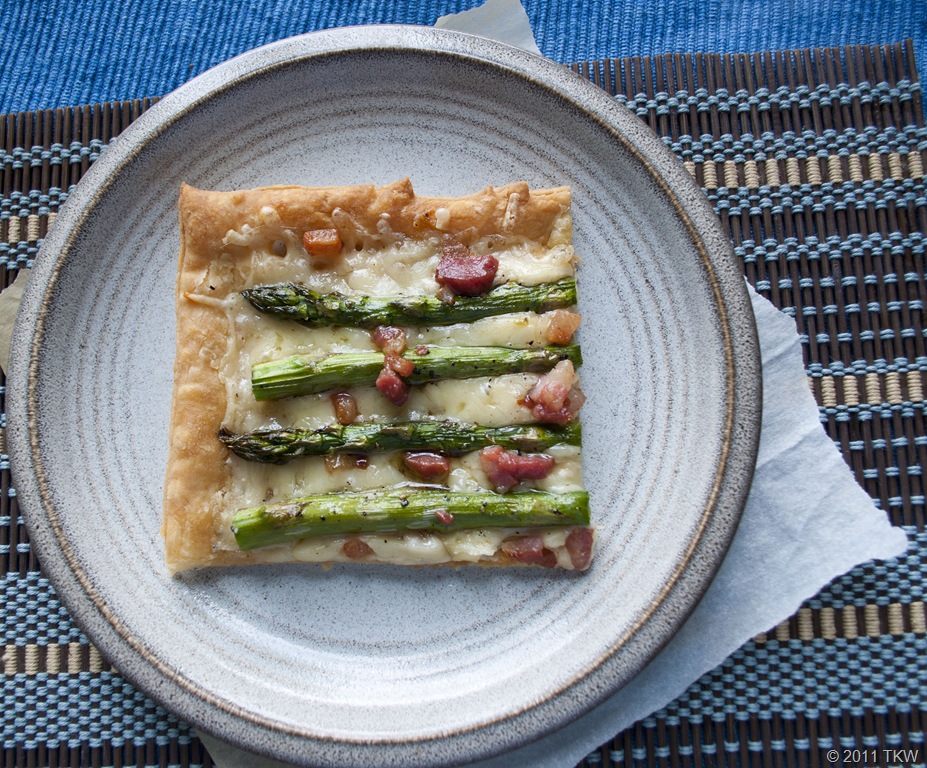 Grilled Asparagus and Gruyere Tart
2016-06-13 13:31:56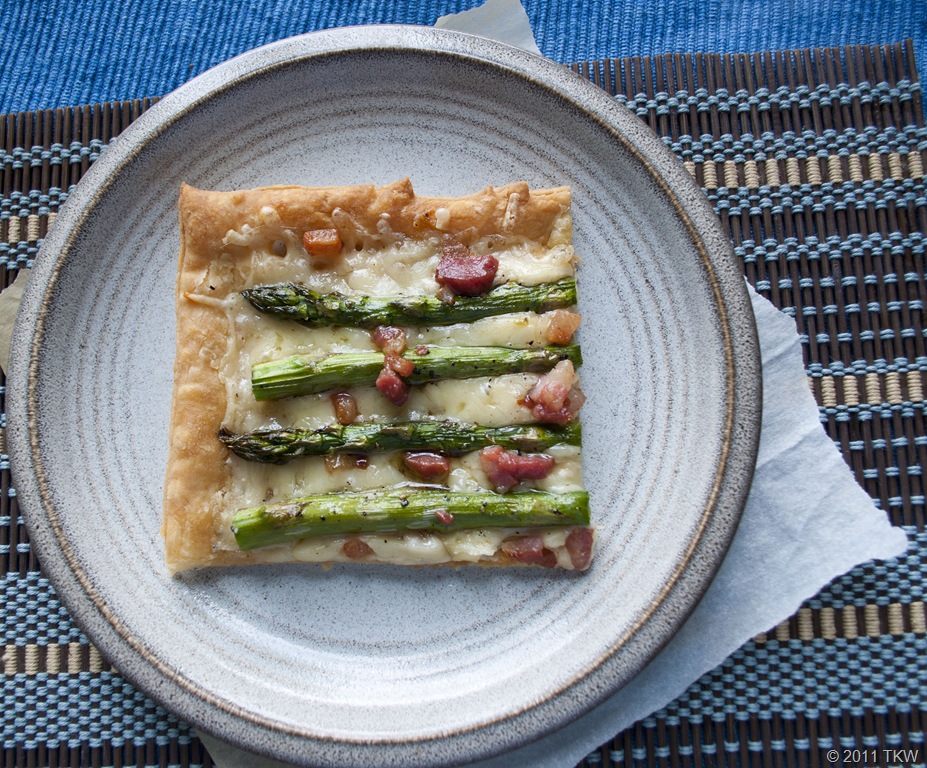 Roasted Garlic Puree
2 heads garlic
1 to 2 tablespoons Olive Oil
Salt and Pepper
Tart
3 ounces diced pancetta, fried crisp and drained
Flour, for work surface
1 sheet frozen puff pastry
5 1/2 ounces (2 cups) Gruyere cheese, shredded
1 1/2 pounds medium or thick asparagus
1 tablespoon olive oil
Salt and pepper
Instructions
To prepare the garlic (can be done ahead of time) Preheat oven to 400 degrees. Remove all the loose outer skin of the garlic bulb. Cut the top of garlic off (the pointy side) to expose the garlic. Place garlic on some aluminum foil, drizzle with the olive oil and generously salt and pepper. Roast in the oven for 45 minutes or until the head is soft to touch. Remove from the oven and let cool completely. Squeeze the garlic from each of the cloves, place into a food processor or blender, pour in any remaining oil. While pureeing slowly add more olive oil until the roasted garlic is the consistency of of mayonnaise (1 to 2 tablespoons of oil is usually plenty).
On a floured surface, roll the puff pastry into a 16-by-10-inch rectangle. Trim uneven edges. Place pastry on a baking sheet. With a sharp knife, lightly score pastry dough 1 inch in from the edges to mark a rectangle. Using a fork, pierce dough inside the markings at 1/2-inch intervals. Bake until golden, about 15 minutes.
While the pastry is baking, grill the asparagus. Trim the bottoms of the asparagus spears to fit crosswise inside the tart shell; lightly coat asparagus with olive oil and grill over high heat for 5 to 8 minutes, rolling the asparagus occasionally for even cooking.
Remove pastry shell from oven, spread the roasted garlic puree evenly over the shell and sprinkle with Gruyere. Arrange the asparagus in a single layer over Gruyere, alternating ends and tips. Sprinkle the cooked pancetta over the top and season with salt and pepper. Bake until the cheese completely melts, 10 to 15 minutes.
Notes
Yields: 10 to 12
The Kitchen Witch http://www.thekitchenwitchblog.com/
Wondering who that band was? Here's a little video clip to help you along.
Did you know that REO Speedwagon is touring again, Seriously, I saw them in concert in 1980 (yes, I know, I'm old). Good for them, I'm sure it's great to be back on the road again.

Click to Print a Recipe Card