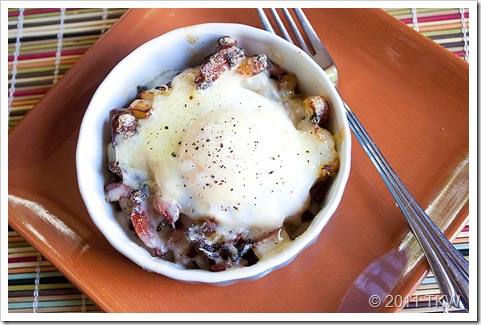 An easy breakfast recipe, just in time for the weekend! There is nothing better than feeling the luxury of time. Time to cook up a nice hot breakfast, enjoy your coffee, read the paper while still in your pajamas.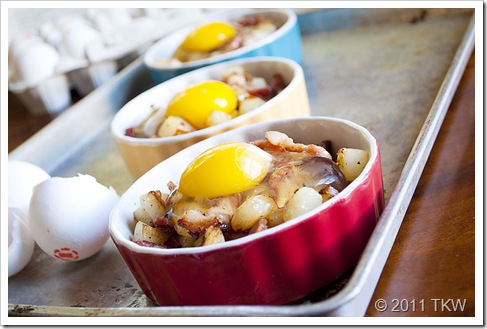 I know there are people out there who think it's a waste of a good day off, this relaxing thing, but I believe it re-energizes the soul, a reset from the busy week. Sometimes McGyver and I are selfish and let the Baby boy sleep in, while we sit at the table and eat breakfast, sometimes silently reading the paper other times chatting about the days plans.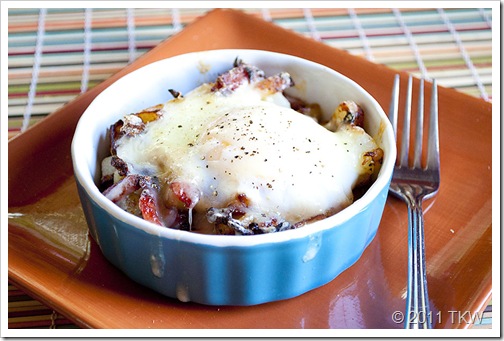 Go ahead, take a weekend morning off to relax. Make a nice hot breakfast, enjoy a cup of coffee (maybe a Bloody Mary if that's more your style), read the paper and reset, reenergize. You'll be glad you did.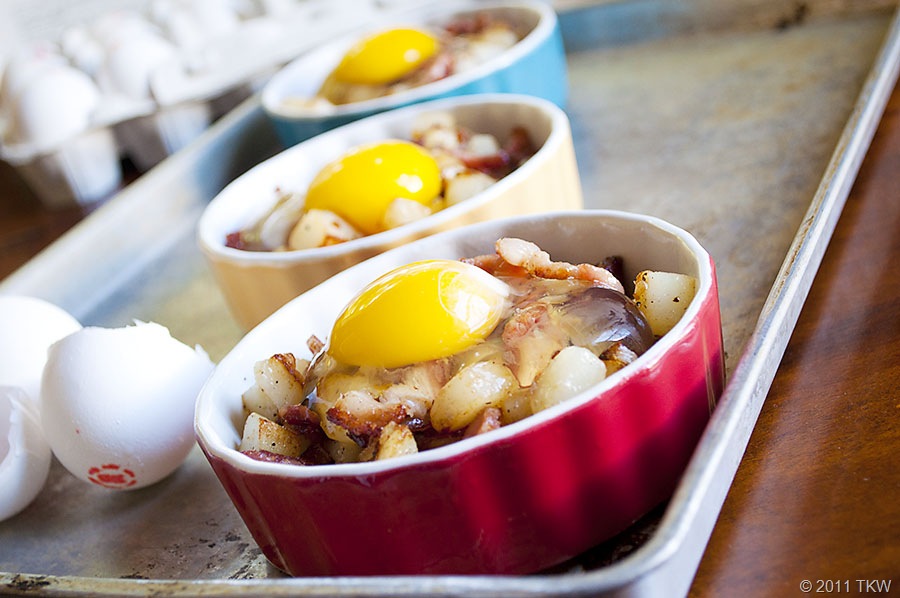 Bacon Hash and Broiled Eggs
2016-06-13 13:21:40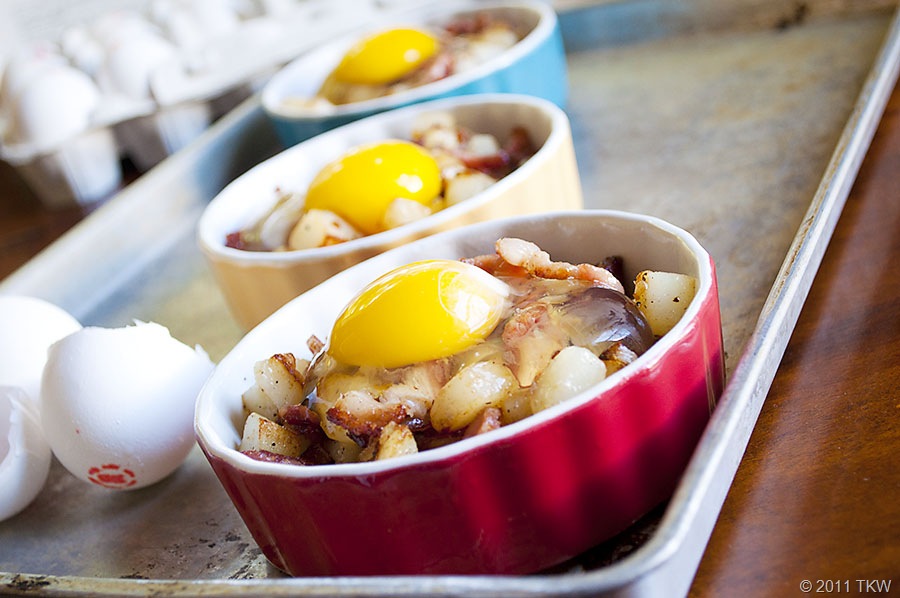 Ingredients
1 pound bacon, sliced crosswise into small strips
2 russet potatoes, peeled and cut into a 1/2" dice
1 small onion, halved then sliced into think strips
4 eggs
2 ounces grated cheese
Salt and Pepper to taste
Instructions
In a large skillet over medium heat cook bacon until the fat starts to render.  Add potatoes and onions.  Cook covered, stirring occasionally,  for 10 to 15 minutes or until potatoes are tender and onions are slightly caramelized.  Remove lid and turn heat up to medium high.  Cook until the bacon is crispy and the potatoes are browned.  Salt and pepper to taste.
Using a slotted spoon, transfer the bacon hash into  4 individual ramekins.  Crack one egg on top each bacon hash filled ramekin.  Place the ramekins on a cookie sheet and place under a broiler for approximately 3 minutes or until the whites are done (longer if you like your yolks cooked more.  Sprinkle some cheese on top and return to the broiler.  Broil until the cheese melts, about 30 seconds.
Notes
Cook's Note: If you don't have 4 ramekins or don't feel like washing 4 more dishes, leave the hash in the frying pan (make sure it is oven safe), crack the eggs over the hash and place the whole pan under the broiler..
The Kitchen Witch http://www.thekitchenwitchblog.com/

Click to Print a Recipe Card