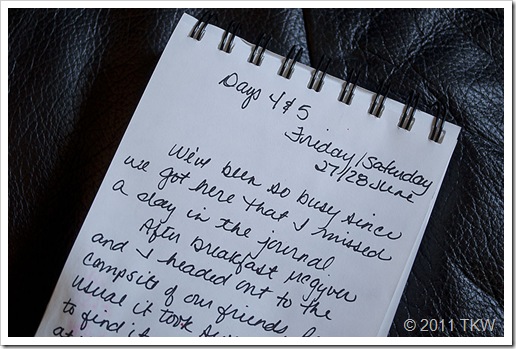 Motorcycle Monday's are back on track after last posting about the V-rod's 10th Anniversary.  My next journal entry covered days four and five, however I'm only covering day four (be prepared for mucho photos).  If you are just now joining the journey, you can catch up on our prep days here and here, and days one, two and three by following the links.
Finally we have reached our ultimate destination, Harley Davidson's 100th Anniversary Celebration in Barcelona, Spain…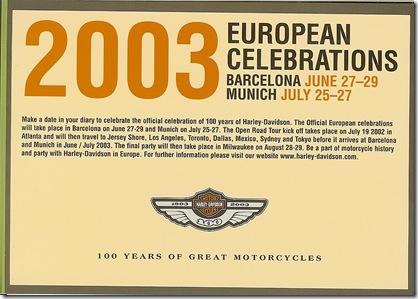 Day 4  Friday June 27, 2003

   We've been so busy since we got here that I missed a day in the journal.  After breakfast McGyver and I headed out to the campsite of our friends.  Per usual it took several attempts to find it.  We were to meet at the camp gas station because the site was so big we would have a hard time finding them.

   As we were waiting and watching everyone gas up and go – I saw Joe and MeLisa driving towards the camp site – its not a pretty site seeing an old woman run after a truck waving her arms.  Once I got their attention and some O2, they parked and now I had to go back and let McGyver know.  He was gassing up and had no idea I went running off.

    Soon enough we were at their campsite.  We all gathered ourselves together, 6 bikes in all to head off to the rally.  One of the guys took lead – he knew where he was going – or so he said… After the usual taking the long way and a separation from the pack, McGyver and I found our way.

    We pulled into the pre-registered area where they had parking for the bikes.  It was a breathtaking sight.  The bikes were parked in a circle around the inside of the arena.  What a great way to display the bikes.

 

   We headed up to the side entrance only to be turned away.  McGyver had his Leatherman tool on and it was not allowed, nor were any capped bottles – even water bottles.  Security was good.  While we were at the gate my cell phone went off – it was MeLisa wondering where we were at.  After a couple of minutes of discussing where we were located we realized that we were staring at each other across the plaza.  They had entered through the main gate. 

    We met up again and went in search of our rally packs.  We found ourselves queued upped in the heat waiting to get into the H.O.G. Roadhouse.  It was excruciatingly hot but it was a good chance to chat up with folks from all over.

    Getting the packs was a cluster, the person who elbowed their way in got their packs first.  The Roadhouse was a nice area where H.O.G. members could get free water, sit down and purchase 20th Anniversary [H.O.G. club] merchandise.  They had a couple of large hogs [pig statues] for everyone to autograph.

    We looked all over for a place to get the 10th Anniversary rally packs, but much to our disappointment, none were provided.  We had to purchase our own Open Road Tour shirts and pins – a must buy – after all, can't come all this way and not get the T-shirt.

    The rest of the group left around 3:00 to head back to their camp and the kids.  McGyver and I decided to get some beer and check out the rest of the place.  The lines were long – like there have been the whole day.  McGyver took one booth and I the other. 

   Another 30 minutes later we both had dos cervesa grande.  We didn't want to get back in line for awhile.  We both got a little sticker shock from the cost, 9 euro each.  By the time we were done we drank the equivalent of a T-shirt.

    Next, off to the exhibition tent – this is one of the areas we were really looking forward to seeing.  On the way we stopped and checked out some awesome original artwork by some great artist including a Willie G.

   The exhibition tent was all that we expected.  It was great seeing al the Harleys starting from one of three of the first one built in 1903 on up to the V-Rod. 

I burned a whole role of film just there.  We hung out for a little while longer and then headed to the campsite.  A couple of hours with friends then back to the hotel to wash off the day and get something to eat. 

   We had a great dinner at a local restaurant that served fresh seafood and a nice pitcher of Sangria.  Back at the hotel and not ready to end the day we bellied up to the bar and struck up a nice conversation with Dave and Val from Stratford-Upon-Avon, England.

    Dave has only been riding for a year but has adapted well to the lifestyle.  He rides an awesome Heritage Softtail with a customized tank fitted completely with leather and studs.  He had this done by the same fellow who does the upholstery for Rolls Royce.  Next he wants to have the fenders done.  Like us all – we love to customize!

   We closed the bar and hit the sack with a date to meet up with Dave and Val at 7:00 pm to ride the train into the rally site.  No worries about drinking and driving…
Stay tuned, next week we rock like a Rolling Stone!