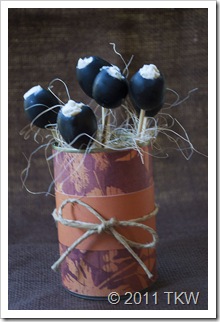 I remember when I was a child, my mom would always put out a bowl of ripe olives during the holidays. I would take the olives and place one on each of my fingers and for you smarty pants, my thumbs too. Then I'd eat them one at a time. My fingers were the perfect skewers! I still like to put olives on my fingers and eat them. Of course, I have gone from medium size to colossal ones to fit on my fingers.
I took the love of eating olives off my fingers and turned them into something just as fun to eat, but a little more grown up and socially acceptable.
I simply stuffed the olives with Boursin spreadable cheese and stuck them on skewers. That's two ingredients plus a stick for delicious fun. I made some fall themed containers to hold the olives to add to the fun.
However, after putting it all together, I thought the olives had more of an eyeball Halloween look and wished I had decorated my containers in a more ghoulish theme, I'll remember for next time.
I think the poor California ripe olive has fallen out of general favor, now-a- days we have access to olive bars and more exotic choices, which I adore, but I still love ripe olives. The olives are mild flavored and briny, a nice match with the garlicky creamy cheese.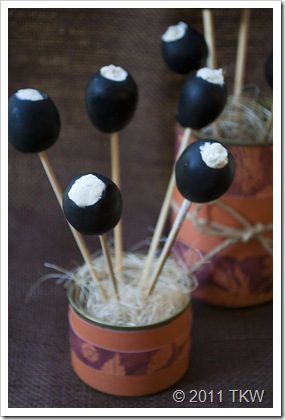 The containers were also easy to make, I used some olive cans (how apropos), washed and dried them, wrapped them in some craft paper and ta da, pretty containers. A little dry foam in the bottom of the containers help hold the skewers, then I topped it off with some basket stuffing material. I think this would work really well with cake pops and any other foods on a stick.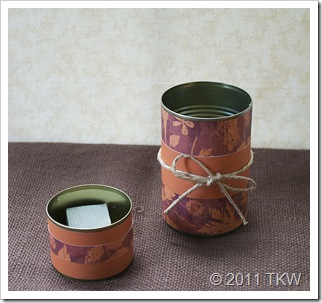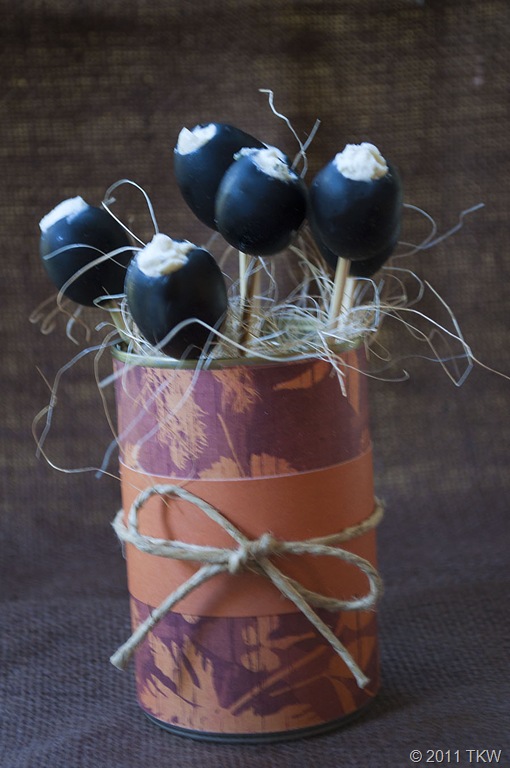 Boursin Stuffed Olives
2016-06-13 10:30:42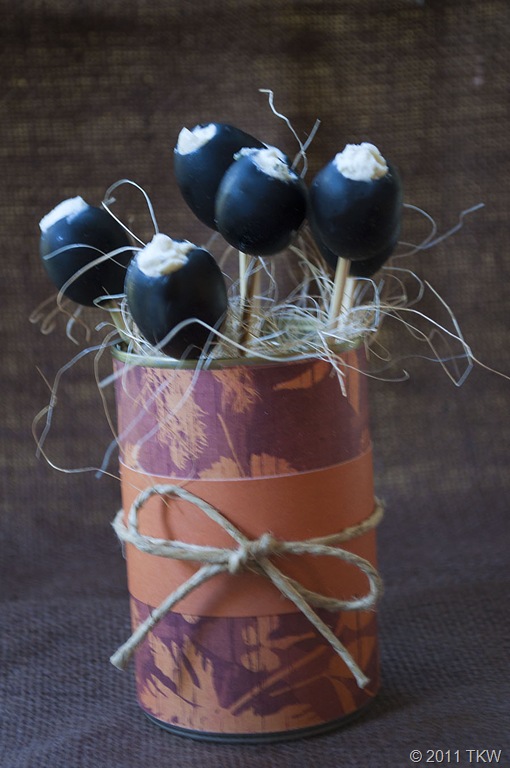 Ingredients
2 (6 oz.) cans Colossal California Ripe Olives
I container spreadable Boursin cheese
6" wooden skewers (optional)
Instructions
Drain olives thoroughly.  Let Boursin cheese sit at room temperature for 10 minutes.  Put cheese in a large zipper lock bag or pastry bag.  Trim the tip of the bag so the opening is slightly smaller than the opening of the olives.  Squeeze the cheese into the opening of the olive until the olive is full.  Place on a skewer if desired.
The Kitchen Witch http://www.thekitchenwitchblog.com/