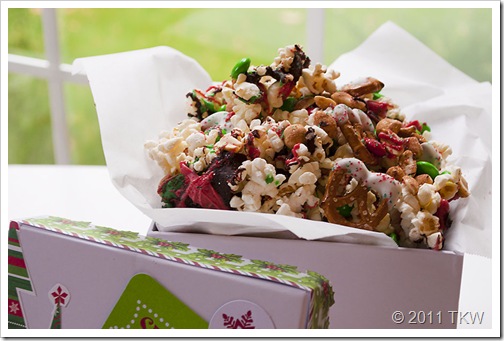 This is my third month participating in Secret Recipe Club and I got the fantastic blog The Yummy Life for my assignment. I'm not exaggerating about the blog being fantastic! Monica has a lovely blog, it's very easy to find whatever you are searching for: recipes, gifts and household/decorating tips. Evidently her son 'T-Man' is the web designer. Very convenient, hint hint to any of my children who might be looking for a new career….

After reading a little bit about Monica, I could tell that she has a great sense of humor and enjoys life along with the Rams and the Cards. I know exactly what kind of passion there is for the Rams and Cards after living 5 years in the St. Louis area. Just Monica's mention of gooey cake and Ted Drewes made me yearn to go back (if only they could take the humidity away).
Typically you hear from all the SRC participants that it was so hard to pick a recipe. Nope, not for me. I stumbled across Monica's Green Popcorn and Pretzel Mix recipe and knew right away that it was what I wanted to do. Not that Monica doesn't have a zillion great recipes, she does. It's just that my mind has been on Christmas.
I know, I know it's not even Halloween yet. Normally my thoughts don't wander to Christmas until after Thanksgiving, I've never been the super plan ahead type. However, this year's a little different. I've decided to make gifts, particularly foodie gifts. Naturally when I saw that The Yummy Life had a tab just for gifts, I honed right onto it.
The Green Popcorn and Pretzel mix was originally for St. Patrick's Day but I thought with an addition of some red components it could easily be converted to a Christmas Popcorn Mix. I noticed that Monica was able to purchase just green M&Ms; the benefits of a big city. Alas, that is not an option here in little ol' Great Falls. So I bought a big bag of regular M&Ms and sorted them. There is obviously a big disparity between the amount of red versus the green. The good news, is that between the two I got a half cup of M&Ms.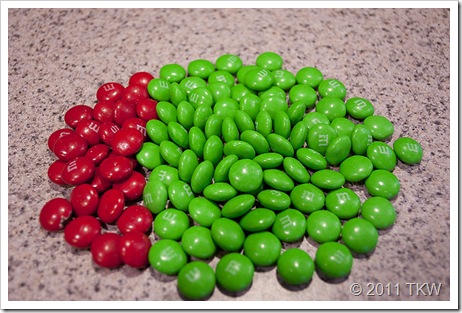 As most of you know, since I first started participating in SRC, the Baby boy has been involved. This time was no different. How could he resist when it involved candy, popcorn and pretzels?
Did you notice the Baby boy has white chocolate on his fingers? Boys!
I followed her recipe almost to a "T" (other than adding red). I did run into one problem that had absolutely nothing to do with the recipe. Since I didn't have the recommended type of coloring, I purchased a boxed set of frosting colors. The boxed colors were "Duff" brand (from Ace of Cakes). I followed the instructions and melted the white chocolate chips, oil and color. Unfortunately, the color cooked and then it wouldn't blend. On top of that the chocolate seized. So I started over, making sure that my measurements were exact (just in case I made a mistake before), omitting the color then melting the white chocolate and oil per the instructions. As soon as I stirred the color in, it seized again. I added a little more oil and recovered it to a usable consistency. In the future I would not use that brand of coloring.
The only other thing I did different was cook my popcorn in my Whirly Pop and omit the dye. I thought the red, white, green combination would have a nice Christmas look.
In the spirit of The Yummy Life, I also decided to make my own gift containers. I'm not super crafty, but I'm not un-crafty either, it's just not my normal gig. After reading The Yummy Life, how could I not be inspired. I didn't just make one, nope I made three gift containers…go Giggles, go Giggles! I'm doing my crafty cool dance (try not to picture it for your own sake).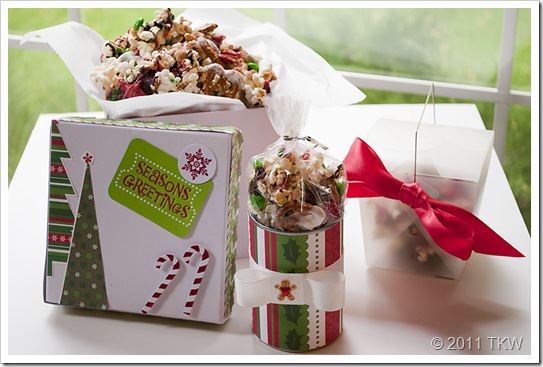 I purchased a plain white box and used craft paper and scrap booking items to decorate the lid for a family sized gift.
I also put some in a purchased Chinese take out container and simply added a bow. The translucent container showed off the pretty mix inside and didn't need much more adornment. I thought it would be the perfect size for a couple to share.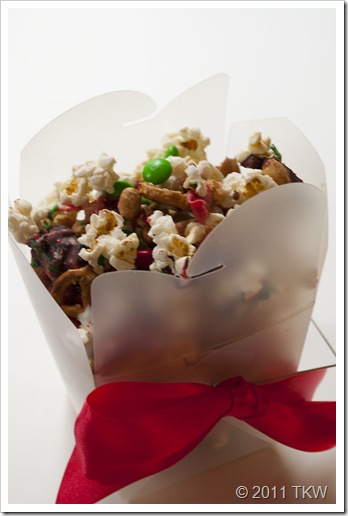 Lastly, for individual gifts, I wrapped a standard used and washed can in craft paper, put a ribbon and bow around it then added a small sticker. The popcorn is in a cellophane treat bag. This one ended up being my favorite (and cheapest). I loved that I recycled an ordinary can and turned it into a fun container.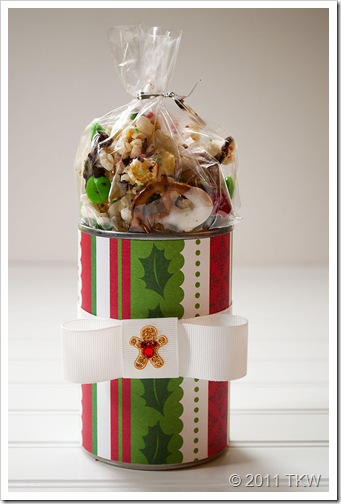 Monica, thanks for great gift idea, I'll definitely be checking out The Yummy Life for more gift ideas and recipes!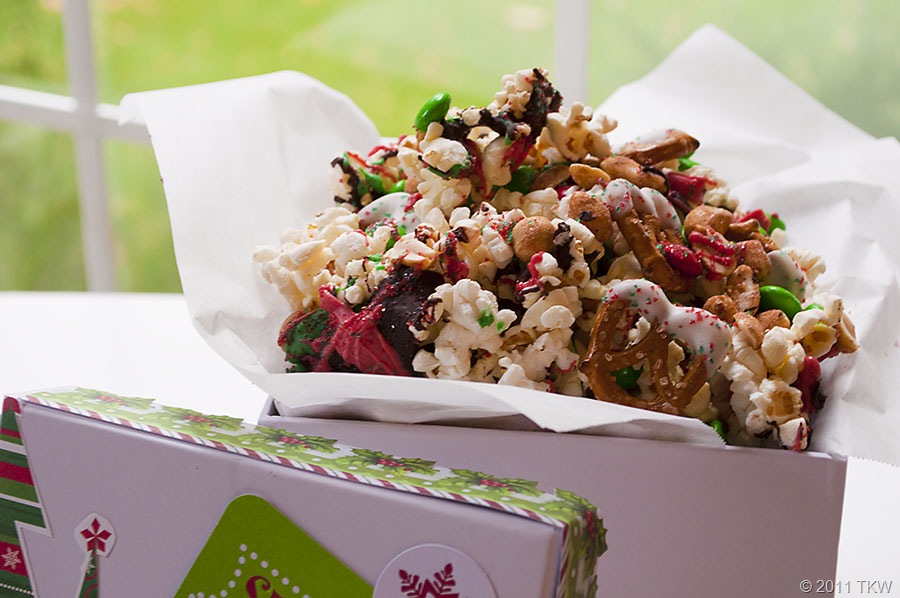 Christmas Pretzel Mix
2016-06-13 10:25:47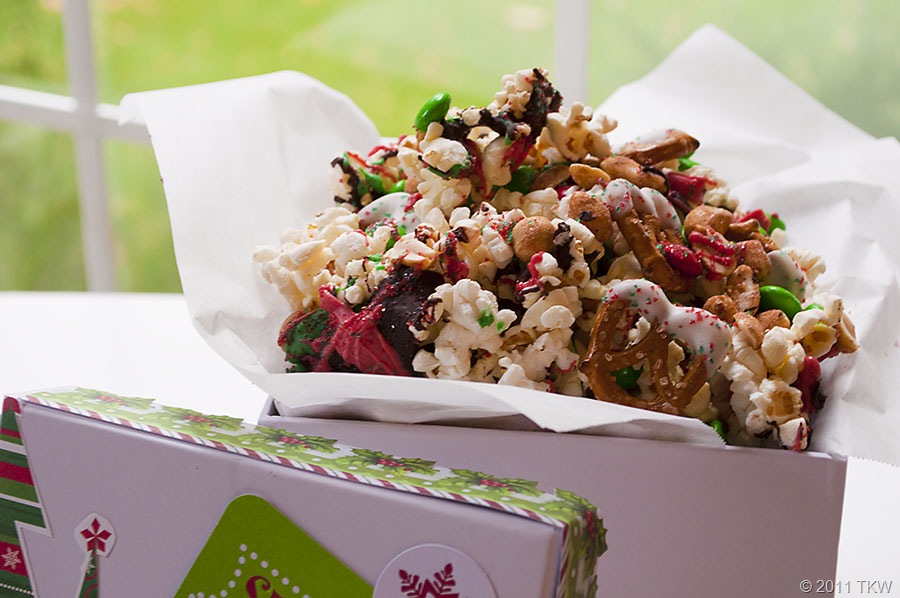 Ingredients
4 dozen (approx. 2 cups) small pretzel twists
8 cups popped corn
1/2 cup honey roasted peanuts
1/2 cup green and Red M&Ms
1/2 cup milk or semi-sweet chocolate chips
1 cup white chocolate or vanilla baking chips, divided
1 tablespoon canola oil, divided
Red and green food coloring*, optional (oil based preferred over water based)
1 teaspoon coarse sea salt
decorating sprinkles (green and red coarse sugar, green/red/white nonpareils, or similar)
Instructions
Melt 1/2 cup white chips with 1/2 tablespoon oil in microwave; stir after 40 seconds, continue cooking and stirring at 20 second intervals just until last chips melt in when stirred. Dip half of each pretzel in the melted chocolate and place them on a baking sheet lined with parchment or waxed paper. While still wet, sprinkle with colored sugar or other decorative sprinkles. Set aside to harden.
Spread popcorn on another large baking sheet that has been lined with parchment or waxed paper. Sprinkle peanuts and M&Ms evenly over top. Combine chocolate chips with 1/2 tablespoon oil and melt in microwave (see melting chocolate at The Yummy Life). With spoon, drizzle evenly over popcorn mixture. Sprinkle with coarse sea salt. Add food coloring and 1/2 tablespoon oil to 1/2 cup white chips, melt, and drizzle over popcorn mixture. Sprinkle with decorating green sugar and nonpareils.  After melted drizzle harden, break into pieces, add pretzels, and store in airtight container or sealed plastic bags.
*Food coloring can be omitted entirely--use plain white melted chocolate and rely on M&Ms and sprinkles to add color to the mix.
The Kitchen Witch http://www.thekitchenwitchblog.com/
Can't get enough of Secret Recipe Club? Hop on over to these sites:

Click to Print a Recipe Card