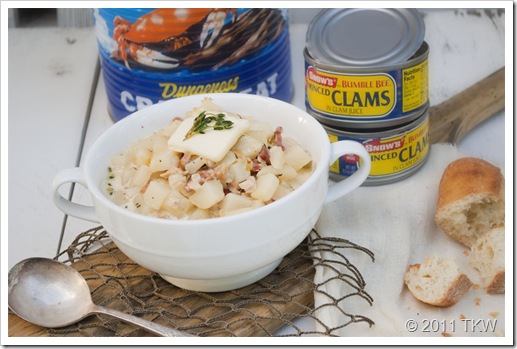 If you asked my Baby Boy what his favorite soup is, he'll tell you without a moments hesitation that it's clam chowder. New England style is his favorite, but he likes it in all forms.
Do you know how many varieties there are? Let me share the ones that I know of:
New England – cream based, clams, broth, potatoes, bacon, onion
Manhattan – tomato based, clams, broth, potatoes, bacon, onion
Long Island – half New England and half Manhattan
Rhode Island – broth based, clams, potatoes, bacon, onion
Delaware – Same as New England but uses fried salt pork
Hatteras – clear broth thickened with flour, potatoes, bacon, onion and copious amounts of black or white pepper
Minorcan – (Florida) tomato based, clams, broth, potatoes, bacon, onion and an extremely hot pepper called datil pepper
Seattle/Portland – New England style except the bacon is substituted with smoked salmon
San Francisco – New England style served in a sour dough bread bowl
Many of the chowders use celery, parsley, thyme and even carrot for color but they all have something in common: clams, broth and a salty and sometimes smoky meat, With that basis I'm sure people have made a zillion of their own variations.
Just a trip down the Rhode Island coast and you will taste a different chowder at every place you stop. And that's a good thing. My Baby boy's Nana lives in Rhode Island, when we visited, I always loved heading to the shore and stopping at some little 'shack' and getting some chowder and clam cakes.
I'm originally from Washington State so I'm no stranger to clam chowder especially since my dad was a commercial diver. He used to dive for Geoduck (which is Native American for King Clam). Naturally when your dad dives for Geoduck, you eat a lot of it at home, you also end up eating plenty of clam chowder (sometimes more often than you want). No wonder the Baby boy loves chowder, it runs through his veins.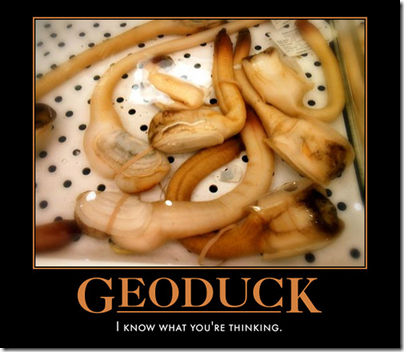 Seriously, Geoduck is a real clam and the brunt of many jokes. And it's big. A mature geoduck weighs in, on average, at 3 pounds and can weigh up to 15 pounds! I remember when I was a teen (not much shorter than I am now…), I held a geoduck neck in my hand and it stretched all the way down to ground. We're talking 5 feet tall, now that's one big clam (and one short girl). You can just imagine how much clam chowder and how many clam cakes you could make from one clam!
My chowder is fairly straight forward, heavy on the clams with some thyme and bay leaves for an extra special little flavor. If you have fresh clams available, you can certainly cook your own clams (or geoduck) and use the broth in place of the canned/bottled. My locale dictates the use of canned clams and bottled clam broth (frankly it's easier). I serve mine the way my mom always did, with a pat of butter on the top and some bread to soak up all the goodness that is clam chowder.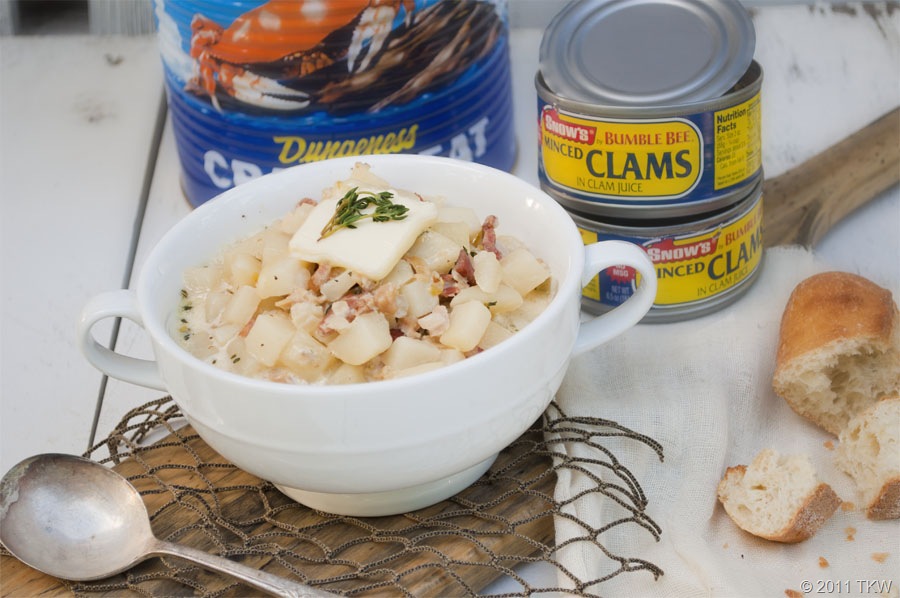 New England Style Clam Chowder
2016-06-13 10:02:03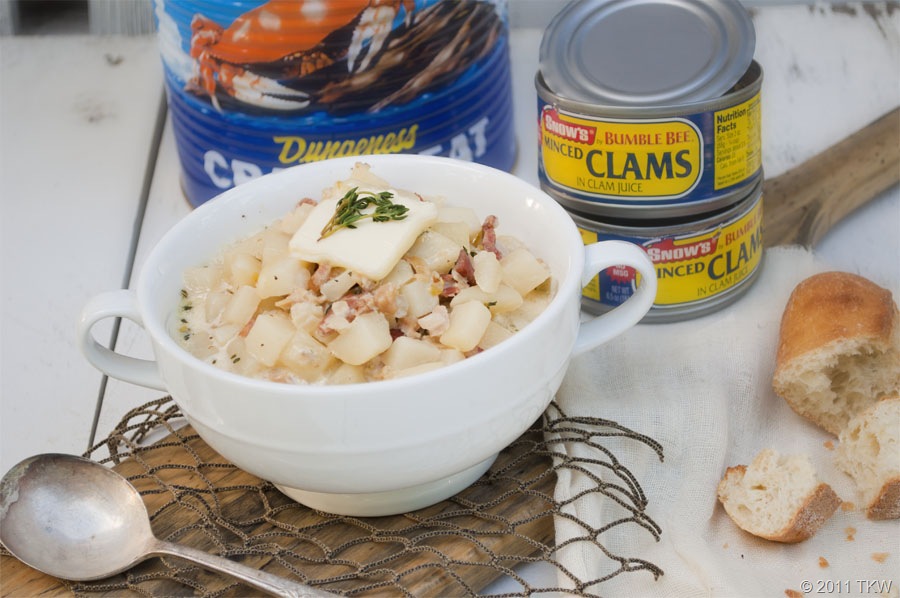 Ingredients
4 cans (6.5 oz.) minced clams, drained, juice reserved
2 bottles clam juice
6 slice bacon, chopped
2 tablespoons butter
1 large sweet onion, diced
6 large potatoes, peeled and diced
2 cups cream or half and half
1 tablespoon fresh thyme, plus extra for garnish if desired (1 teaspoon dried thyme may be substituted)
2 bay leaves
1 teaspoon salt or more to taste
1/2 teaspoon black pepper
1/2 teaspoon white pepper
Instructions
In a large Dutch oven or other heavy bottomed pot, cook diced bacon over medium high until bacon is cooked but not crispy.  Add butter, celery, onion, bay leaves, thyme and salt and pepper.  Turn the heat down to medium, continue to cook until the onion and celery are tender (about 8 to 10 minutes).
Add diced potatoes, reserved clam juice and bottled clam juice.  If needed, add enough water to just cover the potatoes.  Bring to a boil then turn down and simmer until the potatoes are tender, about another 10 minutes.  Spoon off any 'scum' that boils up.  When potatoes are tender stir in cream and clams, gently heat until warmed through about 5 minutes.  Taste, add more salt and pepper if necessary.  Remove bay leaves before serving.  Top chowder with a pat of butter and some fresh thyme or chopped parsley if desired.
The Kitchen Witch http://www.thekitchenwitchblog.com/

Click to Print a Recipe Card