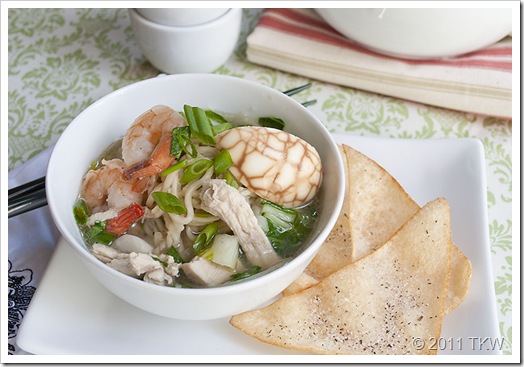 When it comes to cooking, I pretty much just cook the everyday stuff. The typical American hodge podge, melting pot of meals. I cook Mexican/TexMex but don't make my own tortillas. I cook Italian but I don't make my own pasta. I cook French but don't make fancy pastries. I cook German but don't make my own sauerkraut. I cook this and that but I tend to shy away from things that I perceive complicated/above my skill level. In other words I'm a chicken in the kitchen (and kinda lazy too).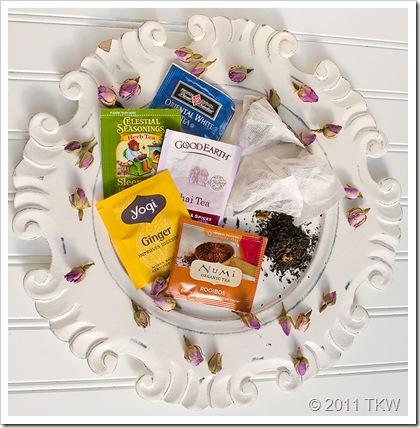 (Pictured are all teas that I have in my pantry, including the roses. The roses are a tea that I purchased in Chinatown, San Francisco.)
Which is why I've avoided Daring Kitchen's Daring Cook's Challenges. Till now. It's time that I stopped reading them on other blogs and started doing them myself. I'm a commitment gal, if I sign-up to do something or promise to do something I do it (unless it's too myself, read: diet and exercise). I know myself and I knew if I signed up for a challenge, I would attempt it regardless of how chicken I might feel about it.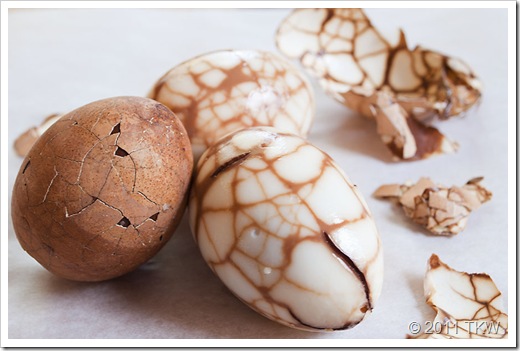 This is my first month and my first challenge comes from Sarah from Simply Cooked. She was our November Daring Cooks' hostess and she challenged us to create something truly unique in both taste and technique! We learned how to cook using tea with recipes from Tea Cookbook by Tonia George and The New Tea Book by Sara Perry.
Talk about an interesting first challenge! Sarah provided us recipes for Chinese Tea Eggs, Green Tea Soup and Beef stew (made with Rooibos tea). I was absolutely fascinated with the Chinese Tea Eggs. The seeped eggs were so unique looking, they reminded me of a stained glass. I had great success making them, it was really quite simple. I was amazed at how subtle the tea flavor was and how the Chinese 5-spice really shined through. I could have easily gobbled all of them.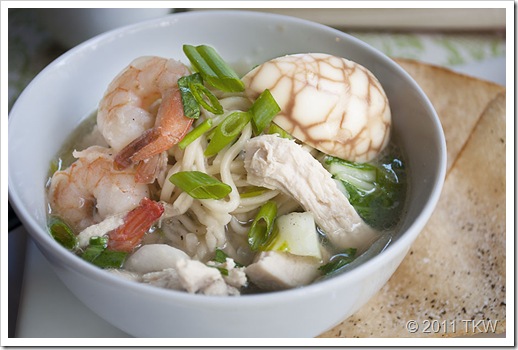 I wanted to make the Green Tea Soup also but my family isn't too keen on tofu. Soup was still on my mind, I remembered I had made a fresh Miki Soup several months ago that we all loved. I took the basis of that recipe and turned a traditional Filipino soup into a Chinese/Filipino fusion. The basis for my broth was ginger tea that I simmered with chicken and shrimp shells. Bok Choy was used for color and crunch, fish sauce was added to intensify the flavor. The finishing touch, was of course, a Chinese Tea Egg quarter.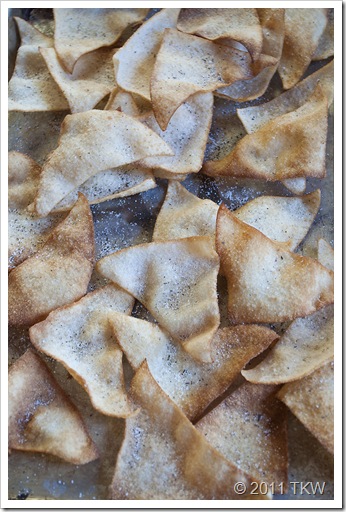 I thought that something crunchy would be a nice accompaniment, well actually I had some left over wonton wrappers that I needed to use… a crunchy side was still a great idea. Here's where I got creative…daring even, all on my own. No copy cat Chinese Tea Egg, no inspiration from another soup, just my own little brain cells firing away. This was a tea challenge and I wanted to incorporate tea in every aspect. Enter tea salt, you read that right, tea salt.
Here's how my brain works: A while back I watched chopped, rose petals were part of the challenge. The contestant nuked the rose petals (to dry them), turned them into a powder, mixed it with salt = rose salt. I have tea that is made of roses. I didn't want rose salt but I did want salt on my wonton chips. Tea is already dried. I put white tea and salt in a mini-processor and whirred them together = tea salt.
Nothing short of brilliant and daring! The wonton chips were certainly the big hit of the meal, so good that by the next day we had snacked on them until they were gone. I thought that it was interesting how tea salt looked like salt and pepper on the wonton's, very appetizing along with being tasty.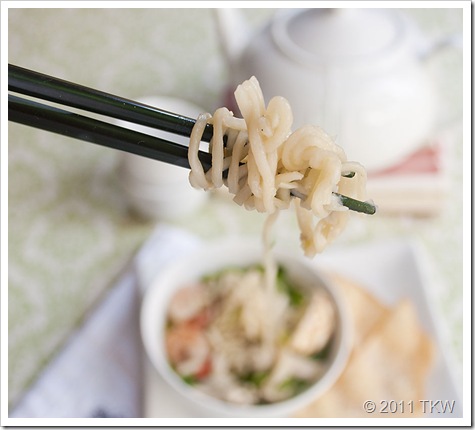 I did discover that fresh Chinese noodles do not hold as well in broth as fresh Miki noodles which are considerably thicker. I cooked the noodles in the broth, however after a few hours in the soup they disintegrated into mush. I have adjusted my recipe to cook the noodles on the side and put them in the bowl then to pour the soup over the top to maintain the integrity of the noodles. Unfortunately I had to toss all of our leftovers, the texture was too unpalatable. But isn't that what challenges are about? Learning.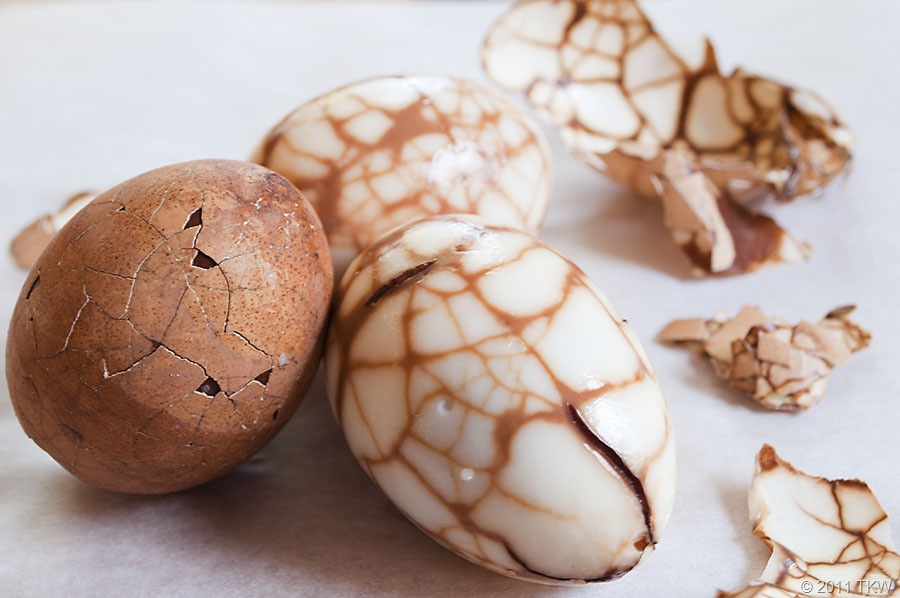 Chinese Tea Eggs
2016-06-13 09:53:32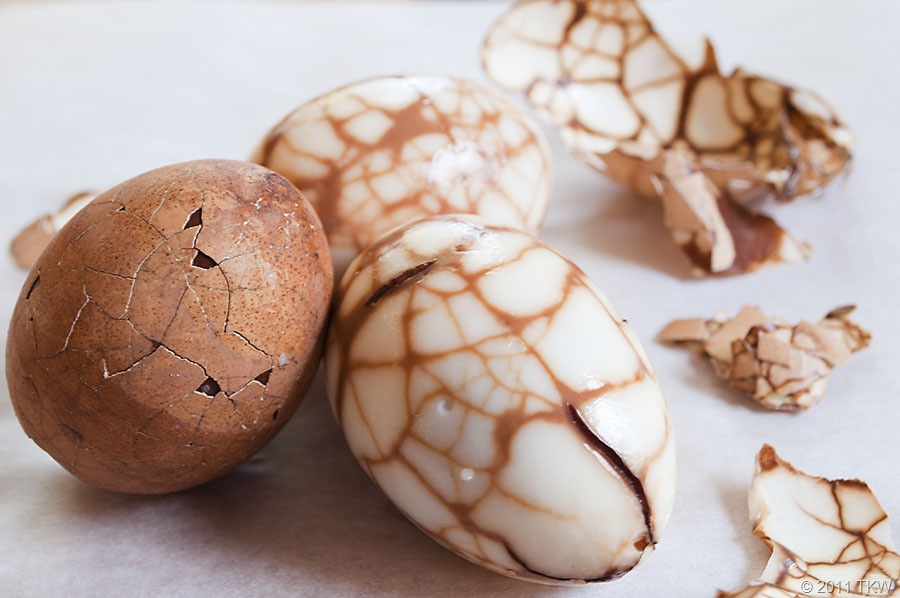 Ingredients
6 eggs (any size)
2 tablespoons (30 ml) (6 gm) black tea leaves, or 4 tea bags
2 teaspoons (10 ml) (5 gm) Chinese five spice powder
1 tablespoon (5 ml) (3 gm) coarse grain salt
toasted sesame seeds, to garnish
Instructions
In a large enough pot to avoid overcrowding, cover the eggs with cold water. Bring to a boil over medium heat and simmer for twelve minutes.  Remove the eggs with a slotted spoon and keep the cooking water.  With a spoon, tap the eggs all over until they are covered with small cracks. This can also be done by tapping and rolling the eggs very gently on the counter.
Return the eggs to the pan and add the tea leaves or bags, Chinese five spice powder, and salt. Cover the pan. Heat gently and simmer, covered, for one hour.  Remove the pan from the heat and let the eggs cool down in the liquid for 30 minutes.  Remove the eggs from the liquid. Peel one egg to check how dark it is; the others can be returned to the liquid if you wish to have the web-like pattern darker. Allow the eggs to cool fully.
To serve, peel and slice the eggs in halves or quarters. Sprinkle with toasted sesame seeds.
The Kitchen Witch http://www.thekitchenwitchblog.com/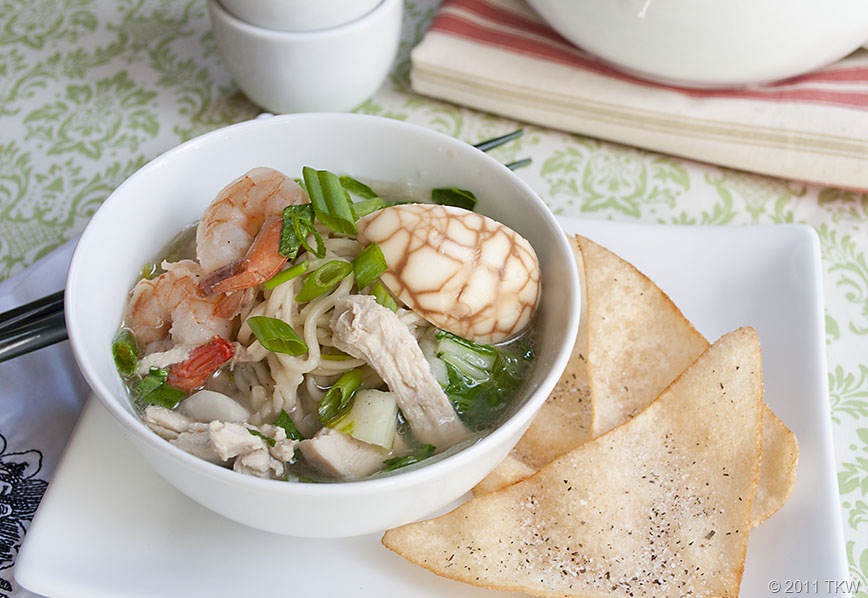 Ginger Tea Soup with Chinese Noodles
2016-06-13 09:55:14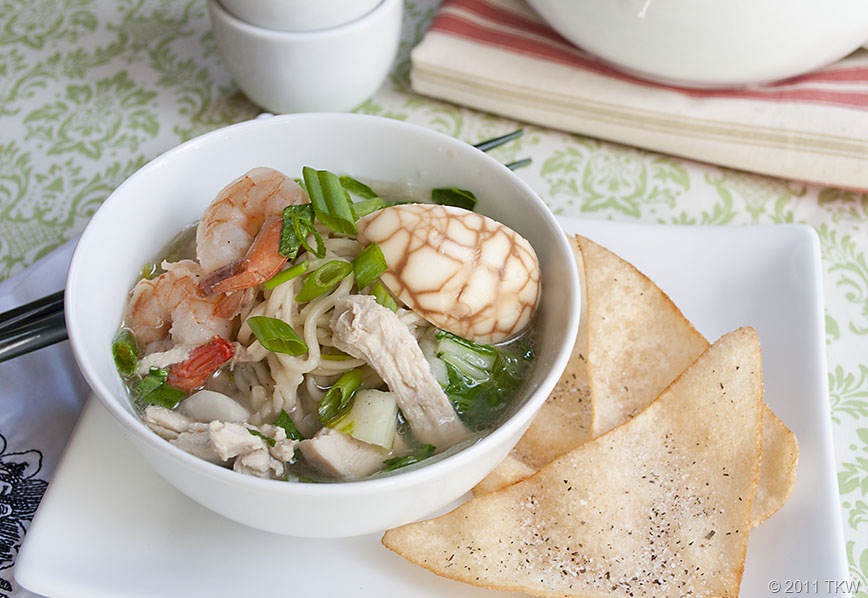 Ingredients
1 (9 oz.) package fresh Chinese noodles
8 cups water
12 to 18 shrimp, peeled (shells reserved)
2 chicken breasts
1 tablespoon oil
1 head bok choy, chopped (stalk and greens separated)
1 medium onion, halved and sliced thinly
1/2 head garlic, minced
5 to 6 green onions, chopped (whites and greens separated)
1/2 cup fish sauce
3 to 4 ginger tea bags
Salt and pepper to taste
Chinese Tea Eggs, quartered (see recipe above)
Instructions
To make broth:  In a large pot bring to a boil chicken, shrimp shells and water.  Turn down to a simmer, add tea bags (I used 4).  Simmer until chicken breast is cooked through, about 20 minutes.  Drain broth,  shred chicken breast, discard shells and tea bags.  Reserve the broth.
Using the same large pot, heat oil over medium heat.  Sauté onions and garlic until onion is tender and transluscent.  Add bok choy stems and cook for an additional 2 minutes.  Add chicken, broth and fish sauce, bring to a gentle boil.  Add bok choy greens and shrimp, cook until shrimp is done, about 3 minutes (they will turn pink).  Salt and pepper to taste.
In a separate pot, bring some water to a boil, add Chinese noodles, cook for 3 minutes.  Drain noodles.  To serve soup, place some noodles in a bowl, ladle soup over noodles.  Garnish with Chinese Tea Egg quarter and green onion tops.
The Kitchen Witch http://www.thekitchenwitchblog.com/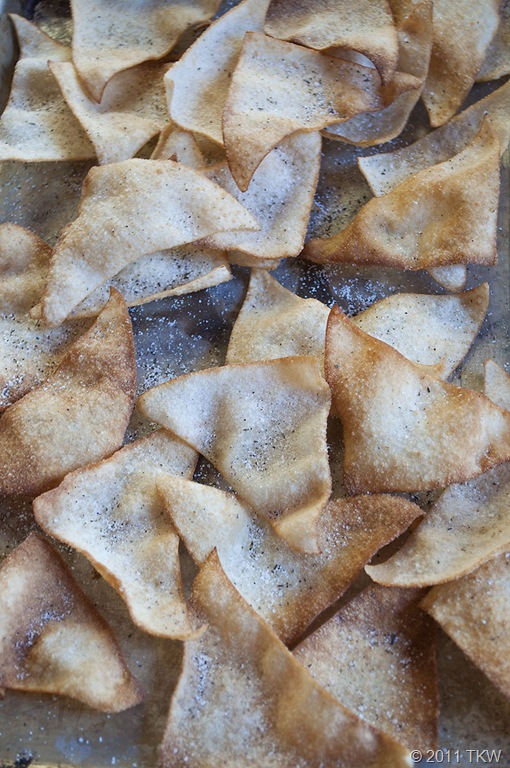 Wonton Chips with White Tea Salt
2016-06-13 09:56:32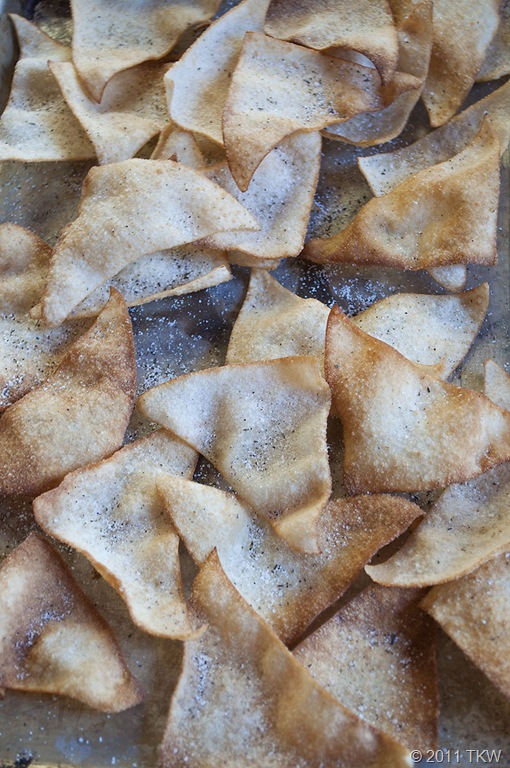 Ingredients
Packaged wonton wrappers
1 bag white tea
2 teaspoon sea salt or kosher salt
Canola oil for frying.
Instructions
To make tea salt: cut open tea bag and remove tea, mix with salt.  Run tea/salt mixture through a spice grinder or processor.
In a deep pan heat oil until it reaches 350°F.  Cut wontons in half diagonally.  Fry wontons approximately 15 seconds on each side, drain on a paper towel lined plate.  Sprinkle tea salt over wontons.  Store in an air tight container.
The Kitchen Witch http://www.thekitchenwitchblog.com/

Click to Print a Recipe Card