You might as well go get my crown and schedule my coronation now. I have just become the casserole queen! This casserole was so good that I could have my own network show based on this casserole alone! Seriously.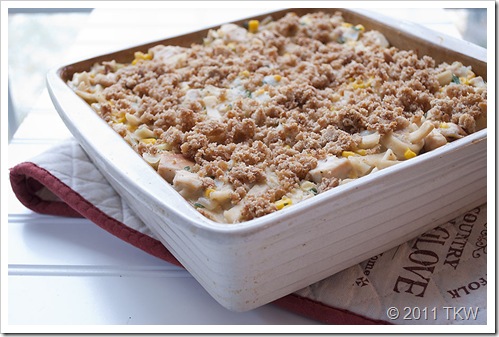 The most important criteria for a casserole is comfort. What speaks better to comfort than chicken (or turkey) and noodles, swimming in creaminess surrounded by down home goodness of corn and topped with crispy butter bread crumbs.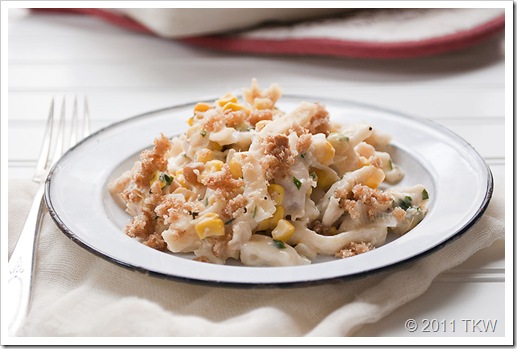 I combined two iconic casseroles, chicken noodle and corn for a perfect marriage. A unison so perfect that it will take you to casserole heaven. Bonus, it's a great way to use up leftover turkey (or chicken)!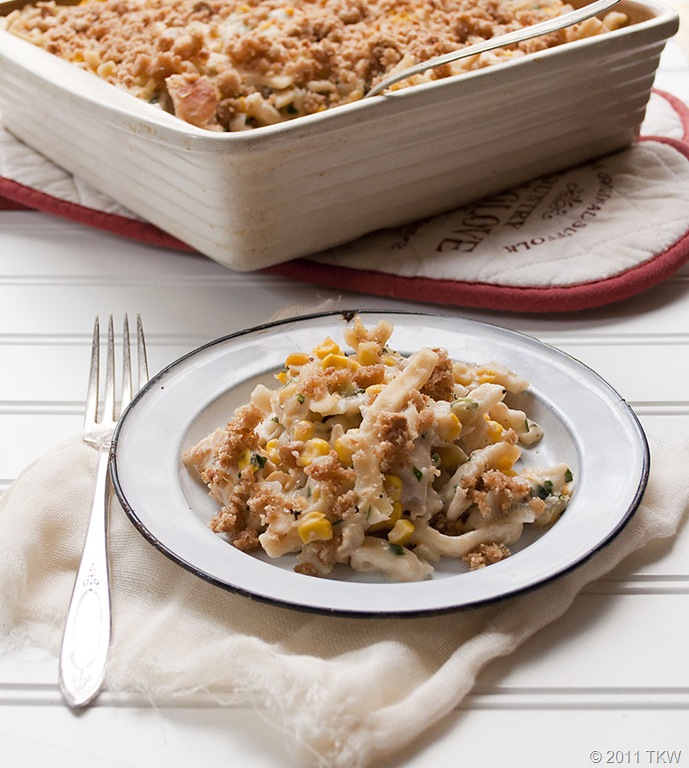 Chicken Noodle and Corn Casserole
2016-06-12 21:06:38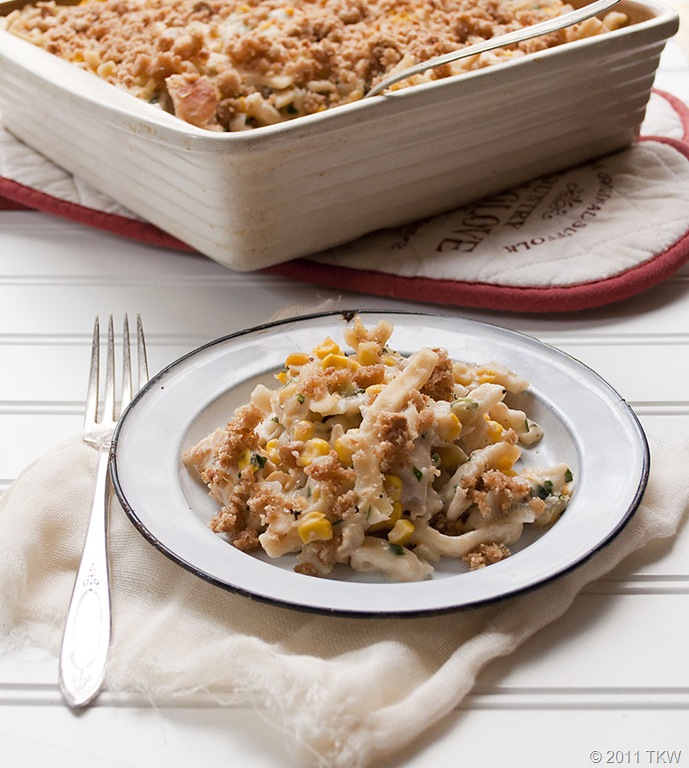 Ingredients
3 cups chopped cooked chicken or turkey
1 package (16 ounce) Reames homestyle frozen egg noodles
1 can (15 ounce) corn kernels, drained
1 can (14.75 ounce) cream style corn
3 tablespoons butter
1 medium onion, diced (approx.. 1 cup)
1 stalk celery, diced (approx.. 1/2 cup)
2 tablespoons flour
1 1/2 cups milk
1 cup sour cream
1 tablespoon minced sage
1 tablespoon minced thyme
2 tablespoons minced parsley
Salt and pepper to taste
1 cup bread crumbs
2 tablespoons butter, melted
Instructions
Preheat oven to 350°F.  In a large pot bring 8 cups of water and 2 teaspoons of salt to boil.  Add noodles and gently boil for 17 minutes, drain noodles and set aside.
In the same large pot, over medium heat, melt 3 tablespoons of butter.  Sauté onions and celery until the onions are tender, about 5 minutes.  Add the garlic and cook for 1 more minute.  Sprinkle the flour over the the onion mixture, stir and cook for another minute.  Slowly pour the milk in, stirring constantly.  Bring sauce to a boil and boil for 1 minute.  Turn off heat, add herbs, salt and pepper, corn, creamed corn, sour cream, chicken and noodles.  Mix until well combined.
Pour casserole mixture into a greased 2 quart casserole pan.  In a small bowl, pour the melted butter over the bread crumbs and mix well.  Spread the bread crumbs evenly atop the casserole.  Cover with foil and bake for 15 minutes, remove the foil and bake another 10 minutes.
The Kitchen Witch http://www.thekitchenwitchblog.com/

Click to Print a Recipe Card