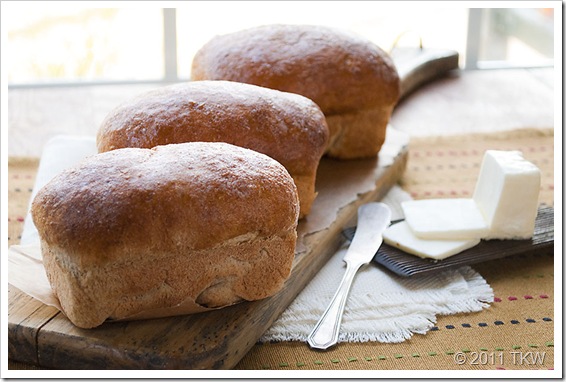 Baking is not my thing, baking with yeast is even less than my thing. But sometimes I get the yearning to bake fresh bread, usually in the form of my bread maker. Then I saw Amy's recipe for her weekly bread and I got a hankering for skipping the bread machine. Amy is a local, she writes articles for our At Home section in the Great Falls Tribune and has a blog called Backyard Bounty. Amy is an amazing person, she is all about living simply, cooking and gardening, along with raising a family. I'm super envious of her gardening skills, if only I weren't so lazy…maybe I can convince Amy to start gardening in my yard?
It was Amy's weekly bread that caught my eye and got me to kneading. Her bread won "The Best Bread" Blue Ribbon at the Montana State Fair. Blue Ribbon Bread from a great person like Amy, how could I not try it? Amy's bread is a whole wheat/white flour blend sweetened with honey (from the bees they raise themselves). It's the wheat aspect that inspired my black and white/sepia photos for this Wednesday.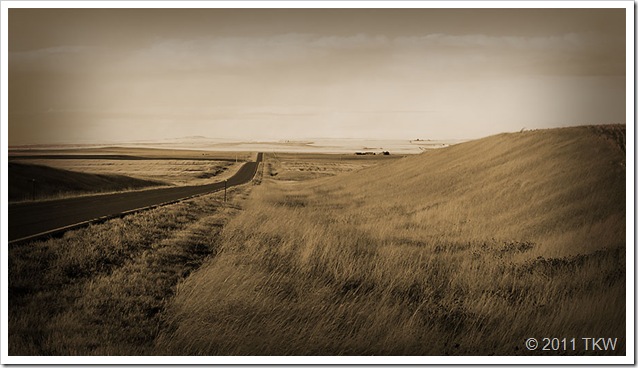 McGyver and I went on a drive Saturday to check out some new places to hunt. We drove out past Highwood and I was awed by the cut wheat fields. I shot the photo above and the photo below in the exact same spot, I simply turned around. On the one side is an endless view of cut wheat fields dropping off into the horizon. On the other side you can follow the cut fields till they butt up against the Highwood Mountains (which was our real destination but we missed our turn). I don't think I could have found a spot that better represented the farming landscape of the Great Falls area, we're partly mountains and partly plains.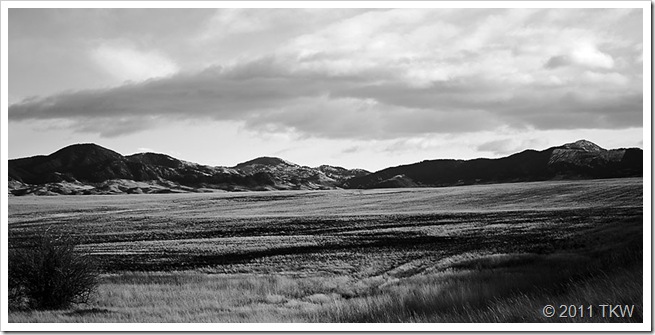 If you are interested in seeing more culinary black and white photos or participating, head over to my hostess Susan's site, The Well Seasoned Cook.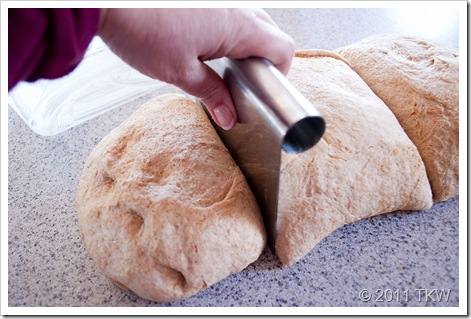 I made Amy's bread to go with our Thanksgiving meal. I made one small change by replacing some of the honey with (REAL) maple syrup.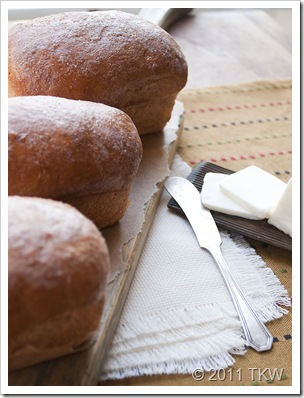 I found the bread incredibly easy to make, it was a very forgiving recipe. For me to say that about a yeast based recipe says a lot! I baked one large loaf and six mini loaves. I made the mini loaves to replace traditional style rolls.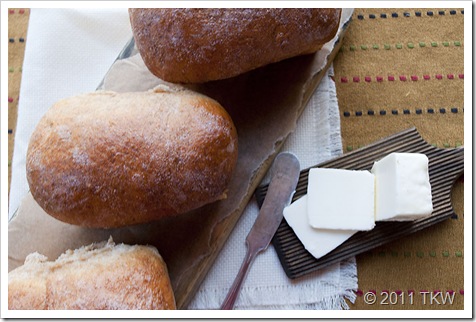 My family loved, loved, loved the bread. Did I mentioned that my family loved this bread? The texture was perfect with just a touch of maple to add flavor but not so much to be overwhelming.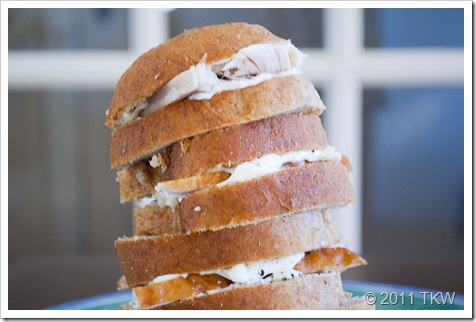 Bonus, the mini loaves made the perfect little sandwiches. Later in the evening when we just wanted a small sandwich the mini bread was the perfect size. If I had small children at home, I would make small loaves all the time so they could have a personal grown-up whole sandwich instead of a half sandwich.
This recipe makes 3 large loaves of bread (or 9 minis). Amy says the bread freezes really well, I'll have to take her word for it because we don't have any left over to freeze.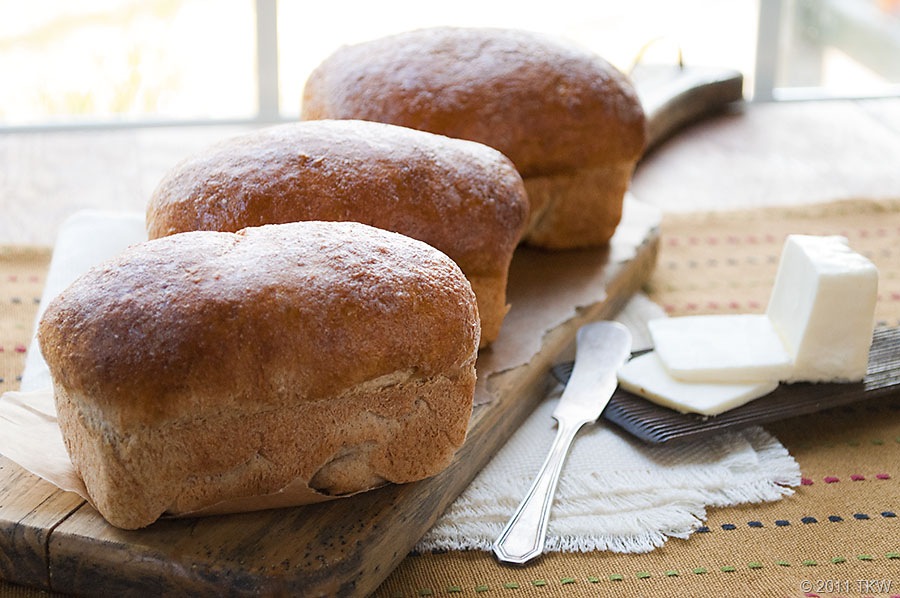 Maple Wheat Bread (Amy's Blue Ribbon Weekly Bread)
2016-06-12 21:02:08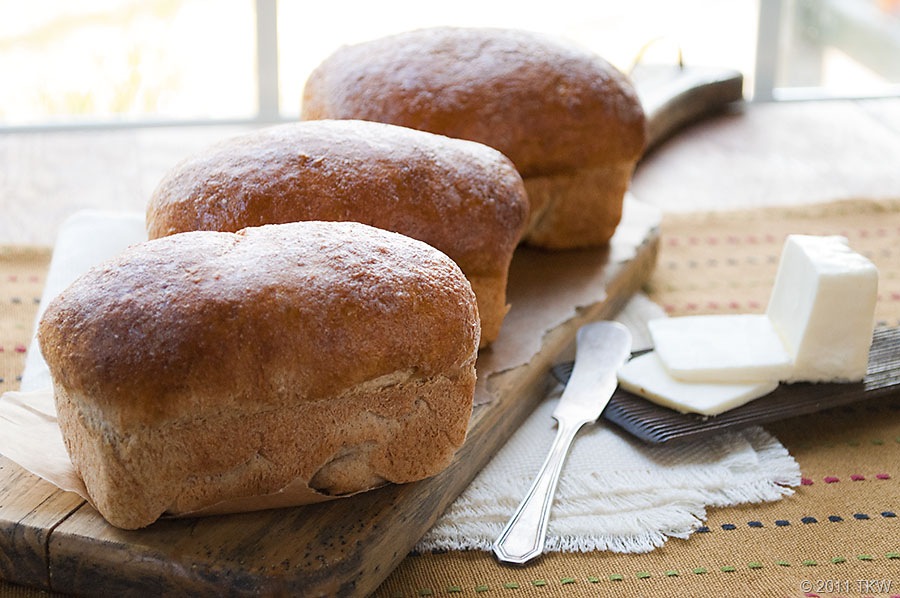 Ingredients
3 cups warm water (110°F to 120°F)
2 tablespoons yeast
2/3 cup honey
5 cups white all purpose flour
3- 4 cups whole wheat flour (you have to kind of play it by feel)
2/3 cup maple (or honey)
1 tablespoon salt
3 tablespoons butter
Instructions
In a large stand-up mixer bowl mix warm water and honey, stir to blend.  Sprinkle the yeast on top, add flour and mix well.  Let proof for 30 minutes.
After dough has proofed for 30 minutes, add syrup, salt and butter, mix with your stand mixer with a dough hook, on low until well incorporated.  Add 3 cups flour one cup a at a time mixing well between each cup.  Add the 4th cup flour 1/4 cup at a time with the blender running, until dough pulls away from the sides and starts to form an elastic ball (if it's a little sticky that's okay).  Turn dough onto a floured surface.  Knead for 5-8 minutes or until smooth and elastic.  Place in a large oiled bowl, cover with a towel.
Let dough rise in a warm draft free area until doubled (about 2 to 3 hours).  When doubled, punch dough down and turn out onto a board, divide dough evenly into 3 loaves.  Form dough into roughly 9x5 rectangles and place into three greased buttered loaf pans.  Cover with a towel and let rice until doubled, about 1 hour.
Preheat oven to 350°F.  Bake bread for 30 minutes or until lightly browned on top and sounds hollow when tapped.  Let cool 10 minutes and then remove from pans, finish cooling bread on cooling racks.
Notes
Cook's Tip:  Spray your measuring cup with no-stick spray before using, it'll keep the honey from sticking.  Use the same measuring cup to measure the warm water, it'll rinse any remaining residue for an easy clean-up.
Cook's Tip:  Use non-stick spray to evenly coat your bowl, then spray some on top of the dough and cover with plastic wrap before covering with a towel.  This will prevent the dough from sticking to the towel and save on laundry.
The Kitchen Witch http://www.thekitchenwitchblog.com/

Click to Print a Recipe Card