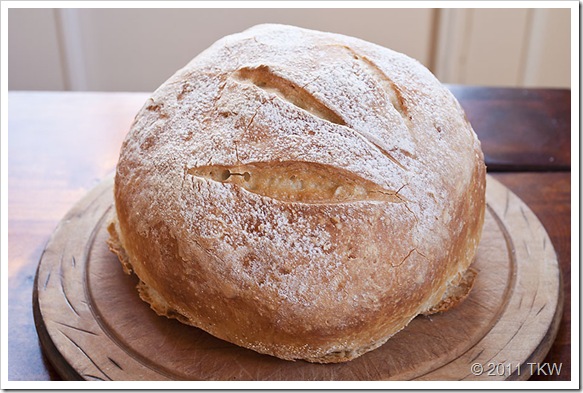 If you've been hanging out at this blog for long, you know I've been quite intimidated by the yeast, and usually don't care for baking…all that measuring and mess and waiting, typically not for me. Lately, I've been more adventurous.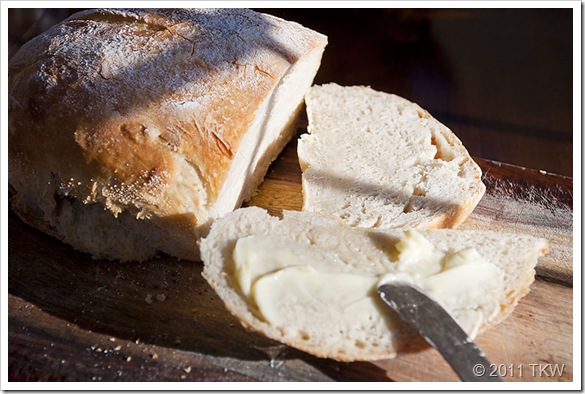 So this 5 minute artisan bread was all the talk several years ago, the bread baking world nearly imploded with the widespread bandwagonism of 5 minute artisan bread. Everyone thought is was so great, everyone except me, who really didn't give a rats ass because it still required…ugh, yeast, measuring, waiting…baking.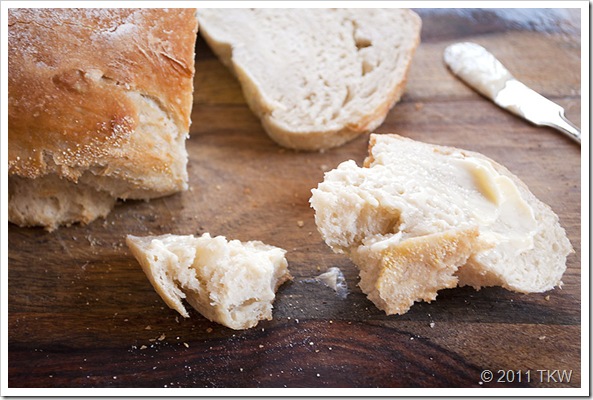 Now that I'm trying to expand my yeast, measuring, waiting, baking self, I thought I'd give it a go round. I dug up a recipe posted in the NY Times, the recipe was adapted from "Artisan Bread in Five Minutes a Day," Jeff Hertzberg and Zoë François (Thomas Dunne Books, 2007).
It was surprisingly easy. My first loaf I made was small and it was perfect, yeasty, adorable, crusty, chewy. The second loaf, the one pictured, I made much larger. It ended up being a little bit doughier. I would have cooked it longer, except my stone broke…boohoo.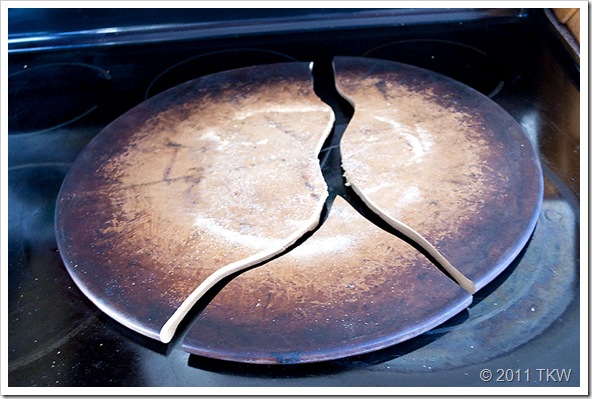 I would definitely make this over and over. The dough is good for two weeks, which is great. It does take way longer than 5 minutes. It takes 5 minutes to mix, 10 minutes to clean-up and you still have that whole rise and bake thing. But in the world of yeast breads, this one is right up my alley.
And now for something completely different. I've decided to take a break for the holidays. I struggled with whether I was going to post or not but I didn't get my ass in gear and line some up to be scheduled. Also my family is visiting and I really like to focus on enjoying their company. So I'll be mostly MIA until their gone. I hope that everyone has a wonderful holiday and is as lucky as me to have family or someone(s) special to share it with.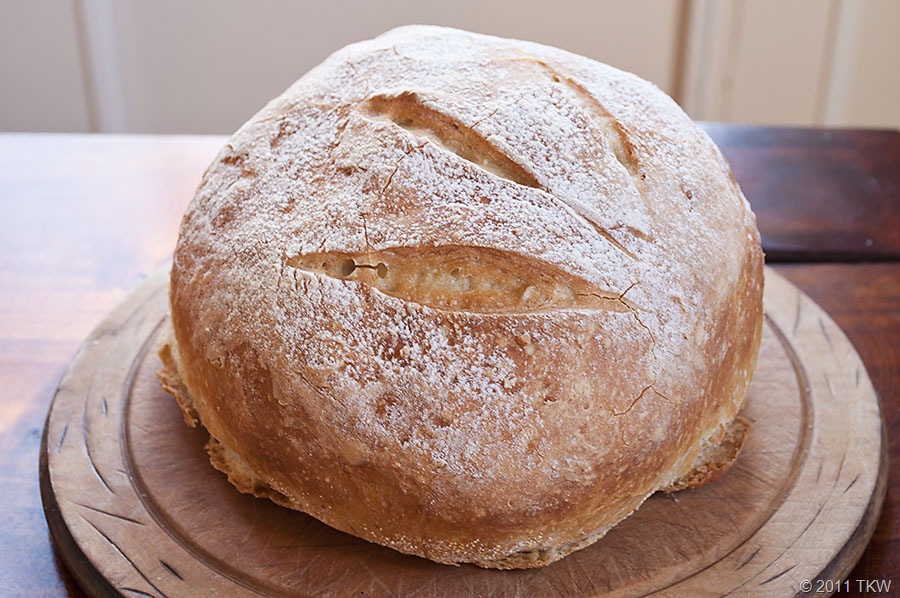 Simple Artisan Bread
2016-06-12 15:29:57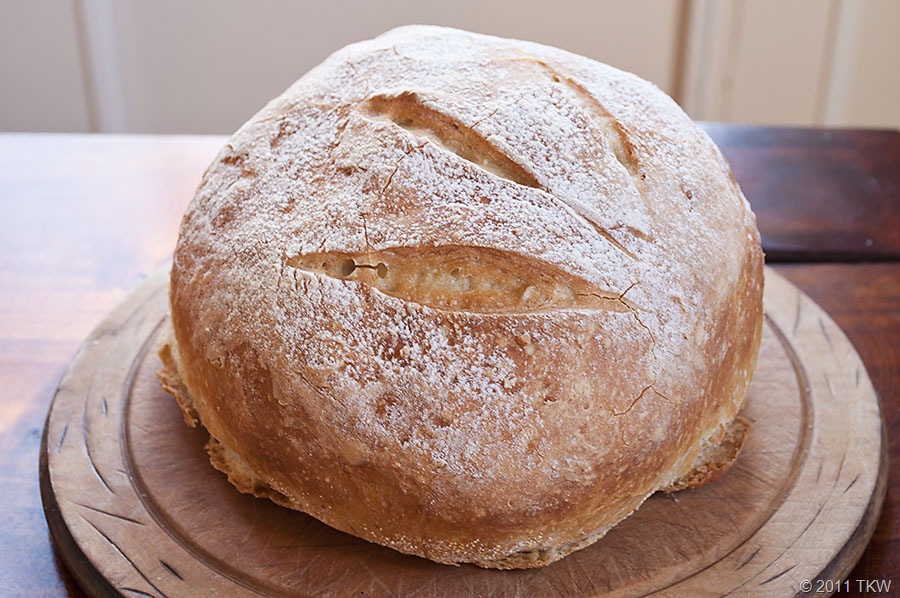 Ingredients
1 1/2 tablespoons yeast
1 1/2 tablespoons kosher salt
6 1/2 cups unbleached, all-purpose flour, more for dusting dough
Cornmeal
Instructions
In a large bowl or plastic container, mix yeast and salt into 3 cups lukewarm water (about 100 degrees). Stir in flour, mixing until there are no dry patches. Dough will be quite loose. Cover, but not with an airtight lid. Let dough rise at room temperature 2 hours (or up to 5 hours).
Bake at this point or refrigerate, covered, for as long as two weeks. When ready to bake, sprinkle a little flour on dough and cut off a grapefruit-size piece with serrated knife. Turn dough in hands to lightly stretch surface, creating a rounded top and a lumpy bottom. Put dough on pizza peel sprinkled with cornmeal; let rest 40 minutes. Repeat with remaining dough or refrigerate it.
Place broiler pan on bottom of oven. Place baking stone on middle rack and turn oven to 450 degrees; heat stone at that temperature for 20 minutes.
Dust dough with flour, slash top with serrated or very sharp knife three times. Slide onto stone. Pour one cup hot water into broiler pan and shut oven quickly to trap steam. Bake until well browned, about 30 minutes. Cool completely.
Variation: If not using stone, stretch rounded dough into oval and place in a greased, nonstick loaf pan. Let rest 40 minutes if fresh, an extra hour if refrigerated. Heat oven to 450 degrees for 5 minutes. Place pan on middle rack.
Notes
Time: About 45 minutes plus about 3 hours' resting and rising
The Kitchen Witch http://www.thekitchenwitchblog.com/