I had originally planned on posting about our Anniversary Run as a nice follow-up to our honeymoon. However, I was going through photos and I ran across some photos from our first big motorcycle rally that we went to. I'm changing gears a bit and going back to May 2002, it's about 9 months after we first started dating.
McGyver had asked me if I was interested in going to the annual European H.O.G. Rally, he told me it was being held in Italy. I'm not sure if I even heard what he said until he said "Italy", duh, like I would ever turn down a trip to Italy!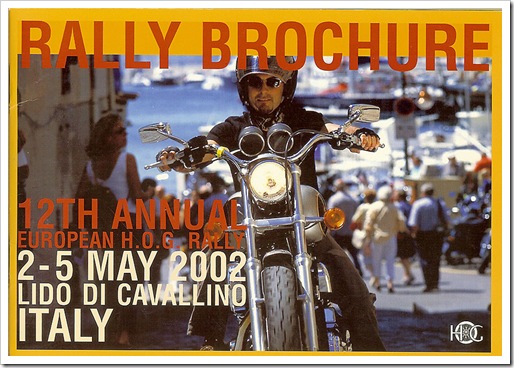 Arrangements were made, kids taken care of, we were released from work and we were set!  McGyver packed up his 1998 Harley Davidson Super Glide, checked the weather and promptly unpacked it and loaded up my Chevy Blazer. I know, I know…weird!  This was still pretty early on in our dating days and we've dated mostly during the winter months with very little riding experience together; in other words he was concerned for me.
McGyver doesn't drive to any motorcycle events, he doesn't trailer his bike unless it's broken or when we moved.  So the decision to drive didn't come lightly, he was more worried about me being miserable than he was about his motorcycle macho-ship.  With it also being pretty early in our relationship I wasn't quite as bossy as I am now and gladly deferred to his judgment.
On our first day down it had cleared up and was so nice by the time we got to Northern Italy, we started regretting our decision to drive. It was a good thing we did drive because it rained buckets nearly everyday after that!   Our first night we stayed in a hotel, it was supposed to be a three start hotel.  In Europe, we have found that their star rating was not quite the same that we were used to.  The hotel and food were fine but our bed…..once we got in it, it became a sinking black hole that you couldn't get out of!  "Help, I've gone to bed and I can't get out!"  That evening I watched Italy's Funniest Wedding Videos (like our America's funniest home videos).  I gotta say that I laughed my ass off and I don't understand a single word of Italian.
We camped at a 5 star campground, seriously 5 stars! It had shopping, bungalows, night clubs, what ever you could want, right near the beach!  I believe this is the camp ground we stayed at.
(photos from camp ground website)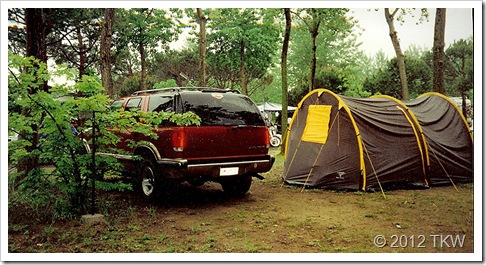 That's us!  I have quite a few pictures so I'll stop rambling now and let you see what a great wet time we had (nothing like camping in the rain), although I didn't mind too much, we were in Italy!
Onew of the things that amused me while we were there is that the Italians—Surprise—had a fashion show scheduled.  Our whole time there we noted how nicely the Italians dressed compared to the rest of the biker dregs that showed up from around the world.  Notice how the guy in the picture is wearing plaid but his color is popped…oh yeah, he's that cool!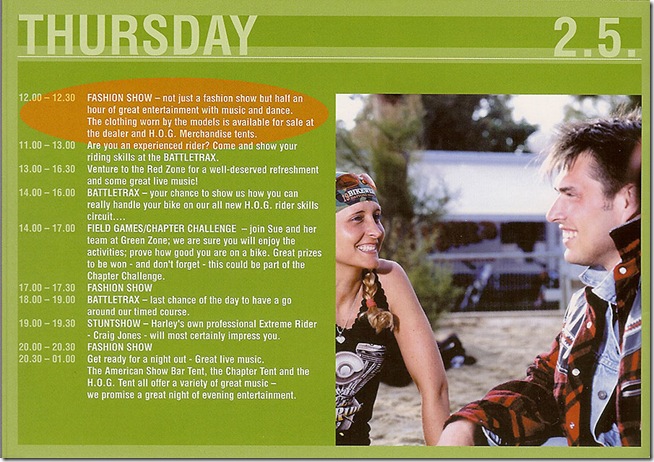 That was it for photos of the rally, next week I'll share a little of Venice and our trip back home.