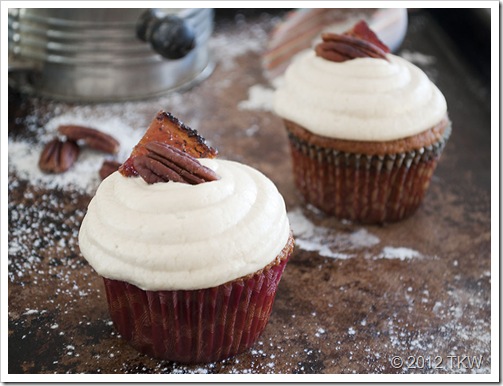 No, you're eyes aren't deceiving you. It's a cupcake. See I told you, just because I'm on Weight Watchers doesn't mean I'm going to turn into a tofu eating, kale munching health freak. Actually the whole cupcake thing was NOT planned.
I realized on Saturday that I had to make a dessert for the Golden Triangle Dog Club's annual meeting and potluck. Peeps A – H, bring a dessert. Damn! My only really good dessert is tiramisu, double damn, I don't want to go out shopping either.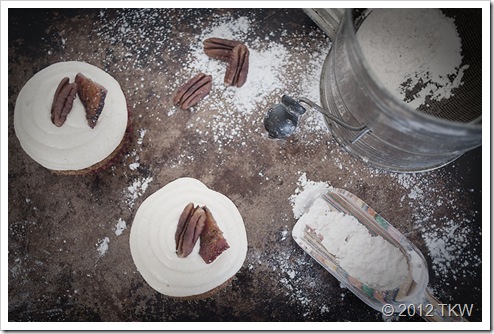 While I was drinking coffee and bemoaning my current dilemma, I had sudden inspiration. I thought I'd like to make a maple bacon cupcake. I'm sure that thought popped into my because it was breakfast time and I hadn't had anything to eat. Boy did it sound good. A quick jaunt through the almighty Google search and a ton of mapleish/baconish cupcakes appeared.
But only one enticed me, Kita's (of Pass the Sushi) Pancake cupcakes with Maple Frosting and Candied Bacon (I still think it was the breakfast thing). I've been hanging out at her site quite a bit lately and figured that was all the sign I needed. Plus her recipe called for some buttermilk and I had some languishing all the way in the back of my fridge. I read over her recipe and was ecstatic to realize that I had all the ingredients on hand…or so I thought.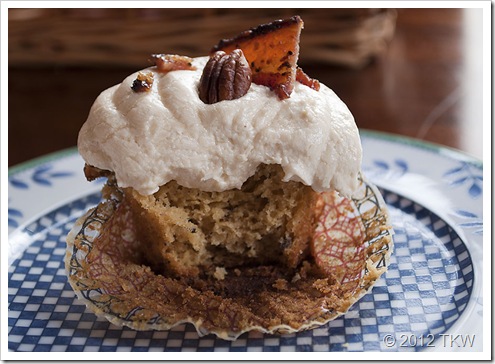 It ended up that I didn't have any vanilla, no problem, substitute rum flavoring (even better!), I didn't have cream cheese (actually I did but it was buried), so I used mascarpone (even better!). I also read the candied bacon part wrong…I thought it said maple syrup and not maple sugar, another cup of coffee please! Us little cookers are well adept at adapting, me included, so I mixed equal parts of brown sugar and maple syrup and it worked like a charm. Oh yeah, speaking of bacon…I only had peppered bacon (even better!), I knocked off some of the pepper so it wouldn't be too strong. Since I was making changes I also toasted my pecans which gave the cupcake an almost French toast kind of taste.
I also did some other stuff, that didn't work out as well…I used cake flour because Kita had said her cakes were a little dense. My non-baker brain thinks, use cake flour, it's light and fluffy. I had a super light and moist cupcake, bad rise. I think the maple syrup was too heavy for the cake flour. I added extra rum flavoring to the frosting (because I like rum), which meant that I had to add more powdered sugar and my frosting came out quite soft, like a pillow actually. It got rave reviews but it didn't look as nice as Kita's. Maybe the mascarpone was softer than cream cheese?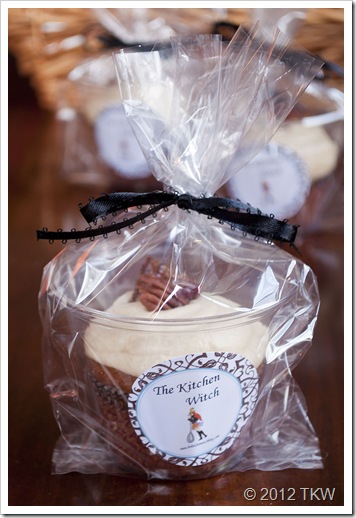 I considered the cupcakes a great success, I only had one bite…you know for the photo, but I may have licked a cupcakes worth off of my fingers. I packaged the cupcakes in cups and treat bags (I saw that on Pinterest), which was immensely welcomed. People get full at potlucks and to be able to take a cupcake home for later is perfect (plus my website address was going home with them, buhwahaha).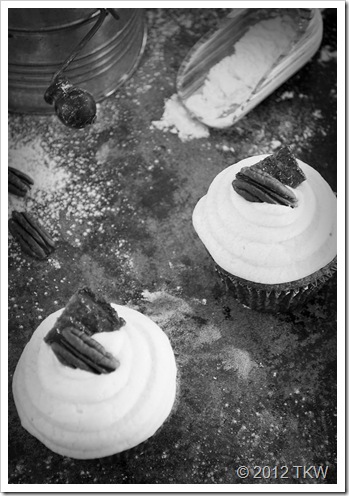 As you all know, on Wednesday's I participate in Black and White Wednesday's, a culinary photo event, hosted by Susan at The Well Seasoned Cook. Unfortunately Susan is quite ill and will not be doing any more BWW till she fully recovers, I'm posting my BWW photo nayways as encouragement for her to get better. Take care of yourself Susan!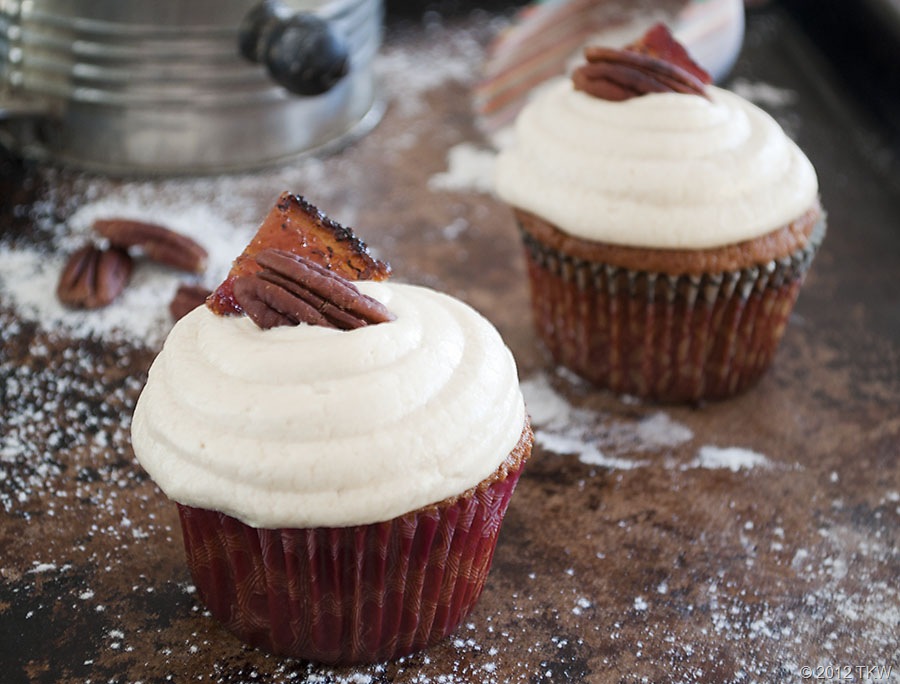 Maple Rum Pecan Cupcakes
2016-06-12 14:31:29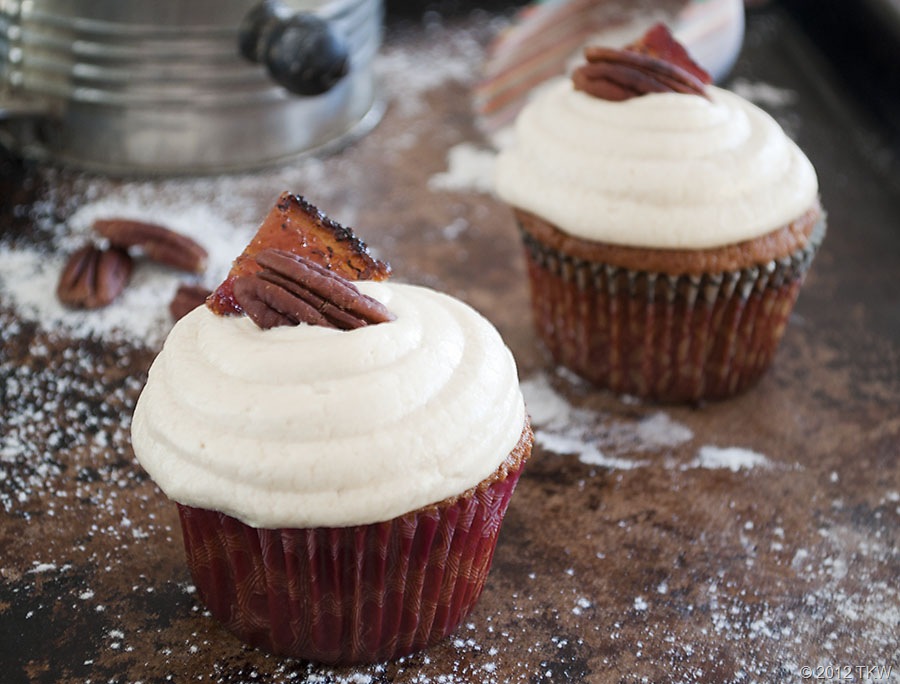 Ingredients
2 1/2 cups flour
2 teaspoon baking powder
1 teaspoon baking soda
1/2 teaspoon salt
3/4 teaspoon ground ginger
1 stick or
1/2 cup unsalted butter, softened
1/2 cup light-brown sugar
2 large eggs
1 1/4 cups maple syrup
2 teaspoons rum extract
1/2 cup buttermilk
1/2 cup pecans, finely chopped and toasted
Instructions
Preheat your oven 350 degrees F.
Sift the flour, baking powder, baking soda, salt, and ginger together. Set aside.
Beat the butter and sugar on medium speed in a large bowl until they are fluffy.
Add in eggs, syrup and rum extract. Mix until blended.
Then mix in the flour mixture alternating with the buttermilk. Do about one-third of the flour and then one-third of the buttermilk, and so on. Add the nuts if using.
Fill muffin or cupcake tins, either lined or buttered, according to your preference. Cook for approximately 20 minutes or until your tester comes out clean.
Cool totally and then ice with Maple-Rum Frosting.
The Kitchen Witch http://www.thekitchenwitchblog.com/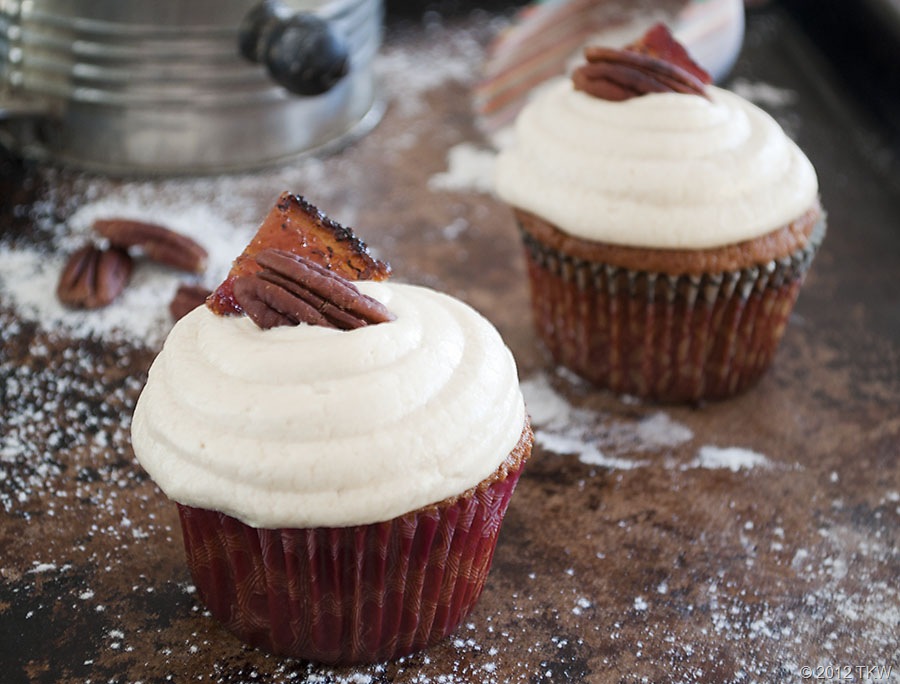 Maple Rum Frosting
2016-06-12 14:33:46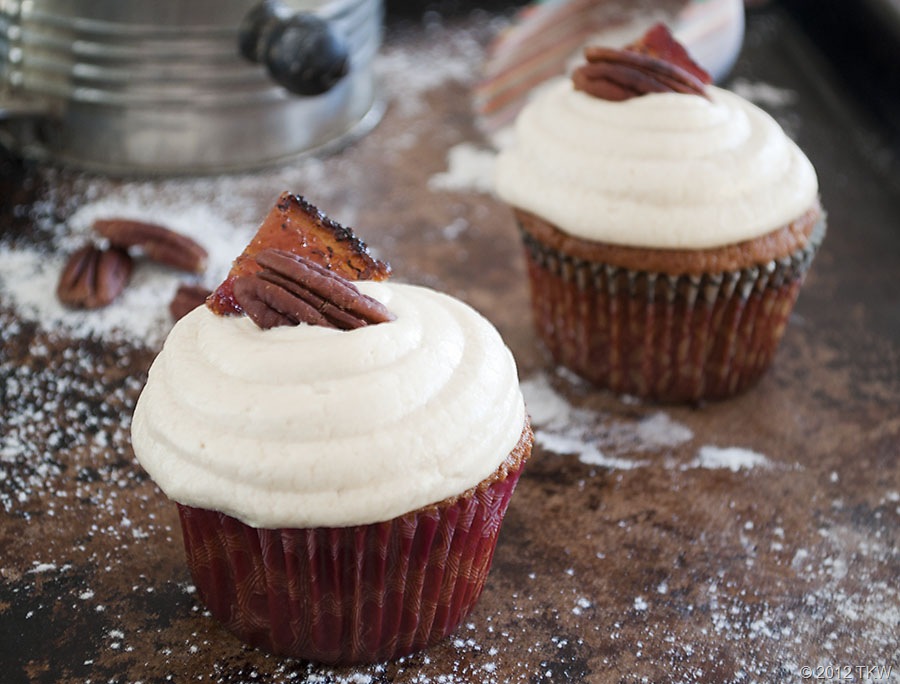 Ingredients
1 cup of softened, unsalted butter
3 ounces of cream cheese or mascarpone, also softened
2/3 cup of dark-brown sugar
1/4 teaspoon salt
3/4 cup of maple syrup
3/4 teaspoon of rum extract
1 cup of confectioners' (icing) sugar
Instructions
Beat the softened butter, cream cheese, brown sugar and salt in a medium-sized bowl until fluffy. Once again, it is critical that your ingredients be softened.
While you keep beating, add both the maple syrup and the vanilla.
Slowly add the confectioners' sugar and gradually increase the speed to high. Continue beating until the icing is fluffy.
Chill the maple-butter frosting for one hour before using.
The Kitchen Witch http://www.thekitchenwitchblog.com/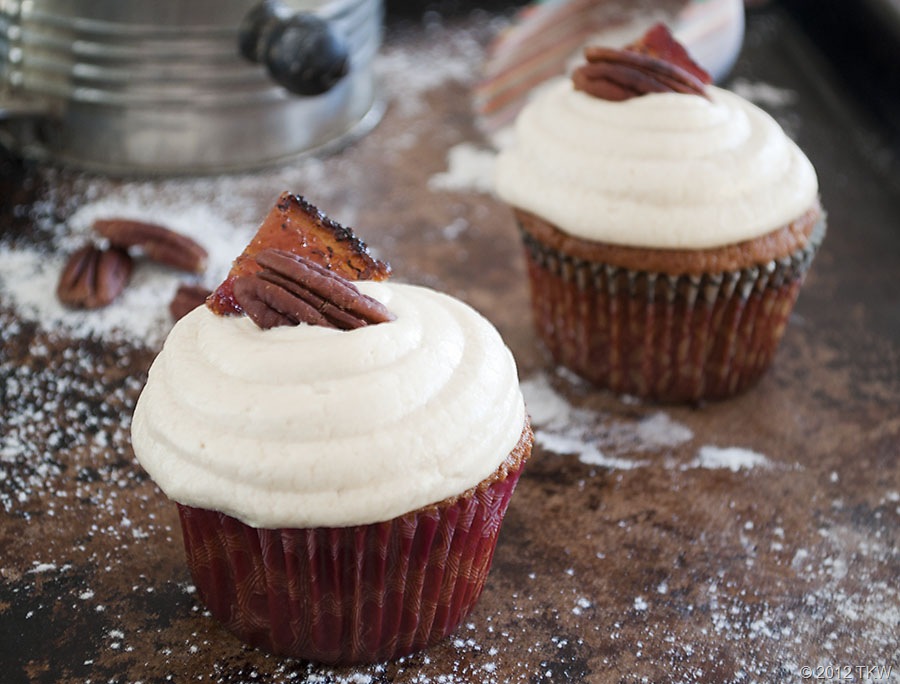 Candied Bacon
2016-06-12 14:36:29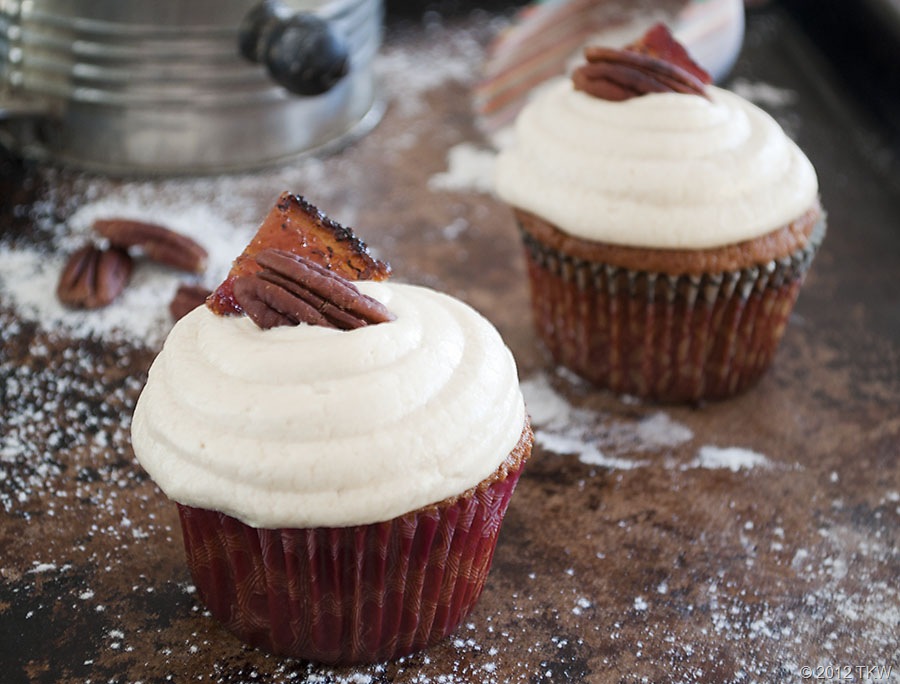 Ingredients
4 bacon slices, if using peppered bacon, brush off some of the pepper if desired
2 tablespoons maple syrup + 2 tablespoons sugar, divided
Instructions
Preheat oven to 400°F. Line rimmed baking sheet with slightly crumpled foil. Lay bacon slices on foil. Mix syrup and sugar to form a paste. Using a pastry brush spread 2 tablespoon maple sugar paste evenly over bacon. Bake until sugar is melted, about 8 minutes. Spread remaining 2 tablespoon maple sugar paste over same side of bacon. Bake until bacon is deep brown and glazed, 12 to 14 minutes longer. Remove from oven.
Preheat broiler. Broil bacon until sugar on top bubbles thickly, watching closely to prevent burning, 1 to 2 minutes. Cool bacon completely on rack. Cut into 1/4-inch dice.
The Kitchen Witch http://www.thekitchenwitchblog.com/

Informal Cookery Definitions A to Z
Aux Fines Herbes, (oh feen AIRB). A French term which refers to adding delicate or fine herbs to a dish, such as an omelet made with chervil. Most commonly Aux Fine Herbes refers to a mix of herbs: chervil, parsley, chives and tarragon. The mix will always contain chervil.
Avgolemono Soup. (av-goh-LAH-moh-noh). Litereally in Greek it means "egg-lemon" soup. It's a chicken soup with a little rice thickened by egg yolk with a touch of lemon for tartness. There is also a avgolemono sauce, which omits the rice and is thicker.
Baba Au Rhum. (bah-bah oh RUM). It is a yeast-raised cake glazed rum syrup, it is called Baba for short. Although a French term, it is a version of a Viennese cake called Kugelhopf. There is a similar cake called a Savarin, after Brillat-Savarin a noted French author and gourmand. It may be glazed with a kirsch rather than rum and it is often spiced with anise, mace and coriander. A little history note from Wikipedia:
The original Baba was introduced into France in the 18th century via Alsace and Lorraine. This is attributed to Stanislas, the exiled king of Poland.The Larousse Gastronomique reports that Stanislas had the idea of soaking a dried Kugelhopf (a cake roughly similar to the baba and common in Alsace-Lorraine when he arrived there) or a baba with alcoholic spirit. ..

…Nicolas Stohrer followed Stanislas' daughter Maria Leszczyńska to Versailles as her pâtissier in 1725 when she married King Louis XV, and founded his Pâtisserie in Paris in 1730. One of his descendants allegedly had the idea of using rum in 1835. While he is believed to have done so on the fresh cakes (right out of the mold), it is a common practice today to let the baba dry a little so that it soaks up better. Later, the recipe was refined by mixing the rum with aromatized sugar syrup.