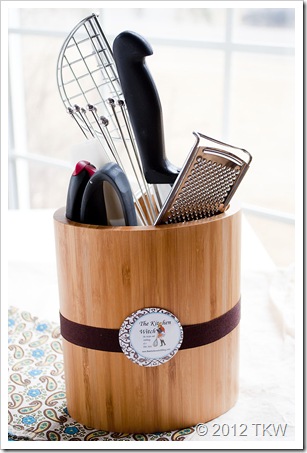 TKW has made it to it's terrible twos!  I can officially have temper tantrums, watch the cooking TV shows over and over, and have someone read me cookbooks at bedtime.  I can say NO to everything and refuse to eat or drink anything based on it's looks.  Isn't being two grand!  McGyver might say that nothings changed…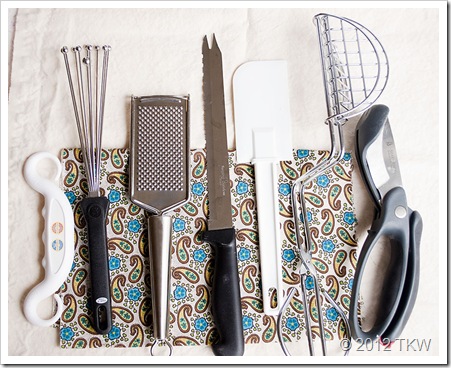 If you read my post on Monday, you know that I went through my kitchen drawers and I'm giving like new stuff away in a brand new bamboo utensil holder.  I thought I'd elaborate on what's in the holder, sometimes photos don't do something justice.  Starting from left to right:
This curly guy is actually a bag holder, it's a brilliant little handle that allows you to put approximately 10 bags on it and carry them at once.  I have two of them, I keep one in my purse so I don't really need the other.
WMF Whisk which is a great brand, but I have 3 whisks, one matches a set I have and the other, well it's my favorite (shhh, don't tell the other whisk).
This is a stainless steel nutmeg and ginger grater by Oneida.  I think I used it once?  Using it only once in 5 years means that I just don't need it.
The Ginsu knife (knock-off).  My baby boy and I tested this, it really will cut an aluminum can (with a lot of effort) and then slice a tomato, with no effort.  It has serrated edges, so of course it'll slice a tomato!  The best use for this knife is to put it in a camp box/camper/cabin.  We have a full knife set at our cabin, we're set.
Cuisinart spatula.  Simply a duplicate, plus I have a number of other spatulas.  I'm like the spatula queen, love em, but I can't keep them all.
I bought this taco shell fryer because I was going to deep fry my own taco shells.  I've had it 3 years and have never once used it, probably not going to either.
Lastly, this was a "swag" gift.  It's a salad/herb chopper.  It has two blades and you put it in a bowl, scoop up the contents and snip, snip, snip.  My baby boy played with it, but I haven't touched it in 2 1/2 years.
Here's another chance to enter:

Informal Cookery Definitions A to Z
Batter.  A semi-thick mixture, typically made up of flour, a leavening agent such as baking powder or soda, seasoning and liquid.  It can be the basis for a dish such as pancake, muffins, and cakes or it could be used as a coating such as a tempura. Batters can be thick or thin, sweet or savory.  The word comes from the French term battre which means to beat, many batters require vigorous beating.
Bavarian Cream.  All my life I thought Bavarian Cream was a filling inside a donut with a chocolate glaze.  In fact, that is only an Americanism, it's actually a pastry cream.  The real Bavarian Cream is a  custard dessert that is thickened with gelatin, and just before it is set, it is blended with whipped cream and placed in a mold to set.
Bay Leaf.  A bay leaf is an herb from the Mediterranean variety of laurel.  It is used to season, meats, fish, soups and stocks and is an essential part of a bouquet garni.  It's most common form is dried, it is very strong flavored so 1 or 2 leaves is sufficient for seasoning.  If the bay leaf is used whole, leaves should be removed prior to serving.
Bean.  Refers to the edible seed inside certain plants, such as legumes.  Examples include broad, haricot, snap or green, lima, fava, kidney, navy, black, soy, pinto and on and on.  Dried beans provide year round food.  Beans provide a good source of protein.  The term bean can also be used to describe a shape that's not part of the legume family such as coffee beans and cocoa beans.