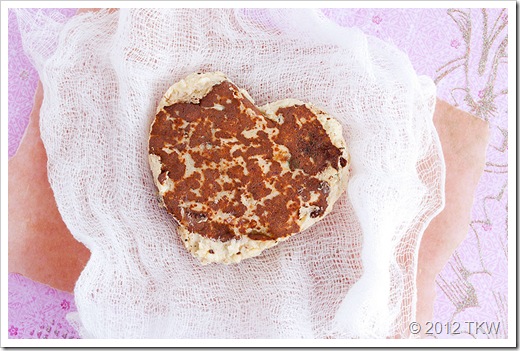 No, I'm not having any holiday confusion. I know it's St. Valentine's Day but it is also The Daring Cooks challenge for this month…patties! Get it…Saint Valentine's Day, Patties…heart shaped patty? The Daring Cooks' February 2012 challenge was hosted by Audax & Lis and they chose to present Patties for their ease of construction, ingredients and deliciousness! We were given several recipes, and learned the different types of binders and cooking methods to produce our own tasty patties!
This month our challengers gave us many options, I choose to do the Salisbury Steak plus an extra special patty. I grew up my whole life eating mashed potato patties, they would almost always make their appearance in the morning instead of the typical hash browns we would have. The beauty about these patties is that they don't require a recipe. It's simple, take leftover mashed potatoes, form patties and fry them up.
How can you mess up something that simple, right? You can, once I moved out on my own I tried doing my own and they just didn't turn out right, that is until I spoke with my mom. There are two cardinal rules: 1. the potatoes must be cold (like leftovers…hence their appearance at breakfast) and 2. fry them in butter so they get a nice brown and crisp outside. That's it! I love them for breakfast, especially with a poached egg on top, but they also make a great side to any main you're serving.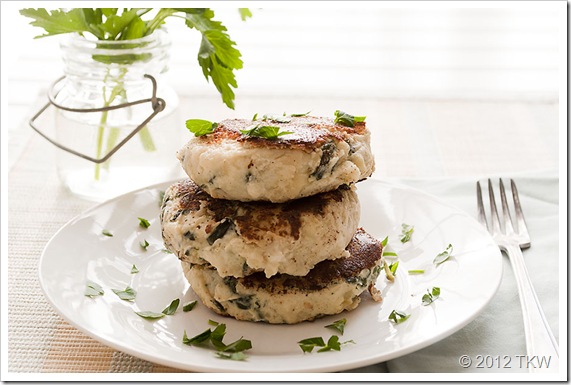 In case you are wondering, that's spinach in my mashers (I adore sneaking in veg with mashers). On our Daring Cooks challenge, the Salisbury Steak recipe they provided was a French Onion Salisbury Steak on cheesy toast. I loved the idea of the French Onion Salisbury Steak, especially piled high on top of cheesy toast, but I'm trying to be more health conscientious (small sob).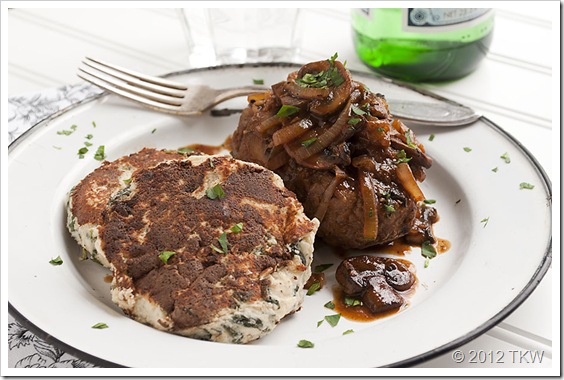 I made several healthy changes and still kept the spirit of the dish. I started by swapping out the ground chuck for ground venison. Fresh ground venison. I wanted a coarse grind because I wasn't adding any fat. The coarse grind help keep the lean 'burger' part from turning into a hockey puck. I was careful not to 'pack' the patty, rather I just barely gathered it together. I crossed my fingers and hoped it would keep it's nice patty shape, I wasn't disappointed.
(please excuse my kitchen wall, we're in the process of giving the kitchen a face lift).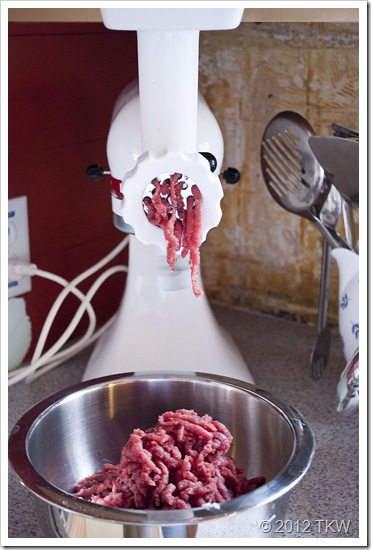 I omitted the red wine and consequently the sugar and halved the oil. One trick that I've learned is that you can sauté using items other than fats. In this case, I sautéed my onions and mushrooms in the beef broth. In order to do this, make sure you use a non-stick pan, add a splash of broth and stir frequently. If the broth evaporates before the onions are tender, add another splash of the broth. It works like a charm!
As you can see I also added some mushrooms to make it heartier, plus the mushrooms gave off some moisture while cooking which also helped in the sautéing of the onions. The other thing I did differently was to cook the 'soup' and meat uncovered. I wanted the 'soup' to thicken and act more like a gravy since I wasn't serving it over a nice slab of cheesy bread that would soak up all the juice.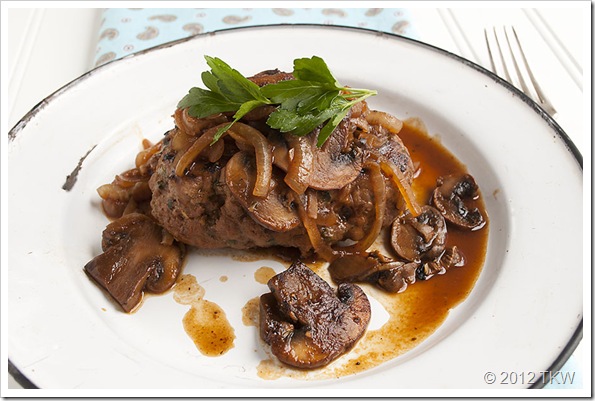 Every time I think of Salisbury Steak I think of the show 'Mad About You. In one episode, Helen Hunt's character, cook's Paul a Salisbury Steak. Paul asked what it was and Helen replied "Salisbury Steak", and Paul says "it looks like an oval hamburger patty", Helen assured him that it wasn't, "it's Salisbury Steak, it only looks like an oval hamburger patty". I suppose Paul was technically right, I guess Salisbury Steak just make us feel like we're eating fancier than a giant oval hamburger patty

Bonus, all the changes I made cut the fat and calories by more than a third!
If you'd like to check out more patty recipes please visit The Daring Kitchen, you'll see things like Swiss chard, chicken and fish patties just to name a few.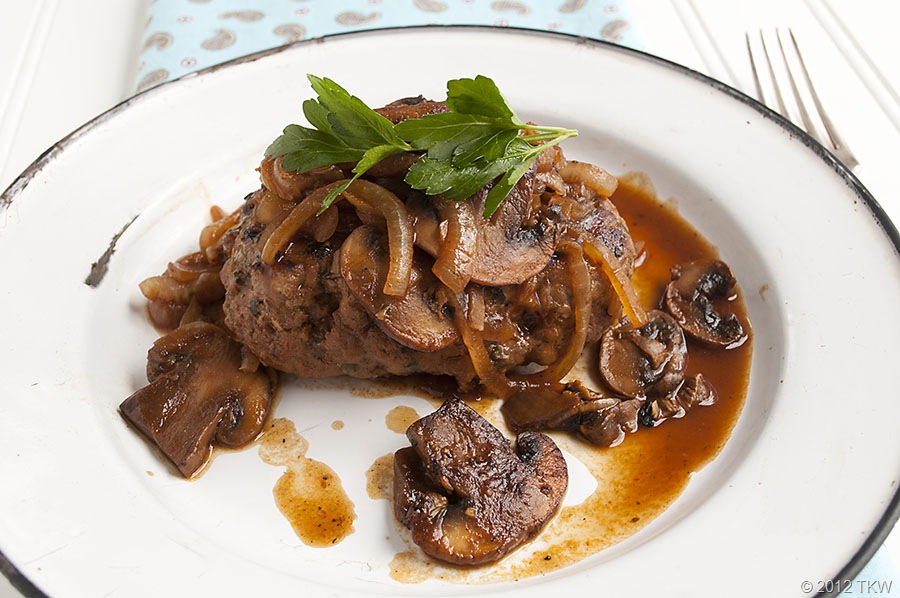 Happy St. Patties Day – A Daring Cook's Challenge
2016-06-12 12:04:41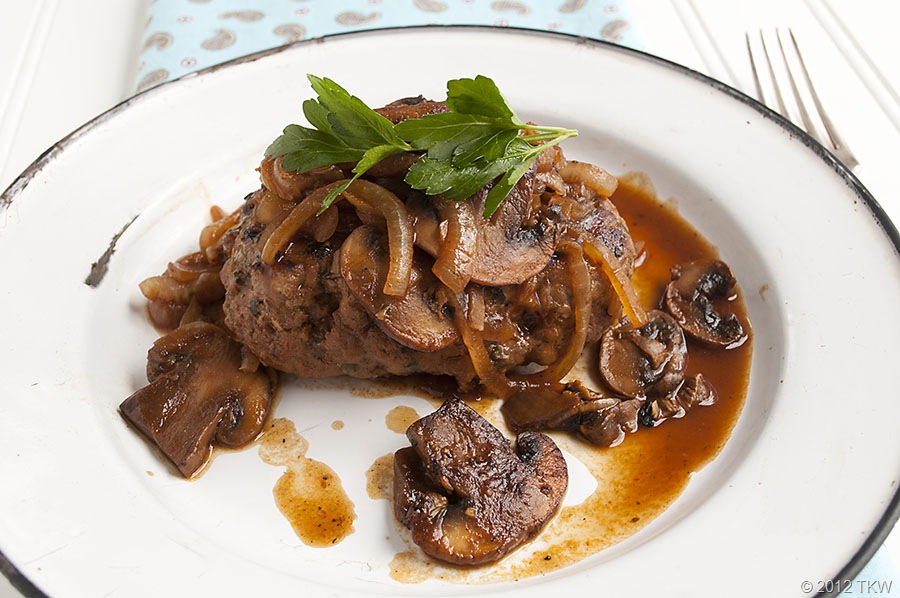 Serves 4
Ingredients
1 1/4 lb coarse ground venison
1/4 cup fresh parsley, minced
2 tablespoons scallion (spring onions), minced
1 or 2 cloves garlic, minced (I used two)
1 ½ teaspoon seasoned salt or 1 teaspoon kosher salt and 1/2 teaspoon black pepper
2 tablespoons all-purpose (plain) flour
1 tablespoons olive oil
2 cups onions, sliced (about 2 medium onions)
4 ounces cremini mushrooms, sliced
1 head garlic, roasted and minced
1 tablespoon tomato paste
2 ½ cups beef broth
3/4 teaspoon kosher salt
1 tablespoon fresh thyme leaves
4 teaspoons fresh parsley, minced
Instructions
Combine venison, parsley, scallion, fresh garlic, salt and pepper. Divide evenly into 4 portions and shape each into 3/4"-1" thick oval patties. Place 2 tablespoons flour in a shallow dish; dredge each patty in flour. Reserve 1 teaspoon flour.
Heat 1 tablespoon oil in a sauté pan over medium-high heat. Add patties and sauté 3 minutes on each side, or until browned. Remove from pan.
Add onions and mushrooms to pan; sauté 5 minutes, if necessary add some beef broth to help saute. Stir in garlic and tomato paste; sauté 1 minute, or until paste begins to brown. Sprinkle onion mixture with reserved flour; cook 1 minute. Stir in broth, and then add the salt and thyme.
Return meat to pan and bring soup to a boil. Reduce heat to medium-low, and simmer uncovered 20 minutes, turning the patties once.
To serve, place the patties on a plate or platter and ladel the onion soup and mushroom soup over the steaks. Garnish with fresh parsley if desired.
Notes
Use a large non-stick frying pan so you can saute with broth. Ground chuck or any other ground meat can easily be substituted for the venison.
The Kitchen Witch http://www.thekitchenwitchblog.com/
Don't forget to enter my giveaway this week!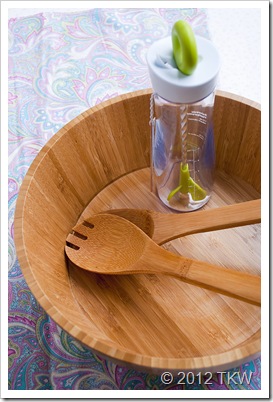 I'm giving away a bamboo salad set from Bed, Bath and Beyond and my favoritist emulsifier form Target. The giveaway runs through Friday.

a Rafflecopter giveaway