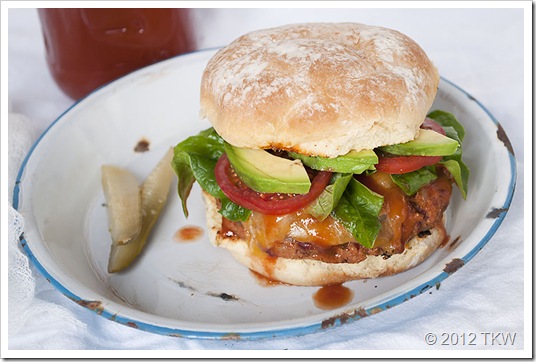 The rumors on the web about me are true! My Secret Club Recipe assignment this month is, Thrifty Veggie Mama. Before I delve into SRC recipe stuff for this month, I have a funny little story involving Thrifty Veggie Mama. One day I was heading home from running errands and my phone did the tada thing. I checked it at the next red light and I had a direct message from Thrifty Veggie Mama (Jamie). Huh? Did she find out that I have her as my assignment? I was starting to feel a little panicky. With a sense of impending dome, I read my message: It said "there are nasty rumors about you on the web" or something to that effect and there was also a web link. After two seconds of thought I realized that Jamie had been hacked, I let her know and she took care of it right away. What she didn't realize was that she was my SRC assignment. What a a co-inky-dink. I was relieved.
A little about Jamie, she quit her job as a physical therapist to do an even tougher job, be a stay at home mom to her adorable three children. Jamie and her family made a conscious decision in 2010 to become vegetarian, they already didn't eat pork, then bit by bit they cut out the rest of their meats. Jamie said it was an adjustment but well worth it, the family is definitely healthier for it. Jamie started her blog to chronicle her experience with learning to cook vegetarian and of course, be thrifty about it!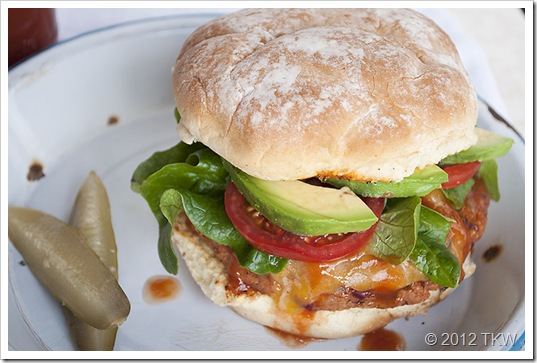 Confession time for me. I was absolutely petrified of getting a diet restrictive assignment through SRC. My family are serious carnivores. It's not that we don't eat a meatless meal once in awhile, but it's easy things like a pasta dish, pizza or a veggie sub. However, my hubby and I started on Weight Watcher's about a month ago, so this SRC assignment ended up being the perfect fit! I put my trepidations aside and got really excited about it, especially after checking out the awesomeness that is Jamie's blog.
I made up my mind not to take the easy way out and make one of her drool inducing soups (I'm dying to try her roasted garlic soup she recently posted), or her pizza, or pasta. I wanted a real vegetarian challenge. When I read that Jamie's Barbeque Red Bean Burgers was one of her most popular recipes for 2011; I knew I found my winner! Plus, it has a nice familiar look that my guys would probably be more receptive to.
I served it up to McGyver, who was loving it. I asked him if he knew what kind of burger it was? "Hmmm, tastes a little different, lamb?". Seriously! He could tell it was different but assumed it was meat so he was "fooled". I gotta tell you that I'd eat these burgers anytime! I got a nice crust on the outside and they were creamy and tasty on the inside. I added a slice of cheese to give it that delicious cheeseburger effect and I resisted my urge to add turkey bacon, hope you are proud of me Jamie! If you haven't already been to visit Thrifty Veggie Mama, you really need too!
For those of you who do Weight Watchers this came in at 12 points! You can reduce the points value by 4 just by omitting the cheese and the avocado, you could reduce it even more if you skipped the bun…but what fun would that be?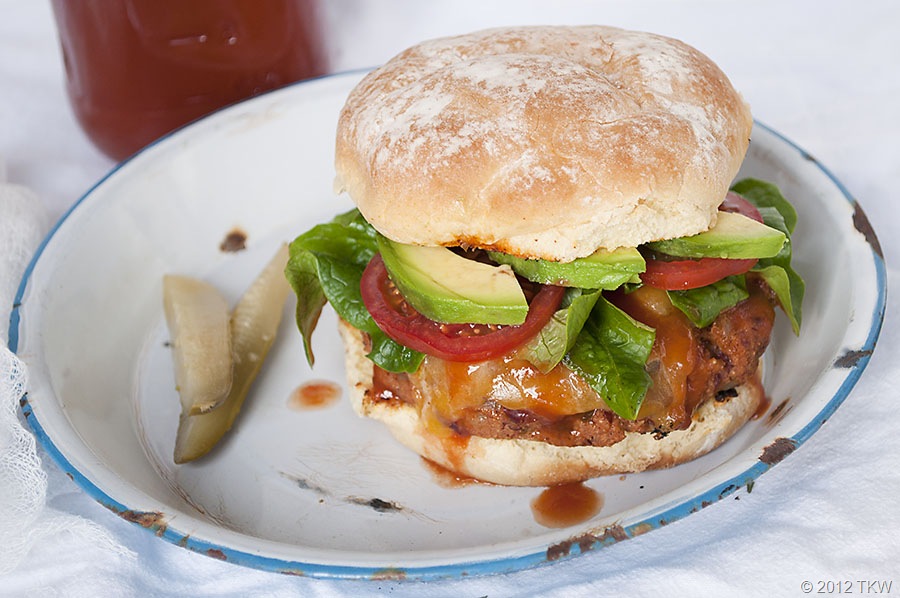 Barbeque Red Bean Burgers
2016-06-12 11:58:41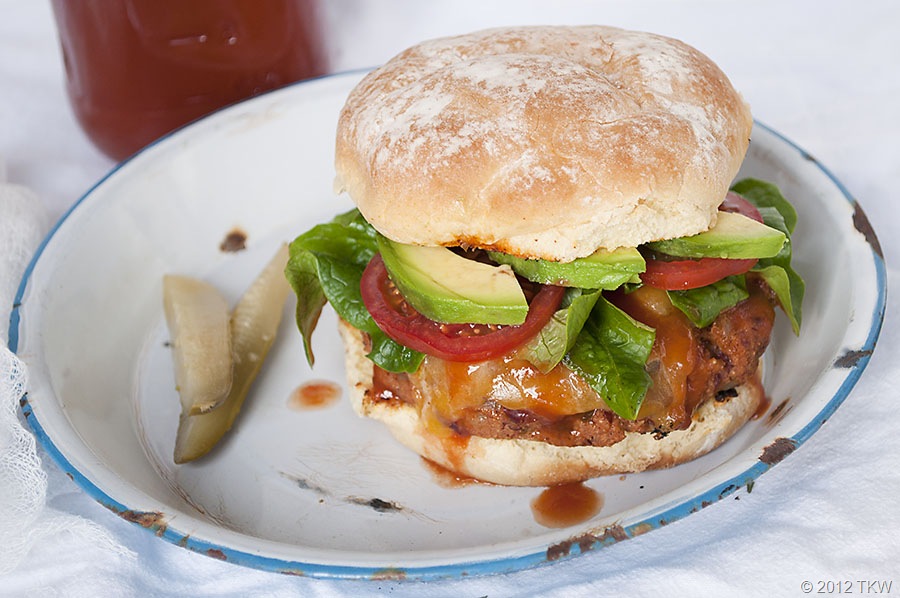 Serves 4
Ingredients
1/2 onion, minced
1 clove garlic, minced
1 roma tomato, seeded and chopped
1/2 jalapeno, seeded and chopped
2 tsp chili powder
1 15 oz can red kidney beans, drained and rinsed
1/2 cup bread crumbs
1 egg
2 T barbecue sauce plus extra for bun
4 slices cheddar cheese
Spinach leaves
Sliced tomatoes
1 avocado
4 Hamburger Buns
Instructions
Heat a large skillet over medium heat. Add a couple swirls of olive oil.
Add the onion, garlic, tomato, jalapeno, and chili powder. Saute until the onions are soft.
Place the kidney beans in a medium bowl and mash with a fork. Add the onion mixture, bread, crumbs, egg, and barbecue sauce.
Mix well. Form into patties.
Place a little more oil in the skillet and brown the patties on both sides.
The Kitchen Witch http://www.thekitchenwitchblog.com/

It also happens to be giveaway time! February is my blogoversary month so I'm doing giveaways every week this month.

Congratulations to Leann for winning the salad set!

a Rafflecopter giveaway

I don't know about you, but I personally love handcrafted anything better than purchased. This week's giveaway will be for handcrafted jewelry and homemade spice mixes.

You'll get a choice of a Harley Davidson key ring and a biker chick necklace from the Biker Chick Collection by TKW Designs (I didn't want to leave my wind sisters out of my giveaways).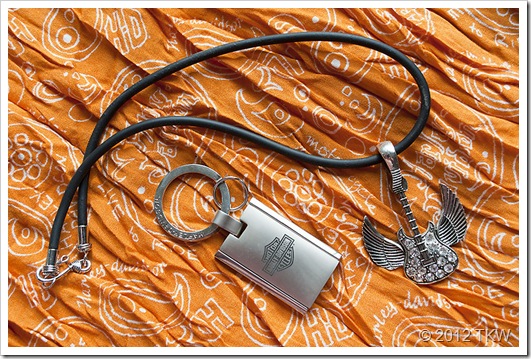 OR
This jewelry set from the La Boheme Collection by TKW Designs (in case you aren't into the biker chick thing)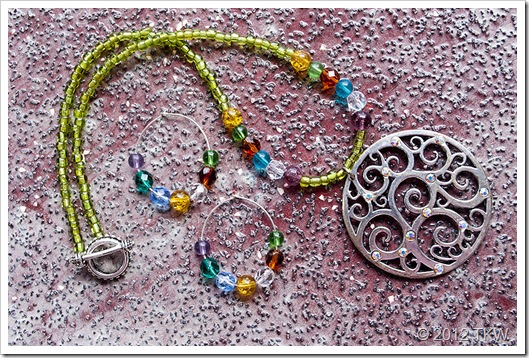 AND
Homemade seasoning packs (because this is primarily a cooking blog). The Magic Seasoning Salt is my special blend of seasonings with a peppery punch that is perfect for anything, plus my Smokin' Spicy Chili Rub (it's what makes my pulled pork the best).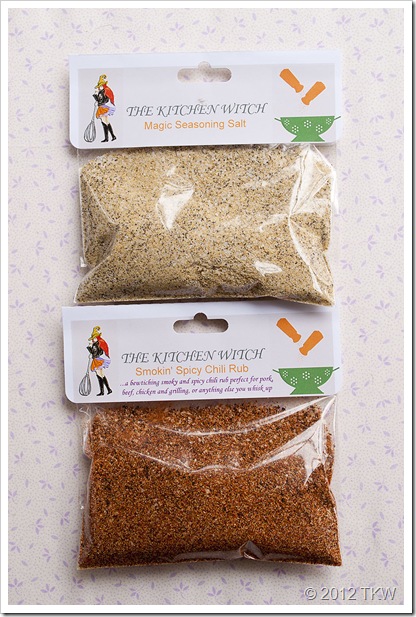 The giveaway runs all week. Oh and there's no such thing as the Biker Chick Collection or the La Boheme Collection, I thought it just sounded kind of cool. I just made some jewelry

cuz I luv you all!

a Rafflecopter giveaway
Please check out what the SRC reveals are: