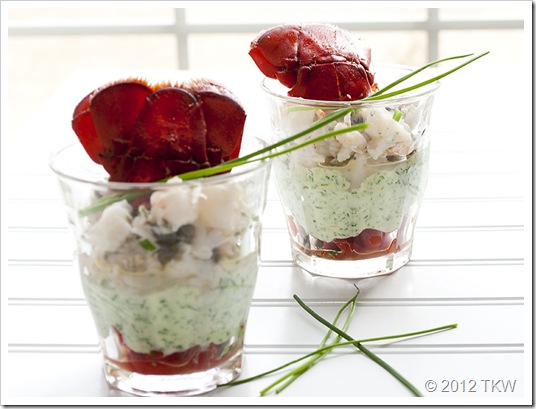 For Valentine's Day, it was Lobster Palooza at our house (expect several more recipes). I wanted to make something special, out of the ordinary and luxurious. Then lobster tails went on sale…we bought 10. That's 10 tails for 3 people, nearly ridiculous, but only nearly. The tails were small, not langoustine small, but definitely on the small side. We started off our meal with these refreshing Lobster Verrine.
Verrine is a French term for layering foods in a small glass. They can be desserts or appetizers depending on whether you prepare them as, sweet or savory.
Even though there was a lobster tails worth of meat in each glass it was a nice light starter. The Greek yogurt gave a nice tangy contrast to the sweet and slightly tart lobster layer. It was beautifully finished by the bottom acidic layer. As soon as the acid cleared from the palate you found yourself wanting more sweet and tangy. The verrine makes a lovely presentation and can be made ahead and held in the refrigerator until serving time.
Next time I would use a smaller glass, or double my tomato base to get a more dramatic layering affect. Because my small glasses were a little on the larger (small) side I only got three, but the recipe is for four verrines. I found this recipe through Foodgawker, the original can be found here (in French).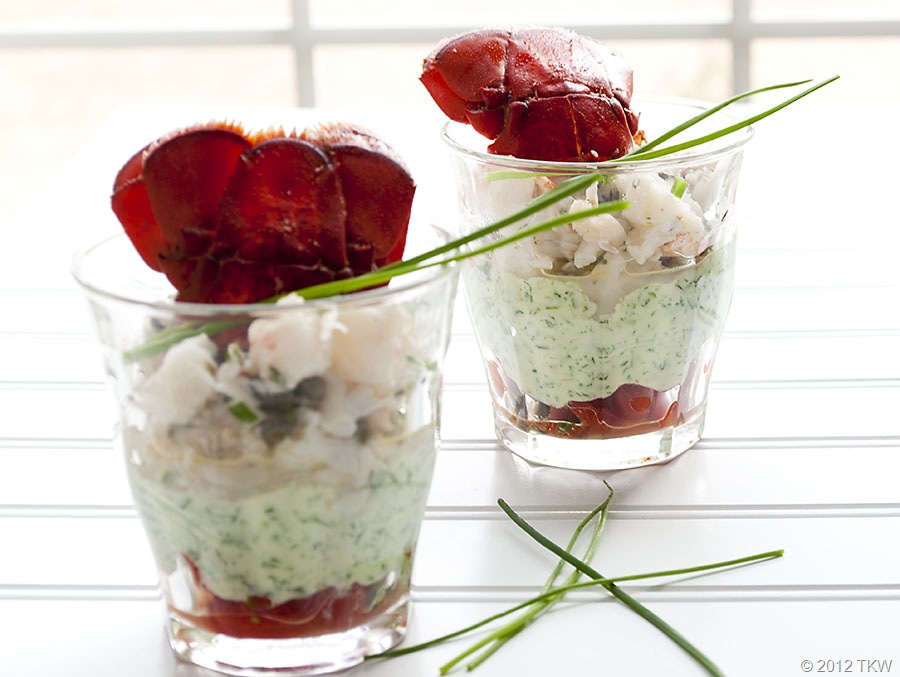 Lobster Verrine
2016-06-12 11:55:50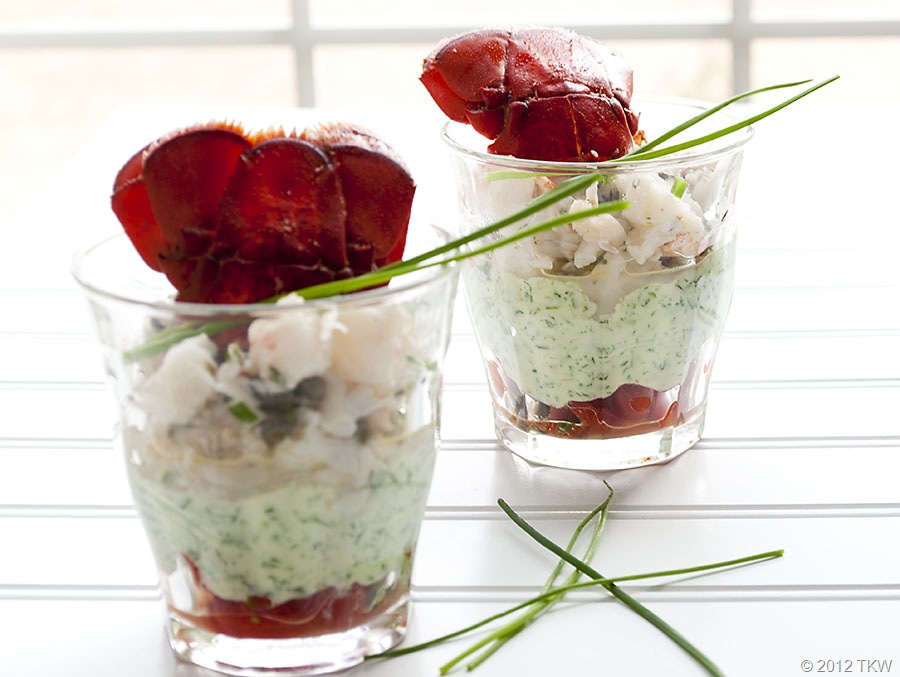 Serves 4
First Layer
10 cherry tomatoes or cocktail of various colors
6 basil leaves, chopped
1 teaspoon olive oil
Sea salt and freshly ground pepper
Second Layer
1 cup plain yogurt non fat greek
1 cup baby arugula
1 tablespoons olive oil
1 tablespoons water
1 sprig of chives, chopped
4 small marinated pearl onions, finely chopped
Sea salt and freshly ground pepper
Third Layer
1 cup lobster meat, chopped
2 sprigs of chives, chopped
2 sprigs lemon thyme, chopped
1 teaspoon olive oil
A few drops of lemon juice or yuzu juice
2 c. teaspoon chopped capers
Fleur de sel
4 lobster claws for garnish (optional)
4 chives for garnish
Instructions
Cut tomatoes into thin slices. Mix in a bowl with basil and olive oil. Salt and pepper to taste.
In a small food processor, combine arugula, olive oil, water, chives, some salt and pepper. Blend until puree is fairly smooth. Add this mixture to the yogurt. Mix in chopped pickled onions. Add salt and pepper if necessary and set aside.
In a bowl, combine the lobster meat, chives, thyme, olive oil, lemon juice and capers. Salt and set aside.
Assemble verrines
In small glasses, layer first the tomato salad. Top with yogurt and arugula salad finish lobster. Garnish each glass jars with a lobster tail and a sprig of chives.
Adapted from Encas recits & recettes

Adapted from Encas recits & recettes

The Kitchen Witch http://www.thekitchenwitchblog.com/

I am still running giveaways all this month, don't forget to enter.

Informal Cookery Definitions A to Z
Beetroot. Refers to the red part of the beet that is underground, typically referred to as only beets. Interestingly, the beetroot used to be much smaller, so only the tops were consumed. They have been
deliberately cultivated to be larger so that the root can also be consumed.
Biegnet. (Ben-yay). Sounds fancy, but in all reality it's simply what Americans call a 'fritter'. In French it literally means 'bump'. Beignets are a deep fried dough, similar to donuts, and can be savory or sweet. They are the official donut of Louisiana.
Belgian Endive. (AHN-deev). Is part of the Chicory family. It is grown for the leaves and is grown underground in the absence of light so that the leaves do not turn green. Endive has a slight bitter taste, it is good in salad or cooked.
Bigarade. (bee-gah-RAHD). A French term referring to a sauce flavored with orange or any dish embellished with the sauce such as Duck Bigarade.