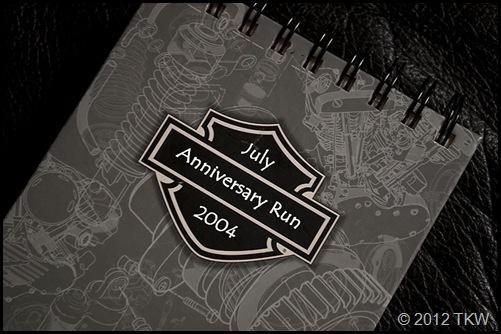 Last week we started off our anniversary run, leaving from Washington State and heading to Illinois.  McGyver and I had been separated for a year, this was our first ride together after way too long.
Monday July 12, 2004

Starting out from the Silver Lake Motel at 0730 with 4, 339 miles.  We had to stop for gas just outside of Kellogg, ID.  The ride through the mountains is spectacular – a bit cool when you are over 3,000 ft. up, even with the sun beating down.  This is an area that I'd definitely would want to come back too.

McGyver and Dad are busily keeping logs of their gas/miles usage to see who's getting the best gas mileage.  Will the 83' Low Rider beaut an 03' Road King?  So far its close with the road King pulling out a little ahead – more to come on that.

It's 10:00, we're in big Sky Country – still perfect weather however the trip has stopped being uneventful.  Dad's bike lost a nut on the gear shift so we pulled over, set out a warning triangle (this cool cover that fits over the helmet) and McGyver and Dad start scrounging around for wire or something to hold it in place.
McGyver found a zip tie and some heavy gauge wire.  Dad thought the zip tie might work, the wire was to heavy.  So they crazy eight'd it around – put a heavy rubber band around it and we pray that it gets us to Missoula (80 miles).  They grabbed some retread (for the wire) as a back-up let's see how it goes.  Took only 15 minutes –not bad!

We found the HD dealership in Missoula easily enough – the giant billboard on the interstate helped.  They had the part Dad needed, a small 'C' ring for the shift arm.  It cost all of 25 cents, as a precaution Dad bought an extra.

After browsing the shop for a bit we needed to find some lunch it was nearly one o'clock.  A stop at Fuddruckers did the trick.  The rest of the ride was beautiful, now I know why this is called Big Sky country.  We saw mountains, valley's, rivers, eagles, horses, buffalo and more.

About 6:30 pm mountain time we stopped off at Yellowstone HD, picked up the proverbial pins and t-shirts and browsed around until they kicked us out, oops we forgot abut the time change, we thought we had plenty of time to check out the bikes and merchandise.

We decided to stay here in Belgrade.  Even though Dad is 75, he could drive for another 10 hours – it was me who decided my ass had enough and I was pooped.  I'm out of riding shape – haven't done much in the last year.

We stayed at the Holiday Express, ate at the restaurant next door, sent Dad to bed and walked across the highway to the  "Friendly Tavern".  McGyver and I decided that getting drunk and walking across the highway was a bad idea so we just drank a couple and headed back to the room.

A quick call to kids to check in and a call into Jen (our next destination) and we wrapped the evening up.
Notes:  When I wrote this in 2004, I had no idea that we would actually end up living in Big Sky Country!  And that my Baby boy would end up going to college in Bozeman (right next to Belgrade).  If you are interested in more details about the "fix" for Dad's bike, McGyver did a post about that here.
That's it, the giveaways are all done!  Now to announce last weeks winner:

a Rafflecopter giveaway