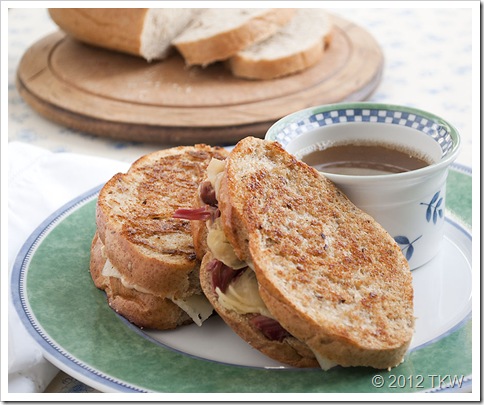 Sometimes it tough to think with family activities, the dogs, the TV blaring, the dishwasher and washer and dryer going..all that din one can hardly hear themselves to think. I think that is why my clever ideas most often come to me when I'm riding my bike or when I'm in the shower. The throaty purr of the motor and the sound of water cascading down creates such a lovely white noise that clears the mind and allows more creative thought.
So it was, I was in the shower (a little to early for me to be riding yet) and the idea of what to do with my leftover corned venison and cabbage came to me. Reuben's are always a favorite way to use leftover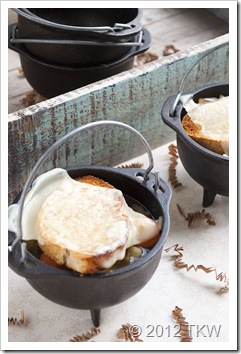 corned beef, only I didn't quite want to do the same thing, so a little variation came to my mind. Instead of sauerkraut I used the leftover cabbage and then served some cooking liquid on the side for dipping. Hello French Dip Reuben.
There is something so delectable about taking a crusty piece of bread, dipping it, letting those crunchy bits of bread soak up the jus, softening it up so that when you bite into it you get a burst of the broth and some crunch. It's so satisfying to eat a messy sandwich.
The slurpy, tender and crunchiness of the sandwich carried over for me into my next leftover transformation. I ditched the French Dip concept and became French Onion Soup inspired (is there a trend). Really this is no recipe, I just chopped up the leftover cabbage, potatoes, carrots and onions (we were out of corned venison by then…wish I would have had a bigger roast), dropped a rye toast and a slice of Swiss cheese on it, broiled it and viola! A gorgeous soup that was simplicity itself.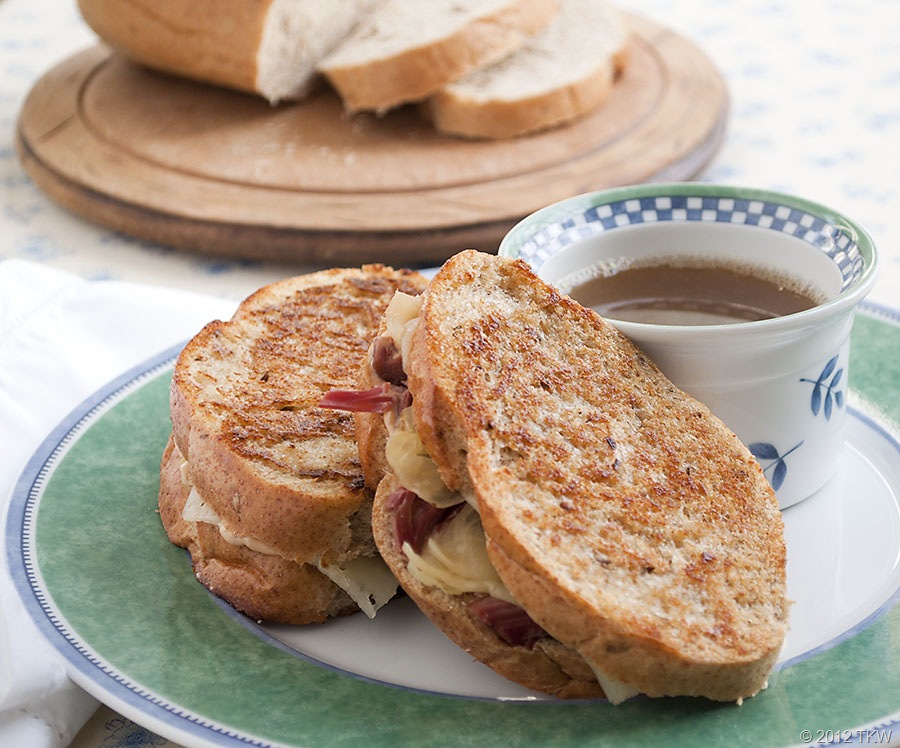 Corned Venison (Beef) & Cabbage Dippers
2016-06-11 22:45:23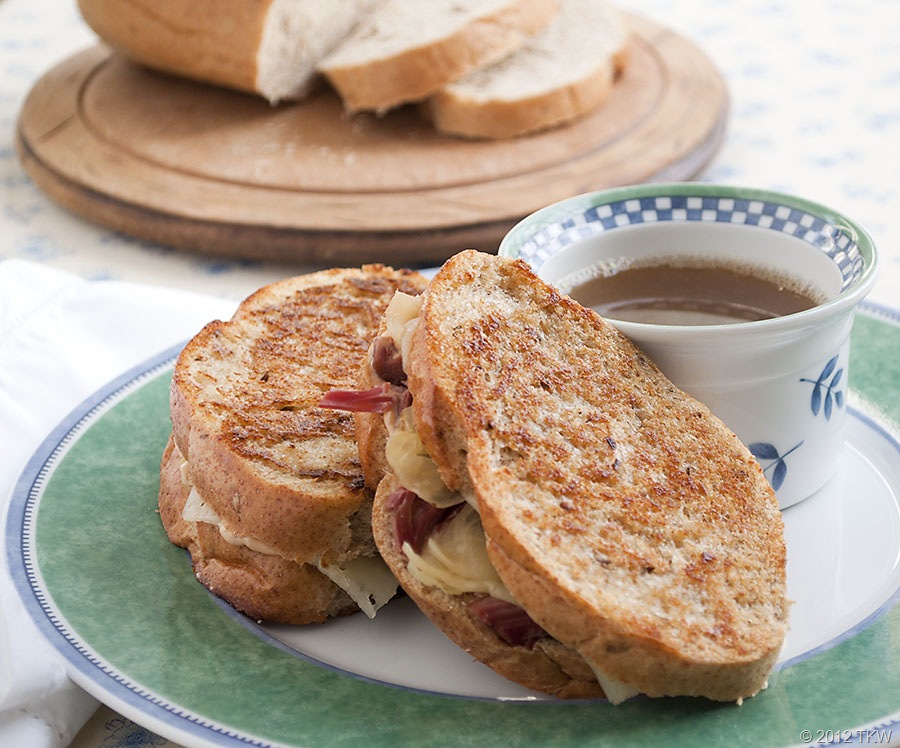 Ingredients
2 tablespoons mayonnaise
1 tablespoon ketchup
1 teaspoon sweet relish
Dash of Worcestershire sauce
8 ounces sliced corned venison or beef
Cooked cabbage slices
2 slices Swiss Cheese
4 slices rye bread
1/2 cup broth
Butter, softened
Instructions
In a small bowl mix the mayonnaise, ketchup, relish and dash of Worcestershire sauce. Butter one side of each slice of bread, put bread together butter to butter side. On the side of the bread facing up, spread it with the sandwich sauce, then layer the corned beef on top, add the cabbage and finally the swiss cheese.
Start with a cold pan, turn to medium heat, griddle cheese side down first. Griddle until the bread turns a golden brown, any where from 3 to 5 minutes on the first side and 2 to 3 minutes on the reverse side. Serve warm with a warm cup of broth.
Notes
I like to warm up my corned meat and cabbage prior to putting them on the sandwich.
The Kitchen Witch http://www.thekitchenwitchblog.com/

Informal Cookery Definitions A to Z
Bluefish. Is a mild flavor highly sought after sport fish. It is found in most climates, in Australia it's referred to as Tailor and in South Africa it's called, Shad.
Boar. A.K.A. a wild pig. It is also the ancestor of the domestic pig. It is still widely popular in Europe and Asia both for game hunting and eating.
Boar's Head. The boar once upon a time was a feared animal and a menace, in pre-Christian times boar hunts and feasts were part of pagan Yuletide events. It involved into a Christian celebration, the Boar's Head Feast in which a flaming boar's head was brought to the table to celebrate Christmas.