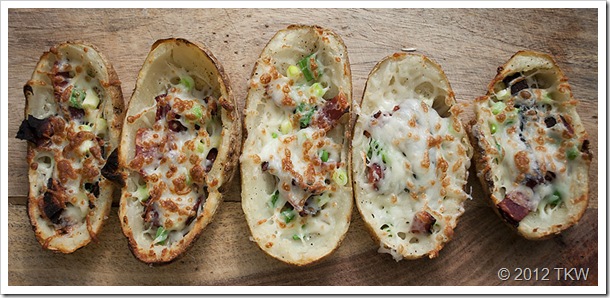 Yesterday I posted homemade gnocchi, the incredibly pillow like gnocchi that melts in your mouth and forces you to over eat because you can't stop yourself but somehow you can't seem to make your self feel guilty abut it because it's so good gnocchi. There is also a bonus, a bi-product of making the gnocchi is having leftover potato skins.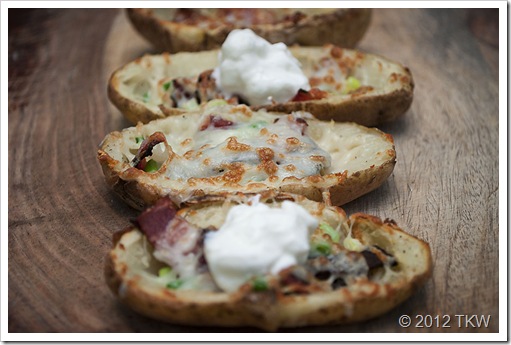 Darn, leftover potato skins, what to do with them. I know, duh, no surprise. However after busting all our extra points for Weight Watcher's, we needed to lighten things up. According to WebMd.com. Loaded Potato Skins are one of the worst appetizers you could order. One order packs 1000 calories with 100 grams of fat! Each skin you devour is about 150 calories and let's face it, who only has one skin? My version cuts that in half by making a few simple changes.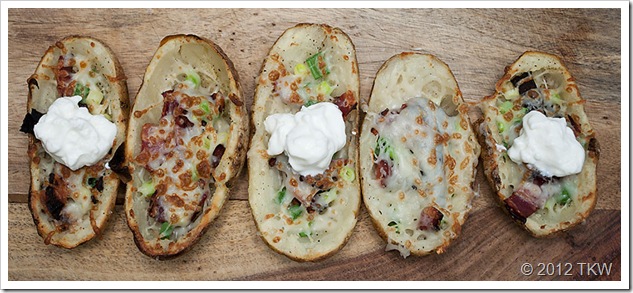 To crisp up the inside of my skins, I sprayed them with butter flavored cooking spray and put them under the broiler. Once they started to brown I removed them, seasoned the skin with some seasoning salt and added cooked turkey bacon, sliced green onions and reduced fat shredded cheese (In my case I used the Weight Watcher's brand). Back under the broiler to melt and brown the cheese. Finish with a small dollop of light sour cream and there you go! Half the calories and fat and all the flavor! Plus those gnocchi skins did not go to waste. Gotta love that!
Guess what? Guess what? Tomorrow I'll be in Billings at the Blake Sheldon concert. It's a girl's weekend, watch out Billings the old ladies from Great Falls are coming!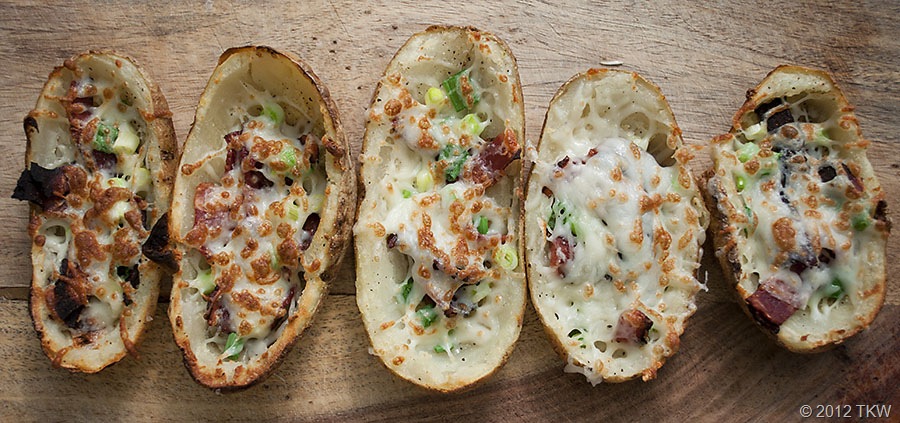 Loaded Potato Skins
2016-06-11 21:34:14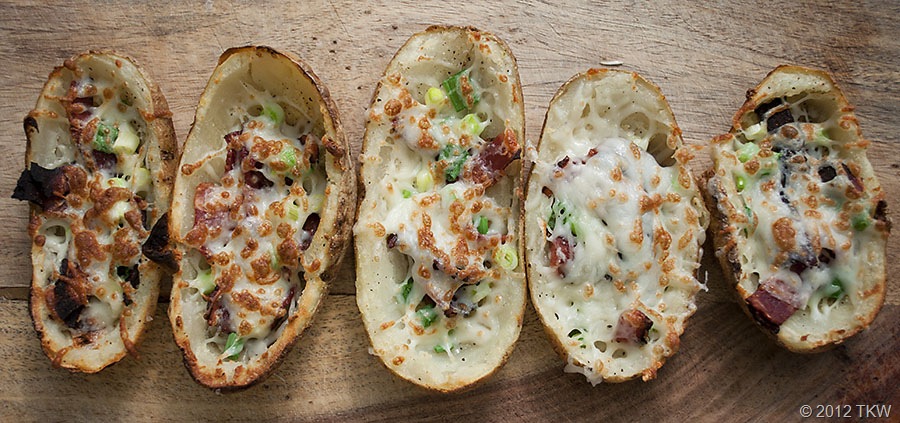 Serves 1
Ingredients
2 spray butter-flavour cooking spray
1 tsp seasoning salt
1 large baked potato with the insides scooped out
1 slice cooked crisp turkey bacon, diced
1/2 oz Weight Watchers Reduced-fat 4 cheese Italian-style blend
1 Tbsp scallion, chopped
1/2 Tbsp reduced-fat sour cream
Instructions
Preheat broiler. Place potato skins on a foil covered baking sheet, spray with butter flavored cooking spray and sprinkle some seasoning salt over the potatoes. Broil for 1 to 2 minutes or until the potato starts to turn golden brown. Remove from broiler. Sprinkle a little cheese on the bottom then divide the bacon and green onions between the two halves. Sprinkle the remaining cheese on top. Place back under the broiler and broil until the cheese is hot and bubbly and starts to turn brown, about 1 minute. Finish off with a small dollop or sour cream or plain Greek Yogurt.
Notes
For the Weight Watcher's recipe builder I had to estimate that the potato skins are approximately 1/4 of the potato when most of the flesh is scooped out. The points may not be completely accurate.
The Kitchen Witch http://www.thekitchenwitchblog.com/

Informal Cookery Definitions A to Z
Brazier. A French term for a shallow metal bowl for holding live coals for cooking or heating. Now it just refers to a shallow cooking bowl. It is also a barbecue with a pan underneath for coals.
Brazil Nut. A large brown nut primarily found in Brazil, it comes from the bertholettia tree that is native to Latin America. It's flavor is described as a cross of coconut and a hazelnut. It can be eaten raw or toasted. It was commonly known by another name in the states, but the term has fallen out of favor due to it's derogatory nature.
Bread. Is basically a term that covers all products made of a flour (or cereal) mixed with a leavening agent and a liquid. Bread can be baked (most common), griddled, grilled, steamed, boiled or fried. Quick breads use baking powder and don't require kneading or a rise time. Yeast breads are leavened with yeast, must rise and typically are kneaded.
Bread Board or Pastry Board. A wooden board that is dusted with flour to work dough on such as needed or rolling.