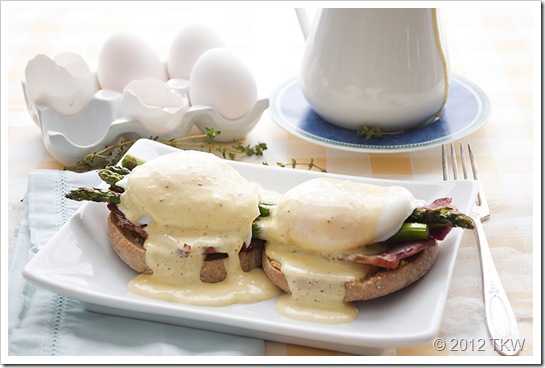 When Easter is hopping around the corner the first food that comes to mind for me is always eggs. More than any other food, eggs represent Easter. Colorfully dyed eggs, plastic filled eggs, cheap shiny grass as a nest for them. Eggs are a birth, a beginning so is Easter and so is Spring.
Naturally when the Holiday Recipe Club gave a list of ingredients to choose from to represent Easter/Passover I selected eggs. What? You haven't heard of the the Holiday Cooking Club? The club was started by Erin Meyer of the BigFatBaker.com. The rules are simple, Erin sends out a list of ingredients of which you choose one to showcase and represent the designated Holiday, now it's expanding to include some international holidays. If you'd like to participate, follow this link.
It just so happens that Meyer Lemons have been abundant at the grocery stores, and I con not resist anything lemony. Did you know that I have gone through 20 lemons in a 1 1/2 weeks! Yes, I love lemons that much. I also just purchased a Meyer lemon tree that I'm going to try and grow in my house…ahh but now I'm digressing into my lemony love.
With all those Meyer Lemon's about marrying up eggs and lemons were the right thing to do, and what better marriage than Eggs Benedict? Lovely poached eggs covered in buttery lemony goodness! I added some fresh thyme to the hollandaise sauce to boost the lemony goodness. Add some grilled asparagus to add the fresh green of spring to the dish.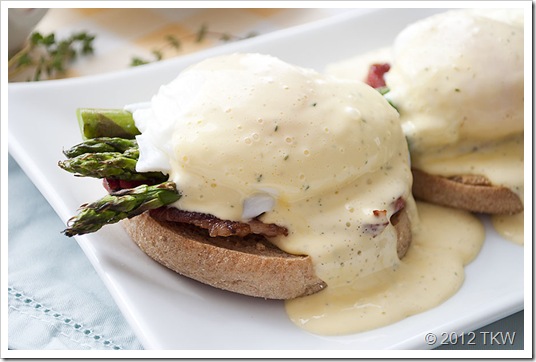 I have another little twist to my Eggs Benedict, it's a unique Montana product. Instead of using Canadian Bacon I used Redneck Cottage Bacon.
What the heck is that? It's smoked pork shoulder. It's a wonderful smoky meaty porky flavor, perfect with grilled asparagus. I'm so sorry for everyone who doesn't live in Montana because it's only sold here and they only sell wholesale

. Of course there is always the traditional Canadian bacon.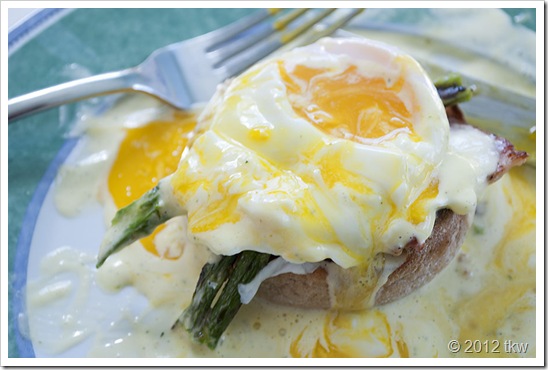 This may seem like a complicated breakfast, but it's much easier than you think. Cook the bacon and asparagus on the grill. Pop the English muffins in the toaster while you poach the eggs and then whip up the hollandaise sauce in 1 minute. Oh yes, 1 minute! This sauce is so impressive that it was one of the earliest recipes I posted, you can see that here (and my less than stellar photos).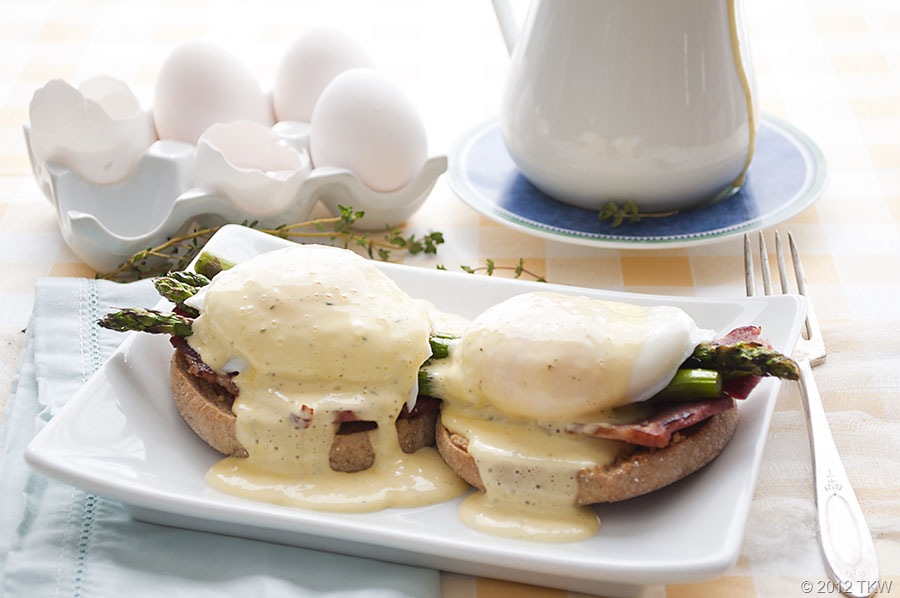 Meyer Lemon Eggs Benedict and Grilled Asparagus
2016-06-11 20:54:47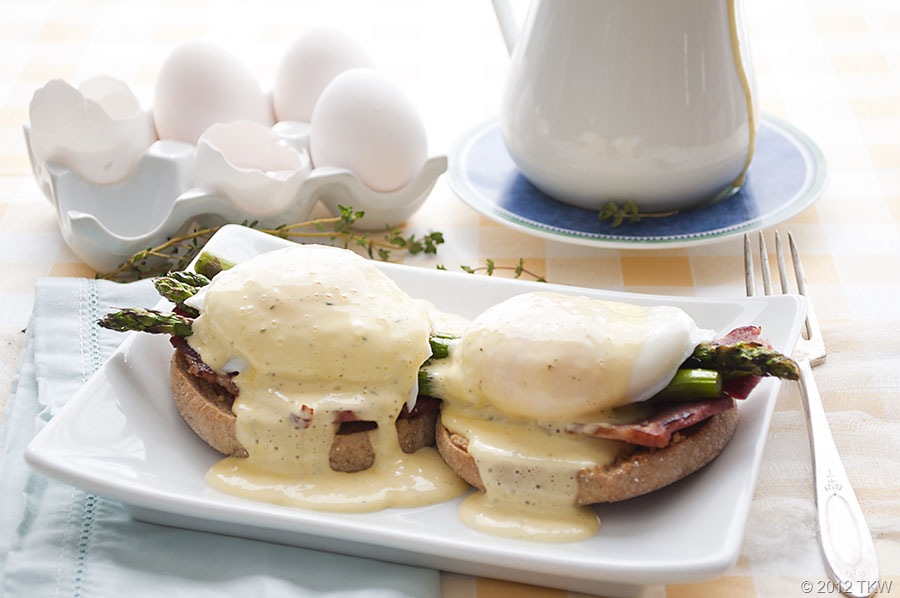 Serves 4
Ingredients
4 English muffins, split and toasted
8 slices Canadian Bacon
1/2 bunch fat asparagus spears (about 12 to 16)
Olive oil for drizzling
Kosher salt and fresh ground black pepper
8 eggs
1 cup butter
4 egg yolks
2 Tbs lemon juice
1/4 tsp salt
1/4 tsp Worcestershire sauce
1 tablespoon fresh thyme, chopped
Instructions
Preheat grill. Spread asparagus onto a cookie sheet in one layer, drizzle with olive oil and generously sprinkle with salt and pepper. Toss the asparagus spears to coat. Grill asparagus, until tender crisp, about 5 to 7 minutes set aside. (bacon could be cooked at the same time).
To prepare sauce: Place the egg yolks, lemon juice, salt, thyme and Worcestershire sauce in a blender. Blend for approximately 30 seconds. Next, on lowest setting of the blender, slowly add the melted butter (I just microwaved mine). Blend just until all ingredients are homogeneous.
To poach eggs: bring water to a low boil in a large deep frying pan, add a splash of white vinegar if desired. With a spoon swirl water to form a whirlpool, drop an egg in the center. After one minute use a spoon to ladle some water on top to finish cooking the egg. Remove from the water with a slotted spoon.
To assemble: Place two halves of the English muffins on a plate, followed with a piece of bacon on each. Lay 3 to 4 asparagus spears across the top and then top with two poached eggs. Pour sauce over the eggs. Serve extra sauce on the side.
The Kitchen Witch http://www.thekitchenwitchblog.com/

Informal Cookery Definitions A to Z
Brown Sauce. A basic French sauce made from a brown roux (flour and butter cooked to a rich brown paste) and a brown stock.
Brown Stock. Is made form beef or veal and bones with aromatic vegetables and a Bouquet Garni.
Brunch. A combination word from breakfast (br) and lunch (unch). It's a large late breakfast making the meal of lunch unnecessary. It features both breakfast and lunch/dinner foods.
Brunswick Stew. A hearty stew made from rabbit or chicken with lima or A"butter" beans. It hails from the county Brunswick in Virginia.
Check out all the HRC recipes for this month:
This is my submission for my best recipe of the month: