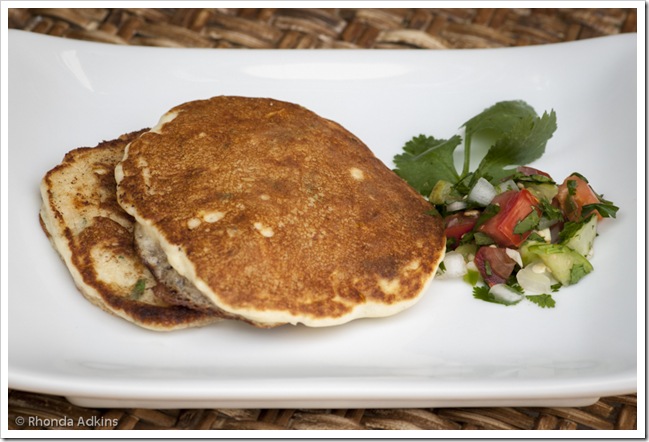 I think this is my first food post since Secret Recipe Club last month! I'm delighted to say that this recipe is a great one to come back with. If you haven't heard me talk about SRC before, it's a bloggers club that works a lot like a Secret Santa. Each member is assigned another blog and cooks one recipe from that blog…secretly. Then on our group's assigned day, we reveal the recipe that we chose.
Today is Group C's reveal day and my assignment was….drum roll please….Cooking with Stilettos…applause…. Can you believe Aly had me last month? She Shepherdized my Shepherd's Stuffed Green Peppers. So I'm super pleased to have her this month! Anywho, every blog I've ever been assigned too, I always find more than one recipe that I'd like to prepare, but I find myself making (more often then not) an old family recipe. Family recipes are not only tried and true and hold the test of time, they're also laden with memories, making the dish all that more special.
So, once again it's no surprise that I was drawn to Aly's Bampa's (her grandpa's) recipes. I giggled when I read the recipe for Bampa's Corn Fritters, one of the ingredients was Bisquick and not too long ago I posted on how Bisquick was a staple in our house while growing up. I felt a connection with Bampa right away and knew that this was the recipe for me.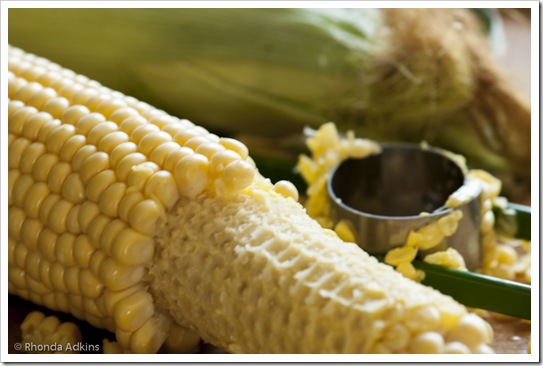 It's just little ol' me right now while I'm going to school so I try not to prepare copious amounts of food so I considered cutting the recipe in half. Then an idea came to me, I had been invited to a classmate's surprise birthday party and everyone was expecting me to bring the "wow" factor food (that's what happens when you self confess to be an aspiring food photographer).
Bampa's Corn Fritters were originally served as a breakfast pancake with maple syrup (mmmm, slurpy goodness), but I wanted to change it up to be a party food. The rusty wheels began to turn and I came up with an extremely (if I do say so myself) fabulous alternative version.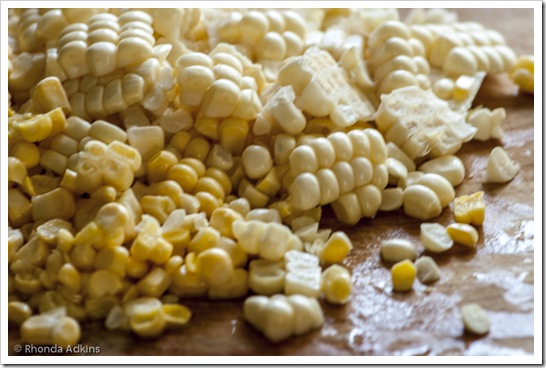 I used fresh corn versus canned (the corn is sooo good right now), I added cilantro to the fritters and made an avocado salsa to go with. I considered adding bacon to the mix (which would have been divine) but we have a number of Vegetarians in our class and I wanted to make sure they could have some also.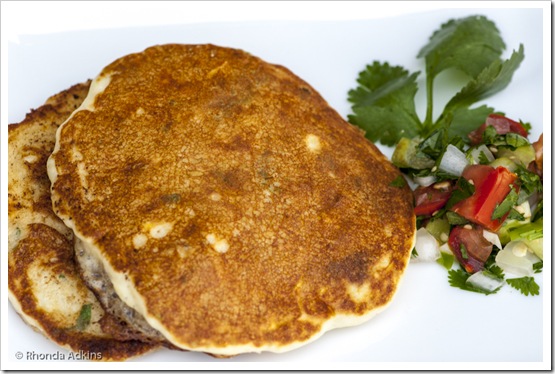 The fritters were soft and pliable, perfect for bending into a taco shape, thereby becoming the perfect vessel to hold some avocado salsa (please note that my photos do NOT have the avocado in the salsa, I added it very last minute at the party so it wouldn't turn that unappetizing brown…). The fresh corn in the fritters added crispness and sweetness, perfect for the spice of the salsa and the creaminess of the avocado.
The group consensus? I definitely brought the "wow" factor!
I will make these again and again, they would also make a great main course, or for breakfast with eggs and chorizo???? Those rusty wheels are turning again… Thanks Aly of Cooking in Stilettos and Bampa, I have a feeling that these may become an adopted family recipe.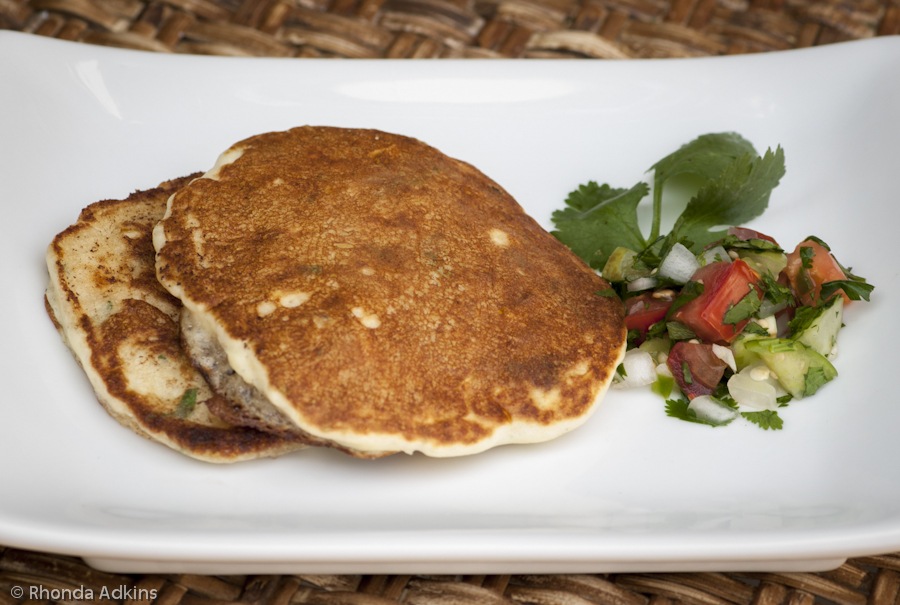 Secret Recipe Club
2016-06-11 12:19:34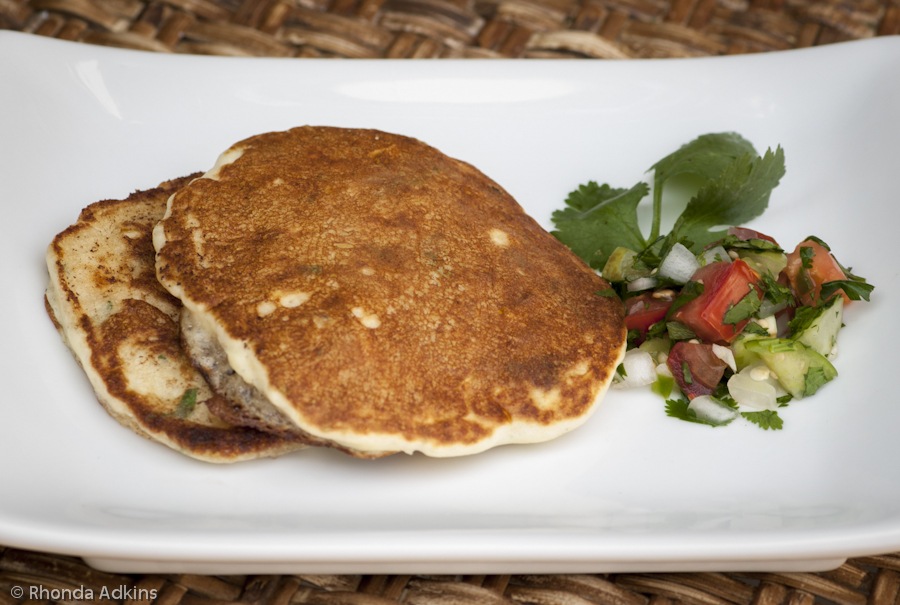 Fritters
2 cups Bisquick*
1 teaspoon baking powder
1 teaspoon agave (or 1 tablespoon sugar)
2 eggs, lightly beaten
1 cup milk
2 cobs corn, corn removed from cob
1/4 cup cilantro, minced
Kosher salt and pepper to taste
Salsa
1 large red tomato, chopped
2 to 4 tomatillos, peeled, washed and chopped
1 jalapeno, seeded (if desired) minced
2 cloves garlic, minced
1 small onion, diced
1/4 cup cilantro, chopped
Juice of 1 lime
1 tablespoon extra virgin olive oil
Kosher salt to taste
1 avocado, diced
Instructions
To prepare the fritters: In a medium bowl combine the dry ingredients, a milk and eggs, mix well, fold in corn kernels and cilantro. Heat a non-stick pan over medium to medium high heat, or heat an electric griddle to 350F. Drop batter by the scant 1/4 cup full (for full sized fritters) and griddle until many bubbles start to appear in the center. Flip and continue cooking until golden (about 1 more minute). Remove to a platter and cover with a kitchen towel to keep warm.
To prepare the salsa: Mix all ingredients except the avocado in a medium bowl, let "bloom" for at least 30 minutes prior to serving (the salsa can be made several hours ahead of time). Just prior to serving add diced avocado and mix well, taste for salt and adjust as needed.
Serve the fritters with the avocado salsa taco style.
Notes
Test the batter for proper seasoning by cooking a little fritter first. These would also be great served "mini" or tapas style.
You can substitute 1 cup of Bisquick with by a mix of one cup of flour, 1½ teaspoons of baking powder, ½ teaspoon of salt, and 1 tablespoon of oil or melted butter
The Kitchen Witch http://www.thekitchenwitchblog.com/
I know you all are busy, but I'm reposting my mid-term slide show for you to view if you'd like. I shot the color wheel as macro food (my now favorite type of photography). If you love the texture and color of food I think you'll enjoy the slideshow (it's just over 2 minutes long), FYI it's also set to music.
Don't forget to check out all the other great SRC recipes!