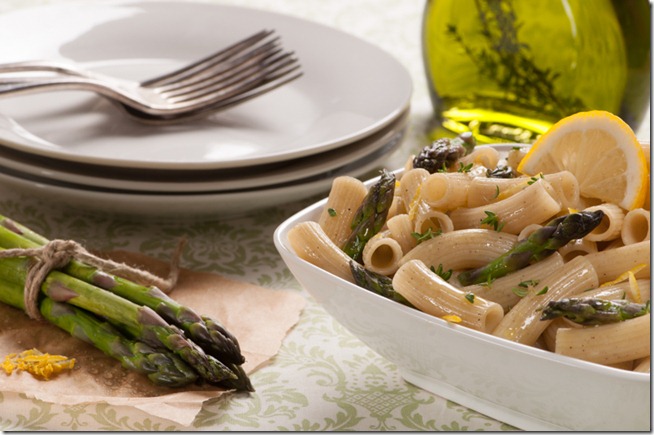 One these days I'm going to count how many recipes that I've posted that have lemon as an ingredient? Perhaps I shouldn't or I might find out exactly how freakishly obsessed I am with all things lemony. Sometimes is just better not to know.
I'm finally posting my the recipe that I eluded to in one of my photography school update posts. I was in my Food & Product class at the Rocky Mountain School of Photography, taught by Joe Lavine from when our assignment was to shoot pasta. Personally I can't just set-up food for a photograph shoot and then throw it away (my girth is also proof of that). Plus, this was a perfect opportunity for me to do school work and get a little blog work done also. Don't ya just love it when you get a two fer one?
I thought long and hard about what type of pasta to make, honestly my first thought was of asparagus and not the lemon. Asparagus are just so darn pretty, it's hard not to have a good photo if you have asparagus. Naturally lemon and asparagus go together. What totally solidified it for me was a trip to the mall and a visit to the Oil and Vinegar store.
My baby boy had actually told me about this place so I had to go, it's a dangerous place for a person like me, that's all I got to say. Keeping on full restraint…well nearly full restraint; I fell in love with the garlic infused olive oil (isn't is beautiful…I added the thyme for the photo) and I spotted lemon pepper pasta, oh yes this was going to be good!
What I ended up with was an amazingly complex layered flavor in a very simple pasta salad. The dressing gives your mouth that immediate punch of lemon and tanginess, then as you chew and the pasta breaks down, you get another subtle lemon flavor with pops of pepper. The asparagus gives the whole dish that spring like flavor making it light and fresh tasting. Then there's that touch of thyme which adds it's own earthy lemon flavor.
I think I just mentioned lemon about 20 times in that description…
Shooting food in the studio was soooo much fun and I was the luckiest girl in class, my assigned partner was Heather Gill a chef and food stylist. I loved working with someone who was just as passionate about food as me but had more cooking chops than I do. I wish I could have taken her home with me

I am already planning a trip to Phoenix…she told me she has a garage full props and I want to play.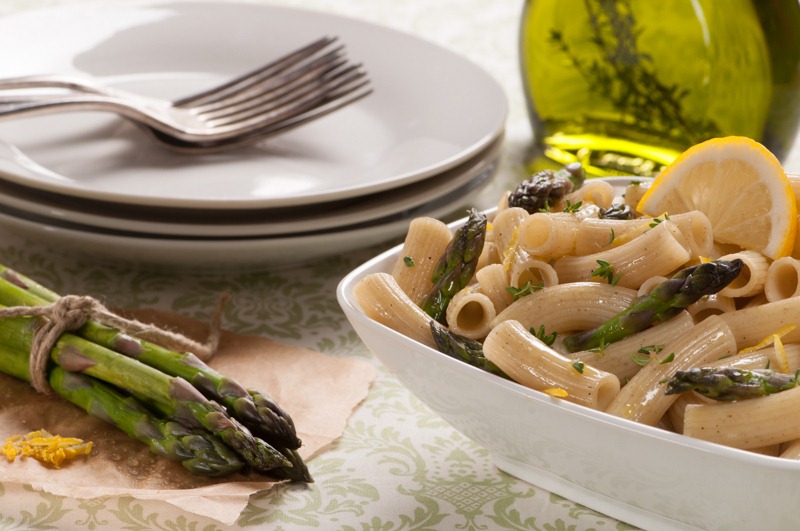 Lemon Pepper Asparagus Pasta Salad
2016-06-10 21:44:27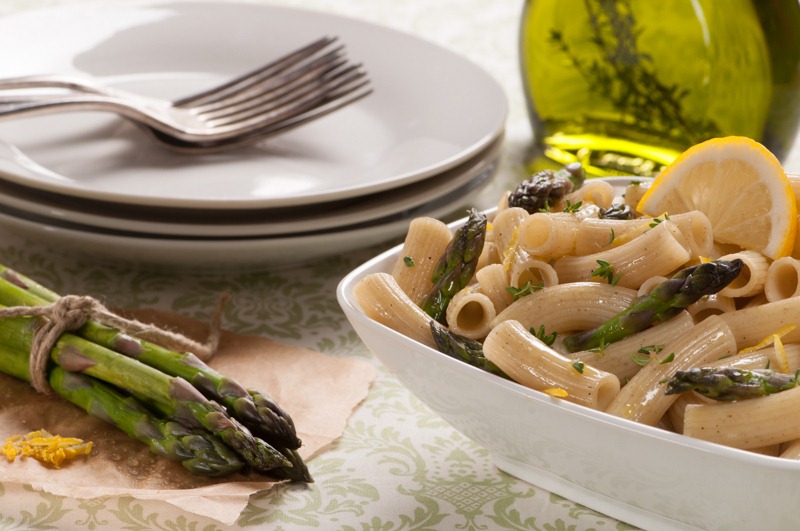 Serves 6
Ingredients
1 lb lemon pepper rigatoni (or other pasta of your choice)
1/2 lb asparagus, cut into 2" pieces
1 Tablespooon fresh thyme, chopped
2/3 cup garlic infused olive oil
1/3 cup citrus champagne vinegar, or other mild vinegar
1 lemon, zested and juiced
salt and pepper to taste
Instructions
Boil the pasta according to package directions, rinse well and set aside to cool. Meanwhile place asparagus in a microwave safe bowl with 1 tablespoon water, microwave on high for 1 1/2 minutes, immediately plunge into an ice water bath to stop the cooking.
For the dressing: in a small bowl whisk together the olive oil, vinegar, lemon zest and juice, salt and pepper to taste.
In a large serving bowl toss the pasta, asparagus, dressing and thyme together. Good served warm or cold.
The Kitchen Witch http://www.thekitchenwitchblog.com/