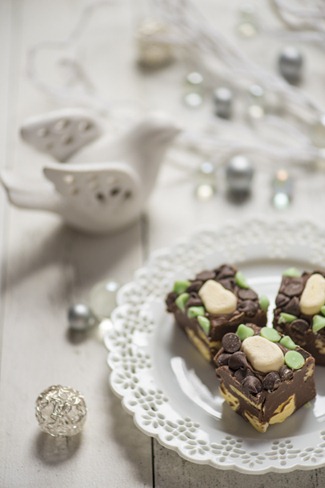 Not a one, not a single Christmas treat have I posted. This year my men are on these high protein low carb diets. McGyver for health reasons and the Baby boy because of Rugby (strict orders from his coach). I decided not to bake cookies or anything too tempting, gotta show my support (and I enjoyed not adding something else to my long holiday to do list).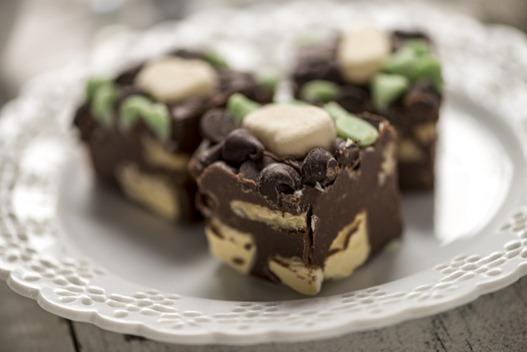 Then I realized that I had nothing for poor old Santa Claus! Panic struck my heart…I had to leave something, it just wouldn't be right. Digging through my freezer I found a couple of bags of dark chocolate and mint morsels and some vanilla marshmallow snowmen (from last year).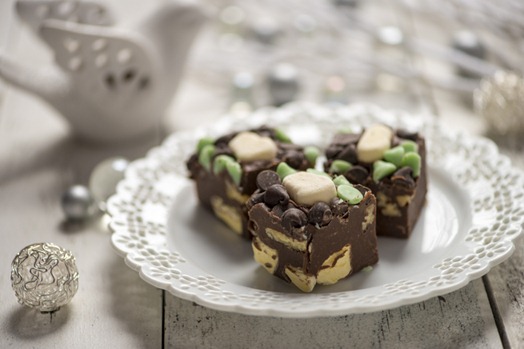 In less than 5 minutes I had myself a Rocky Road Chocolate Mint Fudge. It takes a couple of hours in the fridge before you can cut it up, but it couldn't be easier to whip up and you only mess up one bowl (always a plus). This recipe can easily be converted into any fudgy combination, just stick to the morsel to condensed milk ratio and let your imagination go.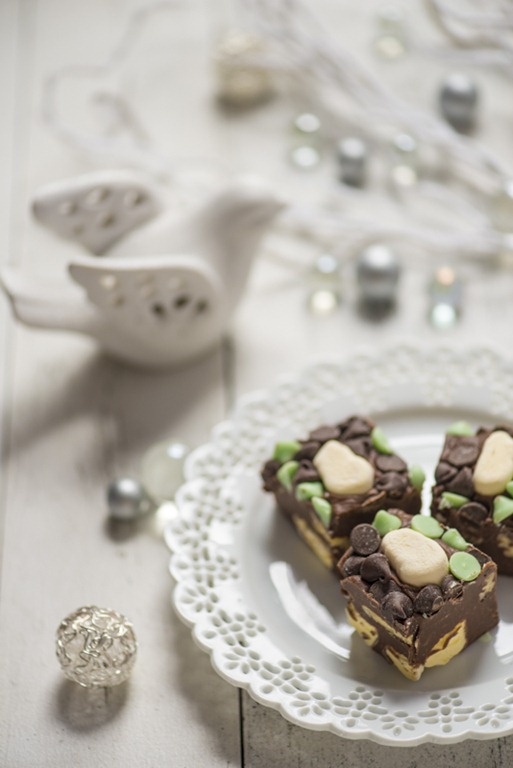 5-Minute Fudge (Rocky Road Chocolate Mint)
2016-06-10 21:13:08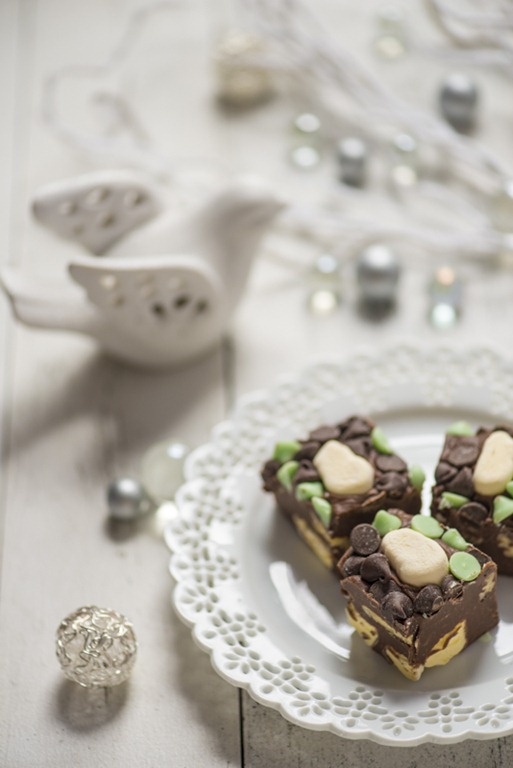 Ingredients
2 (10 ounce) packages Nestle's Winter Dark Chocolate and Mint morsels
1 (14 ounce) can sweetened condensed milk (not evaporated)
Pinch of salt
1 cup chopped nuts
2 cups marshmallows (I used vanilla snowmen)
Instructions
Line an 8 x 8 square pan with foil or wax paper. Spread half the marshmallows on the bottom. Set aside.
In a large microwaveable safe bowl add 3 cups morsels, sweetened condensed milk and pinch of salt. Microwave for 1 minute, stir. Microwave another minute and stir until smooth and creamy. If necessary keep microwaving and stirring for 30 seconds more until chips are melted completely.
Stir in nuts and pour over marshmallow. Using a spatula spread the fudge evenly across the pan.
Sprinkle the top evenly with remaining marshmallows and morsels (since I had large snowmen, I arranged them first then sprinkled the morsels around them). Gently press morsels and marshmallows into the fudge.
Refrigerate for 2 or more hours. Lift out of pan and slice into small pieces.
The Kitchen Witch http://www.thekitchenwitchblog.com/
This post is my entry to the Monthly Mingle and Photo contest hosted by Junglefrog.