'Dad's pizza dough' topped with Goose prosciutto, Brussels sprouts, goat cheese and roasted garlic sauce could possibly be the longest recipe title ever. And I left out the caramelized onions! This amazing pizza is brought to you by the Secret Recipe Club.
Each month members are assigned another blog, the member selects a recipe and secretly prepares it, then posts on reveal day. Each group has a wonderful hosts that facilitates the whole thing, our host for Group C is Debbi. My assignment this month put me in a slight conundrum. I was assigned Juanita's Cocina. Only it's not Juanita behind the scenes, technically it's Jen.
Jen always thought she should have a Spanish translation to her name, it sounds much more exotic than Jen (as a side note my BFF is named Jen so I LOVE the name Jen). When her Dad told her there was no true translation for Jennifer and that Juanita was the closet thing, can you believe that she hated that name? Worse yet it rhymed with fajita. Juanita fajita.
Fast forward some years, Jen decides to start a blog and her wife and her numero uno taste tester/adviser tells her she likes the name Juanita, so after a revealing dream Juanita's Cocina was born. Jen's blog was a great way for her to be the Juanita that's always been inside of her. Now she likes the fact that it rhymes with fajita. Juanita fajita, cocina…it all just goes, like it was meant to be.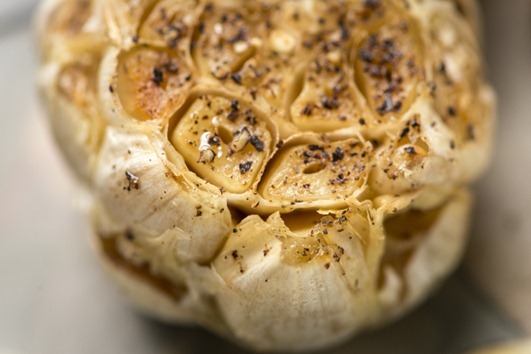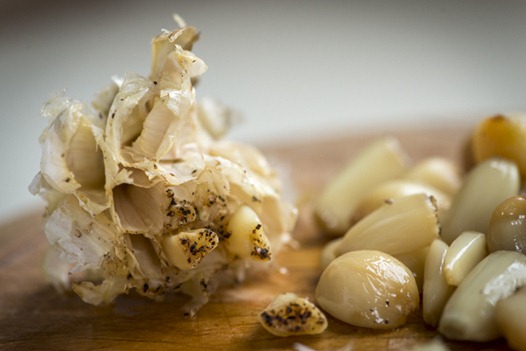 My conundrum came from my own set of self imposed rules. If you follow me at all, you know that to select my SRC recipe, I use the following criteria: I look for a family recipe and/or heritage cultural recipe. I immediately keyed in on Jen's "Dad's Pizza Dough", she said her dad made this dough every Saturday and she still makes it twice a month or so for her own family.
But then there's the fajita Juanita side. Juanita had a recipe for Chile's Rellenos. McGyver's all time favorite Mexican dish. One that I have never attempted but promised too, one day. As it turns out, the rellenos were a guest post, soooo it tipped the scale to posting about the pizza for SRC. However, for a late Valentine's Day dinner last Friday night I made McGyver his beloved Chile's Rellenos. I'll post that one later (it was perfect).
With the dough recipe settled on, what to top it with came next. Lucky me I had some goose breast prosciutto that was ready (I made the spicy version from Hank Shaw's blog Hunter, Angler, Gardener, Cook). From there I decided to go with a roasted garlic sauce, and caramelized onions. I sautéed some Brussels sprouts (you know, to make it healthy) and topped it with goat cheese. Then I sprinkled a little lemon zest and thyme over the top for a nice fresh lemony taste.
I didn't roll out the dough, I hand tossed it. Which is something I've never done well (as evidenced by my photos) but I keep at it, one of these days it'll happen.. Because I pre-cooked my ingredients, I cooked the pizza dough on its own on a hot pizza stone. Jen describes this dough as a chewy dough, not for the people who want a thin crispy crust. This dough definitely has a lot of flavor, it had a little chew to it (except the places that my poor hand tossing made thin….they were crispy) and it was easy to prepare. Now I have a new go to pizza crust recipe.
Thanks Jen/Juanita! Make sure you all visit the other Group C participants (links at the bottom of the post).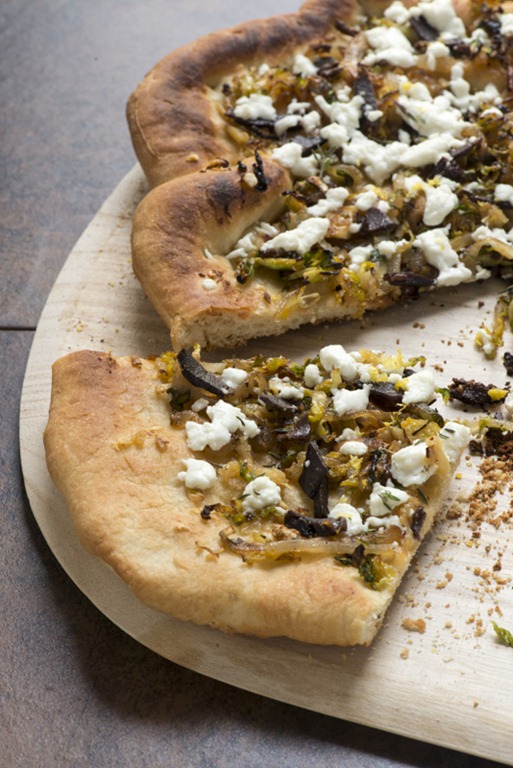 'Dad's Pizza Dough' topped with Goose Prosciutto, Goat Cheese, Brussels Sprout & Roasted Garlic Sauce
2016-06-10 20:26:32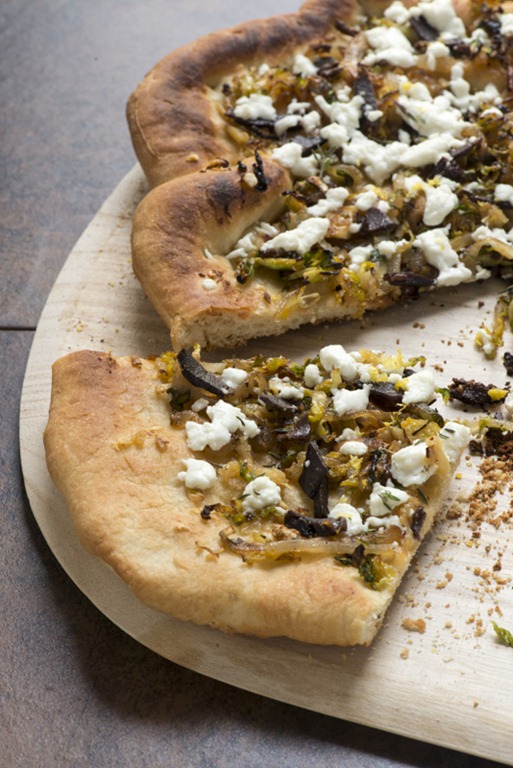 Dough
2 cups of all purpose flour, plus some extra for kneading
1/2 teaspoon kosher salt
3/4 cup warm water (about 110F)
1 package active dry yeast
1 teaspoon granulated sugar
1/4 cup olive
cornmeal for dusting pizza peel
Roasted Garlic Sauce
12 to 14 cloves roasted garlic (recipe follows)
2 tablespoons olive oil (I used the oil from the roasted garlic)
1/4 teaspoon salt
1/8 to 1/4 teaspoon crushed red pepper
Suggested toppings
1/2 large sweet onion, sliced and caramelized
6 Brussels sprouts, thinly sliced and lightly sauteed
2 ounces prosciutto, chopped
4 ounces goat cheese, crumbled
Zest of 1/2 lemon
2 teaspoon fresh thyme
Instructions
Dough: In a large bowl add water, yeast and sugar. Let sit until yeast begins to bloom (foam and bubble. Stir in salt and olive oil, then mix in flour until well combined adding more flour if too sticky.
Turn dough out onto a well floured surface, knead adding extra flour if needed to from a small ball. Place in a bowl, cover with a damp cloth and let rise for 2 hours.
Place oven rack on lowest rack, then place the other rack in the middle of the oven. Put pizza stone centered on the lowest rack. Preheat oven to 450F. Roll or hand toss the dough into a 12 inch circle, place on a piece of parchment paper or pizza peel dusted heavily with cornmeal.
Slide pizza dough onto hot pizza stone and cook for 10 to 15 minutes, check at 10 minutes, and continue checking every couple of minutes until crust is a light golden brown. Remove from oven and top with garlic sauce and toppings of your choice. Return to oven and cook 3 to 5 more minutes, just enough for the cheese to melt and toppings to rewarm if needed.
Garlic Sauce: Place roasted garlic cloves on a cutting board and mash with a fork. In a small bowl mix together mashed roasted garlic, olive oil, salt and crushed red pepper. Add more olive oil if needed to make it spreadable.
Adapted from Juanita's Cocina

Adapted from Juanita's Cocina

The Kitchen Witch http://www.thekitchenwitchblog.com/

I use roasted garlic A LOT but I've never posted my method for roasting them; yay a Bonus recipe!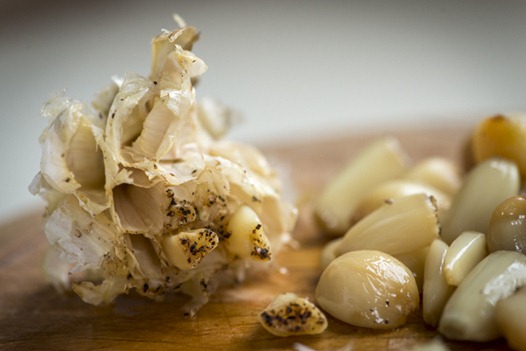 Roasted Garlic
2016-06-10 20:29:51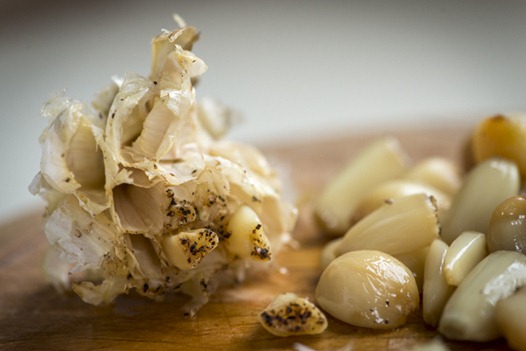 Ingredients
2 heads garlic
2 tablespoons olive oil + 1/4 cup olive oil or more (optional)
kosher salt and fresh ground black pepper
Instructions
Preheat oven to 400F. Remove all the loose papery skin covering the heads of garlic. Cut off the pointy end (not the root end) of the head, about 1/2 inch down, exposing the cloves. If any outlying cloves are missed, use a small paring knife to cut off their tips. If you are thrifty you can sae the cut off tips for other recipes.
For each head, Make a double thickness square of foil large enough to cover the entire head. Place the head, root side down, in the center and fold the foil up around it to form a bowl. Pour one tablespoon of olive oil over the cut end of the garlic, sprinkle liberally with salt and pepper. Close the foil around the garlic head. Repeat with other head of garlic.
Bake in the oven for approximately 40 minutes (it's nice to use a toaster oven for this) or until the heads are soft. Remove from the oven, open the foil and let cool.
To remove the cloves, grab the garlic from the root end (save the oil left in the foil), and squeeze. The cloves should easily pop out. If they are stubborn you can peel them.
Store the roasted cloves in an airtight container or in a lidded jar with enough olive oil to cover them in the refrigerator.
Notes
Roasted garlic in olive oil must be stored in the refrigerator and not at room temperature to prevent botulism. Garlic covered in olive oil last longer.
The Kitchen Witch http://www.thekitchenwitchblog.com/