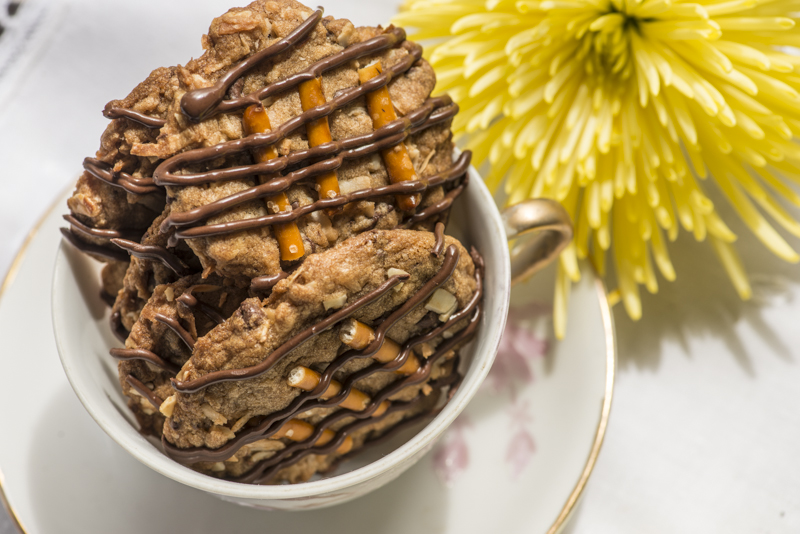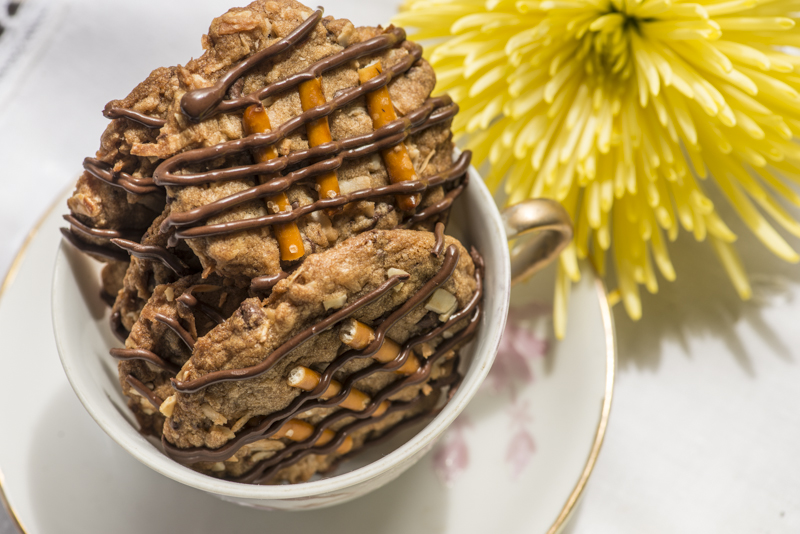 If you read a foodie's blog and they claimed at one time that they couldn't go a week without a cookie what would you do? You would make one of their cookie recipes of course! At least that is what I did when I got assigned the oh so cute Chelsy's blog Mangia!
But it's not what I thought I'd make. I was positive as soon as I got my email from our Secret Recipe Club super leader Debbi of Debbi does dinner healthy that I would be making Italian. My heart sang at the thought, just like it did when I was first assigned Manu of Manu's Menu (love that gal).
As I cruised through her blog and started pinning recipes on my "secret board" (thanks Veronica for that idea) I ran across her little comment about being a cookie fiend. And that particular cookie caught my eye. It called for a bunch of ingredients that I really, really, no kidding really needed to use. Let's just say my pretzels were labeled: best if used by May 2012. Yeah, I probably have had these for the last 2 years.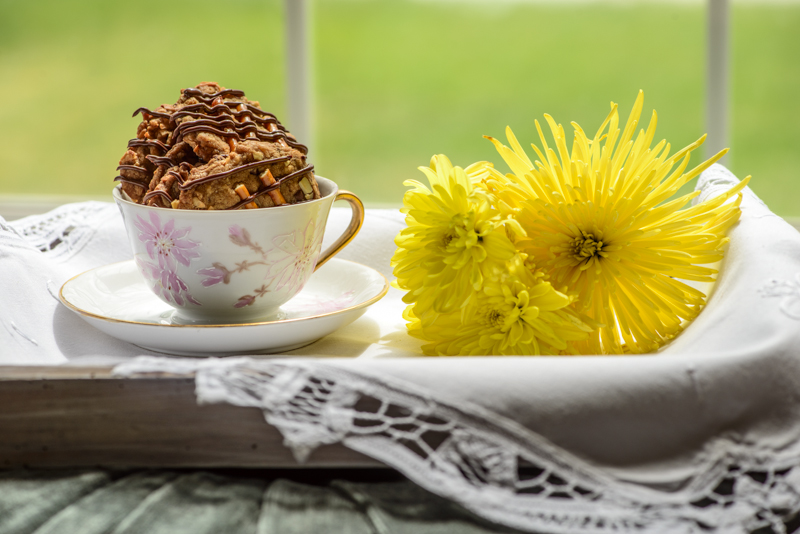 Plus I had another good reason. Ever do something you never ever in your whole entire life imagined doing? It just so happens that I spoke these words "I'd like to start a community garden on the Air Force base". And. I. did. it. With a lot of help from others, especially River City Harvest.
We now have 42 (300 square foot) plots, a children's garden, planned berry garden and picnic area and composting. 19 trees and shrubs donated by http://www.gardensfromgarbage.org/(thanks Mike you are a gem). The city is donating 18 yards of mulch for our pathways and our local master gardeners are volunteering their time. This little seed of a thought bloomed in just a few short months! My partner in crime Amber Gardener, the base housing community director has been a godsend!
All this is leading to these cookies; on Saturday we had our ribbon cutting ceremony/grand opening. I made these cookies and some chocolate orange mini muffins (recipe coming as a guest post for The Heritage Cook in June). There's nothing more satisfying than seeing families work together in a garden and chocolate smear on their faces.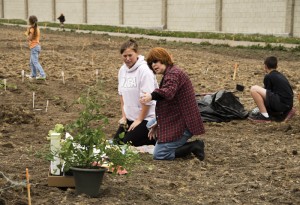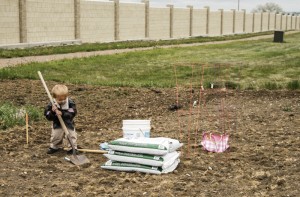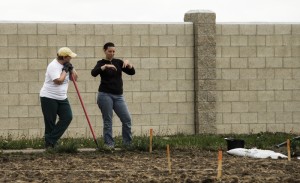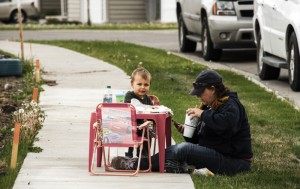 I adapted Chelsy's original double chocolate pretzel stuffed everything cookie to suit what I had on hand. Because I used almonds and the recipe called for coconut oil, coconut and chocolate I renamed them with the Almond Joy candy bar in mind. I didn't have pretzel twists and obviously buying more pretzels was NOT going to happen, I just broke the sticks in half and laid them on top.
Since they weren't this super cool stuffed cookie, I upped the attraction with a chocolate drizzle. Chelsy, thank you for being a part of incredible day, the cookies were a big hit.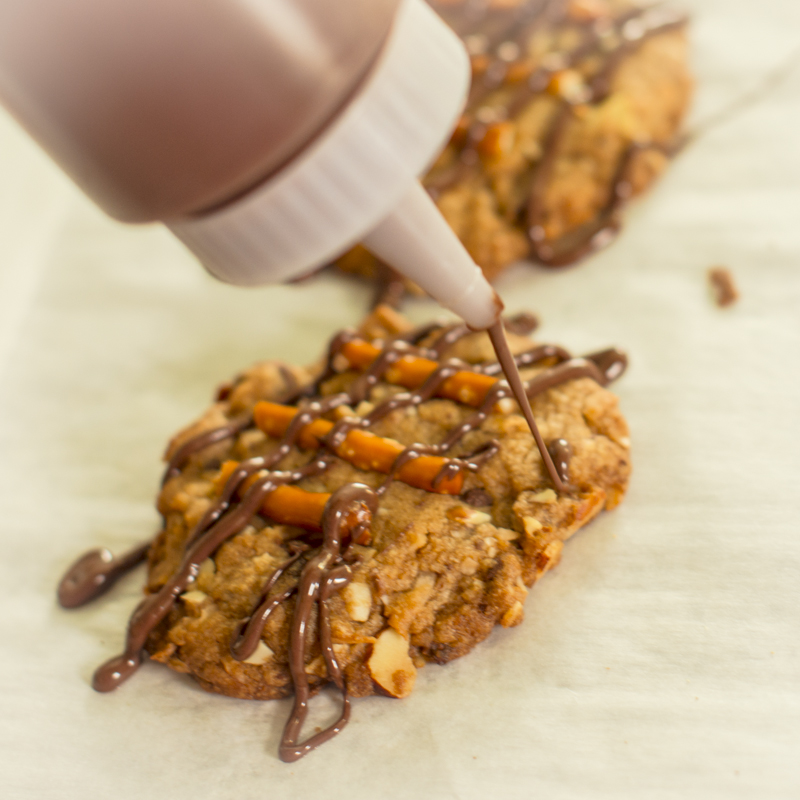 Mangia!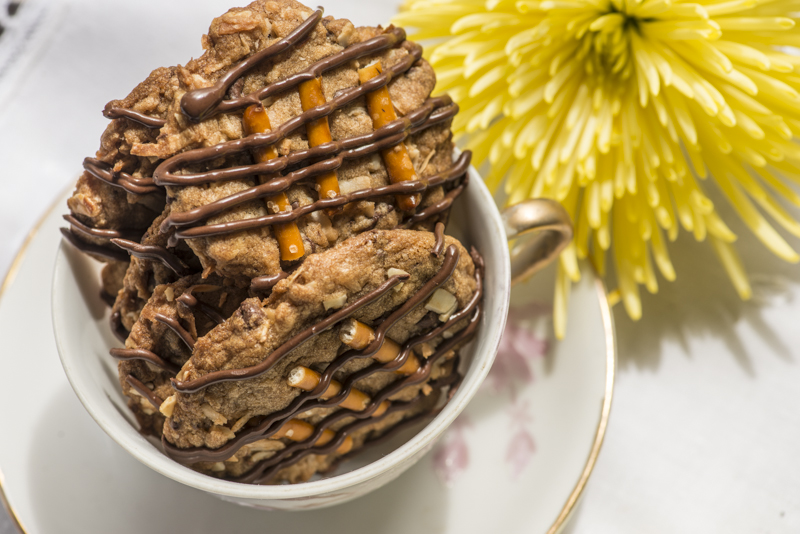 Double Chocolate Almond Joy Pretzel Cookies
2016-06-10 18:51:34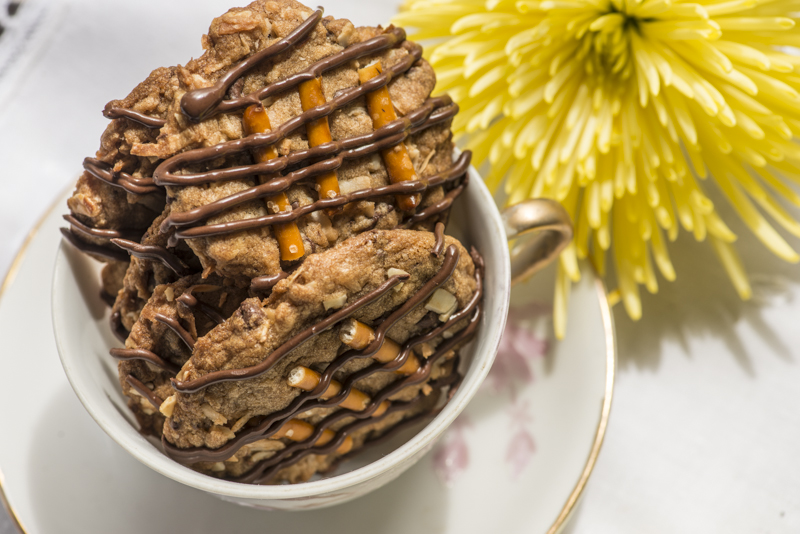 Cookies
1/2 cup coconut oil, softened
3/4 cup packed dark brown sugar
1 teaspoon pure vanilla extract
1 large egg
1 1/4 cup all-purpose baking flour
1/2 teaspoon baking soda
1/4 teaspoon salt
1/2 cup mini chocolate chips
2 oz. bittersweet chocolate, chopped into small chunks (I used Ghirardelli Sea Salt Squares, 4 squares = 2.12 ounces)
1 cup sweetened, shredded coconut
1 cup sliced almonds
42 tiny salted pretzels or small pretzels sticks broke in half
Drizzle
1 cup chocolate chops
1 teaspoon coconut oil
Instructions
Preheat the oven to 375 degrees F. Line baking sheets with parchment paper.
In the bowl of an electric stand mixer, fitted with the paddle attachment, beat the brown sugar, coconut oil, and vanilla together on high speed, until light and fluffy.
Beat in the egg.
In a large mixing bowl, sift together the flour, baking soda, and salt.
Add the flour mixture to the sugar mixture and mix on low speed, just until blended. Scrape down the sides of the bowl as needed.
Fold in the chocolate chips, chocolate chunks, coconut, and almonds.
Drop about 1 tablespoon of dough onto the prepared baking sheet. Flatten slightly and press 1 pretzel in the center of the dough or 3 broken pretzel sticks.
Repeat with the remaining cookie dough and pretzels.
Bake for 10 minutes.
Slide parchment paper with cookies onto counter and let cool completely.
Put chocolate chips in a microwave safe container. Heat for 30 seconds at a time, stirring between each heating until chips are melted and smooth, about 2 minutes. Stir in coconut oil (do not use butter).
Notes
These make a crispy cookie. If you like a softer cookie, turn the heat down to 350°F and check at 8 minutes.
The Kitchen Witch http://www.thekitchenwitchblog.com/

Be sure to check out the rest of Group C's reveal on the blog hop.