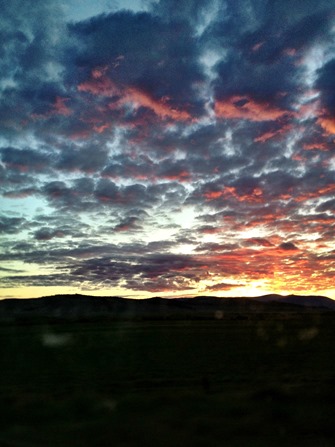 (Photo taken with iphone driving down the road to our cabin…window up obiously)
I've been blogging for years about the progress on our cabin.  Our little piece of heaven in Big Sky country.  The cabin itself has gotten to the point of really being finished.  Oh we have our issues (like no hot water due to problems with an on demand heater), we have our grandiose ideas: expanding the cabin, permaculture landscaping, a full outdoor kitchen with a cob/rocket stove, developing one of our springs and having water pumped to the cabin, rain water catchment system so we can garden, having a wood shed, building a pole barn, etc. etc.
We talk about this stuff like you do when you talk about "what would I do if I won the lottery".  Suffice it to say that we do not have enough time and money to fulfill our grandiose ideas.  I guess it doesn't really matter if all that cool stuff happens, we still enjoy the little things.
Here are things that we have done and experienced over the last two weekends that made my heart sing.
Stepping outside and going for a walk in my pajamas and seeing a dusting of snow on the spring flowers. Also knowing that my cabin had a roaring fire to keep me warm when I got back.
Doing a little decorating, like hanging this map that the baby boy won at the Made in Montana show.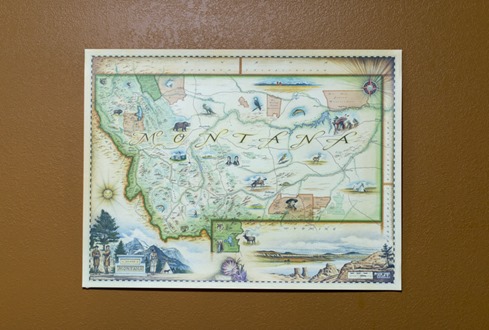 Finding a home for my old sports equipment. I am not athletic but I have a thing for antique sports equipment, most of it I purchased at "boot" (read flea market/yard sale) sales in England.
The baseball glove belonged to McGyver when he was a wee lad.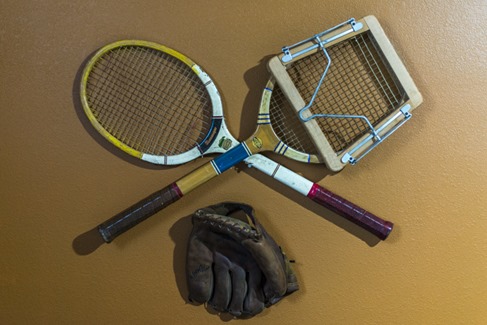 Braided rugs that my great grandmother made, rugs that are older than me.
This one is made of old nylons.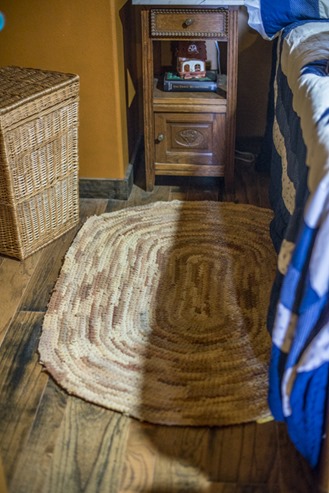 Putting a garbage dump find (the TV tray) to good use.
Having enough rugs for each side of the bed, so you don't feel the cold on your feet when you get up. This is another rug that my Great Grandmother made, it's made from rags.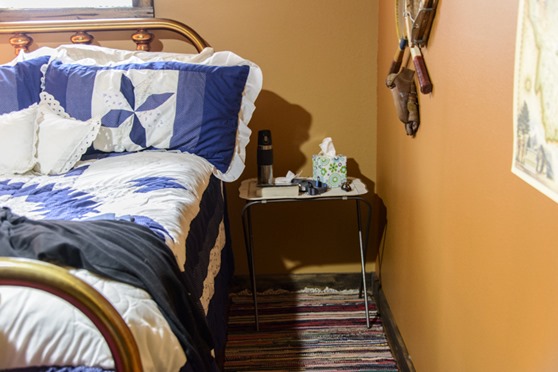 Feeling like a quirky  interior designer, obsessed with antique sports equipment.
Psst, that little flower plaque on the right, I made as a child with yarn and aquarium rocks.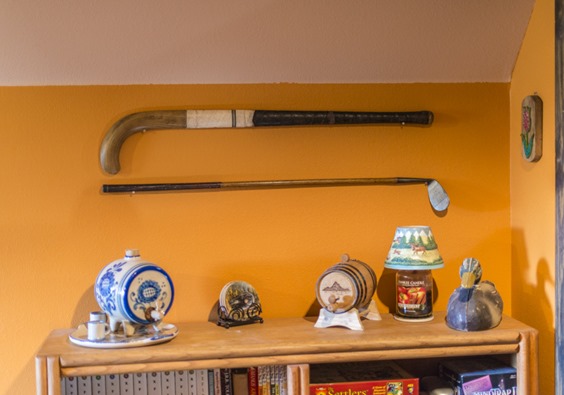 Unintentionally hanging up wooden ice skates from Holland, near an old sleigh from England.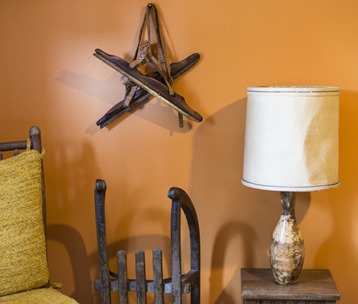 Finding that new things can integrate well with old things, like this fishing mirror and wooden fishing box.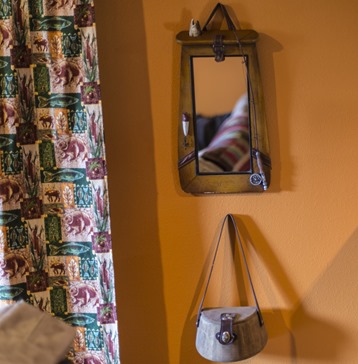 Or these lamp shades (see above photo for previous one)
The lamp on the left is an old bowling pin that McGyver and Grandpa HoHo redid when McGyver was a young boy.  The lamp on the right, one of my great uncles made, like 50 years ago.  McGyver and I had to replace both of their lighting kits…that was fun, not really, but it was cool to do it together.
Trying out an old fashioned toaster, a second hand store find.  Which works brilliantly by the way.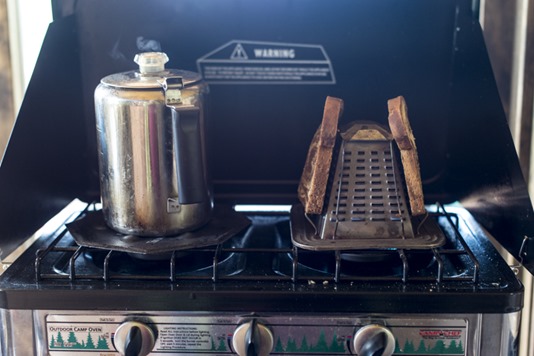 And fresh flowers picked by McGyver, special for me.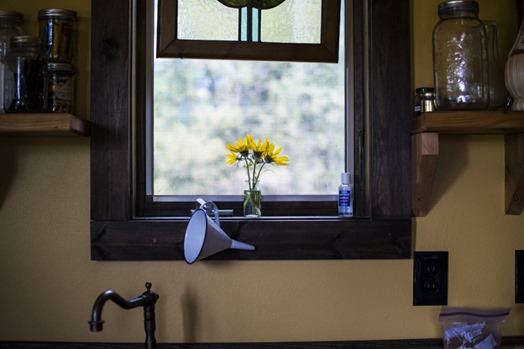 There was only one thing that I ever wanted from my Grandpa's house after he passed away, and it was this sign from his logging business.  My mother saved it for me. McGyver picked the place and hung it up.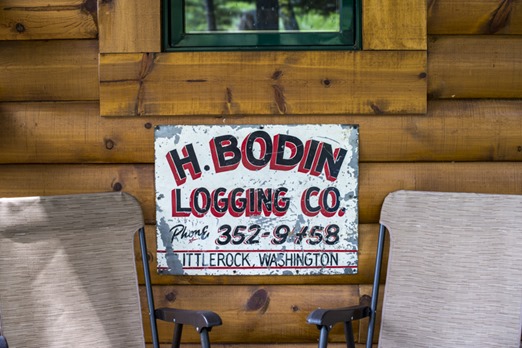 A friend made these bird houses, we hope some birds will move in.
Having one afternoon of no snow or rain so I could explore what new flowers were coming up.
Even though I had over 2000 pages of documents to review, I had this view.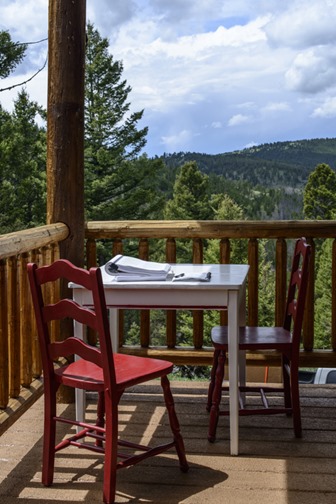 That despite all of our little work projects and the mostly stay indoors kind of weather, that McGyver actually got to take some time and do something he wanted (he's messing with his rifle before he goes target shooting)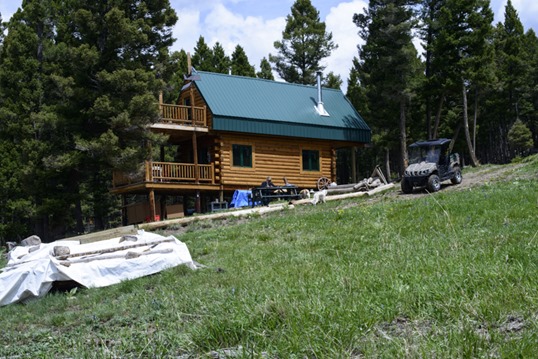 And of course these goof balls, drooly and ratty as they might be.
Gotta love em and all the little things that make my heart sing.
What little things make your heart sing, is it something old, something new, a perfect meal, hugging carrots from your garden?