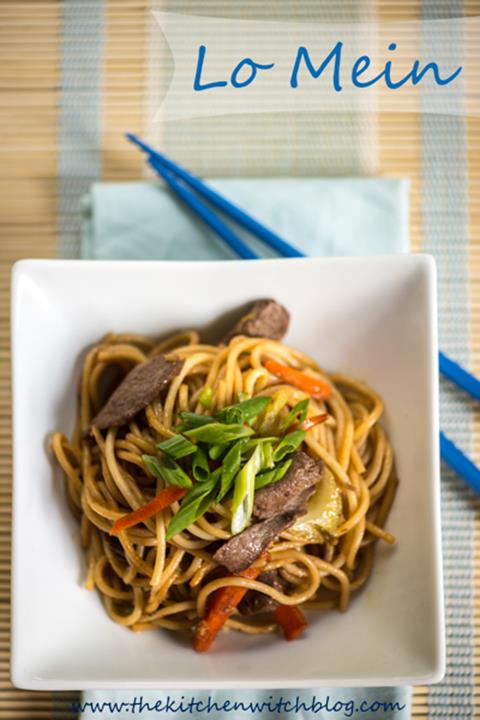 Who loves Chinese take-out? I do, I do! Actually I love Chinese take-out, Chinese to-go, Chinese sit-down, and on rare occasion a good Chinese buffet. What I don't love is super greasy Chinese, which seems to be the standard in my local area. We recently had a decent Chinese restaurant called Umami open downtown; it's a breath of non-greasy fresh air!
But there are the times that I don't feel 'out' at any time! Let me stay home in my marinating clothes, no shower, and pony tailed hair watching movies and eating Chinese nights. So why not get Chinese delivered? In Great Falls we don't have a Chinese place that delivers, that's how it is here in ranch town. Even if we did I'm not sure that I'd want it delivered any ways. It seems that the days of the iconic Chinese take-out boxes have gone by the way side for those nasty Styrofoam boxes. I just can't picture myself glorious unkempt self, sitting in front of the TV with a Styrofoam box and a pair of chopsticks, stuffing my face with noodles.
Who curls up to a Styrofoam box?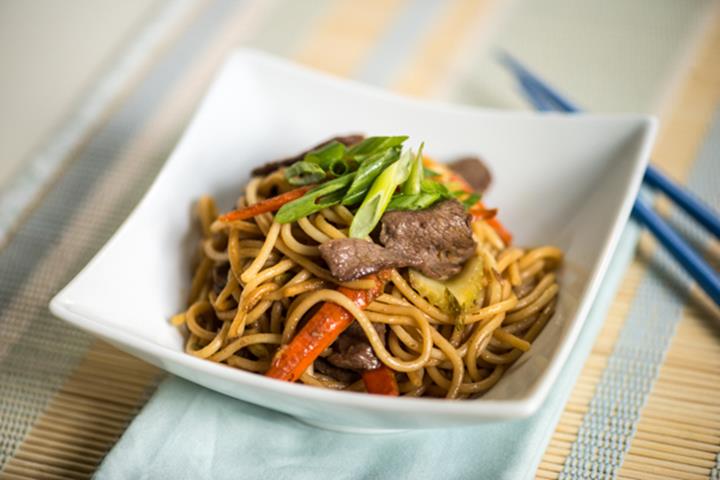 While some Chinese recipes are labor intensive (think egg rolls), Lo Mein can be whipped up in no time, especially if you have some left over spaghetti noodles. Yep, spaghetti noodles! They are the perfect noodle for Lo Mein and other fried noodle dishes like Yakisoba.
Speaking of fried noodle dishes, it reminds me of one of the worst meals I've ever made! You know the kind, the inedible; I wouldn't feed to a stray dog kind of meal. I had all the good intentions but…
It started with a recipe my mom gave me for Yakisoba which called for cooked spaghetti noodles. At the time (back in the mid-nineties) I balked at the idea of using Italian noodles in a Japanese dish. Other than the noodle portion the recipe looked like a winner. In order to make this authentic I decided to get some real Asian noodles. At the time we were living in the Tacoma, Washington area, so I headed down South Tacoma way, mostly (at the time) a Korean strip.
I went into in Oriental food market of which I quickly discovered there was zero English anything anywhere. One of ladies came up to me to ask if I needed help, kind of asked me, I figured that's what she was doing but I didn't speak Korean and she didn't speak English. Not wanting to look like I didn't know what I was doing (oh the pride…), I waved her off and marched down the noodle aisle. And there it was, noodles upon noodles, every kind imaginable and kinds I couldn't have imagine.
I picked up a package that had a resemblance to spaghetti noodles, figuring it was my best bet, paid the cashier and then rushed out of there. You know, so I would look decisive and just making a routine quick stop. Of course the only person I was fooling was me, myself and I.
When I went to prepare them (here cometh the fall), I treated them like Spaghetti noodles. Boiled them up, drained them and went to stir fry them. Only they turned into some kind of sticky mushy disgusting mass. A textural inedible mass. The Yakisoba got trashed and it was grilled cheese sandwiches that night.
I've learned a lot since then, it's okay to use whatever from where ever as long as it works and it's better to get advice from experts than try to come off like you know what you are doing. Most people love to share their knowledge especially to an interested person. And sometimes it's good not to be your 20's anymore.
I used venison for this recipe but you could easily substitute elk, beef, pork, chicken or shrimp without having to change a thing. You could also turn this easily into a vegetarian/vegan dish by omitting the meat portion. If you are using meat that needs to be sliced it's helpful to have it partially frozen. Since the venison came from our freezer I just partially defrosted it. If you have fresh meat put it in the freezer 1 to 1 ½ hours prior to slicing.
Leave your pride at home, stay in your house clothes, don't even brush your hair, use spaghetti noodles and make yourself Chinese take-out at home.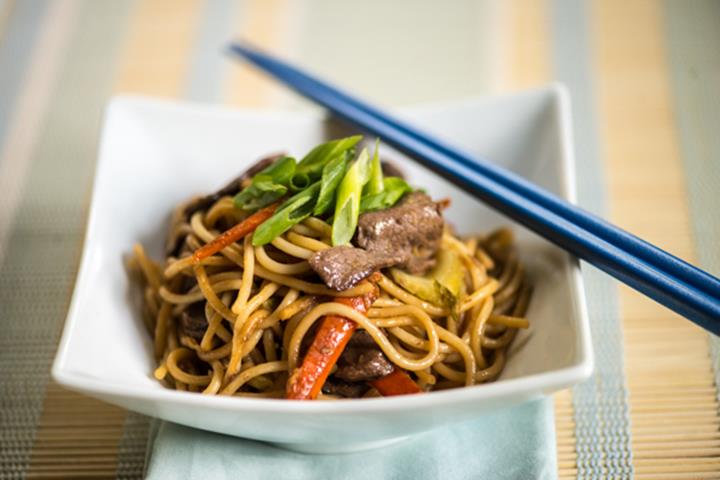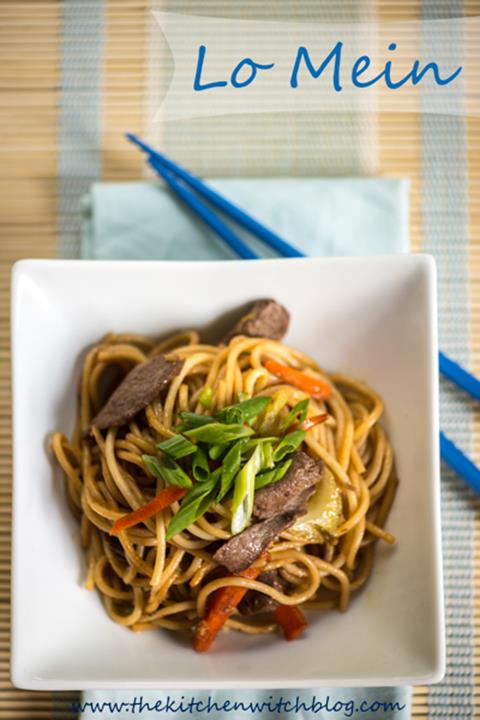 Venison Lo Mein
2016-06-09 20:29:50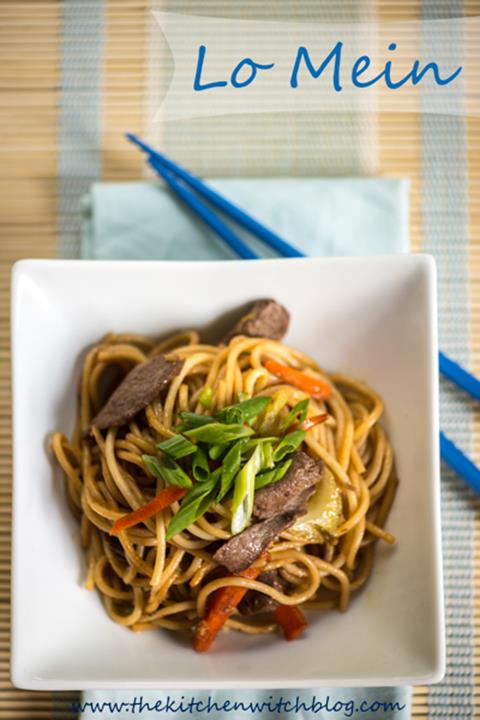 Serves 4
Ingredients
8 ounces regular spaghetti noodles cooked according to package directions
Sesame oil (begin with a small amount)
2 tablespoons canola oil
1 pound beef steak (like chuck), sliced thinly (easier to slice if partially frozen)
¼ cup hoisin sauce
2 tablespoons soy sauce
2 tablespoon minced fresh ginger
3 cloves garlic, minced
4 green onions, sliced white and green parts divided
2 large carrots, julienned
2 stalks celery, thinly sliced
¾ cups bean sprouts
Instructions
Rinse the cooked spaghetti noodles thoroughly and toss in sesame oil (careful, a little goes a long ways).
Combine the hoisin and soy sauce in a bowl, set aside. In a wok or large skillet, heat 1 tablespoon of oil over medium high heat. Add the ginger, garlic and green onions (white part only), stir fry for 30 seconds then add the carrots and celery, cook until tender crisp, add the bean sprouts and cook another 30 seconds, remove from pan and set aside.
Heat the other tablespoon of oil, when hot add the beef and stir fry until no longer pink. Add the noodles and stir fry until they are lightly browned, add veggies back into to the wok and stir fry quickly to mix. Add the soy-hoisin mixture and stir to coat.
Garnish with green onion tops or chopped cilantro.
Adapted from Whole Foods Market
Adapted from Whole Foods Market
The Kitchen Witch http://www.thekitchenwitchblog.com/