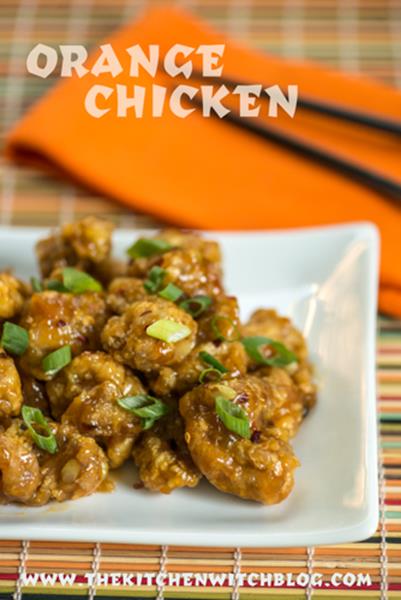 I really wish that I could share a taste of the food that I post about it; a taste replaces a thousand words. Sometimes I struggle trying to articulate how incredible a recipe is. I find myself consistently falling back on yummy, delicious, tasty, awesome, etc. Sometimes I get so desperate that I make up my own little words to express, let's say the oranginess of a dish. Like this dish for example, it is by far the best orange chicken recipe I have ever had the pleasure to introduce my taste buds too.
It's that perfect blend of sweet oranginess with a little bit of spice. The chicken is über crispy with a perfect sticky glaze, not the usual goopy over sauced and slightly soggy chicken you get at a Chinese restaurant/buffet/take-out. I just wish you could get a taste of it, I wouldn't have to say a word, you would know!
Did I mention that apparently the English language doesn't seem to have enough descriptive words so I have to rely of foreign language sometimes? Okay, the English language has more than enough descriptive words; my command of the English language is probably a little weak. And after 8 years in Europe, I have gotten used to throwing a little foreign language spice into my every day speaking (that's my story and I'm sticking to it).
This recipe for Orange Chicken is so tasty that I boldly told my cooking class last month that they would never be able to order orange chicken again, after tasting mine; it would ruin it for them. I'm not usually such a braggart but it's just that delicious. And you know what? The class, after just one taste, whole heartedly agreed!
I've lamented before that until just recently, Great Falls has lacked a decent Chinese restaurant, which has forced me into developing some of our favorite Chinese recipes to make at home. I can't take full credit for this recipe though because, what I believe to be the key ingredient to this recipe, came from Marc over at No Recipes. It was his use of orange marmalade that I thought was genius and made the sauce portion of this recipe a snap to prep. His orange marmalade/juice combo was the perfect springboard for me.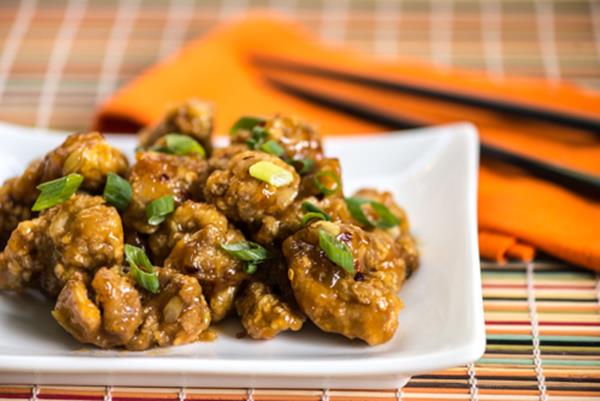 While the sauce is easy to prepare, the coating and deep frying of the chicken is a bit tedious unless you have a large deep fryer (Cooks Warning! Just the plain fried chicken portion of this is awesome, you may find it difficult to leave any chicken to be sauced). To take a little work out of the chicken prep, I buy a bag of frozen naked chicken tenders, thaw and cut them up. To healthify the recipe, instead of breading and deep frying the chicken, simply stir-fry the naked chicken in a wok or large frying pan over medium high heat until no longer pink, then continue to follow the rest of the directions. It's not the same but it is just as yummy as the deep fried version, plus it comes together quickly making it a great weeknight meal.
One of these days I'll have to share my awesome recipe for fried rice, I learned a little trick from a Thai babysitter I had, and trust me it makes all the tasty difference in world.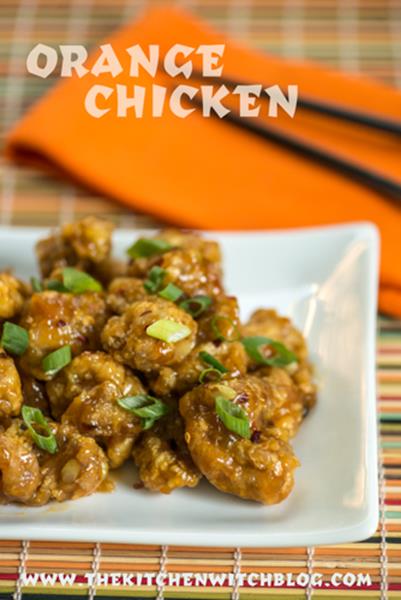 Orange Chicken
2016-06-09 20:21:25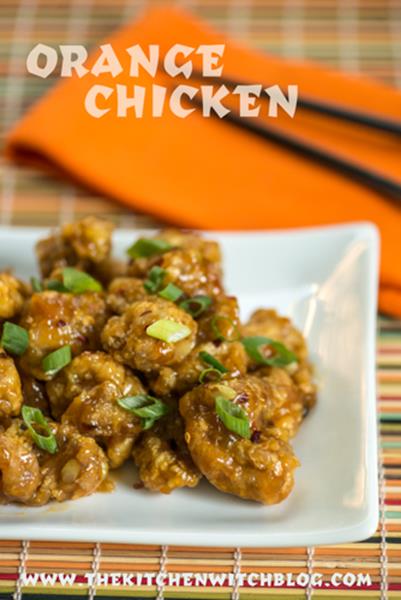 Ingredients
2 pounds boneless skinless chicken, cubed
2 eggs
1 tablespoon of water
1 ½ teaspoons salt
¼ teaspoon white pepper
½ cup cornstarch
¼ cup flour
Peanut oil for deep frying
Sauce
2 cloves garlic, minced
1" piece ginger root, peeled and minced
½ teaspoon crushed red peppers (more or less to suit your taste)
4 green onions, sliced white and green parts separated
1 tablespoon rice wine vinegar
1 1/3 cup orange juice
2 tablespoon cornstarch
1 1/2 tablespoons soy sauce
2/3 cup orange marmalade
Instructions
Heat oil in a wok or deep fryer to 350°F. In a small bowl beat eggs with water, salt and pepper. In a separate bowl mix flour and cornstarch. Dip the chicken into the egg mixture then the cornstarch mixture. Deep fry until golden brown, about 3 to 4 minutes. Drain on a paper towel.
In a wok or large frying pan, heat 1 tablespoon of peanut oil over medium high heat. Add garlic, ginger, crushed red peppers and the white parts of the green onions, cook for 30 to 60 seconds, until aromatic. Whisk together rice wine vinegar, orange juice, corn starch and soy sauce.
Add the orange juice mixture and marmalade to the wok, cook stirring frequently until it comes to boil then cook for an additional minute until it thickens. Add chicken and toss to coat. Serve immediately. Garnish with green onion tops.
The Kitchen Witch http://www.thekitchenwitchblog.com/