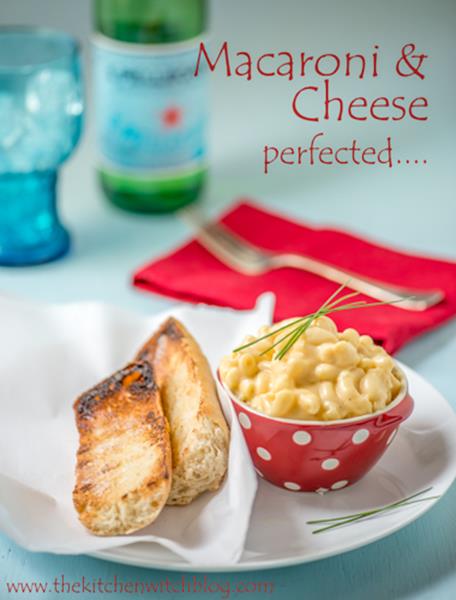 Macaroni and Cheese…perhaps the ultimate comfort food? Mac-n-cheese has been a staple all my life, only it came in the form of a box, not homemade. Typically not the blue box that you may have been thinking of; we were usually stocked up with that plain white box with the black lettering MACARONI AND CHEESE with a bar scan on it. Anyone remember when all the 'generic' foods came out? Sometimes my mom (and later myself) would add extra cheese, cut up hot dogs, etc. in an attempt to fancy it up a bit (not that hotdogs are considered fancy, nor the government cheese we used).
I didn't have really great macaroni and cheese until I was an Airman stationed at Langley AFB, VA. One of our Red Cross Volunteers (who was French) had brought some macaroni and cheese with ham in it to a pot luck. One bite and it changed my macaroni and cheese world. Rocked it to the core, I took a bite and visions of cheese wedges danced before my eyes. I buried myself in the creamy dreaminess of it; the sauce coated my tongue, enveloping it in this white pool of cheesiness. Even after swallowing, the cheese flavor clung to my palette, letting me savor the in between times almost as much as the bite itself.
Ah yes, I remember the shock of the whiteness of it. Never in my life had I partaken in a macaroni and cheese that was white. How could this be, where is that familiar orange sauce clinging to the noodles? Not being shy, I asked, I needed to know about this macaroni and cheese. It's not every day that you encounter something familiar yet so different, so better. This is when I discovered that,* gasp*, yellow cheese was not naturally yellow or orange. I had so much to learn…
Ever since that day I have tried every variation and probably every recipe for macaroni and cheese. It's been a quest of mine to make the perfect macaroni and cheese. I had set standards that it had to meet. First and foremost it had to be the cheesiest cheesy macaroni and cheese, if it only has a hint of cheese flavor, why bother? It needed depth of flavor, if I just wanted to taste melted cheddar cheese, I'd have a cheese dip. And lastly it had to be creamy, and it needed a sustainable creaminess, one that could with stand baking.
The experiments have gone on for nearly 30 years, seriously that's how long I have been testing, experimenting, and jotting down notes trying to come up with my perfect macaroni and cheese. I don't take perfection lightly! When I thought that I had perfected the recipe, I made it many times over, shared it out and sought feedback. Over and over the response was perfection!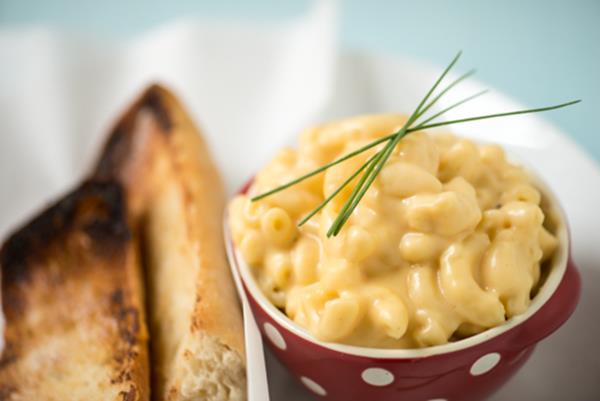 I stuck to the classic elbow macaroni, I wasn't trying for creativeness; I was going for the perfect cheesy and creamy macaroni and cheese. The only seasoning used was salt and pepper. The basic white sauce was made with plain unsalted butter, flour and each and every type of milk. I found that the variations from skim, to whole, to half and half didn't add much except a lightness or heaviness to the sauce, in the end skim milk was what worked best for us since that is what we keep on hand. Plus the cheese seemed to make up for any lack of fat in the milk. Again, my whole purpose was to accentuate the cheese in the macaroni and cheese, not create a mac-n-cheese related dish.
Therein lays the crux of the whole dish. The cheese. Isn't that what really makes the dish? The macaroni part; is what it is. It stands well on its own; the only major variation typically is the shape of the pasta. So back to the cheese; I used a combination of three high end cheeses and another that might surprise you. Without a doubt I knew that cheddar was in the game, sharp cheddar, in this case Irish sharp white cheddar. Sharp cheddar adds volumes of flavor, it's the bang for your buck in mac-n-cheese, but sharp cheddar isn't super melty/creamy. Enter the darling Fontina, it's a mild semi-soft cheese and one taste will tell you it is pure luxury. But just those two cheeses were not enough, the cheese flavor lacked depth, a certain je ne sais quoi.
So I relied on one of the great kings of cheese, Gruyere, well known for its ability to melt (think fondue) and its slight nutty flavor. Yes, Gruyere added the depth of flavor I wanted, but it tends to thicken the sauce and is a wee bit stringy like its sister Swiss cheese. All three of these cheeses contributed a unique flavor, they all melt fairly well but overall as a unit, they lacked in the creaminess department. The Fontina is creamy, but adding more to compensate for the other two would dilute the flavor and increase the cost significantly.
Here's where I veer off from what seems like a gourmet mac-n-cheese. I take this mac-n-cheese straight to the gutter; it has to go there to achieve the results I wanted. The final cheese, drum roll please, is Velveeta. Now before you get all up in arms about processed cheese food, make sure you do your research. This Discovery article does a good job of explaining how it's made without bias. Not all processed foods are bad (I home can and dehydrate, i.e. process my food). While I truly believe commercially processed foods should be limited and you certainly control more of what's in your food when you do things yourself, I also believe that everything has its place and most things in moderation aren't the devil.
In other words I feel no guilt or shame in using cheese that has been melted and processed to form a certain consistency, color and shelf life (I did mention above that we ate the free government cheese a.k.a. American cheese a.k.a. processed cheese food). In order to get all the creaminess and something with such a mild flavor so as to not over shadow my crème de la crème cheeses, Velveeta was the perfect answer. And let's face it, who's eating mac-n-cheese to be healthy? Oh and Velveeta adds that color that I'm used to (some things are hard to let go of).
If you can't bring yourself to wallow in the gutter for perfection, there are many sites out there that have recipes for homemade versions of Velveeta.
I myself couldn't be happier to finally have perfected macaroni and cheese, perfected for us.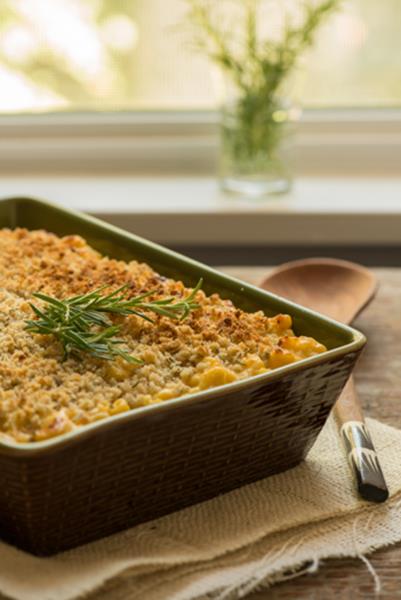 Please note that this recipe makes a huge portion! The first night we eat it straight from the pot when it's at its ultimate creaminess and purity; the next day it becomes a casserole. The one pictured has some sautéed kale mixed in and was topped with a rosemary and super hard as rock ciabatta rolls turned into bread crumb topping. If it has kale in it, it automatically makes it healthy, right?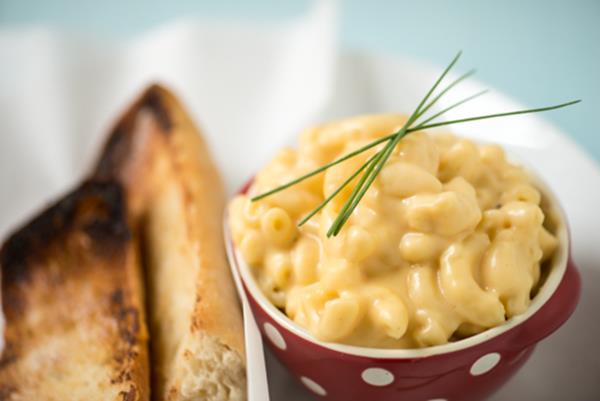 Macaroni and Cheese Perfected!
2016-06-09 20:18:01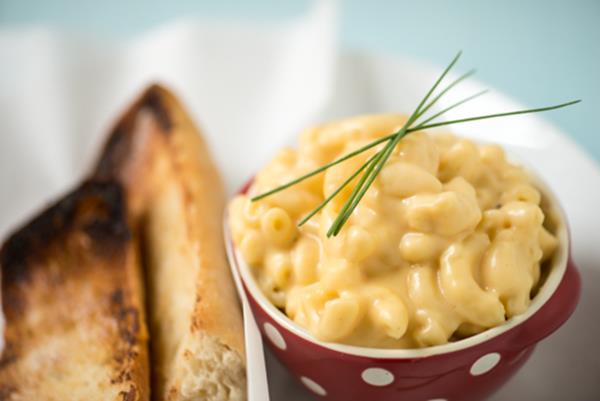 Ingredients
1 pound elbow macaroni (or other suitable small pasta)
1/3 cup unsalted butter
1/4 flour
4 cups milk
16 ounces Velveeta cheese, cubed
1 cup grated Fontina cheese
1 cup grated Gruyere cheese
1 cup grated sharp cheddar cheese
Salt and freshly ground black or white pepper to taste
Instructions
Cook macaroni in a large pot of salted water according to package directions for al dente. Drain macaroni and set aside, in the same large pot melt butter over medium heat. Sprinkle flour over butter and whisk to remove any clumps, cook until butter and flour are hot and bubbly (do not brown). While vigorously whisking, slowly pour in milk. Continue to cook and whisk occasionaly over medium heat until sauce begins to boil.
Boil for 1 minute, whisking frequently. Add cheeses and continue to cook until cheese melted, stirring occasionally.
Add drained macaroni, salt and pepper to taste. Note that the sauce will look a bit thin, but as it cools it will thicken.
Eat immediately or place in a 9x13 casserole and bake for 30 minutes at 350°F.
For the Casserole pictured add 2 cups of sauteed kale. For the bread crumb topping: in a food processor add 1 cup bread crumbs, 2 tablespoons slightly softened butter, 2 tablespoons dried rosemary and 1/2 teaspoon salt. Pulse 5 or 6 times or until blended. Sprinkle on top of macaroni and cheese. Bake as directed.
The Kitchen Witch http://www.thekitchenwitchblog.com/