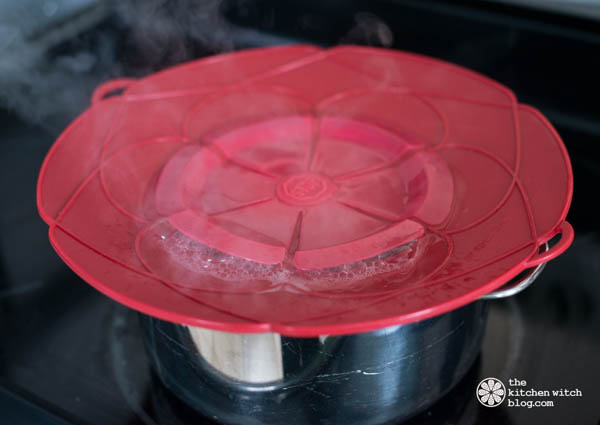 It's very rarely that I do a product review. Mostly I have a love hate relationship with kitchen products, gadgets and gewgaws (yes that's how you really spell "gee-gaws" and yes it really is a word…thanks spell check and Dictionary online for clearing that up for me). New kitchen items are so exciting, there's this hope that it will making our cooking life easier, quicker, professional and of course easy to clean-up and use. Oh wait, could it also do multiple things so I can save space and money? Every purchase I make is with these very high expectations; seemingly very few things seem to meet those criteria, regardless of the cost or brand. I have been dearly disappointed with the most expensive item, to a top brand name item, and sometimes been happy with cheap and 'As Seen on TV' stuff, seems like you just never know.
Last month while I was at my favorite kitchen store, Pizazz, I noticed this silicone flower looking spill stopper. Veronica, the owner, started praising them and explained that they keep pots from boiling over and they could also be used as a splatter screen. A two in one silicone kitchen product, I was sold, albeit still a bit skeptical. Now that I have been using it for a month I have to say that I looove it. Of course you probably already guessed that because I don't post anything that I don't love.
Because I heart my kochblume (kitchen flower) I thought I'd share with you my home demo photos so you can see for yourself (BTW I was not compensated nor asked for my opinion, I'm just giving it anyways). First of all the kochblume is made of silicone which makes it heat safe, dishwasher safe and virtually indestructible. The flower is designed to cover pots and pans while cooking, depending on the size of your kochblume will determine the max size of pot that it will cover. I purchased ($34.95) the extra-large one, which comfortably covers up to a 12″ pan.
In the center of the kochblume are lightweight removable silicone petals. The petals function is to allow steam and moisture to escape and the concave shape of the kochblume allows liquids to puddle on top without causing boil over onto the stove top. When you remove the petals (they are a single unit and can be removed by pushing up on the center stub) it opens the center so that it can be converted into a splatter guard.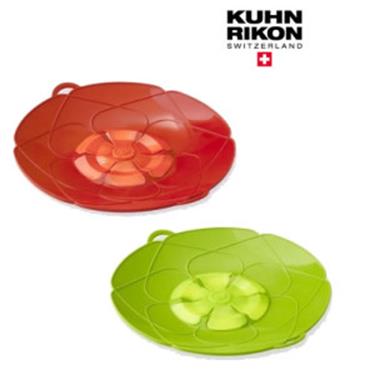 In my house we fry a lot of bacon, probably too much health wise, but I don't care we like bacon and will probably never stop eating it. As a matter of fact I'll be making a lot more bacon in the future, I'm back to developing recipes and taking photos for Pig of the Month (a company that I drool over…good stuff I tell ya). I really am not a fryer, I like to sauté, grill, bake, broil, steam, boil but rarely fry…except bacon. I know I can use the oven method but it seems a waste for just a few pieces and I don't like it microwaved. So frying bacon is what I do and boy can it make a mess, especially when you have an old house without a hood vent.
Clam Chowder was on the menu for tonight; I cut some lardons of bacon and fried away. First I cleaned my stove…then I fried away using my kochblume as a splatter guard.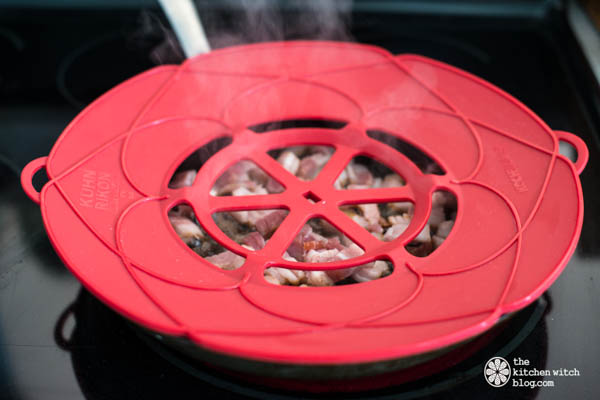 It did an excellent job of containing the splatter, yet it was open enough to let steam out allowing my bacon to get crispy.
I did have to lift the cover to stir the bacon which resulted in a little bit of splattering, and I mean very little. I used a wipe to demonstrate the little that was left (unfortunately the grease didn't really show in my photo on a black stove).
I've had many splatter guards before, you know those fine mess jobbers with handles? They work fine for a guard but don't last long, they rust in the dishwasher and eventually the screen pops out.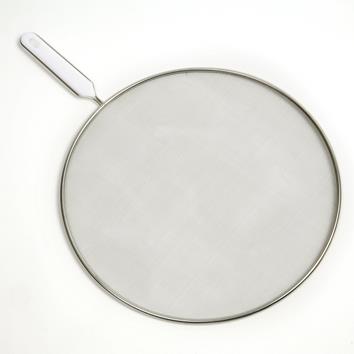 I also used the Cuisinart metal splatter guard which is stepped to fit multiple sized pans and has a little steam escape. I thought it was slick and loved it, even after the plastic steam cap broke; however it was awkward to store (which is how the little steam vent got broken). The kochblume is very easy to store, and probably won't get broken when a teenager tries to shove it in a drawer.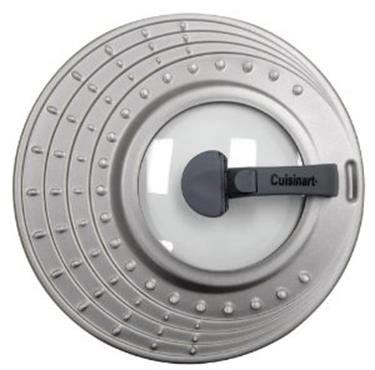 Onto the next demo; I over filled a large pot with salted water and set it to boil on the highest of heat with my kochblume (center installed) over it. First off, water boils faster when covered so it helped bring my water up to temperature faster (ever try to watch a pot boil, 'nough said).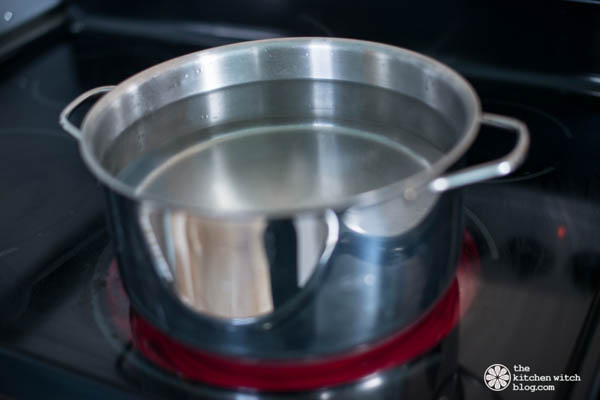 Once it got going good you can see where the steam and water bubbles up through the delicate petals and pools in the center, never once boiling over! For once it was fascinating to watch a pot boil.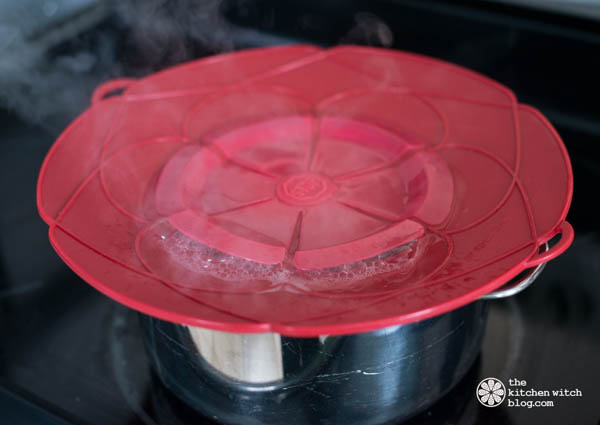 I'll have to try this on my cauldron sometime…
Some things to be cautious of, it does get hot; you'll need to use protection. If you remove the top to stir your pot it could boil over immediately (I move mine off the heat for a moment, lift the kochblume, stir, replace the kochblume and return back to the heat. Condensation will build on the bottom of the kochblume whether boiling or frying, keep that in mind when you remove it and allow the excess liquid to drip into the pan/pot. Other than that there isn't any other negative thing I have to say about it.
If you are interested you can find the kochblume at most kitchen stores, at Bed, Bath and Beyond, Amazon, Williams and Sonoma and Sur La Table (they have a little video of it working).