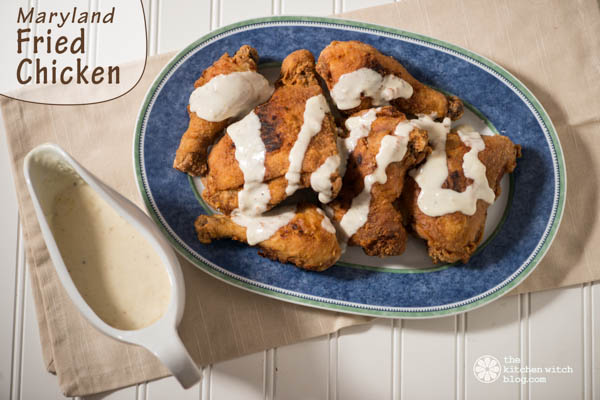 I've had some cooking nemesis in my day, you know the dishes that you just can't seem to get right? For many years I struggles with making a good flour based gravy, it is simple to make but I just was trying too hard and would come out with lumpy flour-y gravy. Yet I could make a béchamel sauce, when I realized a flour based gravy is really the same as a béchamel/white sauce the pressure came off and those bits and baubles on the bottom of my pan didn't freak me out, they got easily incorporated…well anyways, I just kept trying till I got it right.
Consistently poaching eggs is still a nemesis of mine. I've tried all techniques, new and old eggs etc. I get a nice one every now and then but sheesh, I want it perfect every time! I'll still keep plugging away at it (even ugly poached eggs still taste good so it's not too much of a hardship).
The other nemesis has been fried chicken. Real fried chicken. For the life of me I just couldn't get the damn fried chicken right. Maybe it's because I never grew up with it (we always had the Colonel or Banquet frozen fried chicken). Truthfully I just don't fry much with the exception of eggs and bacon. Sauté, boil, simmer, roast, bake, grill, sear…those are my cooking world. Problem is, sometimes I get a hankering for fried chicken and there just isn't a decent place around here for fried chicken (although Popeye's on base is fairly close). Most certainly no one in Montana is serving Maryland Fried Chicken.
Never heard of it? Not surprised, it hasn't rocked the fried chicken world like the traditionally southern buttermilk fried chicken, or Louisiana style fried chicken, or chicken and waffles. I think that fried chicken and spaghetti is better known. Obviously Maryland Fried chicken is the norm in Maryland, as matter of interest, I used to live in Maryland. Attended grades 1-3 in Waldorf. Then later in life I lived in Virginia, which isn't Maryland but very close. It's this military brat/life that's made me a culinary mish mash and why I don't subscribe to any one style of cooking.
Anywho, let's keep to the subject at hand. Maryland Fried Chicken. What makes it different? First off this is a pan fried chicken, not oven fried, not deep fried…pan fried. It's a simply seasoned flour based coating but then it's finished off with Old Bay seasoning (Maryland – crabs – Old Bay seasoning – chicken…see how it's all connected). Lastly this chicken is smothered in a rich and creamy chicken gravy. Hells ya, and it's good too. There's nothing like taking some deep fried meat and slathering cream based gravy over it to harden up those arteries and take a few years of your life. And you know that I had cream left over so I went ahead and made some mashed potatoes with butter and cream and slathered it with more of that cream based chicken gravy. The only thing that kept us from keeping over right there at the dinner table was my home canned green beans, they had to counteract all the fatty goodness somehow.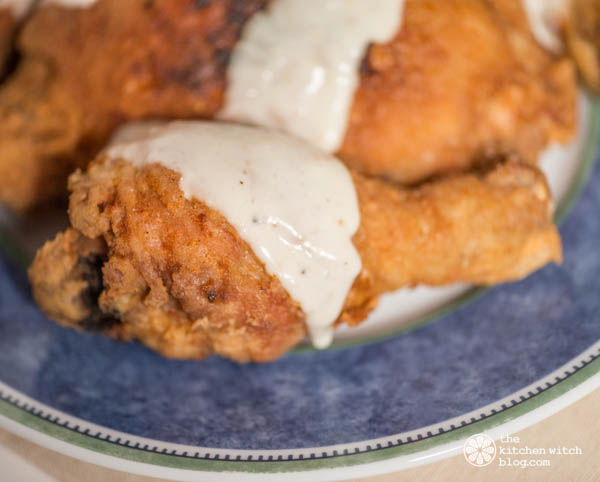 Okay so how did Maryland Fried Chicken help me conquer my fried chicken nemesis? How did it help me beat crispy on the outside, raw on the inside or cooked on the inside and burnt on the outside, or help the breading/batter is falling off/sticking to the pan? Fried chicken regardless of what style is all about technique and that is where I just wasn't quite getting it right. However the recipe I used to make Maryland Fried Chicken had explicit instructions and it seems like this method was the best for me. I'm going to have to thank America's Test Kitchen for learning me good.
For a good fried chicken start with a nice heavy Dutch oven, although you won't have that much oil in it the depth helps keep the splatter down and it's deep enough that a thermometer can be attached to the pot. That's the other important part, temperature control. I really struggle with that because I have an electric stove top, another solution is to use a separate induction burner…and that my friends is a wonderful thing. You tell it what temperature you want and it happens! I still use my thermometer though so I know when it's just right. Choosing the right cooking medium is also critical, peanut oil or Crisco is the best according to the Test Kitchen, I use peanut oil. And lastly is knowing that different pieces require different cooking time. I only cooked chicken quarters (separated), mainly because it was buy 1 get 2 free at Albertson's (hence my craving for fried chicken). The legs, wings cook faster; use a meat thermometer to check for doneness, remove the thoroughly cooked chicken to a cookie sheet fitted with a cooling rack and keep warm in the oven while the bigger pieces finish cooking.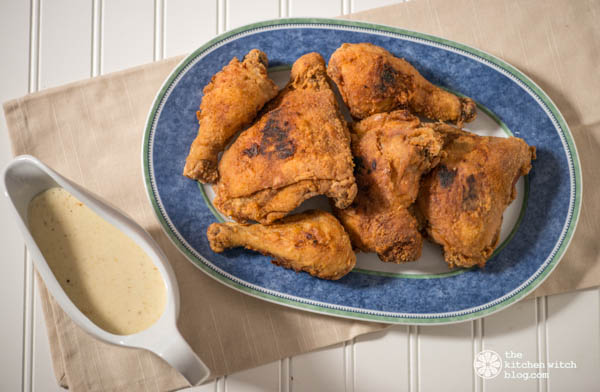 Whew, my frying chicken nemesis has been conquered, now about those poached eggs….
Maryland Fried Chicken Recipe
2016-06-08 22:15:54
Fried Chicken
4 pounds bone-in, skin-on chicken pieces
1 tablespoon dry mustard
1 tablespoon garlic powder
1 teaspoon salt
2 cups unbleached white flour
1 teaspoon baking powder
3 cups peanut oil or Crisco
Old bay seasoning
Cream Gravy
¼ cup pan drippings (from frying chicken)
¼ cup unbleached white flour
2 cups low-sodium chicken broth
1 cup heavy cream
1 teaspoon ground black pepper
Salt
Instructions
Make the chicken: Separate chicken pieces at the joint, dry chicken with paper towels. In a small bowl mix mustard, garlic powder, and salt, sprinkle over chicken. In a shallow dish, combine flour and baking powder, working one piece at a time, dredge chicken parts until well coated, shake off excess flour. Refrigerate on a plate or platter for 30 minutes (or up to 2 hours).
Preheat oven to 200°F. In large Dutch oven over medium-high heat, heat oil to 375°F. Arrange some chicken in pot, skin side down, cover, and cook until well browned, about 5 minutes per side. Lower temperature to medium, adjusting burner as necessary to maintain oil temperature between 300 and 325°F. Cook uncovered, turning chicken as necessary, until cooked through, about 5 minutes. (Internal temperature should register 160°F for white meat and 175°F for dark meat.) Transfer chicken to wire rack fitted into a rimmed baking sheet, season with Old Bay, and transfer to oven. Bring oil back to 375°F and repeat with remaining chicken.
Make the gravy: Carefully pour off all but ¼ cup of oil in pot. Whisk in flour and cook on medium heat until golden, about 2 minutes. Slowly whisk in broth, cream, then add pepper. Turn heat down to medium low and simmer until thickened, about 5 minutes. Taste for salt and serve with chicken.
Notes
Yields 4 to 6
The Kitchen Witch http://www.thekitchenwitchblog.com/