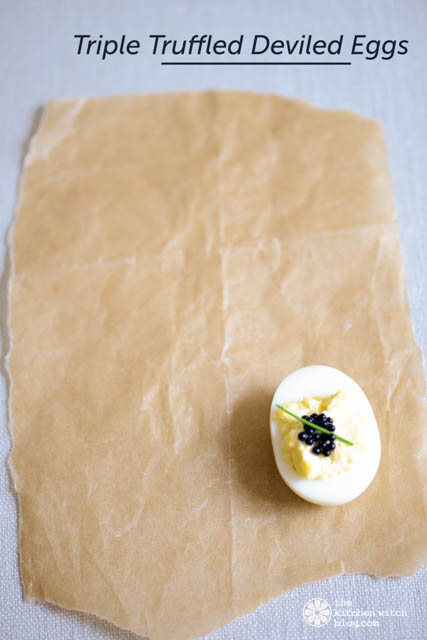 I have never ever seen an episode of Mad Men. It's true. It's on my list, but lately I just don't have time to watch T.V., case in point I have chopped recorded and haven't watched an episode since January…it's filling up my DVR.
So why am I posting a recipe for a Mad Men group post? Because my favorite blogger, Debra from Eliot's Eats invited me too and that's reason enough. I may be eons behind in what's hip and in vogue on T.V. and movies but that doesn't make me completely ignorant. I keep up enough to hold up a cocktail party conversation "wow, can you believe that it's the last season of Mad Men, only seven episodes left" (I just read that in the paper last Sunday).
Although the baby boy swears that I'm a 'hipster' despite my protests that I am far too old to be classified as one, he also seems to ignore the signs that I am not really 'hip' at all. Actually at my age, although I didn't experience the Mad Men era, I am a by-product of it. I am sure that I was conceived after some post cocktail and hors d' oeuvre evening… It could explain my love for both now.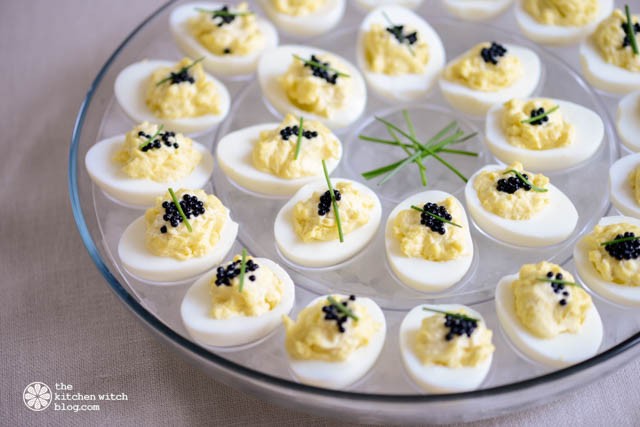 The plan was to make a dish featured on the show or from The Unofficial Mad Men Cookbook, all the bloggers would post their recipe on the same date for a virtual Mad Men party. Party date: April 5th. Yes, just like my DVR watching, I am embarassingly behind. I am out of control! I missed the party (story of my life), but I am posting regardless, for the day I had on my calendar.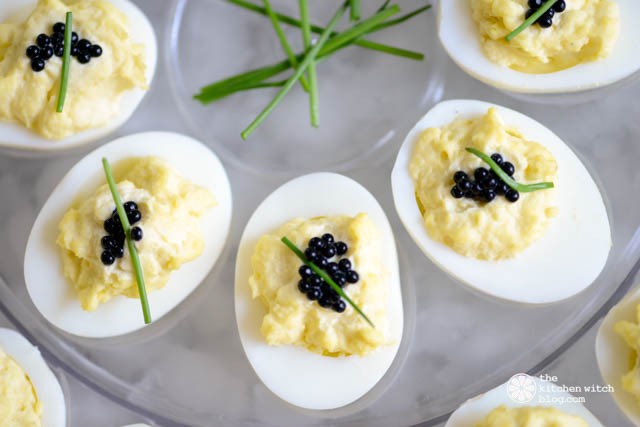 Maybe it's better that I didn't post on time, I didn't really follow the rules, exactly. But that's just me, mostly a rule follower…
Yes, I chose a dish featured on the show, "Jerry's Deviled Eggs" (whoever he is–I told you I've never seen even one episode). I chose it for it's timeless quality, and oh yeah, it was Easter. Deviled eggs are a no brainer for Easter dinner. Because I have the distinct inability to follow a recipe exactly, I did a spin on the eggs that I think if Mad Men were to take place today this would be the way a deviled egg would be served.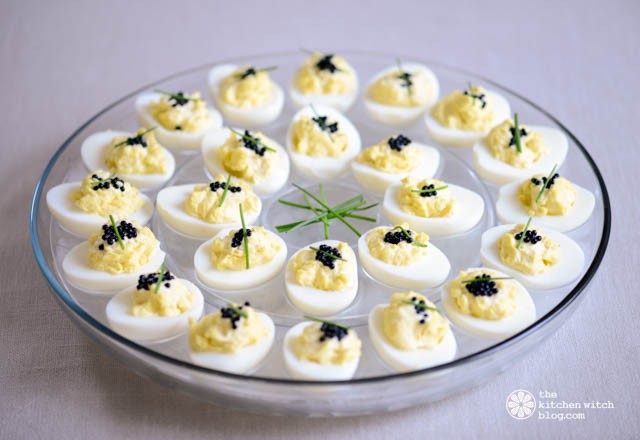 I decided on nothing but the best for my eggs, and when it comes to the best ingredients, truffles are certainly up there on the list. I truffled up my eggs two ways in the mixture with truffle salt and truffle oil. Then I made a dramatic statement and topped them off with: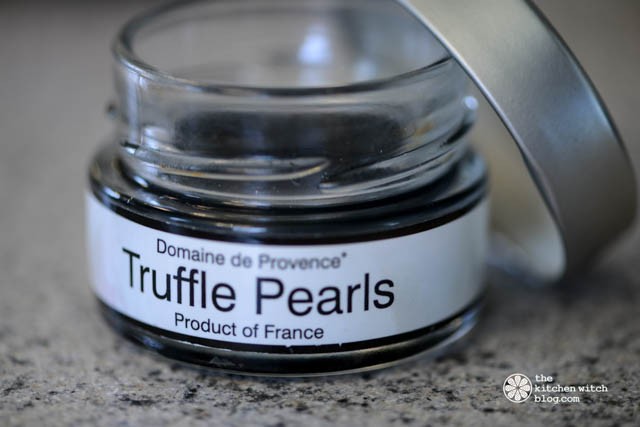 The advent of modern gastronomy has made it possible, through spherification, to take truffle juice and turn them into beautiful black pearls that end up resembling caviar. Not only do these pearls add a burst of truffled flavor they are strikingly beautiful! I purchased my Truffle Pearls from Amazon.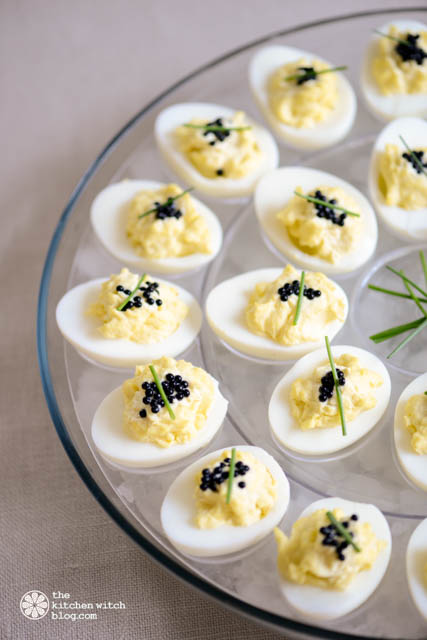 If I had more time I probably would have piped the filling in my eggs, but honestly I still think they are quite beautiful in that rustic/elegant way. My experience with deviled eggs is that they almost always are the first to disappear (they are devoured so fast does it matter how the filling looks?). Maybe because they are a rare treat? Is it because almost everyone has fond memories of them? More likely it's because there is always a limited quantity. A dozen of eggs makes 24 pieces, that's it–done deal; after all, who has another deviled egg serving tray around their house?
In all my years of making deviled eggs (and I have many years of making them), I have learned to always cook a minimum of 14 eggs. Invariable one egg will crack and be useless or I'll tear the white removing the yolk. Then there has to be that extra egg that gets the same treatment as all the other eggs. This egg goes to McGyver, a devil for deviled eggs. If I don't feed his deviled egg appetite he will snatch up some eggs when I'm not looking and I can't have that! That would be like taking serving a birthday cake with a piece missing.
Whether you want to party like Mad Men or you just want to feed your inner devil, you will not be disappointed with these deviled eggs. These eggs could very possibly be the best ones I have ever made. Oh and one more note, I took these eggs to an Easter dinner with friends, and yes, they were the first things to go, was anyone surprised?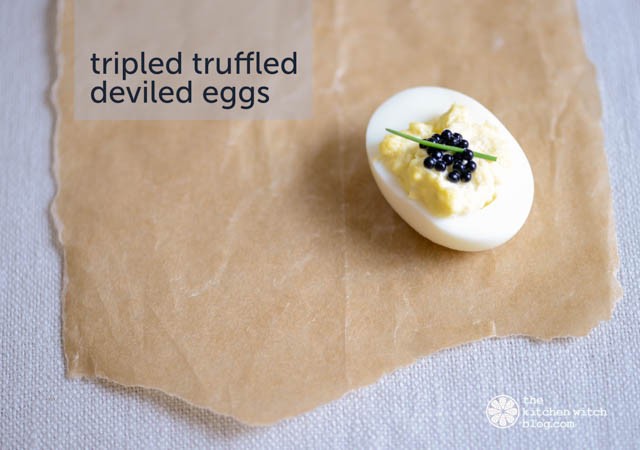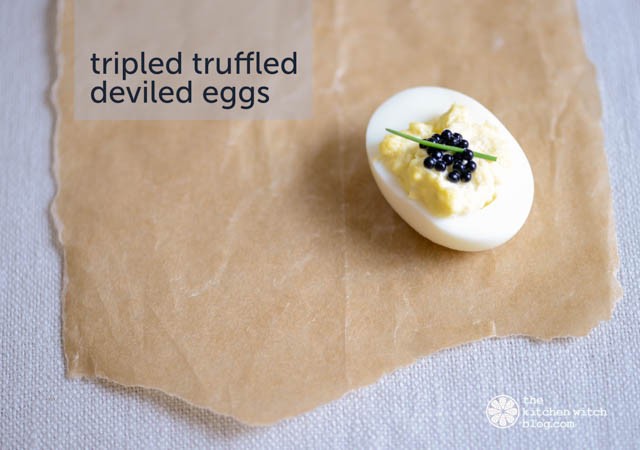 Triple Truffled Deviled Eggs
2016-06-08 15:57:21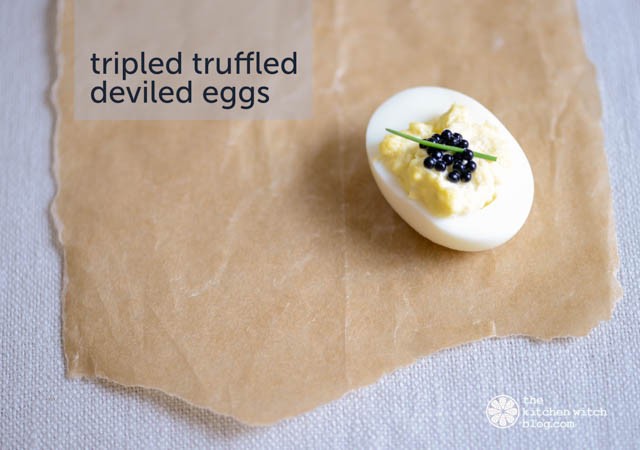 Ingredients
1 dozen eggs, hard boiled
1/2 cup mayonnaise
2 teaspoons black truffle oil
1/4 teaspoon black truffle salt (plus more to taste if needed)
pinch of cayenne
2 tablespoons black truffle pearls
chives for garnish
Instructions
Split hard boiled eggs in half length wise. Scoop out yolk with a spoon. Place all the yolks in a medium bowl, using a fork or the end of a whisk, break up the yolk into tiny pieces. The small the yolk the smoother the filling will be.
Add, mayonnaise, salt, cayenne and oil, blend until smooth and creamy (and more mayo if needed). Spoon or pipe into egg halves, top with truffle pearls and chives.
Notes
For perfect peeling hard boiled eggs use eggs that are at least a week old or pressure cook them.
To pressure cook eggs, place a silicone holder in the base of the cooker, add 1 cup water. Add eggs in one layer about 7 typically fit. Cook on high pressure for 5 minutes, release steam, remove eggs and plunge into ice water to stop the cooking.
The Kitchen Witch http://www.thekitchenwitchblog.com/
Although I am late, Judy (organizer of the postings) assured me that I did not miss the party, guess I'm just more than fashionably late 😉
For more Mad Men recipes click on the image below