Romantic Weekend/Mountain Escapade
Part 1 of 2
March 20, 2010
It's been a long time since McGyver and I had some real alone time.  For Valentine's Day I bought a romantic night package from Fairmont Hot Springs Resort.  This was the first weekend we had available to go.  It was also a Valentine's Day present for the Baby Boy.  It was to be his first night spent alone without the parents.  He had only two rules: 1. No one was allowed over and 2. Take care of the dogs.
With all that settled we left fairly late on Saturday, McGyver was working with the Scouts collecting food for "Scouting with food".  They collect over 640 lbs of food.  All that work meant we didn't get to head out until nearly 1:00 pm.  Fairmont was nearly a three hour drive.
While the boys were gone, I packed what we needed.  This included a basic picnic lunch for two, sandwich, fruit, trail mix and a bottle of wine.  We couldn't have been luckier, it was a beautiful day, we live in Montana and we were headed to a hot springs resort.  Our romantic package included champagne, chocolate covered strawberries and breakfast in bed.  What could be better?
After driving about an hour or so, we thought we should stop for lunch, only there isn't any place to stop.  I mean NO place to stop.  Not a rest stop anywhere.  We finally saw a sign for one just past Helena and we thought "perfect", the problem is, we get there and it's CLOSED.  First of all Montana for its vastness has very few rest stops.  Really, a place that has less the one million in population and not very many towns, many without services really should have more rest stops then someplace that has gas stations and eateries.
But no, here we are in Big Sky Country, and we got nottin.  McGyver asks me, "should I just pull over when I can?"  I'm starving; I don't care at this point.  We pull off the freeway and onto a little area by the overpass.  It's so romantic….
We get into my nice basket, eat the sandwiches and fruit along the way.  Forget the wine and decide to save the trail mix for later.  Before you know it, we are turning onto Crackerville road.  This is funny to me, so I take a picture.  Really?  If we lived down south, crackerville is probably a name you wouldn't see.
Us crackers headed on down the road and landed at the beautiful hot springs of Fairmont (located in Anaconda, MT).  We checked in then checked out the place. Well first we decided to have some of the wine that we were supposed to have with lunch, then we checked out the place.(pictures)
After getting the feel for the place, we asked for our Strawberries and Champagne. When they still hadn't arrived 45 minutes later, we called the desk who said "we are very busy".  We knew they were since there was a senior church meeting, a family reunion and at least six other things listed on their welcome board, so we just said "leave it in the room we are going to the pool".
We changed into our suits and headed out, as we headed to the elevator we saw our chocolate covered strawberries and champagne being delivered to our room.  Ain't that always the way?  I couldn't believe how warm the water was, my friend Lulu, calls it people stew, McGyver calls it the lobster pot.  Whatever you call it, it was wonderful to have it approximately 50 degrees out and you are soaking in uber warm water.
After our quick dip, we headed to the room (very quickly cause it was now super cold after being so warm).  We enjoyed a bit of not champagne, but Asti Spumanti, and some very delicious chocolate covered strawberries.  We hurriedly got ready and headed down to the Mile High dining room (Fairmont is located over a mile higher then sea level).
We promptly arrived at 7:00 pm for our reservations and they had a nice two top table in the corner for us.  Me no likey. So I spot some tables next to windows and I ask if we can have one of those.  The one table with the big window someone was waiting for, but the table with the smaller window would be available soon if we liked.  I like, so we waited.  McGyver fetched us a couple of cocktails for the wait.
We were seated without much a wait.  Even though the window was smaller, it was a decent view.  We (I) ordered some wine.  I ordered a Mosel Riesling; trying to be romantic and all (which I'm not very good at).  See, McGyver and I used to leave near the Mosel River in Germany, our 3rd, and might I add pivotal date. It was on a Harley ride along the Mosel River.  We did some wine tasting and had some federwein and zwiebelkuchen, well; I just started falling….but that's an entirely different post.
Ashley, our, oh so young waitress; with an even younger voice, brings us our bread and then wine.  Only it's a Rhine River Riesling.  I mentioned that we ordered a Mosel River Riesling and she says "It's the same thing, my boss told me so".  Now McGyver and I are not wine snobs, someone would have to know something about wines to be wine snobs, but McGyver and I know that there is a difference in Mosel and Rhine River wines.  So we take time out of our romantic weekend to educate poor Ashley on how Rhine and Mosel River wines are not the same.
Not to spoil a romantic night, we decide that a German Rhine wine would still fit the bill.  We get our meals: McGyver ordered the stuffed rainbow trout with rice pilaf.  And I ordered the char broiled Muscovy duck in an orange sauce.  OMG, very, very good!
Given that we had some wine (maybe the whole bottle)when we first arrived, a little of champagne Asti, and a cocktail, we really couldn't finish the wine.  No doggy bags, but we screwed that cap back on the wine and took it back to our room!
We changed back into our nice cold swimsuits and hit the hot springs again.  Even better in the freezing night, seriously, it was really awesome.  We are hanging out in the pool and watching the steam rise.  Good stuff, everyone should do it.
After getting our fill of "Medicinal Waters", we headed back up to our room.  Got out of those wet suits and ………………………………..cut to next morning (you don't want to really know the rest of the details).
Breakfast in bed; I ordered our breakfast, we hung out in bed and at the most in opportune moment……breakfast arrived.  We still had leftover champagne Asti, so I mixed it with our OJ and made mimosas.  We ate, we frolicked, we showered, we packed, we checked out. 
We also decided, hey, we aren't that far from our cabin and snow pack this year was minimal, so maybe we should see if we can head up there.  After all, we have all day.  Another adventure begins.
Stay tuned for Part II, the Mountain Debacle.
For those of you who actually read my blog other then the home page, forgive me.  I am having techinical difficulties and haven't been able to load my pictures.  They will be coming…..
On the road again…
March 7, 2010
I haven't traveled for work since June last year so I jumped on the chance to come to Missoula and provide some management support.  I love to travel even if it's only 3 hours away.  Truth is, I've never really spent time in Missoula, just a drive through.  Hopefully I'll get a little time to check out the area. 
Going someplace is so exciting, till it's time to leave.  As soon as I get ready I think to myself, I'm forgetting something.  It's something important, I always for get something important.  I have pants, shirts, shoes, under garments, jewelry, make-up.  My toiletry bag (which is always packed and ready to).  Laptop, camera, battery charger, phone charger, directions, recipes for blog, books.  I'm sure I forgot something, even though I packed everything I own.
With that nagging feeling I hopped in the car and set out.  A beautiful Sunday afternoon and I was headed to the Rockies.  I made my way to Lincoln and stopped at my favorite trading post, Hi-Country. I bought our top 3, Elk sticks (for me), Honey-kist jerky (for McGyver) and Original Pucks (for Baby Boy).
After I left Lincoln I had a V-8 moment (picture hand hitting head and a "duh").  I'm driving through the most beautiful country in world, it's spring-ish, the sun is out, the snow is melting, I have a brand new camera that I haven't tried on landscape pictures….  I want to improve my photo skills, and everything I've read recommends taking lots of pictures, lots of pictures of everything.  Hmm, experience is the best way to learn?  Go figure.  Normally, I'm an animal when I drive, must get from point A to point B, fast.  Probably why I have so many speeding tickets. 
The view, just past Lincoln.
 I checked in, and promptly took some photos of the room.  It is no surprise that the Hilton in Montana would have a rustic feel.  Is there such a thing as rustic elegance?  If there isn't there should be.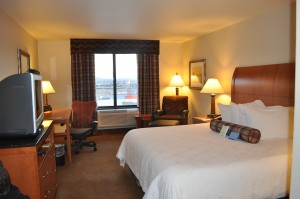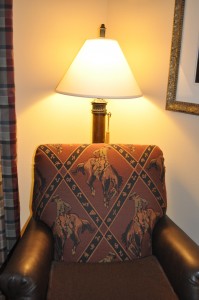 Then I ran into this cool little clock radio.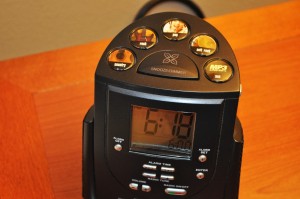 How about a closer look.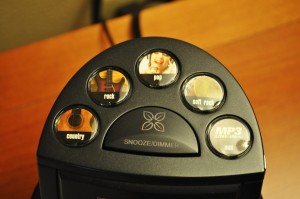 Quick buttons, country, rock, pop, soft rock and one for your MP3 player.  What, no Hip-Hop, no Rap?  Where are we, somewhere in the boonies?  Still, what a cool idea, I didn't have to search for a station.  I unpacked, went to dinner and came back to my room.  I knew it, I forgot something important!  Actually I forgot a couple really important things.  You know that toiletry kit that is packed and ready to go at all times?  Not so much, my travel toothbrush and toothpaste are MIA.  Good thing I've got a couple of disposable ones in my purse, that'll get me through tonight and tomorrow morning (I guess I'll be buying a new travel brush and toothpaste).  I forgot my medicine too, looks like it's over the counter stuff for the week.
The most important thing I forgot?  McGyver and Baby Boy. Well, I didn't really forget them, but it feels like it.  As much as I love to travel, I'd rather travel with family.  Kiss, kiss, goodnight McGyver and Baby Boy.
The Band Geeks are gone, the Band Geeks are gone!
March 2, 2010
Time is a strange thing when you have company coming over.  It's even stranger when you don't even know your company.  We volunteered what seems like eons ago (read 1 month ago) to host 2 band members from the Missoula Hellgate High School.  Yes, it is a real high school; yes, it has Hell in its name…hey it's Montana we don't give a damn if you think that's appropriate or politically correct.  Back to the topic at hand, time…it seems to slip away from me.  The h-e-double hockey sticks-gate (just in case the real names offends you) band students were coming and I carefully planned a menu that would at once dazzle and comfort them.  Not knowing their food preferences I relied on what I thought would be some sure things (see previous post).  I procrastinated cleaning the house which made time move nice and slow, then the weekend before they arrived came upon me quite suddenly.  You know how it sneaks up on you, and BAM, before you know it, you  have to do everything you planned in a short amount of time.  So, the fam kicked into high gear, thanks to my witchiness, and pulled through.  We were ready for the …drum roll please….Band Geeks.
We picked up Josh and Mark right on time, I mean, I drove, and Baby Boy went to great them.  He informed me that my sweatshirt and slippers were not acceptable to grace his school.  Really, how embarassing would that be?  So I waited in the car and next thing I knew, three teenaged band geeks were coming at me.  One went in, three came out?  Remind me to monitor that in the future.
The nights passed into days, concerts passed into ovations, and before I knew it, I was taking my little hostees to the HS for the last time.  How did this happen?  They just arrived?  It was great having a house full of  kids again.  And now, now they are gone.  In their wake they left…
This was their basement paradise, okay not so much paradise as basement.  But, it wasn't too bad as far as accomodations went (at least that's what I tell myself).  Please note that these photos were taken after "clean-up", i.e. clothes packed, food wrappers and soda cans thrown away.  Just some dirty bed linen and papers.  I decided to spare you the bathroom photos….you don't want to know!
Speaking of debris, see those two little papers on the floor? No?  Here's a semi-close up.
 
My heart is broken, I am weeping.  Those are my business cards with all the important contact information they needed while they were here.  Now they are gone, they left them, reminders that they don't need me anymore….I am feeling un-needed.  Tossed out like the garbage.  I thought they were such nice boys….I am sad.  But then I find….
 
This, notes of thanks.  And I am touched.  I am thanked for the food, our time and the hospitality (hmmm, even spelled correctly).  I am told "I'm sorry we have to leave…we know that we were like the kids you've always wanted but never had…Just kidding!".  And I am touched.  It has all been worth it.  And really, I would love to have had both of my Hellgate band geeks as my kids, I would have been proud.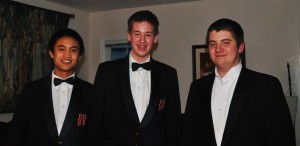 Please note: my Baby Boy isn't wearing his bow tie, it only goes on just before the show and immediately comes off afterwards.  Oh well. What's a mother to do?
Just a side note, we went through 4 bags of blue corn tortilla chips and one recipe Winter Sals-tice.  McGyver helped polish off the crumbs and minut salsa left over.  If you haven't tried this recipe yet, you should.
The Band Geeks are coming, the Band Geeks are coming!
February 28, 2010 
I volunteered to be one of the hostess with the mostess for the AA Musical Festival.  Which means that I have two teenage boys coming to stay with us for two days…oooh I can feel the testosterone already?  Of course I had no idea that when we offered up our hospitality that if would coincide with a big inspection by my company.  Yikes, time off to take care of the boys, ummm, I don't think so.  I decided to practically kill myself getting everything prepped ahead so that I would have everything ready to go.  As in ready, I mean their accommodations and meals.
Saturday was spent frantically cleaning, I know, I know, they are teenage boys and probably don't care.  But I do.  Besides, it actually got Baby Boy to make a dent in his room.  Sunday was spent grocery shopping (at two stores since my main grocery store was missing some vital items).  Then rushing back home and begin to cook….
On the Menu: Breakfast is prepackaged muffins and Danishes for both Monday and Tuesday.   Are you kidding me, did you think I would get up early and cook?  I am not a morning person!  Monday night dinner: BBQ Beef Brisket, 3 cheese baked macaroni, homemade coleslaw, and corn on the cob.  Tuesday: Homemade Lasagna and pre-packaged garlic bread.
So I prepped the brisket (an eight pounder, I figured teenage boys would put a pretty good dent in it) and it's marinating away, made the BBQ sauce.  I made the coleslaw dressing and I have a bag of coleslaw mix standing by.  Whipped up a double batch of baked mac-n-cheese (one for my neighbor who just moved in) and made a big ol' pan of lasagna.  Oh, and I made a batch of my Winter Sals-tice. Whew.
I was going to make up a batch of cookie dough for the international food fair at the Baby Boy's school coming up this Wednesday, but I was just too tuckered out.
Seriously, I spent 3 hours grocery shopping and another 5 hours.  Not to mention harping on the Baby Boy to clean his room.  And also stressing out, and being a freaky little witch to everyone.
We had pizza for dinner, I sat down and watched TV and ate pizza.  All is good.  For now.
Secrets
February 26, 2010
I have a secret.  Its not dirty, its not something I need counseling for.  At least I don't think so.  I love to Karaoke.  Okay, not so bad you think, lots of people enjoy the fine art of karaoke.  Except there is one small problem, I can't sing.  And I don't mean "I'm not that bad", I am that bad. 
When I was a teenager, I dated a drummer in a rock band.  I so wanted to be able to sing and get on stage with him.  I wanted to be his Linda McCartney.  Sex, drugs, rock and roll and I didn't want to be just the girl friend.  I wanted to part of the band, not "with" the band.  I would sing everywhere I went, who knows maybe someday, somebody would hear me and say hey that girl is a rock star.  I'd fantasize about some big shot music producer flying over head in a helicopter with some technologically advanced hearing device and that he would listen through and try to find hidden talent somewhere out there.  That hidden talent could/would be me!
I realized that even the most talented natural singers would benefit from a voice coach.  I found a coach in my tiny little home town and I hired her.  Well I didn't exactly have money, so I didn't exactly hire her, but we came to an agreement.  I would clean her house in exchange for voice lessons.  I thought it was perfect.  I could already see the story after I became famous.  The lead singer of Charisma (that was the name of my boyfriends band) started off as the daughter of a poor fisherman.  She had a dream and nothing would keep her from realizing it.  Even though she lacked money, she didn't lack determination and dedication.  She cleaned her voice coach's house in exchange for voice lesson.  A sweat investment that paid off. 
Or something like that.  I worked, I practiced, I sang, I was living my dream.  Then one day my coach tells me, "Rhonda, in good conscious we can no longer keep our deal.  You can not, nor will you ever be able to sing.  I feel like I'm riping you off".  I was crushed, it ended all my fantasies.
Fast forward to now.  I haven't lost my love of singing, wish I had the talent, but then I discovered something.  You don't have to have talent if you have karaoke!  That's right folks, you only need one of two things to sing karaoke.  1.  You have to be drunk enough to sing in public regardless of how bad you are or 2.  Have your very own karaoke machine.  I've done number one, but the next day/week/months can just be too embarrassing to handle.  Number two seemed more reasonable so I bought my "kids" a karaoke machine to use at home.
Ever now and then, when everyone is out of the house, I slink down to the basement and sing to the best audience any rock star could have; I sing to my dogs, and they love it! And occasionally I get a little tipsy with friends and family at home and torture them, but I try not to bring up the painful memories for their sake.
Mediocrity
February 15, 2010
I've always wanted to be good at something.   No, not just good, but, great, at something; anything.   I'd love to be a great artist, chef, teacher, engineer, something, anything.  It just seems that I'm okay at most anything I try, and good at some things.
McGyver and I were talking about how we just don't have that one thing.  It doesn't matter what the one thing is, it just would nice to have it.  If it wasn't for spell check or grammar check, I wouldn't even be able to write so that the general public could understand me.
What does it take to be great?  Are you born with it?  Is it a passion?  Is it something that you love and have only a mediocre talent that you develop?  Have I not been passionate about just one item and not developed it? Why are my sentences so fragmented and I can't figure out how to word them so that Microsoft Word will see them as complete?  Is Word a reflection of my life?
Is this what all people want?  A sense of purpose, a feeling that we have something to contribute?   I mean significantly contribute?  I've dedicated 22 years of my life to the military, but I was a dental assistant for gosh sakes.  It's not like a protected the country or saved lives, I sucked spit.   Yeah, I helped some people, but I wasn't a dentist.  I was a helper of a teeth savior.  I didn't diagnose, and I didn't save anyone from impending tooth decay, I just assisted.  Not that assisting is a shoddy career, it has a degree of professionalism, but it still seems to fall short of greatness.
What does it take to be great?  How do people get there?  Will I ever get there?  Probably not.  As I flounder my way through mediocrity, I guess I just need to work on being great at mediocrity.  And, that in itself, is a type of greatness.  I have not allowed myself to fall below it; that would be devastating!  So I will continue on as the middle aged, middle manager, who will never be great but I revel in my mediocrity and continue to excel at it. If nothing else, to be great at not being great.
All hail the mediocre for they shall inherit the earth.  Maybe not, but if they do, I will surely be their leader.   
Pizazz, and all that Jazz
February 15, 2010
Every witch needs a good cauldronDutch oven.  I had a great black cast iron one (very witchy looking, I might add).  But it got packed away to go up to the cabin we're building.  It is sitting in storage; my kitchen is just too small to store everything until the cabin is done.
I've been making do with a large stainless steel pot, but it just doesn't work as well.  I finally broke down and decided to buy me a real no kidding cauldronDutch oven.  I wanted the crème de la crème of Dutch ovens (the ones within my budget).  There really is only one place to go in Great Falls if you want premier kitchen items.
Pizazz Kitchen. Life. Style.
Just pulling up to the front of the store starts my heart racing!  The anticipation of shopping for kitchen items is incredible!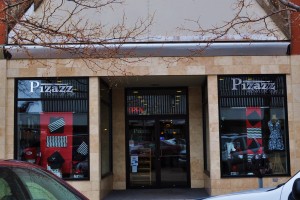 As soon as you open the door you can hear the angels sing "ahhhh", can you hear it?  Yes, my friends this is heaven on Earth!  I was immediately greeted by Ruth, who wanted to know if I was looking for something specific.  Well, actually I was.  I told her that I wanted a Dutch oven.  She immediately escorted me to Le Creuset http://www.lecreuset.co.uk/  and then to the Emile Henry line http://www.emilehenryusa.com .  She asked me questions like "Do you want to use it on the stove?  How many do you cook for?  Is there a particular color you like?"
We decided that the Le Creuset would best suit me needs, plus they were on sale, which also suited me.  Well, I wanted red, and I wanted the biggest pot I could get, but they didn't have the large pot in red.  Hmmm, this is a conundrum.   Ruth had asked me a key question though, "How many do you cook for?"  Honestly there is just the three of us, mostly my food just seems to grow in proportion to the pot as I'm cooking.  So that settled, I went with the red, which I loooove, and the smaller size, which is just right!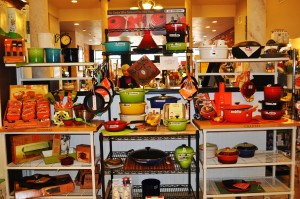 That's Ruth playing "peek-a-boo" behind the Le Creuset Display. 
I asked Ruth if I could take some pictures for my blog and she immediately escorted me back to the owner Veronica Ronnau.  Veronica and I chatted a bit and I found out that she is displaced from Atlanta, Georgia.  What a culture and weather shock to come to Great Falls, but then again I just moved here a little over a year ago from the St. Louis area.
We found out that we had some things in common about the St. Louis area.  Her business partner was at the Kitchen Conservatory http://www.kitchenconservatory.com checking out cooking classes.  I used to check out the site and tell myself that I was going to take a class from there or the Viking Cooking School http://www.vikingcookingschool.com but I never did.  Just a wanna-be, again.  So we almost had something in common.
Veronica informed me that they were expanding and they were going to start offering cooking classes at Pizazz.  Unbelievable, I will have a chance to finally take a cooking class.  This time, I won't just be a wanna-be.
Veronica, thank for sharing your shop with me.  And Ruth, thanks for being so helpful.
Here is some eye candy for all you kitchen witches:
Doesn't it just make you want to shop!  I did and I'd like to say "Welcome Home to Mama!"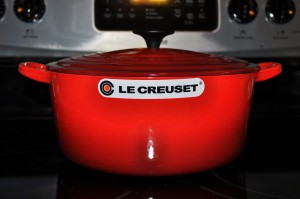 I have a feeling, you'll be seeing a lot of this pot in future!
Guilt Works
February 14, 2010
First I need to whine!  I took some fabulous pictures of my Valentine's Day gifts, all wrapped by McGyver in hot pink paper and turquoise bows.  I snapped some shots of my gifts, I took photos of McGyver's gifts and the Baby boy's gift.  Then I painstakingly took photos, step by step, of the only dessert that I make, Tiramisu.  It was going to be my special post of the day.  Then one small click of a key and I accidentally deleted all my photos off my camera card.  Crushed, yes I was, am.  I only meant to delete the Hollandaise Sauce photos, they were for another day.  But no, they all went away and I was sad. 
On the up side, I will have to make Tiramisu again, just so I can post it.  And since it is my favorite dessert, and it doesn't require baking, I think I'll be okay.
So, onto the real post.
I have a confession to make, I'm not a romantic.  It's true, I know I'm a girl, I'm just not romantic.  It's not that I don't like it, its just that its not a big deal to me.  I have to be romantic on purpose.  McGyver is the true romantic.  That's right, my Harley riding, manly man is the romantic one.  He loves to shower me with gifts like jewelry and perfume.  Or arrange for special nights out, dinner, weekend get-a-ways.  You know, the usual.
Well, this year, I think the guilt got to via my blog.  He had long forgotten that he never got me my Kitchen Witch.  It wasn't until it was posted for all the world to see that he thought maybe it's time.  So guess what I got for Valentines, I bet you can't guess!  Alright, no secrets.  However, I didn't get just 1 kitchen witch, I got 4!  And not just your typical ugly old hag on a broom.  No, my romantic hubby found some super sexy Kitchen Witch figurines.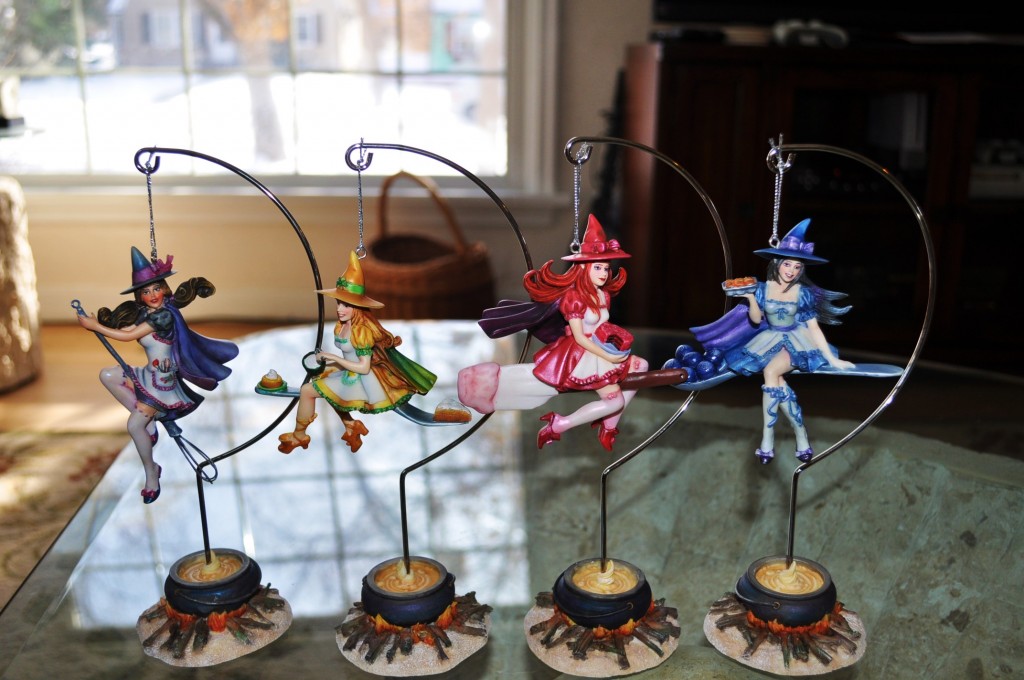 Aren't they adorable.  Here, let me introduce you to each one of them.  They are designed by an artist Brigid Ashwood.
They can be purchased at www.thedragonsite.com.
Meet a Zap of Zest: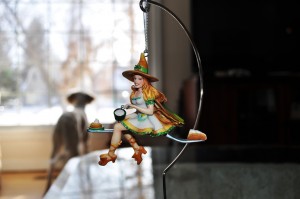 And meet Frosted Fantasia: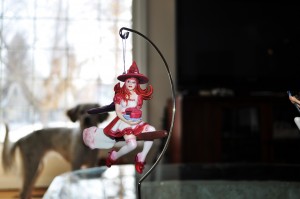 And here's Muffin Magick: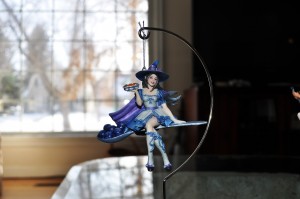 Lastly it's Secret Recipes and Summer Dog: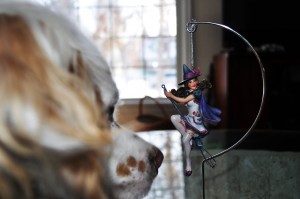 Seriously, how cute are they.  I absolutely love them!  Thank You McGyver for being thoughtful even 7 years late.
As for myself, I thought I'd be a little crafty, and a little romantic.  Honestly, sometimes the best ideas come when you are in the shower.  Ever notice that?  I think it's the sound of the shower water, it's like white noise.  It clears away all the garbage in your mind and allows you to think about what's important.  And so, this is how it happened!  I got the idea of getting McGyver a romantic gift, yes, romantic.  And giving the Baby Boy a gift of his dreams (without costing me anything extra).
Here's a hint: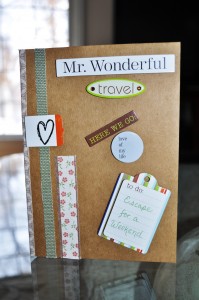 Well, I'm not exactly crafty, but with ready made stick on thingies, it came out okay.  Here's what he (we) got:  http://www.fairmontmontana.com/webspecialdetail.asp?ItemID=4808
Essentially, it's an overnight stay at Fairmont Hot Springs, including Champagne with chocolate covered strawberries, breakfast for two served en suite and 24 hour access to the hot spring pools.  Can't wait!
For the Baby Boy:
So the Baby Boy will get what any teenager dreams of, time away from the parental units.  While we are away, we are going to leave him alone for the first time with only 2 rules:
1.  No friends over while we're gone
2.  Take care of the dogs
This means he can eat what ever he wants, watch movies, play video games, stay up all night, talk on the phone and just relax.
Sounds like a great time.
Happy Valentines Day!
Letting Go
February 10, 2010
My poor Becca had surgery yesterday (don't worry, that's not what I was letting go of).  Since she needed to be nursed at home today, McGyver took the day off to take care of her.  I had a busy day ahead and the Baby boy and I had plans after I got off of work which meant we wouldn't be home until 7:00 pm or later. 
We were out of leftovers, and I don't keep any quick foods around like frozen pizza, so I asked McGyver if he wouldn't mind taking charge of dinner?  He says "sure, what would you like me to cook?"  I says to him, "you're in charge of dinner", he says to me, "I get that, what do you want me to cook?"  Hmph, I says "you are in charge, make whatever you want", then he finally got it.
The reason why McGyver had such a hard time understanding what I said, was because I don't ever do that.  I mean, just leave it all up to him, to cook?  To plan? To prep?  To let go and let him take care of dinner, unspeakable!  You see, McGyver used to feed himself, he even cooked me some nice meals when we were courting.  But I love to cook.  I love to plan, prep and execute the meal (I don't care for the dishes).  So over the years McGyver cooked less, I cooked more and I liked it that way.  But I used to work Monday through Friday, 7:30 am to 4:30 pm.  Now, not so much. 
I let go, and you know what McGyver made?  Spaghetti and big fat meatballs.  Except he made the meat balls with Italian Sausage (so far so good) and Chorizo…what?  He concocted a sauce of left over salsa, diced tomatoes, tomato paste and a bunch of spices.  It looked and smelled wonderful.  I was worried though, he wouldn't tell me what he made the meatballs from, said "you have to try them first", Baby boy waited to try them until after I did, just in case I immediately keeled over.  So I bucked up and gave 'em a bite.
Surprise, it was actually quite good.  Your mind says traditional spaghetti and meatballs, your mouth says, Mexican, no Italian, no Mexican (you get the picture).  You know, I think I just might have to let go a little more often.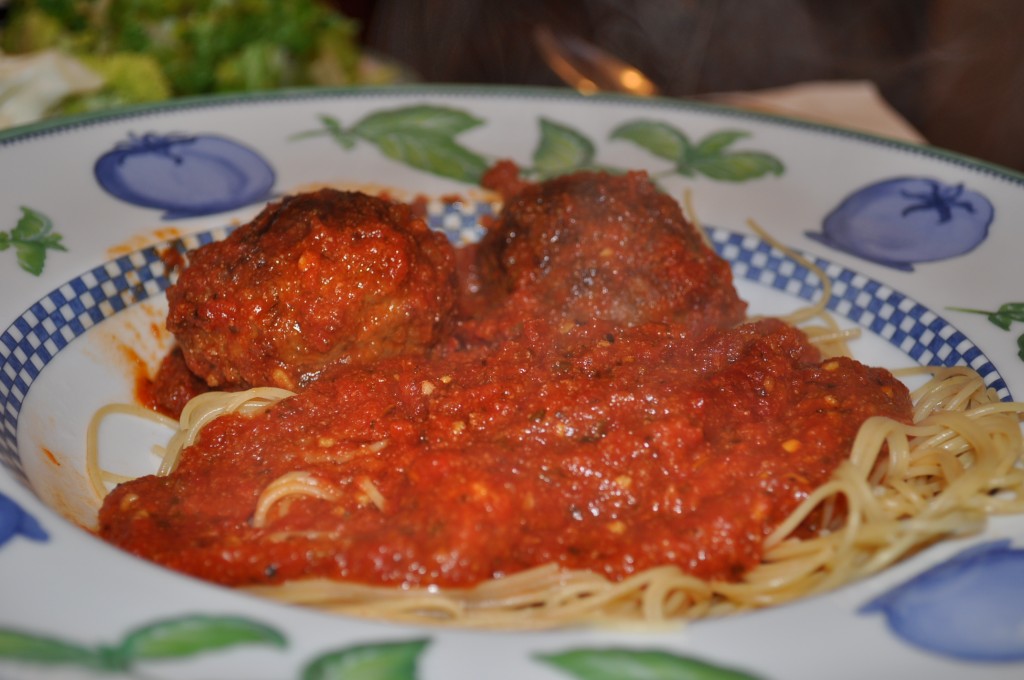 McGyver's Mexi-talian Meatballs and Spaghetti
Camera Shy
February 7, 2010
My baby boy invited a bud over to watch the Superbowl.  Although I do believe the ulterior motive was more about eating the junk food spread then watching the game.  I wanted to get a picture of his bud…this is what happens when he realizes he's getting his picture taken and what my baby boy does to try and get him "exposed".
Thanks boys for providing me endless entertainment.
Backing-up
February 4, 2010
The only thing I have to say is; don't ever let me to back-up a vehicle for anyone.


Need I say more?
Watch Your Hands
February 3, 2010
I have a small kitchen, not as small, as a galley kitchen, but definitely small.  I'd say about 12′ x 12′, which sounds fine for a bedroom.  Now, lets line it with counters, cabinets, and appliances.  So, what I'm looking at is actually about a 5′ x 5′  square of floor space.  Oh, and my kitchen is expertly designed to be the only pathway to the basement, garage and the backyard.  Needless to say it is not only small, but it is a main thoroughfare in the house.  The only place that gets more more traffic is the foyer to the bathrooms and bedrooms.  But nobody is trying to cook there, so it never seems to be a problem.
This my kitchen, please note that it only took 3 photos to get it all in.
Also, please note, the condition of the healthy food on the counter.  One picture says it all.
I love food, so I like to spend a good portion of my time in the kitchen.  Naturally, my dogs love me and want to be by my side every minute, or them seem to, when I'm in the kitchen.  There is a lot of move over dog, and accidental tail and paw stepping on.  Sheesh, you would think that I would just get fed up with working around them but then…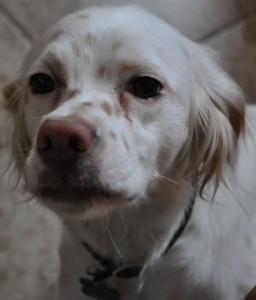 I see, please, please, feed meee.  I'm a poor starving puppy, no one loves me, only a treat will make me feel better.
Then I concede, can you blame me?  My heart is not made of steel (although my baby boy thinks so).
Nom, nom, nom (did you see that tongue action, I mean how funny is that?)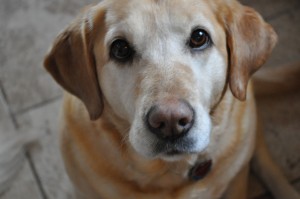 What about me?
What a hog, I'm lucky my poor baby still has his fingers!
Working in a small kitchen has it's challenges, but it has it's advantages.  Like everything is only 2 steps away (cause you know I don't need the exercise).  Everyone likes to be in the kitchen, so it's a way for all of us to get close…real close.  Well, maybe the advantages aren't so great, but it's my kitchen, I'm the witch, and I'm comfortable with it.
 

First Ever Ramblings
January 31, 2010
I finally took the plunge, I joined the millions of other bloggers!  I am a plump, middle-aged foodie.  I continually struggle with my overly zealous passion for food and eating and my desire to lose weight.  In all honesty, I have desire but I lack self discipline!  I'm seriously a "wanna be" smaller person.  I hope that if I could get one person to read and support me that I may feel obligated to keep plugging along, after all I have no problems disappointing myself, but I sure do hate to let someone else down.
I will be posting all the ramblings that come across my little human brain.  I have many, many words to get out and share.  This makes my husband soooo happy; he's hoping I won't be bending his ear so much (not that he doesn't loooove to listen to me).
My vision for this blog is for it to be a reflection of me.  My ramblings, sharing recipes and kitchen tips, and then a little bit of Glam.  After 22 years in the Air Force I have turned into the highest low maintenance girl ever!  Now that I dress nice, do nice make-up, fix my hair and wear some fabulous jewelry, I have turned from the simple girl on the outside to a bit more complex.  Instead of 30 minutes to get ready it now takes an hour.  I know, I have a problem…but that's why I'm here.  To find all the other chubby dysfunctional people out there, so I don't feel so lonely.
If any of you out there actually read my blog…be patient, I really have NO CLUE what I'm doing!