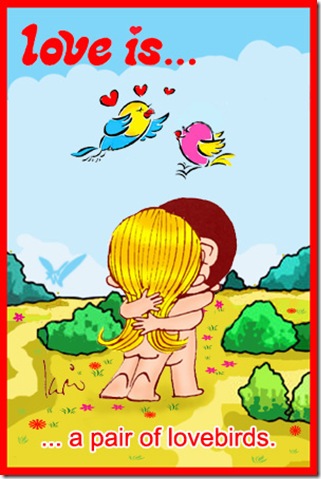 This Valentine's Day you've probably planned to go out to eat or make a special meal. You've carefully selected the perfect gift to show your sweetie, honey, baby, kid, mom, who ever just how much you love them and how special you are to their lives. I did something different.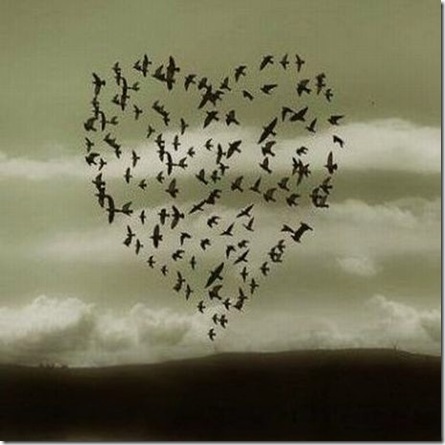 This Valentine's Day, I showed my love to birds. Winter can can be tough on birds, food becomes scarce. I wanted to give my love to the birds. don't worry, I made sure my honey and Baby boy were well taken care of too. I also have a fat problem that I mentioned before, and it hasn't gotten better, maybe it's even gotten worse. Remind me to stop cooking bacon (not).
For sake of the birds and my fat problem, I made suet. Suet is a mixture of fat, peanut butter, cornmeal and grains or seeds (I used stale granola cereal). It provides nourishment for our winged friends. Normally suet is purchased in the store and put in a suet holder that hangs down for the birds.
That's all nonsense, why not make it yourself, it's easy to do. I put my suet in mesh vegetable bags, tied them up and made asked McGyver to hang them up for me. McGyver hung them on our front tree right in front of our living room window so I could watch the birds (or the squirrels) feast of suet.
So gather your ingredients and let the birds feel your love.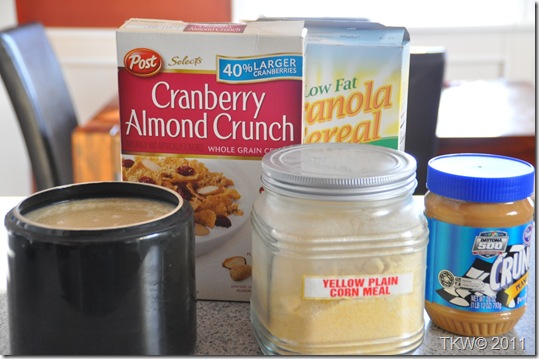 Begin by melting the bacon fat and peanut butter in a small sauce pan over medium heat.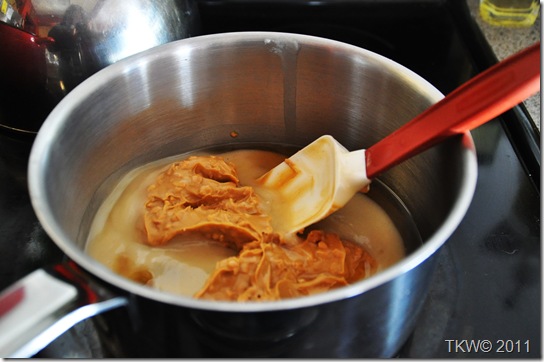 Add the cornmeal and the cereal.
Pour into a muffin pan or other containers. Can I just point out that I love my Oneida Muffin pan. The metal frame makes it easy to handle and the silicone cups make it soooo easy to remove muffins or suet. I didn't get paid to say that, I really do just love it.
Refrigerate or freeze until set. Remove from the containers. Use what ever means necessary….
Place individual suet molds into a mesh vegetable or fruit bag. Secure with a rubber band, or whatever else you have on hand.
You can tie some raffia or ribbon around it to make it look attractive.
Convince your husband to go out into the bitter cold to hang the suet for the birds…feeling the love aren't you?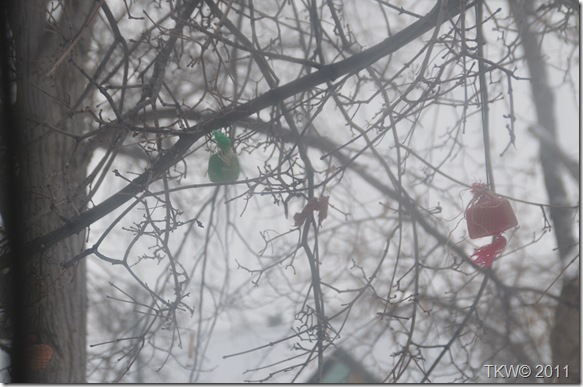 Then stay in your warm house and look out your window and admire your good work.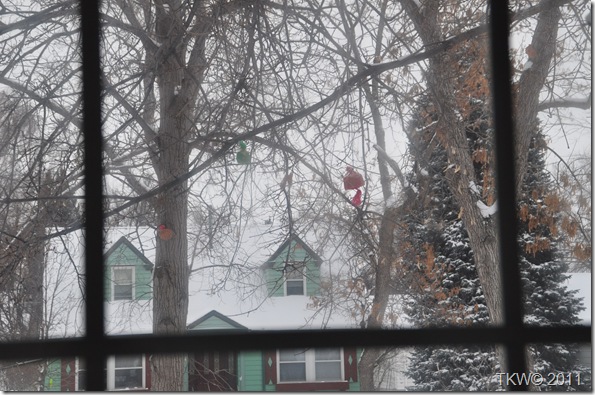 And wait for the birds to come, and wait, wait some more because you want a picture with a bird in it.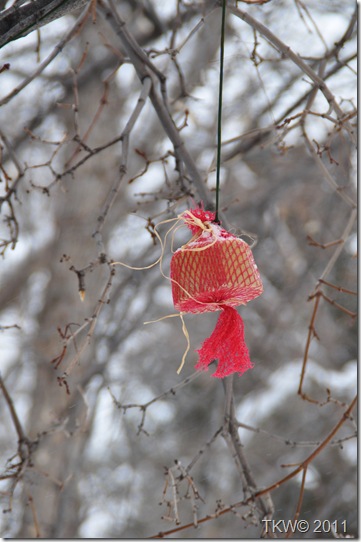 Wait some more and realize that any bird that would be hanging around your house probably flew south for the winter.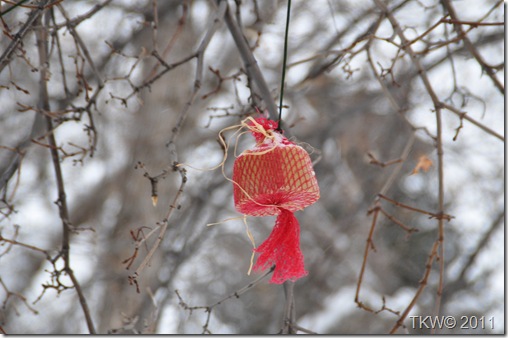 Don't worry little birdies, there is plenty of love in the freezer for when you get back.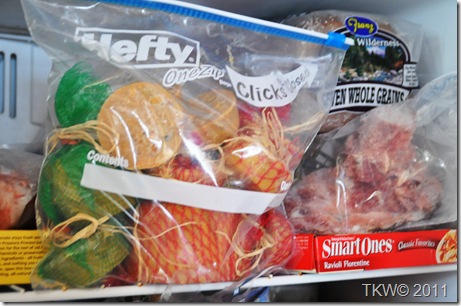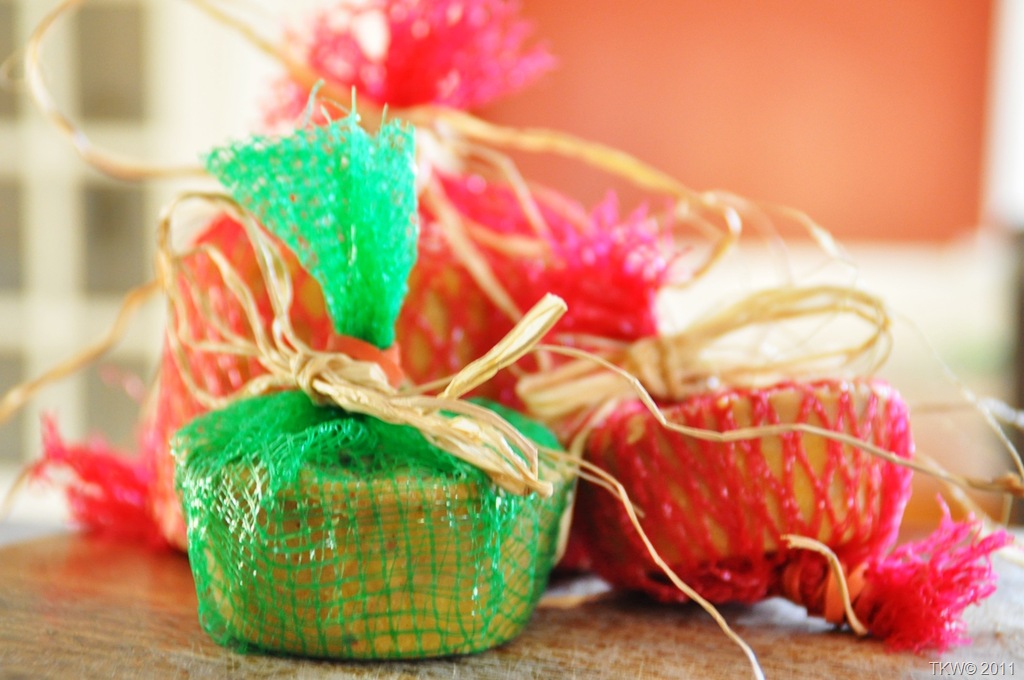 Suet
2016-06-13 21:24:02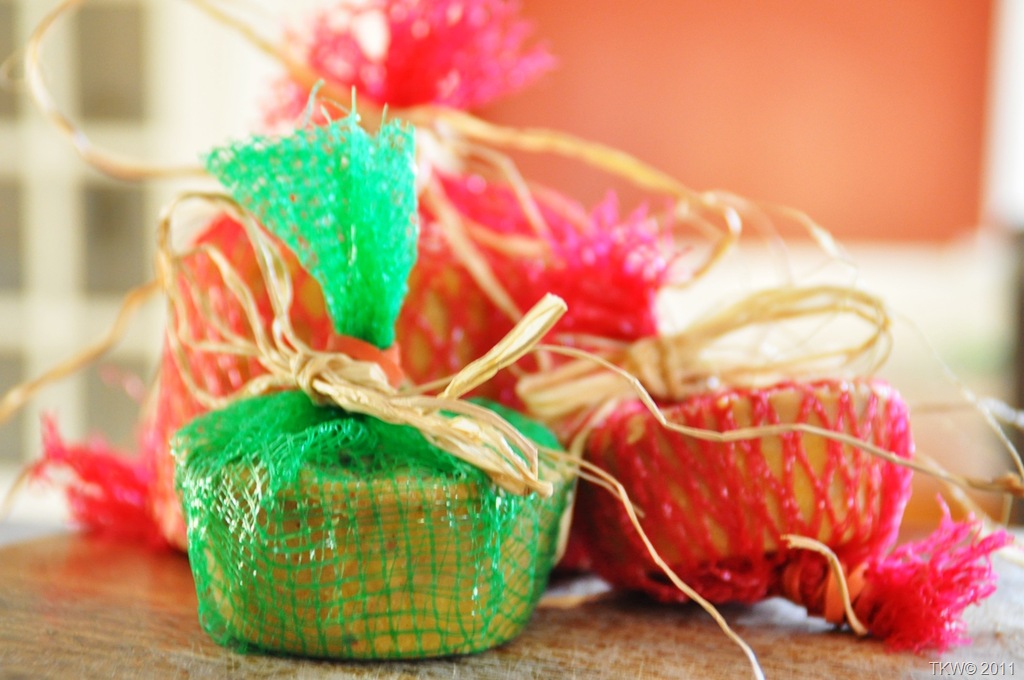 Ingredients
1 cup bacon grease
1 cup peanut butter (chunky)
2 cup cornmeal
2 cup granola cereal, birdseed, etc.
Mesh bags, rubber bands and raffia, plus some rope or string for hanging.
Instructions
In a small saucepan over medium heat, melt the bacon grease and peanut butter, stirring occasionally until homogeneous.  Add cornmeal and granola cereal.  Pour into muffin pan(s) and refrigerate or freeze until set (about 3 hours).  Remove suet from pan and place into mesh bags, secure at both ends.  Hang outside or freeze until needed.
The Kitchen Witch http://www.thekitchenwitchblog.com/
Happy Valentines Day McGyver….Here's to the ride of our lives!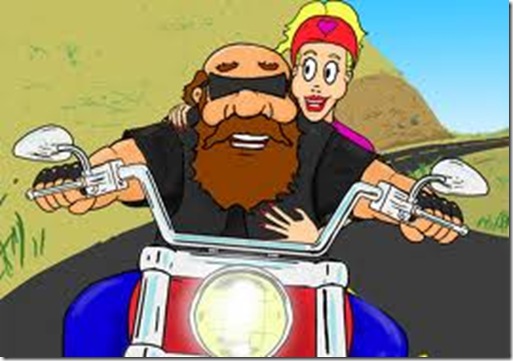 Click to Print a Recipe Card