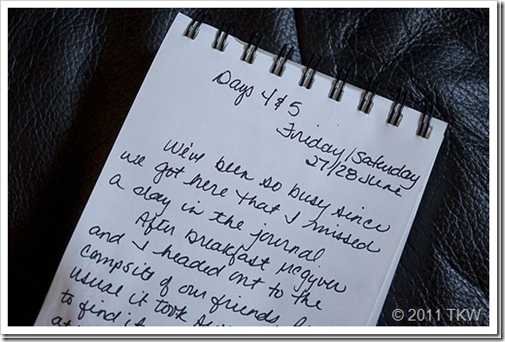 My latest journal entry covered days four and five, I got a little caught up in the fun and had to combine a couple of days.  Last week I covered day four, today we are at Day 5.  If you are just now joining the journey, you can catch up on our prep days here and here, and days one, two and three by following the links.
Saturday June 28, 2003

  A much easier day on Saturday.  After breakfast we rode back out to the rally, McGyver wanted the Open Road Tour pins with "wings" (they ran out the day prior) and we picked up a shirt for his Dad who's been riding Harley's for 57 years and still going.

   We headed back to the hotel to find a place to eat lunch.  We found a great little place that served good beer and seafood.  We ordered giant prawns and a lobster – sparing no expenses – after all it's our honeymoon.  The waiter brings out the live lobster for our approval – it must have been about 3 pounds, delicioso.

   After lunch it was beach time, you can't come to the coast of Spain and not hit the beach, especially the topless beach which was only a block away.  There was only enough time to stay at the beach for an hour, besides I had to limit McGyver's titty watching to a minimum.

  

We met Dave and Val shortly after 7:00 pm.  Val said that the last train ended at 1200.   We knew we would be closing the rally so all decided on a Taxi instead.  It came to 6 Euro per person – not too bad.  McGyver forgot to take his Leatherman off his belt and with no scooter to store it in, we left it with Juan who promised to keep it safe till we left.  We pretty much figured McGyver had lost his Leatherman since they wouldn't give us a receipt for it.

    We had a great time that evening – other than long lines for beer – McGyver and Dave R. talked mechanics of the bikes and all the tricks to increase horsepower (Dave is a mechanical engineer) and Val and I talked usual girl stuff. 

   The Pretenders put on a good show – Chrissy Hynde still has a great voice and rocked the place!

Getting a Taxi to the rally was easy – getting one back took numerous phone calls and finally I just chased one down. 

   We decided that we would take the Bikes to the Stones concert – much easier than a taxi.Back at the hotel we decided we having too much fun to turn in for the night so we hit the bar.  Many, many Bacardi and colas later and meeting some great folks from Poland, Belgium and Switzerland we headed off to our room around 3:30 am.
Next Monday is Secret Recipe Reveal, but come back for Day 6: hang over, laundry, topless tanning and a Stones concert.