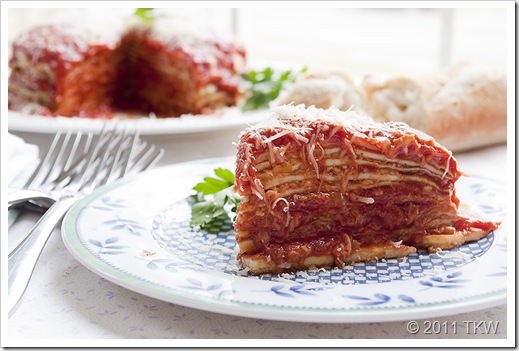 It's Secret Recipe Club reveal day. I am very pleased to announce that I was assigned Manu's Menu. Here's something you probably don't know, I've been a Foodbuzz friend of Manuela's blog for sometime. You can imagine my delight when I saw who's blog I was assigned. Considering how many blogs I read and the zillions of bookmarked recipes I have, I rarely make a recipe from a fellow blogger. It's difficult when you are so busy sharing your own recipes to take the time to make someone else's recipes. But that's the great thing about SRC, it gives you the opportunity to finally make a dish that you've wanted to try. Besides, Manuela has impeccable taste, evidently we both have the same Villeroy & Boch Switch 3 patterned dishes.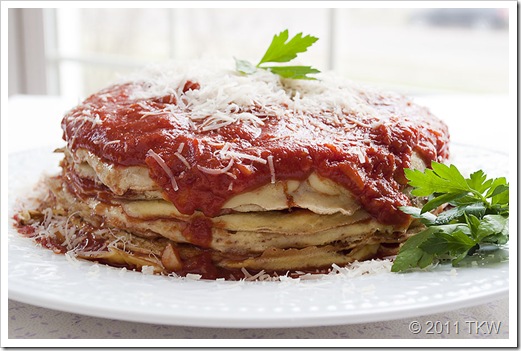 Manuela is a naturalized Australian, but she grew up in Milan, Italy and she was raised by Sicilian parents. Naturally her blog features a lot of Italian food. Manuela has been posting regional Italian recipes which you can find by index. For me, I loved that feature. As an American I have a tendency to classify Italian food simply as "Italian" which is not incorrect, just too generic. Just like here in America, different regions have different specialties or a different version of the same dish. For example, no one would call fried chicken, grits and greens a Northern or Western dish and if you read my Clam Chowder post you'll see regional differences for the same dish.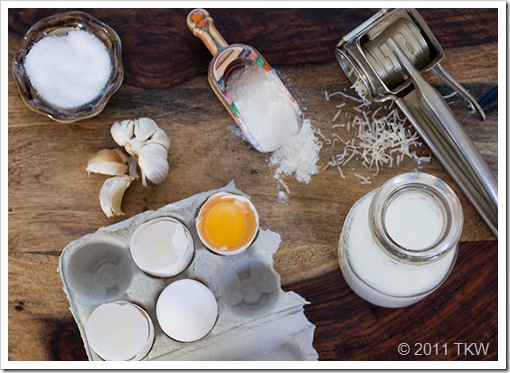 Manuela did not specifically list the Frittatine allla Parmigiana to a specific region, rather she shares with us that it's a traditional Italian dish, a recipe handed down from her Great Grandmother (Sicilian perhaps?). It's one of the oldest recipes she has. Any recipe handed down from a grande nonna is certainly a recipe worth making. Manuela mentioned that she is amazed at the distortion of Italian dishes, and that she posts the real thing.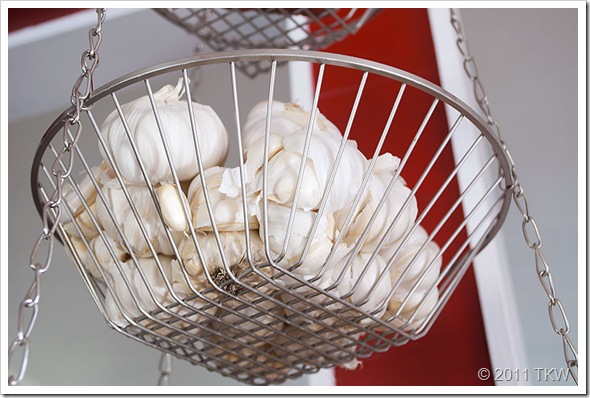 Bloggers inherently have to "lift their leg" and make their own mark on recipes and this one was no different. I wanted to stay true to the recipe and not distort it but I had a basket full of garlic that I needed to use. My basket was full of beautiful full heads of garlic, then it broke and garlic went every where. Most of my perfect heads of garlic split and spread their cloves and skins all over my dining room/kitchen. What a mess. One of the best and fastest way to use up garlic is roasting it. So that's my mark…Roasted Garlic Frittatine alla Parmigiana.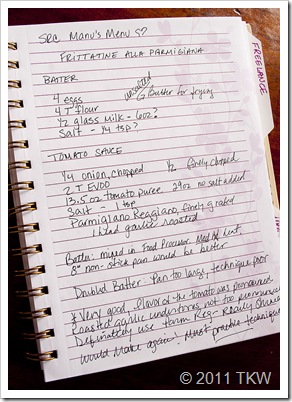 Whenever I cook, I keep my handy notebook by my side and make notes. As I read Manuela's grande nonna's recipe, I realized it is like many recipes handed down. Sometimes ingredients are listed without measurement and sometimes the measurements are a bit ambiguous, such as "1/2 glass milk". Since I was unsure of what size of glass it called for I assumed it was a standard drinking glass which is 12 ounces and a half glass is 6 ounce (3/4 cup). I was spot on in this case.
Also, I could not find a 13.5 ounce can of tomato puree, only a 29 ounce can. I doubled the sauce (which is a good thing as you'll see later), knowing that extra sauce is always a good thing. I mixed my frittatine batter in a food processor versus a blender, why? Because I just bought a brand new food processor and this was the FIRST time using it! It was a huge expense for me, this grander dame of food processors, but I've broken two cheaper versions in the last 3 years. It was on sale and I'm hoping that it will last a loooong time.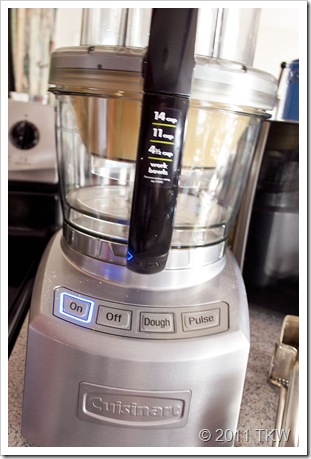 If you decide to use roasted garlic (which was sublimely delicious in the sauce), add the salt to the chopped up roasted garlic cloves and mash them together with the edge of a knife. The garlic paste will melt into the sauce, adding flavor without anyone biting into a chunk of roasted garlic (not that it would bother me).
The frittatine was a definite challenge for me. I've never made crepes or any thing similar so I had no experience regarding the cooking technique. I was also unsure of the size of pan and what heat setting to use. My first one came out a bit broken. I tried to flip it with a turner but it broke. I determined that I did not have enough butter in my pan to make it nice and slippery.
However, the thickness was perfect and I was able to piece it together and hide it under the sauce so no one would know.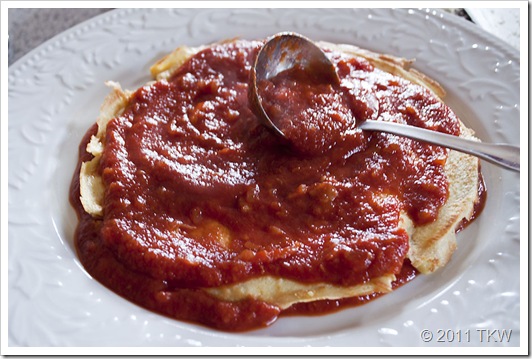 My next attempt, I added more butter and got my layer to slide around nicely, so nicely in fact that I decided to go all chef-y and flip it. Yeah, not such a good idea (see below). I use an electric stove top, and I discovered, as my pan really started to heat up, that medium high was too hot. Note to self: Use medium heat and don't get all chef-y.
My dogs were quite happy with the little disaster!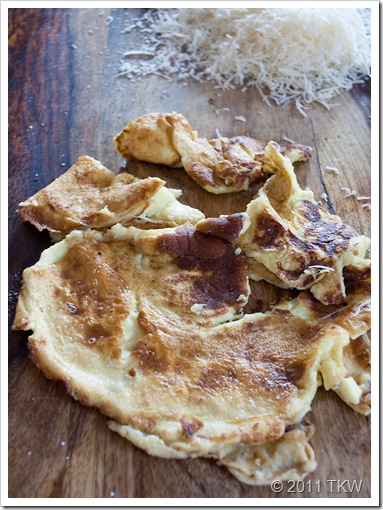 I added butter to my pan and I made my third second layer, cooked over medium heat and used a turner to flip it. Ahh perfection. Only now I was nearly out of batter, I only got four (3 usable) frittatine layers. I checked Manuela's pictures and counted the layers, there 8 and I technically only got 4. I went ahead and made another batch of batter and while it rested for 30 minutes I gave it some thought.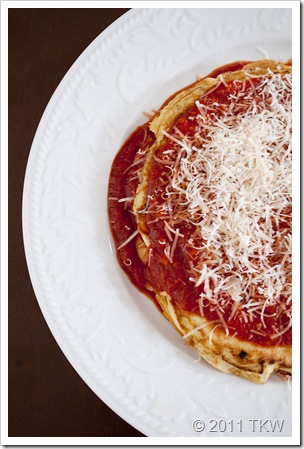 I knew that my layers were the right thickness but I only got half, that meant the only reason I did not get enough from my batter would be that my pan was too large. I was using a 10" non-stick pan, the size selected solely on the fact that it "looked right". Since I already started with the 10", and my layering, I needed to continue but I wanted a lovely layered frittatine. I decided to make thinner bigger layers. In order to make sure I could get the maximum layers, I measured out the batter for each layer. I used 1/4 cup for each one, they were thinner but I think if I used an 8" pan the thickness would have been perfect. I also got exactly 8 layers. I'm happy to say that I succeeded.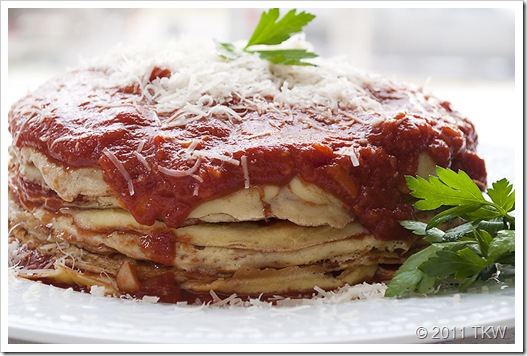 My frittantine looks like a beautifully layered cake. I'm glad I made extra sauce because I ended up with 10 layers. I over sauced the first few layers, even doing that, I still had sauce left over.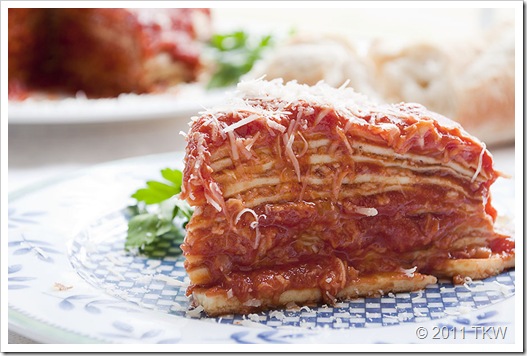 Is this not one of the most beautiful things you've ever seen? The flavors were incredible, very simple ingredients allowed each one to shine. The tomato flavor explodes in your mouth, followed by some tangy cheesiness and then you are left with a nice roasted garlic and onion flavor to enjoy until your next bite. The frittatine would be a perfect Sunday brunch dish or for entertaining since it can be enjoyed at room temperature.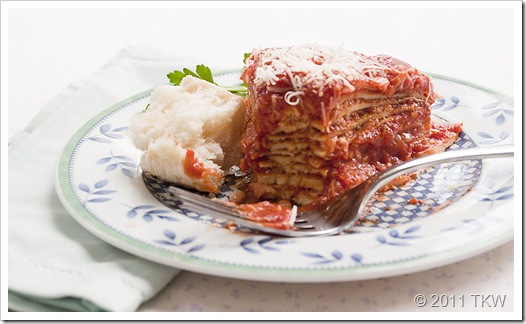 Grazie Manuela per avermi fatto conoscere un'antica ricetta di famiglia, spero che ho fatto tua nonna grande orgoglio!
The recipe below has my instructions with the halved sauce ingredients (since I had excess), you can see the original here.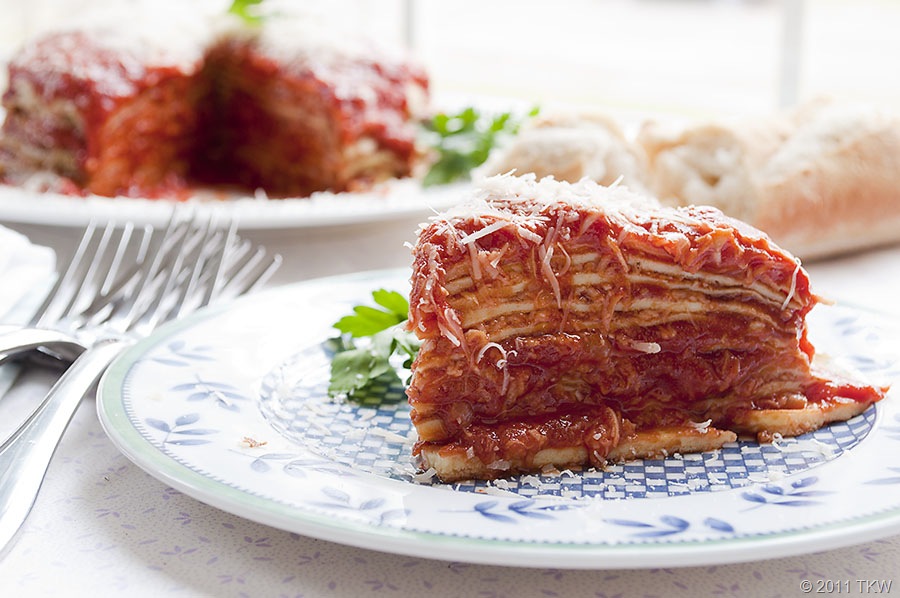 Frittatine alla Parmigiana
2016-06-12 21:25:22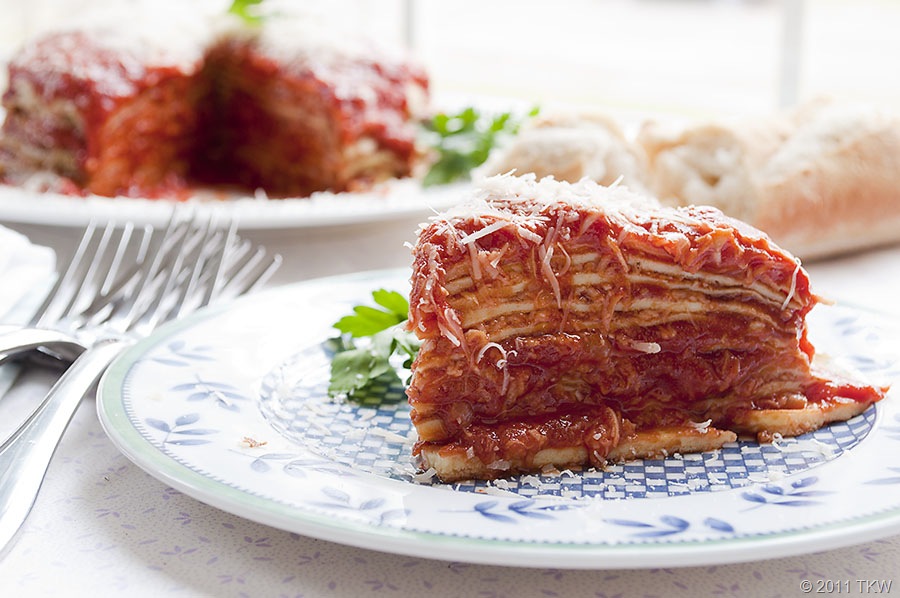 Frittatine batter
4 eggs
4 tablespoons flour
3/4 cup milk
1/4 teaspoon salt
2 tablespoons unsalted butter divided into 8 slices
Sauce
1/4 onion, finely chopped
2 tablespoons extra virgin olive oil
1 can (13.5 ounces) tomato puree (no salt added)
1/2 teaspoon salt
1 to 1/2 cups parmigiano reggiano, finely grated
1/2 head roasted garlic (optional), peeled and chopped
Instructions
Batter:  Place eggs, flour, milk and salt into a blender or food processor.  Blend until homogenous.  Let rest for 30 minutes.
Sauce:  Meanwhile, heat olive oil in a medium saucepan over medium heat.  Add onions and sauté until onions are tender, about 5 minutes.  Add tomato puree.  If using the roasted garlic, add salt to garlic and press against a hard surface like a cutting board to create a paste.  Add the salt/garlic paste to the puree.  It not using the garlic add only the salt to the puree.  Bring to a low boil then turn down and simmer for 20 minutes.  Set sauce aside and let cool.
Frittatine:  Heat an 8"  non-stick frying pan over medium heat.  Add 1/4 teaspoon of butter to pan.  When melted, tilt the pan to coat the entire bottom with butter.  Add 1/4 cup of the batter to the pan, swirl the pan to spread the batter evenly.  Cook until the edges become dry and the surface dries up, then flip. Repeat for each layer making sure to add a little butter in between each one.
To assemble:  On a large plate or platter, put a little sauce on the bottom, place one layer on top, add more sauce then sprinkle with parmigiano reggiano, repeat until all layers are used.  Top it off with a generous amount of parmigiano reggiano and garnish with parsley or fresh basil.
Adapted from Manu's Menu
Adapted from Manu's Menu
The Kitchen Witch http://www.thekitchenwitchblog.com/
For more SRC reveals check out the hop below:

Click to Print a Recipe Card