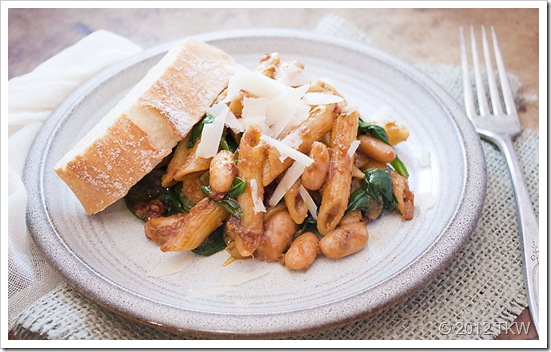 Dinner in the amount of time it takes to boil water and cook pasta? Oh yeah! This dish is perfect for a weeknight or a busy day when you need something on the plate fast but you want some wholesomeness also.
I've been posting about the different sun dried tomato products that Bella Sun Luci sent me, this time I used their Sun Dried Tomato Pesto. I was pleasantly surprised to be able to actually see the pine nuts in the pesto, there really were whole pine nuts! The pesto was nice and chunky, a really hearty sauce with good tomato and basil flavor.
I made this dish one night when we got home horribly late, I didn't take any photos…we were famished and devoured it inhumanly fast. Forget manners, we were snorting and groaning and shoveling the food in, barely taking breathes between bites. It wasn't just because we were starvin marvins, although that had something to do with it; mostly it was just plain ol' good stick to your ribs kinda food…can you believe it was meatless (shhh, don't tell the boys, I don't think they noticed).
We like things a little spicy, so I used a few red pepper flakes to give it some punch. But that's entirely up to you, it would be just as good without. I served this with some Simple Artisan Bread, it was just right to round off the meal, that and a glass of red wine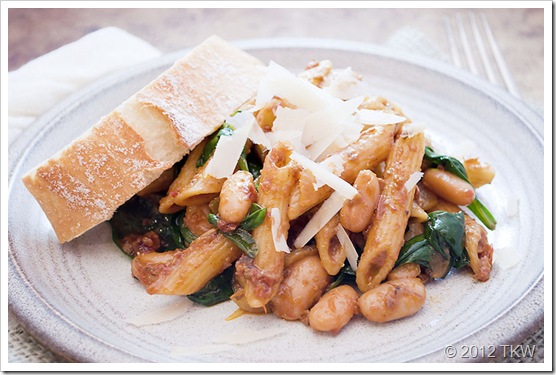 The creaminess of the cannellini beans really make this dish, if you can't find them you can substitute Great Northern Beans with similar results. Don't skimp on the parmigiana reggiano if you can help it, a simple dish like this begs for the best parmigiana!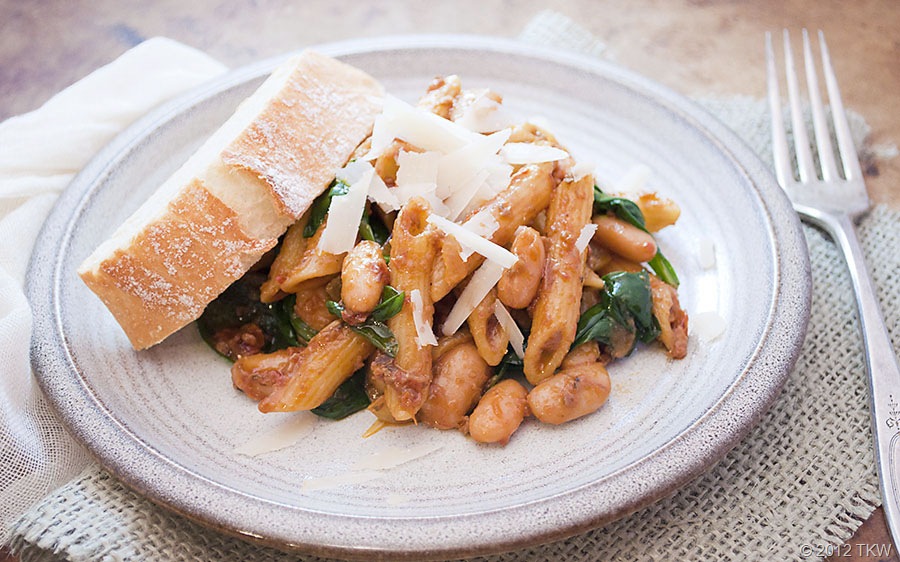 Sun Dried Tomato Pesto Penne Rustica
2016-06-12 15:01:57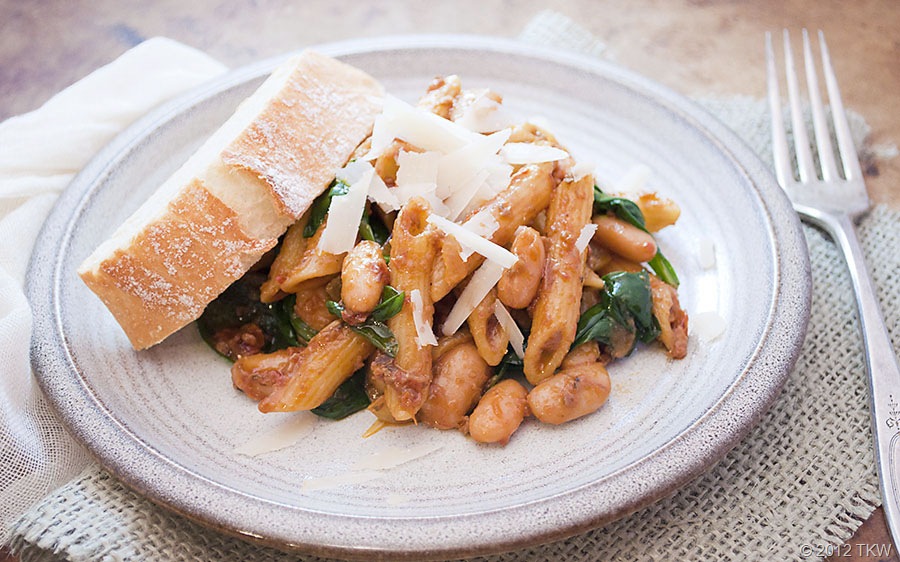 Serves 4
Ingredients
8 ounces Penne, cooked according to package directions
1 tablespoon olive oil
1/2 onion, rough dice
4 ounces Bella Sun Luci Sun Dried Tomato Pesto
1/4 teaspoon crushed red pepper flakes
2 cups baby spinach leaves, washed and dried
1 (15 oz.) can cannellini beans
Salt to taste
Parmigiano Reggiano, shaved
Instructions
In a large non-stick pan, heat the olive oil over medium heat. When hot add onions and saute until onioin are tender, 3 to 5 minutes. Add pesto and crushed red pepper flakes, heat through (another 1 to 2 minutes). Add spinach and cook just until spinach wilts, add beans and stir to mix.
With a slotted spoon, scoop out pasta and add to pesto mixture. Stir gently to mix, salt to taste. Serve immediately and garnish with Parmigiano Reggiano.
The Kitchen Witch http://www.thekitchenwitchblog.com/

Informal Cookery Definitions A to Z
Anchovy. Anchovies are a tiny fish found in the Mediterranean Sea, they can be eaten fresh but are very perishable so their most common form is salted and canned. Anchovies are often seen on pizza or used to top canapés. However they have a very strong salty flavor that doesn't appeal to many people, you'll more often find them used as ingredient, such as in Caesar Salad. Anchovies can also be purchased in paste form.
Andalouse. (ahn-dah-LOOZ) or À L'Andalucía (ah lah ann-dah-loo-SEE-ah). Interesting tidbit…The wife of Napoleon III (Empress Eugenie) was from the Andalucia province of Southern Spain, because of this many classic French dishes also bear this name. Typically the dish will use olive oil, onions, garlic, parsley, pimiento, and tomato like they commonly use in Andalucia.
Angel Cake Pan. A ten-inch tube pan where the inner tube is removable. They typically have small legs for inverting and cooling Angel's Food Cake.
Angels on Horseback. A hot appetizer of oysters wrapped with bacon strips and grilled.